Jump to: Homeschool Co-ops | Homeschooling Classes & Academic Enrichment
Looking for someone to teach physics to your teen? Need a way to avoid teaching algebra? Want to enroll your Kindergartener in a co-op for social time? Homeschool classes and co-ops are a great way to spend time with other homeschoolers and skill-share with other homeschool parents.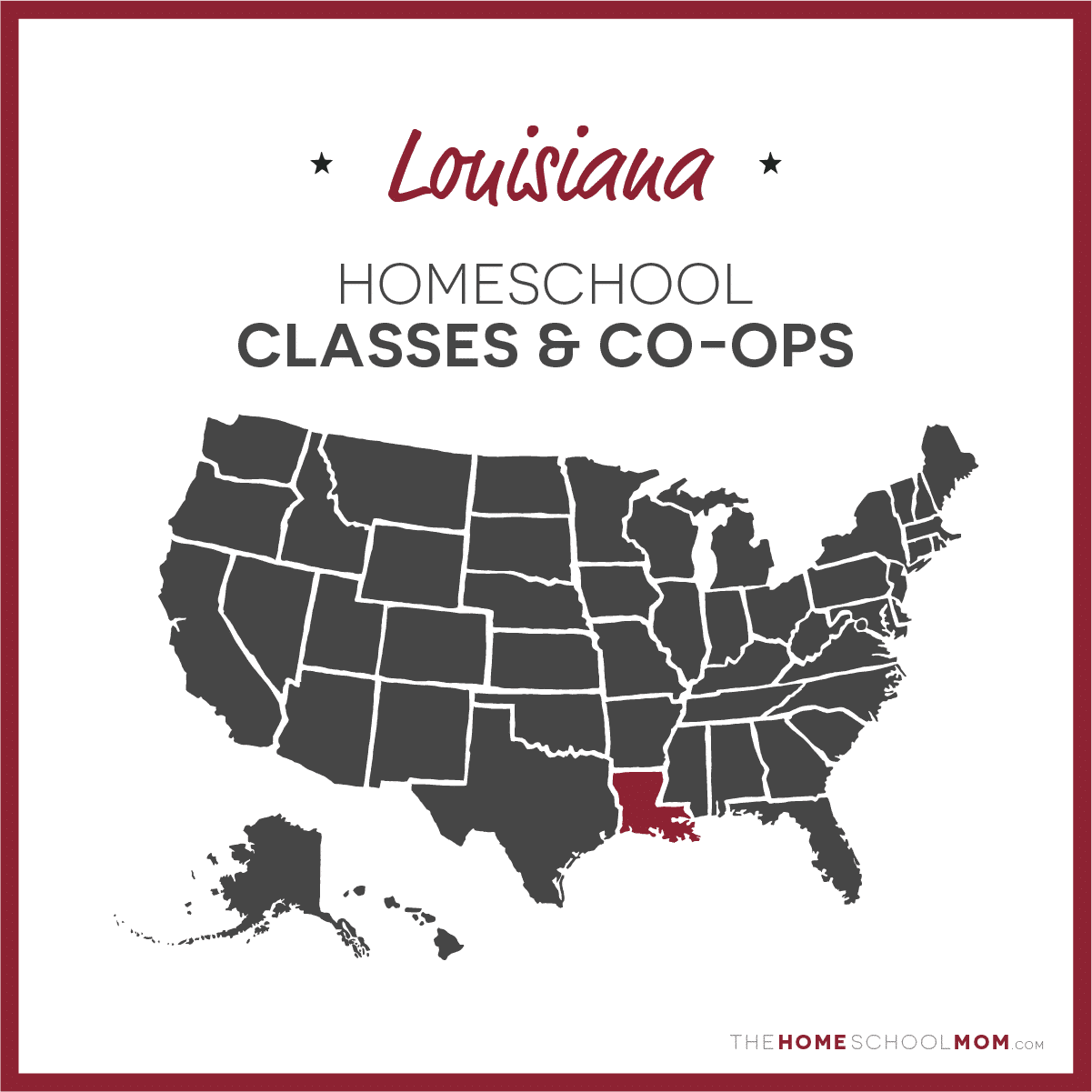 Submit a Local Resource
Our listing of Louisiana co-ops and academic classes for homeschoolers is ordered alphabetically by city, with co-ops in the first section and all other academic resources below. If you would like to submit a Louisiana co-op or academic resource, you may do so using the red button above.
Louisiana Homeschooling Co-ops
Berean Homeschool Co-op - Baton Rouge

Baton Rouge

The Berean Homeschool Co-op is a 501(c)3 organization serving the Greater Baton Rouge area. Our families work together using a co-operative approach to offer a wide variety of academic and enrichment classes during the school year to our homeschooled children. We have been in operation since 2004. Our name comes from Acts 17:11 where the Christians in Berea were said to be of noble character because "they received the message with great eagerness and examined the Scriptures every day…." In the same way, we as homeschoolers strive to give our children a life-long love of learning through quality studies. Utilizing the gifts and talents of other families in the homeschool community is one good way to help accomplish this. In addition to our co-op classes, we plan field trips and special events throughout the year.
Lighthouse Homeschool Co-op

Baton Rouge

Lighthouse Christian Homeschool Academy Apr May May 16 - Tuesday We are a homeschool co-op providing cafeteria style academic and enrichment classes for students in Pre-k through High School, including classes eligible for High School credit. Registration for the upcoming school year closes on March 1st.
Raising Arrows Central

Central

This Co-op is designed for parents who wish to homeschool but need more assistance due to working or other family circumstances. We hope to provide a Christian resource for families in need of a curriculum-based support group. With over 10 years experience, these homeschool teachers are offering an instructional teaching classroom atmosphere for the purpose of educating our children together.
Buckles Academy

Gonzales

Buckles Academy is a homeschool co-op. A "village" built on serving our children, by investing in their education and their emotional and social needs. We believe that faith, family and a strong community, nurtured by love, compassion and kindness, builds a strong mind. While we are a faith based group, we welcome families from all walks of life. We offer classes, park days, field trips and clubs for ages 8-12.
St. John Bosco Co-op

Gonzales

St. John Bosco is a Catholic private not for profit Co-op aiding families in the education of their children from Pre-Kindergarten through 12th grade. SJB Co-op offers a variety of courses to enhance the educational and spiritual development of our students. The goal of SJB Co-op is to share our God-given talents and gifts with each child so that classes can be unique experiences which inspire further learning and develop a strong moral character. We offer a "cafeteria" style of courses. Each parent is asked to teach 2 classes, unles the family is utilizing the drop-off program with paid tuition. We are flexible in what courses are offered and what our course offerings/schedule will look like from year to year. SJB uses Catholically Classic Memory as the backbone for our co-op centered around family learning specifically for History and Science. Our co-op meets on Wednesdays from 9:00am-2:15pm. We meet for 26 weeks out of the year, beginning in August and ending in May. Each semester contains 12 weeks with additional meetings for high schoolers.
Raising Arrows Homeschool Co-Op

Hammond

Raising Arrows Co-op is a cooperative learning opportunity for children Pre-K through 12th grade which meets every week from September - May with various weeks off. The mission of Raising Arrows Co-op is to support and assist parents in the training of their children by providing classes to supplement and enrich their education in a class environment. Because this is a cooperative effort, there will be a pooling of our resources and skills. Everyone must contribute so that this co-op can be a success. One parent must be present every hour that their children are attending classes. This is a ministry cooperative by families to families. Prices of classes are determined by the costs of supplies alone. Teachers will be giving of their time. We count on the active involvement of every family member to make co-op day a success! Raising Arrows' role is to encourage the parent, through support, assistance, co-op classes and relationship building. We do not function as a school. Some parents will teach using a curriculum and some will create classes using many different sources. Please Note: Although we offer pre-school classes, all Raising Arrows Co-op families must have at least one school age child participating in the classes who must be at least three years old by the first day of Co-Op.
Mighty Arrows Co-op

Holden

Currently meeting every other Thursday for park days.
Connections of Acadiana

Lafayette

Connections of Acadiana is proud to serve families of the greater Acadiana region! We exist to connect a community of homeschool families and educators by providing an enriching, academic environment that enhances our children's education while glorifying God in all that we do. At Connections we enjoy "connecting" with other students and families every Monday! Together we enjoy many opportunities including weekly classes for ages 4 years - 12th Grade, educational field trips, and social gatherings for students and parents. We meet on Mondays during the traditional school year (August - May, with breaks) at Trinity Bible Church from 9:00 AM to 1:00 PM including our community lunchtime.
Cenla Christian Home School Association

Pineville

Cenla Christian Home School Association is a volunteer support organization for Christian families in the Alexandria, Pineville, and surrounding Central Louisiana areas who educate their children at home. Participation in CCHSA provides opportunities for families to connect with other homeschooling families for mutual help and encouragement. In keeping with our purpose and values, CCHSA, through its members, offers a variety of educational and social activities, including a Homeschool Cooperative which meets weekly for fall and spring semesters. Cenla Christian Home School Association is an affiliate of Homeschool Louisiana, a state organization which sponsors an annual State Convention and Book Fair, provides timely news relating to home education, and watches the state legislature and state agencies for legislation and policies affecting home education.
CREDO Homeschool Co-Op

Shreveport

Credo is a co-op of homeschooling families that meets one afternoon a week for 14 weeks each semester during the school year. We offer fun and educational classes for kids and teens. We meet on Wednesday afternoons from 12:45 (check-in time)-4:15pm. We have 14 class days in the fall and 14 class days in the spring. Registration is done just before the beginning of each semester. Each afternoon, we meet together at 1:00 for our opening session. We then disperse to our age-divided classes. The kids enjoy two classes, then a recess/snack break, and then a third class before we conclude for the day.
Houma Homeschoolers

Terrebonne / Lafourche Parishes

A local support group that has existed since 2004 to help families navigate the journey of homeschooling. Whether brand new or veteran, everyone needs encouragement and help. This journey is much more enjoyable when we walk together. We offer field trips, family events, mom events, and information about local co-ops, enrichment classes as well as an abundance of resources to help you in learning more about homeschooling. All members are encouraged to plan and add events that their family would enjoy. This group is for families who live in Terrebonne and Lafourche Parish and surrounding areas who homeschool using the Not-Seeking Approval or the Home Study Option as set up by the Louisiana Department of Education. Other goals of the group are to provide information about homeschooling and current state laws and requirements, curriculum options and answering other homeschool related questions. This group is here to offer encouragement and support to all no matter where on their homeschooling journey they may be.
Northeast Louisiana Christian Homeschool Association

West Monroe

NELCHA offers: Weekly/Daily update sent via e-mail Family Fun Nights Mom's Night Out Boys & Girls Basketball Girls Volleyball Soccer Spring & Fall Weekly Co-op Classes Competitive Speech & Debate Field Trips Senior Graduation Kindergarten Graduation Science and Social Studies Fair Play Day at the Park Skating/Bowling Spelling Bee Yearbook Choir 4-H End of year testing Valentine's Day Party Field Day Junior/Senior Banquet High School Winter Formal Used Book Sale and many other activities, both fun and educational, as the opportunity arises.

Northeast Louisiana Christian Homeschool Association details
Cornerstone Homeschool Co-op

Zachary

Cornerstone Homeschool Co-op is a homeschool co-op which opened in Zachary, LA in the fall of 2016. We are a cooperative group serving the Greater Baton Rouge area. Our families work together using a co-operative approach to offer a wide variety of academic and enrichment classes during the school year to our homeschooled children. Families must have at least one child who is at least six years old by December 31st. Each family must have completed one year of homeschool prior to applying as well. Full participation is required. A parent must be able to remain on campus for the duration of the co-op day and work as a teacher or class helper. All students must also remain on campus for the duration of the co-op day.
Louisiana Homeschooling Classes & Academic Enrichment
National EMS Academy

Alexandria, Baton Rouge, Covington, Gretna, Houma, Lafayette, Lake Charles

The National EMS Academy (NEMSA) is looking for high school graduates interested in a career in EMS. With campuses throughout Louisiana and Texas, NEMSA offers entry-level, continuing education, and refresher courses for a number of EMS career pathways, including EMTs and paramedics. The Academy is a division of Acadian and operates in partnership with South Louisiana Community College and the Texas A&M Engineering Extension Service. A nationally-accredited EMS training facility and also an authorized American Heart Association Training Center for CPR and continuing education courses. For more information on how to make a difference and become a medic through the National EMS Academy, visit www.becomeamedic.com.
Project Learning Tree at Burden Center's Trees and Trails

Baton Rouge

PLT brings the classroom outside for environmental education. Docents lead hands-on activities that teach about endangered and invasive species, tree identification, and more. There is an optional 3 mile hike. Field trips last 3-4 hours and can be combined with the Rural Life Museum which is also located at Burden Center. PLT map https://edit.lsuagcenter.com/~/media/system/0/2/1/9/02197bd88488a178adbbf9cadb392d7d/tntmap-041117jpg.jpg

Project Learning Tree at Burden Center's Trees and Trails details
Behavioral Intervention Group

Baton Rouge

BIG offers social skills groups to children who may have a difficult time understanding and using social skills in their environment. Groups focus on a particular social skill, such as empathy, conflict resolution, figurative language, making and keeping friends, etc. The focus of each group varies based on an assessment of the age and needs of the students in each of the small groups. With the use of a data-based decision protocol, instructors are able to ensure that learning occurs for each child. Research-based tactics and interventions are based on the principles of Applied Behavior Analysis utilizing techniques including, but not limited to, modeling, role-playing and peer-mediated learning opportunities. Social skills groups may focus on these topics and more. Some topic examples include introductions and conversations, friendship skills and blockers, identifying/expressing emotions, coping with anger and anxiety, peer conflict, sportsmanship, manners, etc.
Baton Rouge Speech and Debate Club

Baton Rouge

The Baton Rouge Speech and Debate Club meets every Friday 1:00-3:15 Debate Club - Ages 12 & Up 3:30-5:00 Speech Club - Seniors, Ages 12 & Up; Juniors, Ages 7-12 Location: Community Bible Church
Education Destination

Broussard

Education Destination, LLC is a locally owned and operated supplemental learning center focusing on achievement, and assisting students and their families with innovative and multi-sensory educational programs. Owner and facilitator, Kelly Roussell Francis is a certified teacher with over 10 years of experience.  Check out our Facebook at https://www.facebook.com/educationdestination
Regina Caeli Academy - Baton Rouge

Gonzales/Baton Rouge area

Regina Caeli Academy is a hybrid homeschool resource center in the Catholic tradition offering academic and extra curricular classes for homeschoolers. Our nationally accredited program serves PreK-3 - 12th grade students. Students attend university style classes taught using the Socratic method two days per week and are home schooled the remaining days. RCA provides a highly structured environment to support the values of the Catholic faith taught in the home. We use the Mother Of Divine Grace Classical Curriculum. Our mission is family-centered, grounded in the Magesterium, and devoted to excellence in classical education. For more information on enrollment, please visit our website at www.rcahybrid.org.
Learn After Class

Greater New Orleans Area

Learn After Class provides one-on-one tutoring services. We can meet you at whatever location is convenient to you. We take over subjects you might not have the time to teach, or subjects which might be a little above your level. We're here to help! We have tutors ranging in all subject areas. If you have any questions please don't hesitate to contact us!
Origins Resource Association: Science classes, workshops, and seminars

Kenner

Classes, workshops, and seminars in all areas of science by retired science teacher with 19 years experience. Certified in physics, chemistry, biology, earth science, and math. Specializing in the scientific case for creation, including dinosaurs and so-called "ape-men." Also offering presentations on age of the earth, astronomy and cosmology from a Christian perspective.

Origins Resource Association: Science classes, workshops, and seminars details
Nutty Scientists of Acadiana

Lafayette

Nutty Scientists is a European and world leading provider of fun, hands-on, interactive programs for children of all ages related to Science, Technology, Engineering, Arts, Mathematics, Music, Robotics, and Health & Nutrition (STEAM). With presence in 35 countries and growing, each year we work with more than 9 million children all over the world. We educate while having fun!
The Learning Curve

Lafayette

The Learning Curve is a private homeschool business that offers high school courses two days a week. These courses are taught by certified teachers and include all high school math (including Calculus for the 2018-19 School Year), high school english, Chemistry I, and a year long ACT Prep course. The classes are held in a building located on Winchester Dr, off of Congress St.
Tinkergarten Lafayette

Lafayette

Tinkergarten is a series of classes for 18 month-8 year olds and their parents. Classes are held in a local park. They are intended to connect families with nature; and for children to learn through self-directed play activities. The curriculum is well-researched and has a fall focus of "Executive Function," although it also works on creativity, problem solving and empathy.
Homeschool P.E. Classes

Livingston Parish

10 Weeks of classes for school aged children. Taught in our fully equipped, air conditioned facility. Instructor has a degree in physical education. A free trial class is available. Starts on November 2, 2009, from 1-2pm. Group will continue to meet every Monday from 1-2pm for class for ten weeks. A new term will immediately follow and is available for returning students. Meeting room, parent viewing area, and concession is available.
Louisiana Classical Conversations

Louisiana Statewide

Classical Conversations is a national homeschooling program that uses a Bible based curriculum taught in a christian, classical tradition. Classes are geared for age 4 through high school.
Make It Count Math

New Orleans

Make It Count Math is a New Orleans based non-profit that provides families with individual math coaching sessions for students in grades 1-8. Sessions take place virtually and in person on a regular basis. These sessions include practice with foundational math skills, as well as a chance to work on current math assignments with a math coach. This helps establish a relationship of trust, choice, and decision making that is aligned with what it takes to be a strong mathematician and overall thinker. Families pay for these sessions on a sliding scale. They are asked for on-going feedback about how to best meet the needs of their children.
Pathways in Education

Shreveport

Pathways In Education is a small non-profit charter school with two locations in the Shreveport area. Pathways In Education is a public charter school serving grades 9-12 in Caddo Parish. Pathways considers the unique needs of every student, allowing access to small group classes, guided independent study, online courses, and experiential learning, to address each student's individual strengths and needs.
Pathways In Education - Caddo Parish

Shreveport

Pathways In Education is a public charter school serving grades 9-12 in Caddo Parish. Pathways considers the unique needs of every student, allowing access to small group classes, guided independent study, online courses, and experiential learning, to address each student's individual strengths and needs.
Audubon State Historic Site

St. Francisville

Oakley Plantation rests within the Audubon State Historic Site, a part of the Louisiana Office of State Parks in Historic St. Francisville, La. The park is located 20 minutes north of Baton Rouge off the Great Mississippi River Road, U.S. Hwy 61. Today 100 acres of the original Oakley Plantation, where artist naturalist John James Audubon stayed in the late summer of 1821 is open to the public. The site includes an interpretive center. Guided tours are offered daily of Oakley House, the plantation "Big House". Visitors may tour on their own the gardens, slave cabins, barn and kitchen of the plantation. The park has a nature trail, a covered picnic pavilion seating 50, and an open picnic area seating over 100. A visit to Audubon State Historic Site creates an opportunity for students to take a step back into the past. Our professional Park Rangers lead each group in an immersive walk through history which includes a guided tour of Oakley House and one activity of your choice. Home School programs are offered from September through May, and are scheduled from 9:30 AM until 1 PM Tuesday through Friday. No admission is charged but all groups must preregister. The minimum group size for these activities is 20 and the maximum 60. To preregister please contact the site at 1-225-635-3739 or email at audubon@crt.state.la.us