Jump to: Homeschool Co-ops | Homeschooling Classes & Academic Enrichment
Looking for someone to teach physics to your teen? Need a way to avoid teaching algebra? Want to enroll your Kindergartener in a co-op for social time? Homeschool classes and co-ops are a great way to spend time with other homeschoolers and skill-share with other homeschool parents.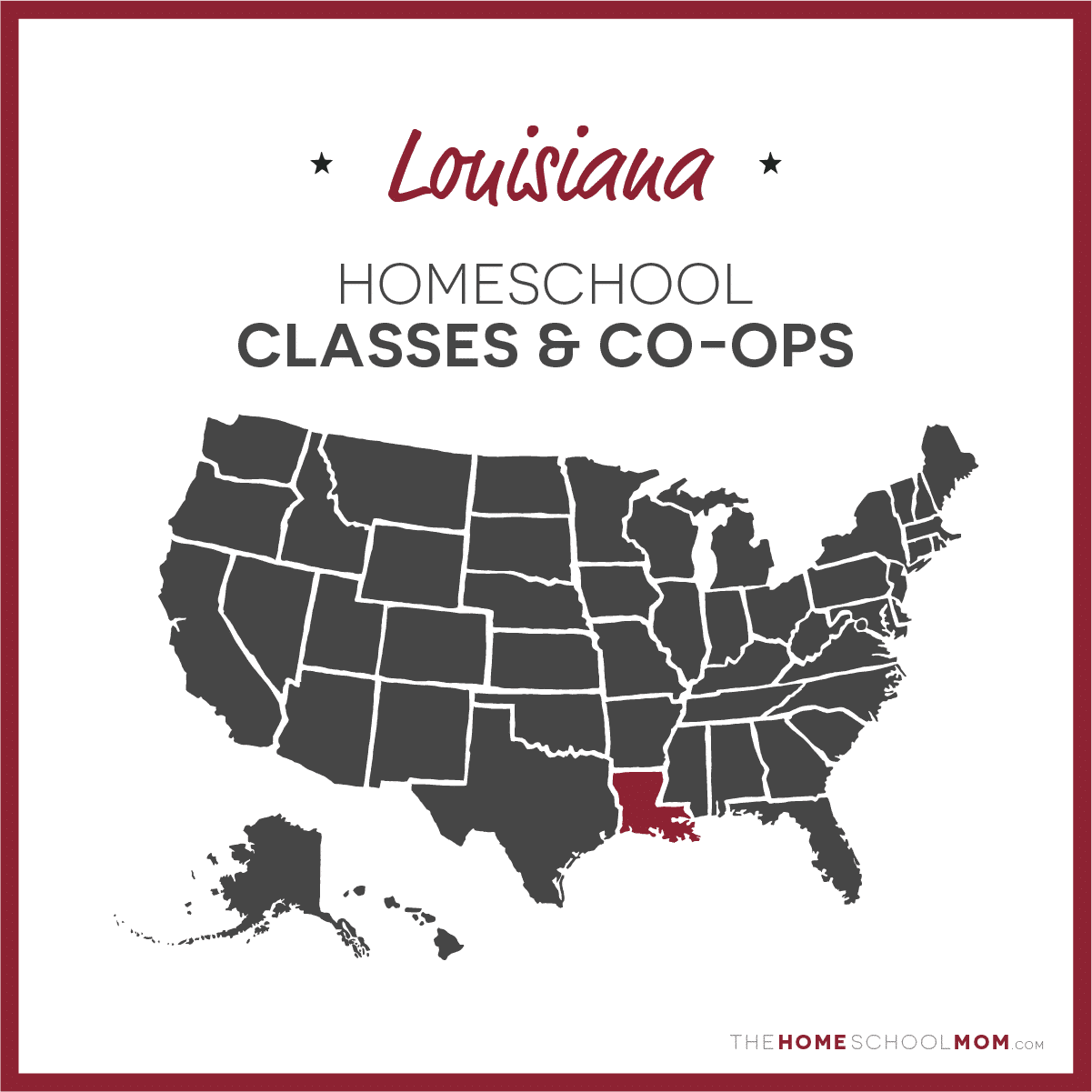 Submit a Local Resource
Our listing of Louisiana co-ops and academic classes for homeschoolers is ordered alphabetically by city, with co-ops in the first section and all other academic resources below. If you would like to submit a Louisiana co-op or academic resource, you may do so using the red button above.
Louisiana Homeschooling Co-ops
Berean Homeschool Co-op - Baton RougeBaton Rouge
The Berean Homeschool Co-op is a 501(c)3 organization serving the Greater Baton Rouge area. Our families work together using a co-operative approach to offer a wide variety of academic and enrichment classes during th...
S.A.L.T. Educational Co-OpBaton Rouge
We are a small community of Christian homeschoolers that meet weekly to provide a social, Christ-centered, fun environment to supplement each family's home education and to create opportunities to work together with p...
Lighthouse Homeschool Co-opBaton Rouge
Lighthouse Christian Homeschool Academy Apr May May 16 - Tuesday We are a homeschool co-op providing cafeteria style academic and enrichment classes for students in Pre-k through High School, including classes eligibl...
Raising Arrows CentralCentral
This Co-op is designed for parents who wish to homeschool but need more assistance due to working or other family circumstances. We hope to provide a Christian resource for families in need of a curriculum-based suppo...
Buckles AcademyGonzales
Buckles Academy is a homeschool co-op. A "village" built on serving our children, by investing in their education and their emotional and social needs. We believe that faith, family and a strong community, nurtured by...
St. John Bosco Co-opGonzales
St. John Bosco is a Catholic private not for profit Co-op aiding families in the education of their children from Pre-Kindergarten through 12th grade. SJB Co-op offers a variety of courses to enhance the educational a...
Raising Arrows Homeschool Co-OpHammond
Raising Arrows Co-op is a cooperative learning opportunity for children Pre-K through 12th grade which meets every week from September - May with various weeks off. The mission of Raising Arrows Co-op is to support an...
Mighty Arrows Co-opHolden
Currently meeting every other Thursday for park days.
Connections of AcadianaLafayette
Connections of Acadiana is proud to serve families of the greater Acadiana region! We exist to connect a community of homeschool families and educators by providing an enriching, academic environment that enhances our...
Cenla Christian Home School AssociationPineville
Cenla Christian Home School Association is a volunteer support organization for Christian families in the Alexandria, Pineville, and surrounding Central Louisiana areas who educate their children at home. Participatio...
CREDO Homeschool Co-OpShreveport
Credo is a co-op of homeschooling families that meets one afternoon a week for 14 weeks each semester during the school year. We offer fun and educational classes for kids and teens. We meet on Wednesday afternoons fr...
Houma HomeschoolersTerrebonne / Lafourche Parishes
A local support group that has existed since 2004 to help families navigate the journey of homeschooling. Whether brand new or veteran, everyone needs encouragement and help. This journey is much more enjoyable when w...
Northeast Louisiana Christian Homeschool AssociationWest Monroe
NELCHA offers: Weekly/Daily update sent via e-mail Family Fun Nights Mom's Night Out Boys & Girls Basketball Girls Volleyball Soccer Spring & Fall Weekly Co-op Classes Competitive Speech & Debate Field Trips Senior Gr...
Cornerstone Homeschool Co-opZachary
Cornerstone Homeschool Co-op is a homeschool co-op which opened in Zachary, LA in the fall of 2016. We are a cooperative group serving the Greater Baton Rouge area. Our families work together using a co-operative appr...
Louisiana Homeschooling Classes & Academic Enrichment
National EMS AcademyAlexandria, Baton Rouge, Covington, Gretna, Houma, Lafayette, Lake Charles
The National EMS Academy (NEMSA) is looking for high school graduates interested in a career in EMS. With campuses throughout Louisiana and Texas, NEMSA offers entry-level, continuing education, and refresher courses ...
Project Learning Tree at Burden Center's Trees and TrailsBaton Rouge
PLT brings the classroom outside for environmental education. Docents lead hands-on activities that teach about endangered and invasive species, tree identification, and more. There is an optional 3 mile hike. Field t...
Behavioral Intervention GroupBaton Rouge
BIG offers social skills groups to children who may have a difficult time understanding and using social skills in their environment. Groups focus on a particular social skill, such as empathy, conflict resolution, fi...
Baton Rouge Speech and Debate ClubBaton Rouge
The Baton Rouge Speech and Debate Club meets every Friday 1:00-3:15 Debate Club - Ages 12 & Up 3:30-5:00 Speech Club - Seniors, Ages 12 & Up; Juniors, Ages 7-12 Location: Community Bible Church
TeenPact LouisianaBaton Rouge
TeenPact is a dynamic, hands-on leadership experience for Christian Students. The mission of TeenPact is to inspire youth in their relationship with Christ and train them to understand the political process, value the...
Education DestinationBroussard
Education Destination, LLC is a locally owned and operated supplemental learning center focusing on achievement, and assisting students and their families with innovative and multi-sensory educational programs. Owner ...
Regina Caeli Academy - Baton RougeGonzales/Baton Rouge area
Regina Caeli Academy is a hybrid homeschool resource center in the Catholic tradition offering academic and extra curricular classes for homeschoolers. Our nationally accredited program serves PreK-3 - 12th grade stud...
Learn After ClassGreater New Orleans Area
Learn After Class provides one-on-one tutoring services. We can meet you at whatever location is convenient to you. We take over subjects you might not have the time to teach, or subjects which might be a little above...
Origins Resource Association: Science classes, workshops, and seminarsKenner
Classes, workshops, and seminars in all areas of science by retired science teacher with 19 years experience. Certified in physics, chemistry, biology, earth science, and math. Specializing in the scientific case for ...
Nutty Scientists of AcadianaLafayette
Nutty Scientists is a European and world leading provider of fun, hands-on, interactive programs for children of all ages related to Science, Technology, Engineering, Arts, Mathematics, Music, Robotics, and Health & N...
The Learning CurveLafayette
The Learning Curve is a private homeschool business that offers high school courses two days a week. These courses are taught by certified teachers and include all high school math (including Calculus for the 2018-19 ...
Tinkergarten LafayetteLafayette
Tinkergarten is a series of classes for 18 month-8 year olds and their parents. Classes are held in a local park. They are intended to connect families with nature; and for children to learn through self-directed play...
Homeschool P.E. ClassesLivingston Parish
10 Weeks of classes for school aged children. Taught in our fully equipped, air conditioned facility. Instructor has a degree in physical education. A free trial class is available. Starts on November 2, 2009, from 1-...
Louisiana Classical ConversationsLouisiana Statewide
Classical Conversations is a national homeschooling program that uses a Bible based curriculum taught in a christian, classical tradition. Classes are geared for age 4 through high school.
Make It Count MathNew Orleans
Make It Count Math is a New Orleans based non-profit that provides families with individual math coaching sessions for students in grades 1-8. Sessions take place virtually and in person on a regular basis. These sess...
Pathways in EducationShreveport
Pathways In Education is a small non-profit charter school with two locations in the Shreveport area. Pathways In Education is a public charter school serving grades 9-12 in Caddo Parish. Pathways considers the unique...
Pathways In Education - Caddo ParishShreveport
Pathways In Education is a public charter school serving grades 9-12 in Caddo Parish. Pathways considers the unique needs of every student, allowing access to small group classes, guided independent study, online cour...
Audubon State Historic SiteSt. Francisville
Oakley Plantation rests within the Audubon State Historic Site, a part of the Louisiana Office of State Parks in Historic St. Francisville, La. The park is located 20 minutes north of Baton Rouge off the Great Mississ...
Go to...