Jump to: Homeschool Arts | Homeschool Sports
In addition to the opportunity to get out of the house and socialize, homeschool sports and arts programs can offer long-term benefits by developing characteristics like leadership, self-confidence, perserverance, and self-esteem. Many organizations and businesses have opportunities specifically for homeschoolers, while others invite homeschoolers to participate in their regular programs.
Not sure how to choose activity/activities for your children? Read how Rebecca narrows down the choice of extra-curricular activities.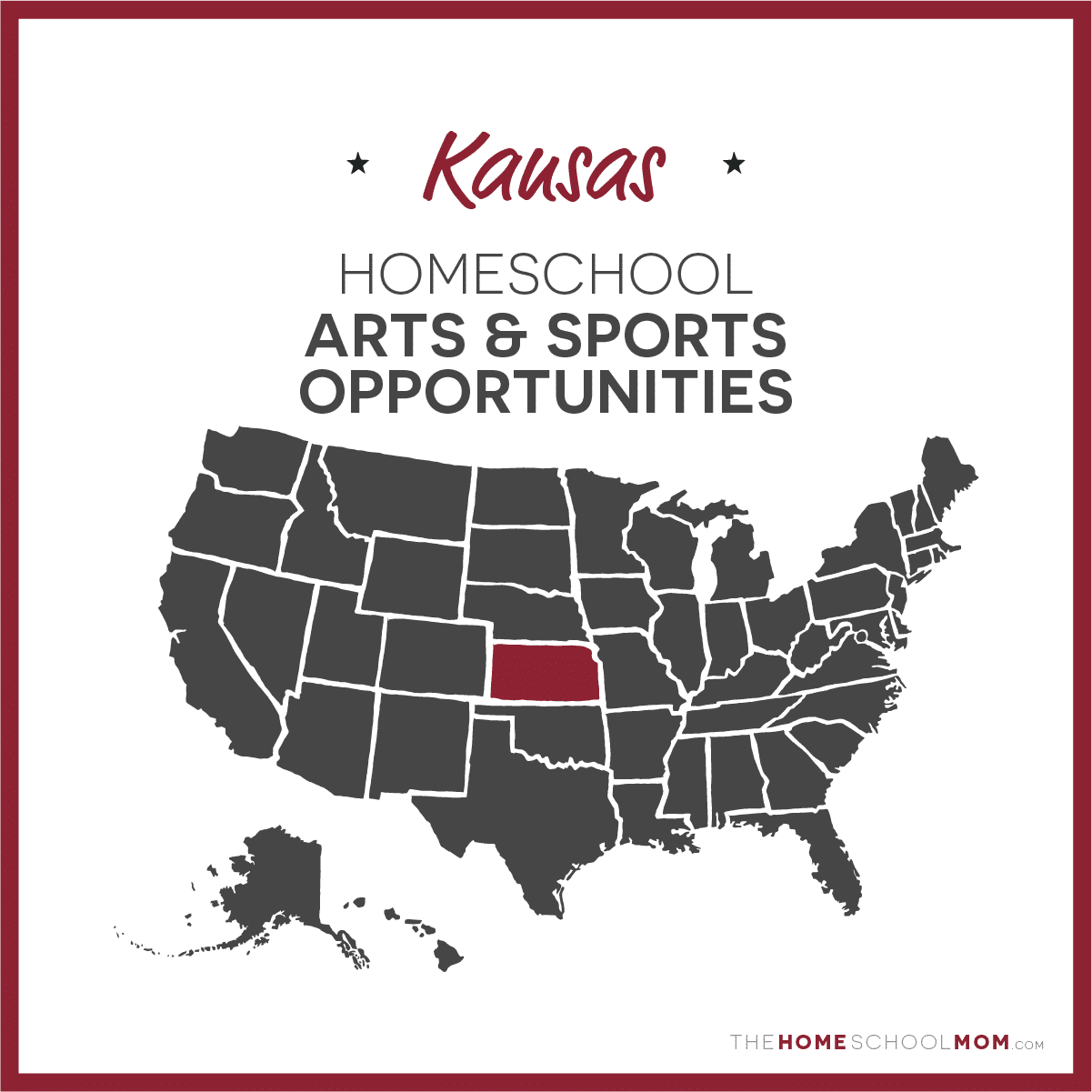 Submit a Local Resource
Our listing of Kansas list of homeschool arts and sports programs is ordered alphabetically by city, with arts in the first section and sports in the second section. If you would like to submit an Kansas arts or sports program, you may do so using the red button above.
Kansas Homeschool Arts Programs
Dance for JESUS Ballet School

Derby/Wichita

Dance for JESUS Ballet is a ballet school in Wichita, KS for all ages (3-adult) who want to praise our Lord Jesus Christ while learning ballet (and tap) technique and interpretive movement. Each class begins with prayer and scripture. Familiar hymns and melodious praise and worship songs are used during class and for choreography as well as Messianic music, Christian Celtic, and timeless classical music. Classes are offered in early afternoons to early evenings on Tuesdays, Thursdays, Fridays, and Saturdays at 2 different locations in east and west Wichita. $5 per class.
Youth Chorus of Kansas City

Kansas City

The Youth Chorus of Kansas City was founded to provide students with the opportunity to pursue excellence through outstanding performance, to grow their skills and abilities, and to become leaders in their respective schools. Once weekly rehearsals are located in downtown Kansas City, to serve as a central location for students throughout the metro area. Founded by veteran educator, director and composer Ryan Main, the Youth Chorus of Kansas City aims to serve ambitious young singers from throughout the Kansas City area, regardless of regardless of race, color, economic class or creed. Scholarships are available for families with financial need. If you love to sing and want to make music and grow in a safe, fun, challenging environment with ambitious students from the Kansas City Metro Area, sign up today!
Homestead Montessori Farm School

Kansas City

Homeschool Enrichment at Homestead Montessori Homeschool enrichment is an extension of Homestead Montessori Farm School. The intent of this program is to offer extra-curricular activities to the homeschooled student as well as allow the non-Montessorian a peek into the world of a Montessori student. Each day will have an instruction period where the student will be given a lesson for the day and then the student will be allowed to further investigate the topic independently. The student will bring their own snacks and sack lunch for the day and will have time for independent or group activity at recess. Each Subject is $100 a month. There is a registration Fee of $50 and a materials fee of $50 per class. There will be an appointment set for the student to come tour the environment before school begins. There are a limited number of spaces available. Classes run for a semester and renew in January for the next semester. Music – Tuesday A History of Music – Students will learn about famous Composers, different genres of music – musical instruments, reading notes on a scale, rhythm and time signatures. Students will learn vocal techniques and learn songs for a musical program. Art – Thursday Art history and techniques – Students will learn about famous Artists and the techniques they use to create those artworks. Students will learn in a working art studio with materials to complete their own works of art. The rest of the day will be studying the geography and history of the different famous artists. STEAM DAY – Friday This is a day where the student will be either learning a science principle, learning about technology, engineering, art or woodworking. Students will learn about the different professions that are available and necessary in our society. A professional will come in at least once a month and share about their profession.
First Act Theatre Arts

Kansas City

First Act Theatre Arts is a Kansas City-area nonprofit organization that encourages excellence in the theatrical arts, fostering character and community building through training, performance, and fellowship in a faith-based environment.
Violin lessons with Rebeca Baquerizo

Kansas City

Experienced violinist is offering violin lessons to the homeschooling community in Kansas City. With eight years of teaching experience and a master's degree in violin performance from Boston, Ms. Baquerizo is offering organized, engaging, and fun private violin lessons to children of all ages. Besides one-on-one instruction, she can also offer group classes to homeschooling groups and coops. This past year she helped launch an after school program at St. Mary's Academy in St. Mary's, Kansas that has been quite successful. She is also teaching with Harmony Project KC in a pilot music program with inner city schools. She can offer the classes virtually or in-person at your home, with proper precautions. The violin is a wonderful way to help children grow, have fun, and improve academics, discipline, and a variety of skills. Group classes also promote teamwork and communication. During these difficult times of the pandemic, it is a great way to help children occupy their time. A former homeschooler herself, Ms. Baquerizo is excited to share her love of music with the local homeschooling community.
Encore Homeschool Fine Arts

Lawrence

Encore Homeschool Fine Arts came into existence in 2003, offering a music education opportunity to the local homeschool community. They started out with one beginning band, and grew into four levels of band, two levels of strings, choir, and guitar. Later, preschool music and world percussion were added. Encore meets on Friday mornings, from September - early December. Second semester meets January through early May. Two recital programs are scheduled for December and May.
Kristen Ely Piano Studio

Lenexa/Shawnee Mission

Creative piano education for ages 5 to adult. More than just learning to read music -- explore the creativity, expression, and joy of playing music you love on the piano! Private or partner lessons in a homeschooling mom's home studio.
K-State Beach Museum of Art, ArtSmart classes and family programs

Manhattan

Monthly ArtSmart classes for toddler to school age students discussing topics related to our exhibitions along with a hands on art sessions, and special tours designed around school curriculum topics (ie. math and art, color and light, historical topics)

K-State Beach Museum of Art, ArtSmart classes and family programs details
Land of Let's Pretend

Overland Park

Land of Let's Pretend offers Guided Imagination Laboratories in a 4 week session that meets once a week for 45 minutes. The session begins with the exploration of props which will lead to the reading of a story that will inspire and spark the adventure. Your students will be guided to explore different characters with movement, exploration of feelings and words - all the while, they are pretending in their magical environment!
Accent Studio - In Home Piano Lessons

Wichita

Piano lessons in the comfort of your home environment. No more rushing to lessons or trying to figure out what to do with your other kids while you wait for lessons to finish. Discounts available for multiple students in the same home. Lessons are geared to meet each child's individual abilities and needs. This is a great way to get weekly exposure to music.
Marina's Music Studio - In Home Lessons

Wichita

Marina's Music School is enrolling for the Fall semester. Morning and daytime piano, voice, music theory, and guitar lessons are available to supplement your homeschool curriculum.
Seckman Music Studio

Wichita

Seckman Music Studio offers private music lessons for Piano, Drums and Percussion, and Voice, in studio and at your own home! Since 2011, Seckman's has been providing, fun, flexible, and reliable music lessons. Gone are the days of boring lessons – Seckman's main goal is to MAKE MUSIC HAPPEN! Offering lessons and classes for all ages: 3 to 103 years old. From KiddyKeys preschool classes, Pinot and Piano adult classes, group piano lessons, and a variety of special camps and workshops, Seckman Music Studio is your place for a fun music education.
Kansas Homeschool Sports Programs
Vahid Assadpour Soccer Training

Kansas City

Vahid Assadpour Soccer Training (VAST) is a soccer training facility and organization. VAST offers daytime, evening and weekend sessions year round. There are sessions for all levels and ages. Offering Small Group Training and Individual Training. Special rates available for groups of 6 or more children. Soccer sessions are for ages 2- 18. Players are divided into groups based upon their skill level. For more information and to register go to our website at vasoccertraining.com. There are 3 locations throughout the KC metro area. All locations have turfed space that is great for events during the days, evening or weekends! VAST North Facility 8100 NW 101st Terrace Kansas City, MO 64153 VAST South Facility 6226 Merriam Drive Merriam, KS 66203 VAST Liberty Facility - Coming Spring 2019 TBA
Metro Mavericks

Kansas City

Metro Mavericks provides an opportunity for competitive sports in a Christian atmosphere for home educated athletes in the Kansas City metro area. The KC Metro Academy Mavericks provide athletic competition against public schools, private schools, and home-educated groups in and around the Kansas City Metro area. We have an Approved status with the Kansas State High School Activities Association and are a tax-exempt organization under Code Section 501 (c)(3). The organization is entirely run by parent volunteers and primarily supported through player registration fees.
KC East Lions Homeschool Athletics

Kansas City Metro

The Greater Kansas City Home School Association, also known as the KC East Lions, is a 501(c)(3) nonprofit sports association serving the greater Kansas City metropolitan area. KC East offers athletic programs such as baseball, softball, soccer, football, volleyball, basketball, cross country and track & field to home-schooled boys and girls, as well as to privately educated students at schools without these sports programs. Over 75 of our student athletes have received college scholarships in various sports at junior colleges or at the D1, D2 and NAIA levels. Through special arrangements with the Kansas State High School Athletic Association and their affiliates, the KC East Lions are able to compete against a wide range of schools. Athletes in the program play against other home school athletic organizations, as well as private and public schools. The KC East Lions strives to create a positive athletic experience. Sportsmanship, self-discipline, and integrity are among the Christian values that are emphasized and modeled.
KC Metro Homeschool Athletic Program

Kansas City Metro Area

The Kansas City Metro Homeschool Athletic Program is an organization that provides sports opportunities for homeschooled students in the Kansas City metropolitan area. The program offers various sports including basketball, cross country, soccer, and track & field. The goal of the program is to provide a positive and competitive environment where homeschooled students can engage in athletic activities, develop teamwork skills, and build relationships with other homeschooled students. The program is open to homeschooled students of all skill levels, from beginner to advanced.
Heartland Soccer Association

Olathe

Heartland Soccer Association is managing the Garmin Olathe Soccer Complex, and we are looking to rent our fields to home school events that could take place in the Olathe, KS and larger Kansas City metropolitan area. We would like to partner with home school organizations in the area to provide an area for them to utilize for recreational and athletic events.
My Gym Children's Fitness Center

Overland Park

Offering classes for children ages 4 months-9 years, focusing on positive encouragement while developing physical, mental, athletic, and social skills. Our drop-off Summer Camp program is for kids 2.5 -9 years old and potty-trained. Camp includes games/activities, snack and craft! Learn more about these and other programs at https://www.mygym.com/overlandpark or by calling 913.685.9005.
Emerald City GYM

Overland Park

Emerald City has LOTS of options to keep kids of all ages entertained and active! This 25,000 sq ft indoor facility offers tons of fun activities including trampolines, slides, a zipline, a maze, rope swings, a foam pit, indoor rock climbing, and MORE! Group pricing starts at groups of 10 for 1 hour, and you can add time in 1/2 hour increments. The more kids you bring, the lower the price per child will be. Offering public walk-in playtimes as well.
Pinnacle Gymnastics

Overland Park/Shawnee

Individual and group instruction in gymnastics for boys and girls, ages 3 and above. Offers Open Gym daily and will work with groups to create specialized courses involving physical fitness and activity. Locations in Shawnee and Overland Park
Bliss Bouldering and Climbing Complex

Wichita

Bliss Bouldering and Climbing Complex offers 8 and 16 week programs for home-school kids! Rock climbing is a great P.E. alternative for home-school kids because it is a heart healthy activity, boosts confidence as well as a great entertainment and fitness value for kids of all ages! With so many different routes to the top of the 'mountain,' kids get the opportunity to test out their problem solving skills, and learn how to negotiate the smoothest route to victory. Indoor rock climbing is a great puzzle to be solved, and kids have fun trying to figure out the best way to navigate the path to the top. Stretching little minds toward creative solutions is great practice for facing challenges on the path of life. Climbing walls require strength, flexibility, and coordination to successfully maneuver. Practicing the skills to ascend a rock climbing wall naturally builds a functional, core-driven skill set that helps aid in all other sports kids may want to play. From football to soccer, and tennis to swimming, core strength and flexibility are a valuable part of playing safe and injury free.