Jump to: Homeschool Arts | Homeschool Sports
In addition to the opportunity to get out of the house and socialize, homeschool sports and arts programs can offer long-term benefits by developing characteristics like leadership, self-confidence, perserverance, and self-esteem. Many organizations and businesses have opportunities specifically for homeschoolers, while others invite homeschoolers to participate in their regular programs.
Not sure how to choose activity/activities for your children? Read how Rebecca narrows down the choice of extra-curricular activities.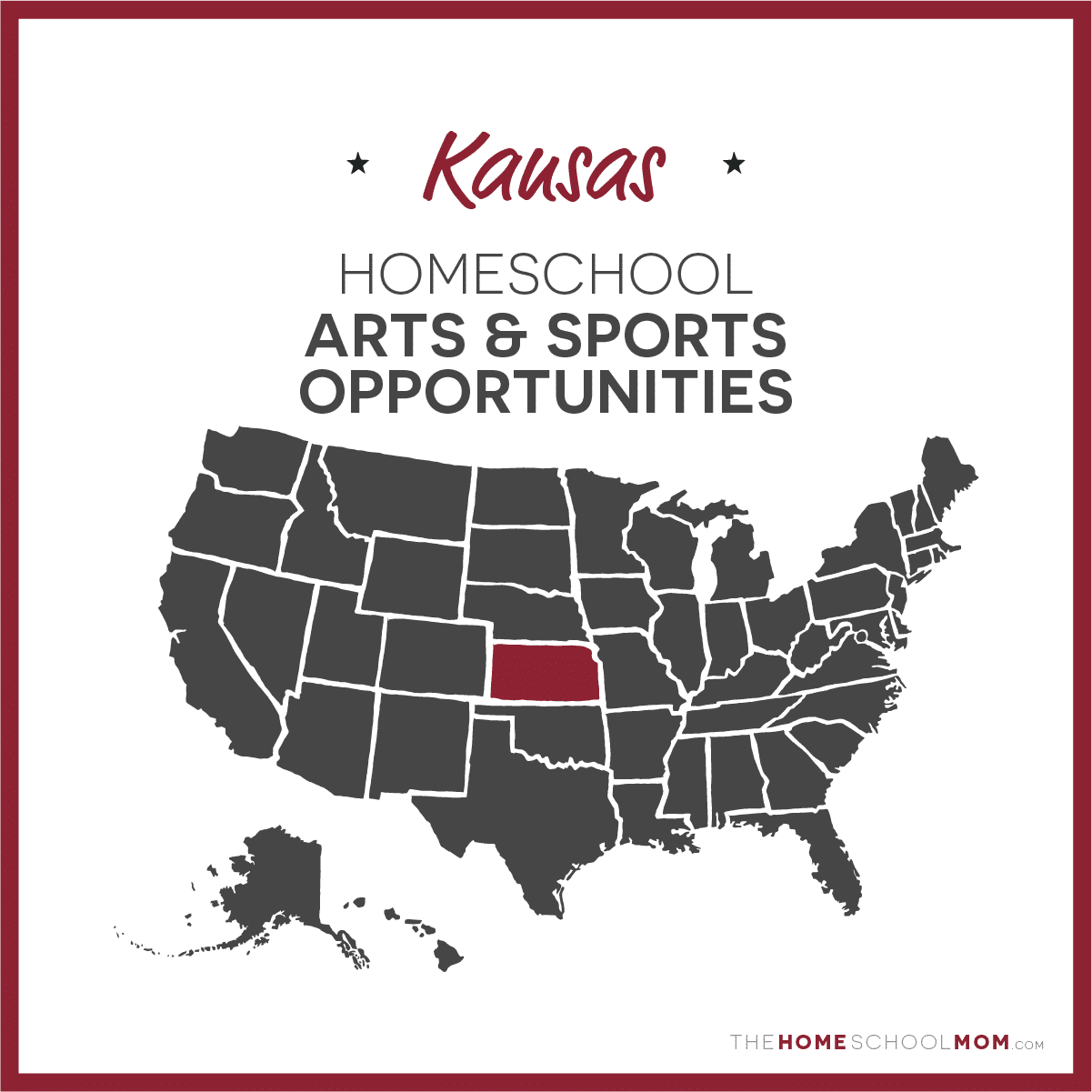 Submit a Local Resource
Our listing of Kansas list of homeschool arts and sports programs is ordered alphabetically by city, with arts in the first section and sports in the second section. If you would like to submit an Kansas arts or sports program, you may do so using the red button above.
Kansas Homeschool Arts Programs
Dance for JESUS Ballet SchoolDerby/Wichita
Dance for JESUS Ballet is a ballet school in Wichita, KS for all ages (3-adult) who want to praise our Lord Jesus Christ while learning ballet (and tap) technique and interpretive movement. Each class begins with pray...
Youth Chorus of Kansas CityKansas City
The Youth Chorus of Kansas City was founded to provide students with the opportunity to pursue excellence through outstanding performance, to grow their skills and abilities, and to become leaders in their respective ...
Homestead Montessori Farm SchoolKansas City
Homeschool Enrichment at Homestead Montessori Homeschool enrichment is an extension of Homestead Montessori Farm School. The intent of this program is to offer extra-curricular activities to the homeschooled student a...
First Act Theatre ArtsKansas City
First Act Theatre Arts is a Kansas City-area nonprofit organization that encourages excellence in the theatrical arts, fostering character and community building through training, performance, and fellowship in a fait...
Violin lessons with Rebeca BaquerizoKansas City
Experienced violinist is offering violin lessons to the homeschooling community in Kansas City. With eight years of teaching experience and a master's degree in violin performance from Boston, Ms. Baquerizo is offerin...
Encore Homeschool Fine ArtsLawrence
Encore Homeschool Fine Arts came into existence in 2003, offering a music education opportunity to the local homeschool community. They started out with one beginning band, and grew into four levels of band, two level...
K-State Beach Museum of Art, ArtSmart classes and family programsManhattan
Monthly ArtSmart classes for toddler to school age students discussing topics related to our exhibitions along with a hands on art sessions, and special tours designed around school curriculum topics (ie. math and art...
Accent Studio - In Home Piano LessonsWichita
Piano lessons in the comfort of your home environment. No more rushing to lessons or trying to figure out what to do with your other kids while you wait for lessons to finish. Discounts available for multiple students...
Marina's Music Studio - In Home LessonsWichita
Marina's Music School is enrolling for the Fall semester. Morning and daytime piano, voice, music theory, and guitar lessons are available to supplement your homeschool curriculum.
Seckman Music StudioWichita
Seckman Music Studio offers private music lessons for Piano, Drums and Percussion, and Voice, in studio and at your own home! Since 2011, Seckman's has been providing, fun, flexible, and reliable music lessons. Gone a...
Kansas Homeschool Sports Programs
Vahid Assadpour Soccer TrainingKansas City
Vahid Assadpour Soccer Training (VAST) is a soccer training facility and organization. VAST offers daytime, evening and weekend sessions year round. There are sessions for all levels and ages. Offe... [Read more...]
Metro MavericksKansas City
Metro Mavericks provides an opportunity for competitive sports in a Christian atmosphere for home educated athletes in the Kansas City metro area. The KC Metro Academy Mavericks provide athletic co... [Read more...]
Heartland Soccer AssociationOlathe
Heartland Soccer Association is managing the Garmin Olathe Soccer Complex, and we are looking to rent our fields to home school events that could take place in the Olathe, KS and larger Kansas City... [Read more...]
My Gym Children's Fitness CenterOverland Park
Offering classes for children ages 4 months-9 years, focusing on positive encouragement while developing physical, mental, athletic, and social skills. Our drop-off Summer Camp program is for kids ... [Read more...]
Emerald City GYMOverland Park
Emerald City has LOTS of options to keep kids of all ages entertained and active! This 25,000 sq ft indoor facility offers tons of fun activities including trampolines, slides, a zipline, a maze, r... [Read more...]
Pinnacle GymnasticsOverland Park/Shawnee
Individual and group instruction in gymnastics for boys and girls, ages 3 and above. Offers Open Gym daily and will work with groups to create specialized courses involving physical fitness and act... [Read more...]
Bliss Bouldering and Climbing ComplexWichita
Bliss Bouldering and Climbing Complex offers 8 and 16 week programs for home-school kids! Rock climbing is a great P.E. alternative for home-school kids because it is a heart healthy activity, boos... [Read more...]
Go to...