Jump to: Homeschool Co-ops | Homeschooling Classes & Academic Enrichment
Looking for someone to teach physics to your teen? Need a way to avoid teaching algebra? Want to enroll your Kindergartener in a co-op for social time? Homeschool classes and co-ops are a great way to spend time with other homeschoolers and skill-share with other homeschool parents.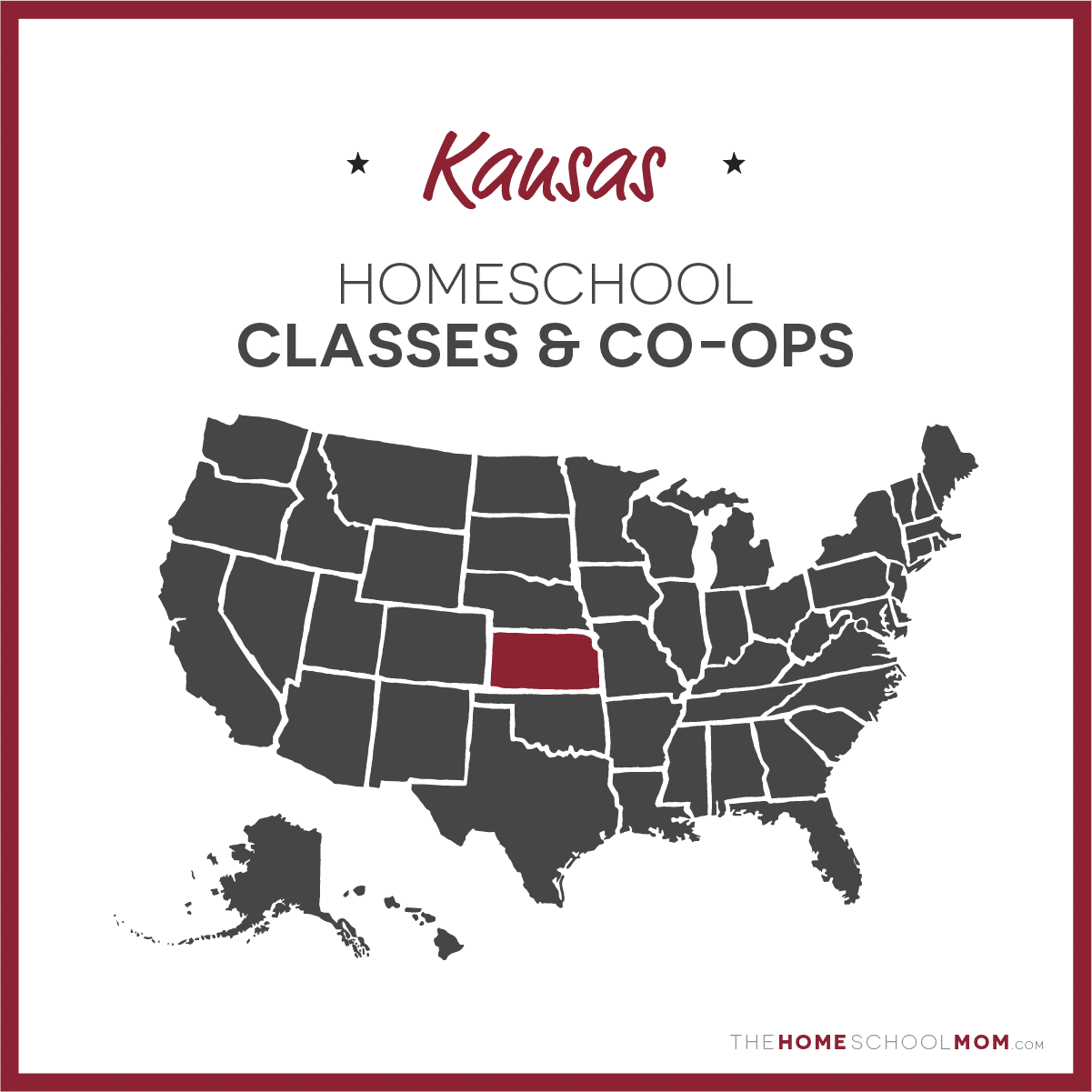 Submit a Local Resource
Our listing of Kansas co-ops and academic classes for homeschoolers is ordered alphabetically by city, with co-ops in the first section and all other academic resources below. If you would like to submit a Kansas co-op or academic resource, you may do so using the red button above.
Kansas Homeschooling Co-ops
Golden Belt Home Educators

Great Bend, Barton County, and surrounding area

GBHE is a group of home educating families in Great Bend, Kansas and surrounding rural areas.  We aim to have a monthly "Mom's Night Out" activity for social support and a monthly field trip for the whole family. GBHE also has an educational/enrichment co-op that meets for two 12-week sessions (on average) each school year.  We meet Thursday mornings in Great Bend for 3-4 classes.  This is a parent directed group - where parents stay to help with teaching, assisting in a class, severing as a hall monitor, or by serving in the nursery/toddler/Pre-K areas.
Reno County Homeschool Connection Ltd.

Hutchinson

This is a homeschooling group that services all of Reno County, KS and surrounding areas. This group contains a co-op with hands on classes each Monday for 24 weeks each year. It also provides sports clubs, swim team, gymnastics, STEM Club, Science Kids, Robotics, and is home of the Ad Astra Challenge (Stoa Speech and Debate). Each school year starts around July 1st. Each year, orientation is required to remain a member.
Reno County Homeschool Connection

Hutchinson

The Reno County Homeschool Connection Co-op meets on Mondays 24 weeks a year. Classes are mostly hands on. They include Sciences for all levels 3y - 12th grade. Archery, Cooking, Latin, Speech/Debate, Art for all ages, Sewing, Woodworking, Volleyball, Basketball, Math Games, Reading, Music Lessons, and Personal Finance.
Shema Co-op

Kansas City

This Biblically based Co-op is a parent led opportunity to provide enrichment to your students. Each semester, the parents meet up and determine what classes they believe will be most suited for their children, and work together to teach their students. Shema meets once a week, in the mornings, with a 3 class rotation. There is a nursery and classes for children from preschool and up. This is an "all hands on deck," co-op where the parents are involved and stay on site to help teach and assist with the classes.
Shema Homeschool Co-op

Kansas City

Shema Homeschool Co-op is a Christian group that meets once a week in Tonganoxie, KS. Each Semester lasts 14 weeks allowing the students to make lasting friendships, learn in a different dynamic from home and have fun along the way. Students rotate through 3 extra curricular classes in the morning, some families stay and enjoy lunch together and stick around for an additional Science class after lunch. Shema Homeschool Co-op offers classes from high school, down to Pre-K (including nursery for siblings of students). During Co-op, a guardian is expected to stay on-site to help with classes, as assigned, taking each individual gifting and preference in mind. The guardian also gets on free class period as a break to help facilitate fellowship and friendship with other homeschool parents. This community also does various Field-trips, Mom's Night Outs, Family events and Park days all throughout the year.
Ambassadors for Christ homeschool group

Labette County

We are a Christian co-op and homeschool group in the Labette county area of Kansas. We are dedicated to train our kids as servants of Christ and Christian leaders of this world. Contact us to see about how to join us for Edu days, field trips, leadership days, and events.
The Social Homeschooler

Leavenworth County

The Social Homeschooler is an inclusive social group, open to homeschool families of all beliefs and learning methods, with the idea that variation creates a beautiful tapestry that is our community. We strive to connect local, active homeschool families in order that friendships might be forged, interest and skills shared, and our community broadened. Bringing together our passions, talents, and skills we believe we can create a learning-rich environment and deep and lasting friendships. This non-traditional co-op offers flexibility in participation with connection to dedicated homeschool families in the local area to build community. Events hosted by group members are interest based events such as hikes, science experiments, home economics, art, field trips, shared learning, gaming, film making, and much more. The Social Homeschooler also hosts annual events such as meet and greet, potluck/picnic, field day, and community service activities to get families connected to the broader community. In addition to the student focused activities, The Social Homeschooler also offers support for home educators in the form of online chat space, in person meet ups, and shared learning for parents. The Social Homeschooler Co-op is built upon the idea that it is not what the organization can provide for our families, but what we can build together.
The Classical Orchard

Manhattan

The Orchard is a classically minded Christian educational cooperative (co-op). Educational experiences are designed to support homeschool families.
Pittsburg homeschoolers coop

Pittsburg

PHC is a group for homeschooling families in the Crawford County area. The goal is to provide a place for homeschool families to come together to participate in activities they may not be able to complete at home with small group. It is a great way to socialize and make new friends!
Topeka secular homeschool co-op

Topeka

TSHC is secular, inclusive, and respectful of all beliefs and abilities. This group is lgtbq+ friendly including using correct pronouns. TSHC is free of charge, running on donations. This group meets every Friday from 1pm-3pm. Find us on Facebook for more information!
East Wichita Homeschool Co-op

Wichita

East Wichita Homeschool Co-op (EWHS) is a Christian homeschool support group for moms. EWHS classes are designed to provide supplementary education for students in grades K-8 (and younger siblings) with an emphasis on classes and activities that are best presented in a group setting. Classes are taught and assisted by moms and each person plays an integral part in the success of our classes. Our classes occur on the odd numbered Fridays (1st, 3rd, and 5th) of the month from 9:00 AM to 12:00 PM, September through December, and then again from January through the end April/ beginning of May. There are typically 7 class days per semester.
Kansas Homeschooling Classes & Academic Enrichment
VenturesDBS

Bel Aire

Elementary aged, in person classes for students struggling with reading issues or dyslexia.
Chanute Classical Conversations

Chanute (Southeast Kansas)

Local community of the Classical Conversations homeschool program (grades K4-12). Christ-centered classical education with the motto, "To Know God and To Make Him Known."
Homestead Montessori Farm School

Kansas City

Homeschool Enrichment at Homestead Montessori Homeschool enrichment is an extension of Homestead Montessori Farm School. The intent of this program is to offer extra-curricular activities to the homeschooled student as well as allow the non-Montessorian a peek into the world of a Montessori student. Each day will have an instruction period where the student will be given a lesson for the day and then the student will be allowed to further investigate the topic independently. The student will bring their own snacks and sack lunch for the day and will have time for independent or group activity at recess. Each Subject is $100 a month. There is a registration Fee of $50 and a materials fee of $50 per class. There will be an appointment set for the student to come tour the environment before school begins. There are a limited number of spaces available. Classes run for a semester and renew in January for the next semester. Music – Tuesday A History of Music – Students will learn about famous Composers, different genres of music – musical instruments, reading notes on a scale, rhythm and time signatures. Students will learn vocal techniques and learn songs for a musical program. Art – Thursday Art history and techniques – Students will learn about famous Artists and the techniques they use to create those artworks. Students will learn in a working art studio with materials to complete their own works of art. The rest of the day will be studying the geography and history of the different famous artists. STEAM DAY – Friday This is a day where the student will be either learning a science principle, learning about technology, engineering, art or woodworking. Students will learn about the different professions that are available and necessary in our society. A professional will come in at least once a month and share about their profession.
KC Farm School at Gibbs Road

Kansas City

KC Farm School at Gibbs Road, a three acre urban farm located in Wyandotte County, KS is a nonprofit aiming to empower individuals through on-farm, hands-on experiences and vocational education connecting them to the land and soil, food, themselves and their communities. KC Farm School offers field trips for youth of all ages tied to educational standards as well as one-time or regular volunteerism opportunities.
Kansas Homeschool Project

Kansas City

Kansas Homeschool Project offers a variety of classes for students from Preschool through High School on Thursdays from 10:00am to 2:30pm in the Kansas City area. Two 12 week sessions in Fall and Winter/Spring. Some examples of class offerings includes: Novel Study Mystery Science Art Chess Cooking Debate
City of Fountains School Enrichment Classes

Kansas city, MO/ Waldo area

The City of Fountains' enrichment programs offer homeschooling families a sample of education inspired by the Waldorf approach. The lower, middle and upper grades classes meet every Thursday from 9-1pm and each follows a daily rhythm of morning circle and verse, movement, with main lessons and daily outdoor time to follow. The lower grades enrichment program is for children 6-7 years old and the curriculum is rich with nature stories and folk tales.The middle grades program is for children ages 8-10 and the upper grades is for children 11-13. There will be regularly scheduled field trips that follow along with the main lessons which will cover such topics as paper making, drawing, painting, botany, zoology, Native Americans/ primitive skills, clay sculpture, puppetry, theater and more.
Kansas Classical Conversations

Kansas Statewide

Classical Conversations is a national homeschooling program that uses a Bible based curriculum taught in a christian, classical tradition. Classes are geared for age 4 through high school.
Vine and Branches Enrichment Group

Leavenworth

Vine and Branches is a Christian home-schooling enrichment group in the Leavenworth/Lansing Kansas area. Students meet on Wednesday mornings throughout the year offering P.E. and enrichment classes for all ages, plus field trips and class parties. Please email vinebranchesinfo@gmail.com for more information and for registration forms.
Honors Summer Academy

Oklahoma City

Save the Date for HSA 2024, July 7th-12th! Application is open for the 2024 Honors Summer Academy, July 7-12, 2024! Students can earn 2 hours of transferable college credit in Engineering, Bible, Humanities, or Science. HSA students receive the full university experience in one week – complete with daily chapel, engaging classes, master faculty, inspiring and informative field trips, labs, and more. Join the annual, one-week college experience hosted by OC's Honors Program! Gifted and talented students who are presently in 9th-11th grade in Fall, pursue excellence together. Come stay on the OC campus, earn college credit and have a really fun time! Honors Summer Academy's total cost is $600. The price includes all meals, lodging, field experiences, access to computer labs, and much more. Refer a friend that applies and is accepted and receive another $50 discount! Balance is due by June 1. More details including course options, schedule, videos, cost, and an online application can be found by visiting: www.oc.edu/hsa.
Mahaffie Stagecoach Stop & Farm homeschool days

Olathe

Experience Living History: 1860s Style! Mahaffie hosts Spring Home School Days the fourth Thursday and Friday in April and Fall Home School Days the first Thursday and Friday in September. Activities are for all ages and engages your students in hands-on living history. Please mark your calendars for Spring Homeschool Days are Thursday, April 25, and Friday, April 26, 2024.
Robotics Club (FIRST FTC 11874 Metal Mavericks)

Overland Park

A student lead robotics team accepting homeschool, private, and public school kids. There are three teams for 9th through 12th graders. Join to learn 3d modeling, programming, and other aspects of engineering. Students who join also get exposure to business, marketing, and graphic design. Meetings start at traditional public school year start.
Kansas BEST

Wichita

BEST (Boosting Engineering Science and Technology) is a non-profit volunteer based program organization whose mission is to inspire students to pursue careers in engineering, science and technology through participation in sports like, science and engineering-based robotics competition. Wichita State University
Andover eCademy

Wichita

Andover eCademy is a blended virtual school serving grades K-12 in Kansas. This is an outstanding resource for parents looking to educate their child, in their home, with the help of licensed professionals and proven curriculum.