Jump to: Homeschool Co-ops | Homeschooling Classes & Academic Enrichment
Looking for someone to teach physics to your teen? Need a way to avoid teaching algebra? Want to enroll your Kindergartener in a co-op for social time? Homeschool classes and co-ops are a great way to spend time with other homeschoolers and skill-share with other homeschool parents.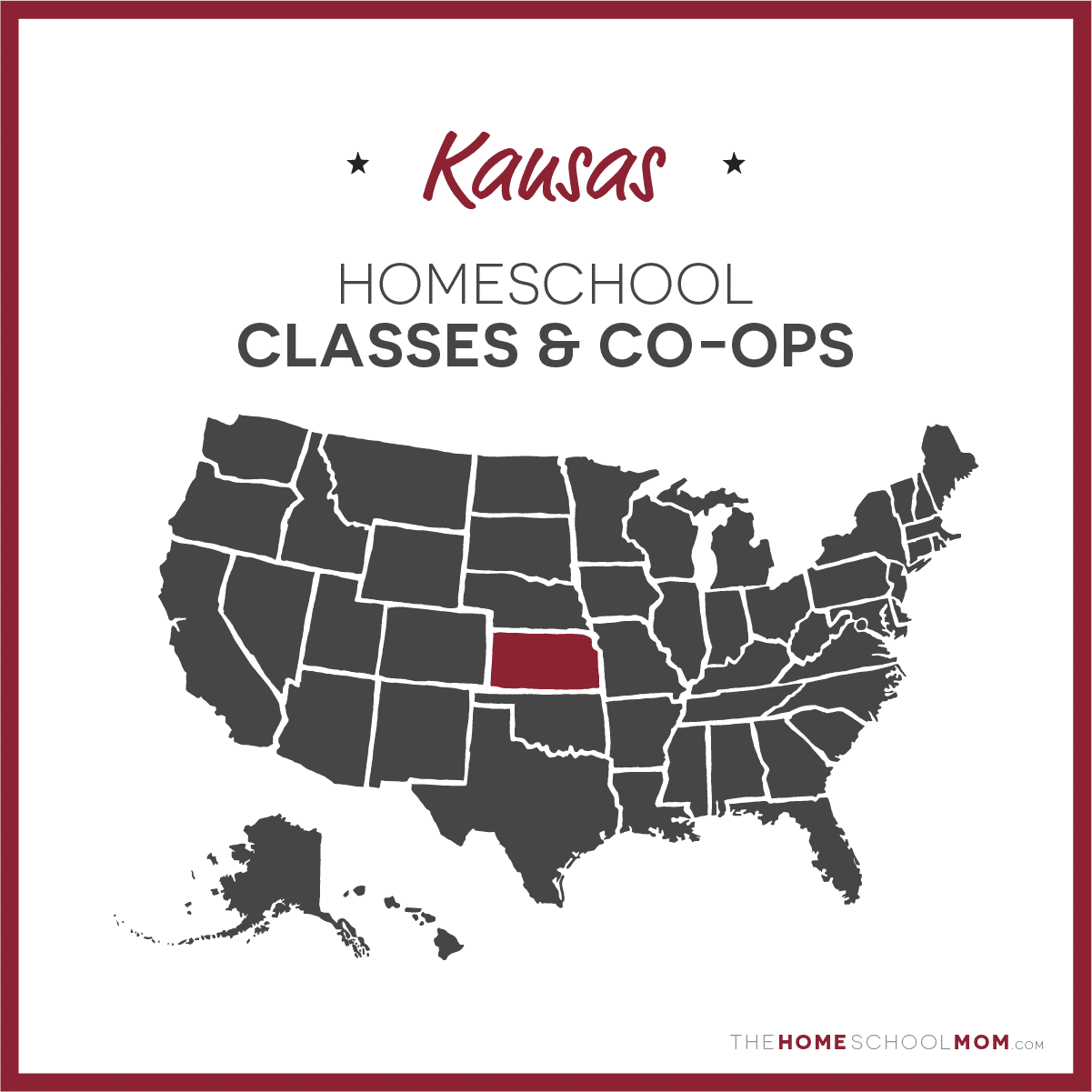 Submit a Local Resource
Our listing of Kansas co-ops and academic classes for homeschoolers is ordered alphabetically by city, with co-ops in the first section and all other academic resources below. If you would like to submit a Kansas co-op or academic resource, you may do so using the red button above.
Kansas Homeschooling Co-ops
Golden Belt Home EducatorsGreat Bend, Barton County, and surrounding area
GBHE is a group of home educating families in Great Bend, Kansas and surrounding rural areas.  We aim to have a monthly "Mom's Night Out" activity for social support and a monthly field trip for the whole family. GBHE...
Reno County Homeschool Connection Ltd.Hutchinson
This is a homeschooling group that services all of Reno County, KS and surrounding areas. This group contains a co-op with hands on classes each Monday for 24 weeks each year. It also provides sports clubs, swim team,...
Reno County Homeschool ConnectionHutchinson
The Reno County Homeschool Connection Co-op meets on Mondays 24 weeks a year. Classes are mostly hands on. They include Sciences for all levels 3y - 12th grade. Archery, Cooking, Latin, Speech/Debate, Art for all ages...
Shema Co-opKansas City
This Biblically based Co-op is a parent led opportunity to provide enrichment to your students. Each semester, the parents meet up and determine what classes they believe will be most suited for their children, and wo...
Ambassadors for Christ homeschool groupLabette County
We are a Christian co-op and homeschool group in the Labette county area of Kansas. We are dedicated to train our kids as servants of Christ and Christian leaders of this world. Contact us to see about how to join us ...
LINKLeavenworth
L.I.N.K. is a parent-led, non-denominational, Christian Homeschool group offering support and encouragement in a Christ-centered environment to homeschoolers and their families. This group once met in Easton, and now ...
The Classical OrchardManhattan
The Orchard is a classically minded Christian educational cooperative (co-op). Educational experiences are designed to support homeschool families.
Pittsburg homeschoolers coopPittsburg
PHC is a group for homeschooling families in the Crawford County area. The goal is to provide a place for homeschool families to come together to participate in activities they may not be able to complete at home with...
East Wichita Homeschool Co-opWichita
East Wichita Homeschool Co-op (EWHS) is a Christian homeschool support group for moms. EWHS classes are designed to provide supplementary education for students in grades K-8 (and younger siblings) with an emphasis on...
Kansas Homeschooling Classes & Academic Enrichment
VenturesDBSBel Aire
Elementary aged, in person classes for students struggling with reading issues or dyslexia.
Chanute Classical ConversationsChanute (Southeast Kansas)
Local community of the Classical Conversations homeschool program (grades K4-12). Christ-centered classical education with the motto, "To Know God and To Make Him Known."
American Legion Boys' State of KansasKansas
The American Legion Boys' State program was started in the 1930's by the American Legion to teach the basics of Government. Kansas was the 5th State to start a program. It is a simulation where the Delegates are organ...
Little Medical SchoolKansas City
Little medical school is a STEM based enrichment program that brings medicine, science, and the importance of health to children in an entertaining, exciting, and fun way. Children learn while having fun as they dress...
KC Farm School at Gibbs RoadKansas City
KC Farm School at Gibbs Road, a three acre urban farm located in Wyandotte County, KS is a nonprofit aiming to empower individuals through on-farm, hands-on experiences and vocational education connecting them to the ...
Homestead Montessori Farm SchoolKansas City
Homeschool Enrichment at Homestead Montessori Homeschool enrichment is an extension of Homestead Montessori Farm School. The intent of this program is to offer extra-curricular activities to the homeschooled student a...
City of Fountains School Enrichment ClassesKansas city, MO/ Waldo area
The City of Fountains' enrichment programs offer homeschooling families a sample of education inspired by the Waldorf approach. The lower, middle and upper grades classes meet every Thursday from 9-1pm and each follow...
Kansas Classical ConversationsKansas Statewide
Classical Conversations is a national homeschooling program that uses a Bible based curriculum taught in a christian, classical tradition. Classes are geared for age 4 through high school.
Vine and Branches Enrichment GroupLeavenworth
Vine and Branches is a Christian home-schooling enrichment group in the Leavenworth/Lansing Kansas area. Students meet on Wednesday mornings throughout the year offering P.E. and enrichment classes for all ages, plus ...
Honors Summer Academy 2022Oklahoma City
Application is open for the 2023 Honors Summer Academy, July 9-14, 2023! Students can earn 2 hours of transferable college credit in Engineering, Bible, Humanities, or Science. HSA students receive the full university...
Robotics Club (FIRST FTC 11874 Metal Mavericks)Overland Park
A student lead robotics team accepting homeschool, private, and public school kids. There are three teams for 9th through 12th graders. Join to learn 3d modeling, programming, and other aspects of engineering. Student...
Kansas Muzzleloading Association Living History EventTopeka
Members of the Kansas Muzzleloading Association will present several short lessons on living and working in the 1800s. The event will be Feb. 3, 2023, at the Downtown Ramada Inn in Topeka, KS. This event is one day on...
Kansas BESTWichita
BEST (Boosting Engineering Science and Technology) is a non-profit volunteer based program organization whose mission is to inspire students to pursue careers in engineering, science and technology through participati...
Andover eCademyWichita
Andover eCademy is a blended virtual school serving grades K-12 in Kansas. This is an outstanding resource for parents looking to educate their child, in their home, with the help of licensed professionals and proven ...
Go to...