Our listing of Kansas jobs and volunteer opportunities for homeschoolers is ordered alphabetically by city. If you would like to submit a Kansas co-op or academic resource, you may do so using the red button above.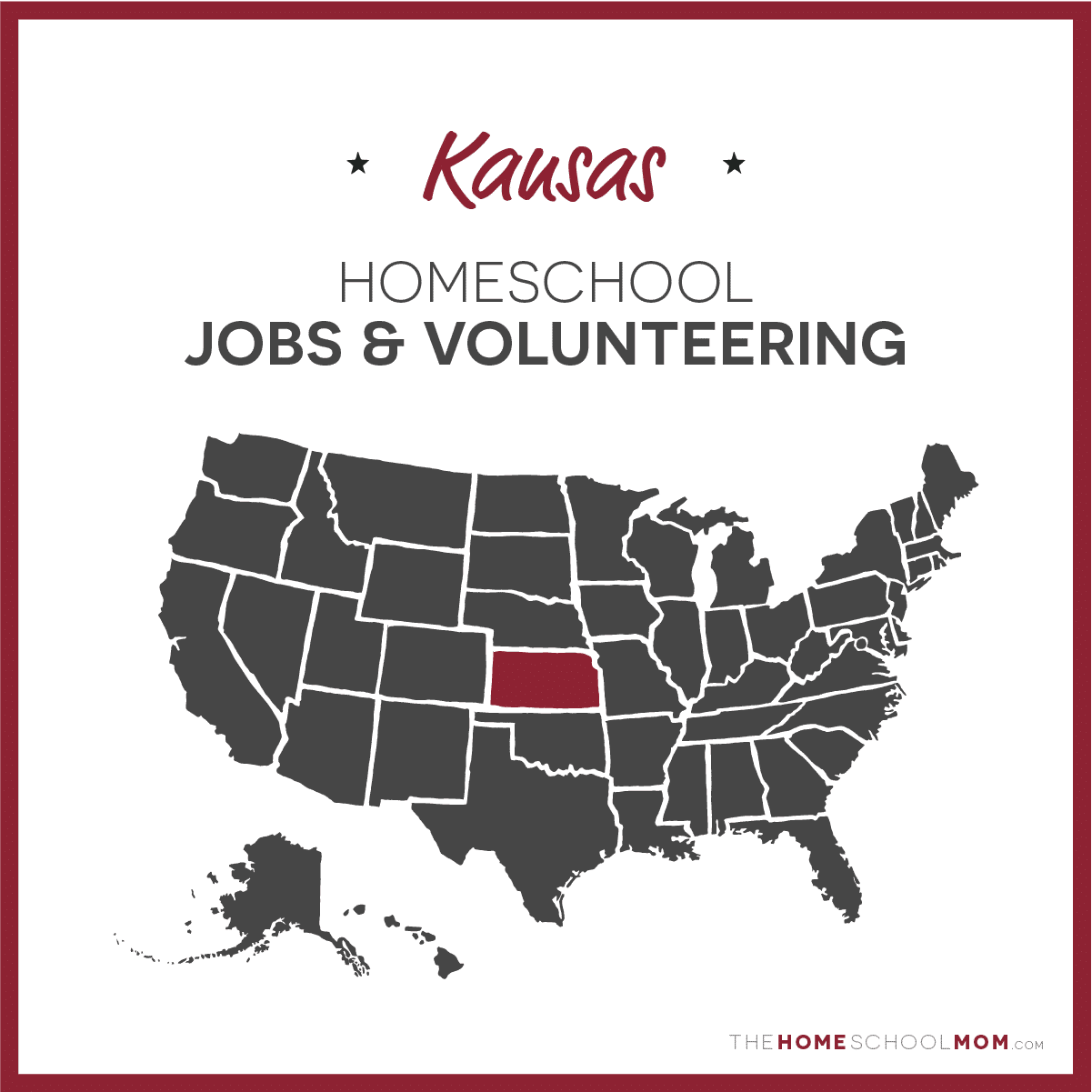 Submit a Local Resource
Meals on Wheels

Johnson County

Johnson County Meals on Wheels needs your volunteer help delivering meals on wheels. Volunteers deliver meals to homebound seniors once a week, once a month, or when available. Meals are delivered 10:45 am to 11:45 am, Monday through Friday. Routes are available in your neighborhood. Children are welcome to accompany parent or grandparent on the route. If you are interested or want additional information, please call Brandy 913-715-8866, e-mail Brandy.Hodge@jocogov.org or see our web page about Volunteer Opportunities
KC Farm School at Gibbs Road

Kansas City

KC Farm School at Gibbs Road, a three acre urban farm located in Wyandotte County, KS is a nonprofit aiming to empower individuals through on-farm, hands-on experiences and vocational education connecting them to the land and soil, food, themselves and their communities. KC Farm School offers field trips for youth of all ages tied to educational standards as well as one-time or regular volunteerism opportunities.
Freddy's Frozen Custard & Steakburgers

Kansas City, KS and MO

We have part-time job available for local high school students. We have flexible hours, work around school and extracurricular activities and offer professional development opportunities for our employees. We would love for your students to be part of our Freddy's Family.
Tallgrass Creek Senior Living

Overland Park

Tallgrass creek is a senior living facility in Overland Park Ks. We have a student server program for highschool students. They are required to work 3 evening shifts per week. Shifts begin at 345pm. Pay is $12/hr for servers and $12.50/hr for dishwashers. If they work a total of 1000hrs they are eligible for a scholarship opportunity. This year the scholarship is $8000!
Shawnee County Parks + Recreation

Topeka

Are your students looking for volunteer opportunities? Students who are looking for a rewarding volunteer opportunity within the community will get just that by volunteering for Shawnee County Parks + Recreation. We invite you to come to join in on the fun and become a leader in your community! What are your options? Adopt-A-Park/Trail Instructor Waterfront Warriors Coaching Gardening Cultural + Historical Scout Projects Events Tulip Time Events Youth Projects Adaptive Recreation Build Your Own Projects + MORE! *Build Your Own Projects may include painting playground equipment, clearing trails, cleaning ponds, etc.
7 Brew Drive Thru Coffee

Topeka

7 Brew Drive Thru Coffee is coming to Topeka, KS! They are a fast paced, fast growing and fun environment who are looking to hire 50 people in the Topeka area. Their mission is to "Inspire a community of kindness through a revolutionary coffee experience," and the "Brewistas" of their Brew Crew are the valuable individuals that execute that mission every day. "Brewistas" report to their stand management team and the shift leader(s) on their shift. A "Brewista" treats every interaction with others as an opportunity to build them up – whether that is their customers, teammates, or vendors. A "Brewista" makes delicious drinks, takes orders, loves on the customers, prepares premixed flavors and teas, cleans, and stocks during every shift.
Wesley Medical Center-VolunTEEN Program

Wichita

Do you have students looking to go into a nursing or medical career? Wesley Medical Center offers a VolunTEEN Program. VolunTEENS must be 14-18 years old and have completed the 8th grade to be a part of the program. Require students to have a negative TB test within the last year (and provide documentation of that), purchase a red Wesley VolunTEEN polo for $16 to wear with khakis as their uniform, and pick 1 or 2 days during the week where they can volunteer 8 am to 4:30 pm over the summer. During the school year VolunTEENS may come in after school, on weekends, or days off from school. VolunTEENS are an important part of the healthcare team and lend a helping hand in many areas of the medical center. As members of the Guest Services Department, VolunTEENS serve as ambassadors of the hospital while they give their time and talents. VolunTEENS are young, eager, bright and enthusiastic, they give a lift to patients and staff that no one else can provide! VolunTEENS make a commitment to volunteer for at least 50 hours a year after orientation. They perform functions that assist healthcare professionals and further enhance the delivery of quality patient care. VolunTEENS help: Escort patients by wheelchair, Run errands for all departments, taking responsibility of patient charts and other important documents, Deliver flowers to patients, and Give directions to patients and visitors. After their first year at Wesley Medical Center, VolunTEENS may work in other departments in the hospital that have requested VolunTEENS; such as Pediatrics, Emergency Department, MICU, Radiology, Surgery Waiting Room, Women's Hospital, and more. Currently have orientations scheduled May 31-June 6, 2016 from 9 am -Noon to accommodate all of our VolunTEENS. For more information contact Shanna at 316-962-3113 or via email at shanna.ireland@wesleymc.com to receive the volunteer application.
Wesley Medical Center

Wichita

Wesley Medical Center is always looking for volunteers to help throughout the hospital. 1st year teen volunteers, VolunTEENS, help with patient transporting via wheelchair, volunteer in admissions, volunteer at information desks, and volunteer in Surgery Waiting room. 2nd, 3rd, and 4th year VolunTEENS can volunteer in pediatrics, emergency department, MICU, Women's hospital, and other areas! There are scholarship opportunities for those interested in pursuing a medical or nursing education at a Kansas college.
Work 4 A Living

Wichita

Empowering people with the Job Skills and Entrepreneurial Skills to support themselves and their families; Empowerment is not "getting people out of Poverty". True Empowerment is giving people a HOPE and a FUTURE; Helping people understand that they can and have to control their Resources and Worldview.