Jump to: Homeschool Arts | Homeschool Sports
In addition to the opportunity to get out of the house and socialize, homeschool sports and arts programs can offer long-term benefits by developing characteristics like leadership, self-confidence, perserverance, and self-esteem. Many organizations and businesses have opportunities specifically for homeschoolers, while others invite homeschoolers to participate in their regular programs.
Not sure how to choose activity/activities for your children? Read how Rebecca narrows down the choice of extra-curricular activities.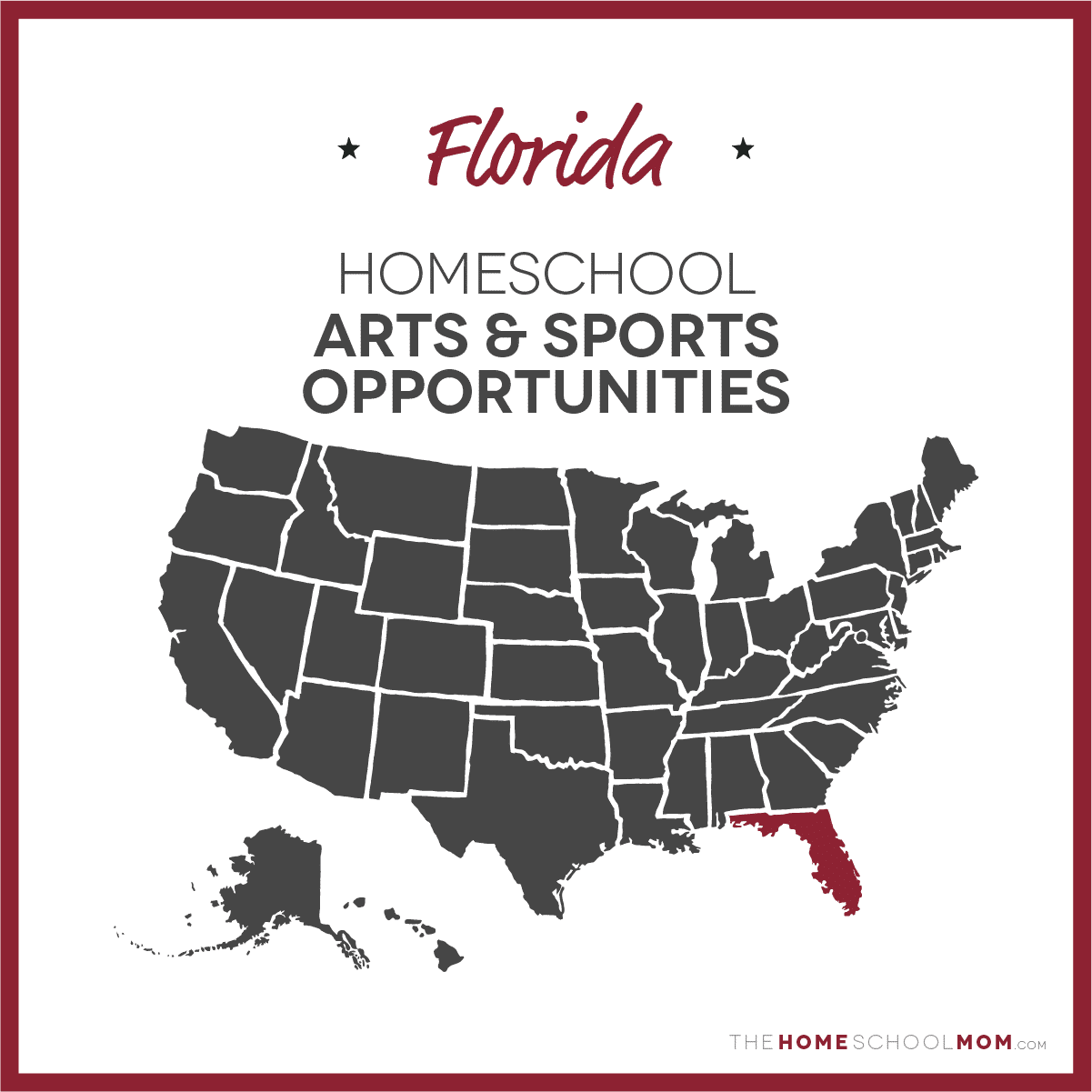 Submit a Local Resource
Our listing of Florida list of homeschool arts and sports programs is ordered alphabetically by city, with arts in the first section and sports in the second section. If you would like to submit an Florida arts or sports program, you may do so using the red button above.
Florida Homeschool Arts Programs
Amber Peterson Studios

Avon Park

Amber Peterson Studios offers private music lessons on piano, guitar, violin, or recorder. Each lesson is 30 minutes long, and can be held in your home for $20 or the studio for $15. They offer lessons to children age 5 and up, as well as beginner adults. The studio is now accepting applications for the summer of 2020.
Green Art Studio

Boca Raton

Green Art Studio is a place where kids can express themselves through art, music, and dance. A family-run business directed by Mrs. Diana, a teacher with over 25 years of experience. Green Art Studio is like a continuation of home. Art classes available during the week as well as on Saturday mornings. Dance classes Tuesday-Saturday; Music classes Monday-Friday. Promotional prices for September for Dance and Music.
Achievement Heights STUDIO

Boca Raton

Achievement Heights STUDIO, located in Downtown Boca Raton is the pivotal place for high quality children's education in classical music and the arts. The founder has a doctoral degree in educational leadership. Moreover, their teachers are active professionals with masters degrees in their respective disciplines and successful experience teaching children. The Studio offers Friday afternoon art workshops and weekend chorus, private piano and violin lessons. Students will have master classes and art shows/performance recitals. Besides these, this resource provides private tutoring in reading, math and science. Furthermore, they are developing a debate team, as well as chess and robotics clubs. Finally, the Studio teaches workshops in mindfulness and social-emotional learning.
Tampa Bay HEAT

Brandon

The Tampa Bay HEAT offers sports, classes, field trips, events and FUN for Pre-K through high school.
JMJ Hernando

Brooksville, Hernando County

We are a Catholic homeschool support group. We meet weekly, have classes such as choir, violin, art, dance and gymnastics. The focus is on supporting the homeschooling parent while strengthening our faith and allowing children to build lifelong friendships. We also host field trips, events and outdoor activities such as camping.
DANL Dance Center

Broward County

DANL Dance Center offers dance classes for ages 2 - Adult. With classes in Ballet, Tap, Jazz, Hip-Hop, Lyrical, and Stretch you are sure to find a class that is right for you! DANL Dance Center has a large recreational program that now includes morning classes. After School Pick up Programs are available from selected schools. The Staff at DANL Dance Center aims to build confidence, character, and lifelong friendships, one dance step at a time!
Make Music with Lisa

Broward County

Make Music with Lisa specializes in creating a personalized musical learning experience for your child or homeschool group. Private lessons in voice and ukulele are offered for children ages eight and up. Younger students may apply for private lessons on a case-by-case basis. Adult beginners are also welcome. Group lessons are offered during school hours at your chosen location. Lesson styles and lengths will vary depending on the needs of the students. Topics range from: music theory/beginner keyboard skills, songwriting, music appreciation, music history, performance and stage skills, audition prep, vocal technique, beginner ukulele, mommy and me, and more. Lisa is a certified music teacher with a Bachelors of Music degree in Music Education from the University of Florida. She has taught general music in schools for over seven years. Lisa has also been a professional performer in South Florida for over ten years. Lisa is also certified in Music Together music classes for ages 0-5.
North Orlando Homeschool Art Co-Op

Casselberry, Winter Park, Maitland

This is a free co-op for homeschoolers in the North Orlando area, or anyone who is able to make it to events! This is a free co-op, parents must be present, this is not a drop-off. Parents must provide required class materials for their children. Events will be held indoors and outdoors in public places. Some of the events will be held at the local library in their free meeting rooms, some events will be Art in the Park!
School of Rock - Coral Springs and Southwest Ranches

Coral Springs and Southwest Ranches

School of Rock offers students of all skill levels age 7-18 a performance-based music curriculum in a fun environment. Weekly private lessons are combined with structured group rehearsals. Students prepare to perform live on stage. Areas of instruction range from guitar lessons to bass, vocals, keys and drums lessons. Also offers summer camps, monthly events, workshops, clinics, guest professors and additional performance opportunities through the local House Band and national All Stars programs. Call to schedule a FREE trial lesson and tour 866-371-0557. Locations: 7544 Wiles Rd. in Coral Springs and 6880 Dykes Road in Southwest Ranches.

School of Rock - Coral Springs and Southwest Ranches details
Lady of Harp

Dade/Broward

The education sector of Lady of Harp was created to provide a safe musical space that centers children. This affords them the opportunity to connect to their creativity through the musical arts while empowering them.
School of Rock Davie

Davie

School of Rock offers students of all skill levels age 7-18 a performance-based music curriculum in a fun environment. Weekly private lessons are combined with structured group rehearsals. Students prepare to perform live on stage. Areas of instruction range from guitar lessons to bass, vocals, keys and drums lessons. Also offers summer camps, monthly events, workshops, clinics, guest professors and additional performance opportunities through the local House Band and national All Stars programs. Location: 6880 Dykes Road. Davie, Florida 33331
Heidi Reiter - Art Teacher

Davie

On going Art Classes. Heidi Reiter is an experienced Art Teacher. She worked in Dade and Broward County Public Schools Systems for over 20 years. Ms. Heidi is offering individual and small group classes out of her home in Davie, to teach Drawing and Painting skills to young people (ages 5-18).
Selah Academy

Davie

Selah Academy is a dance school specifically for homeschoolers with all classes occurring during the day. Selah is directed by a former homeschool graduate and offers ballet, modern, pointe, tap and jazz classes at an East and West Davie location.
Ridenour Academy at Markee

Deerfield Beach

Markee Music is South Florida's go-to rehearsal and recording facility located in Deerfield Beach. In addition, it is also home to Ridenour Academy at Markee which is a program designed for one-on-one lessons for any instrument of your choice, staffed by the most pristine instructors in the safest setting for you or your children. Music lessons can be a great supplemental resource to help enhance your current curriculum. The team behind Ridenour Academy understands how scary these times have been and in addition to in person lessons, there are even virtual ones that can be done from the comfort of your own home! The best way to get involved is to pick up the phone and schedule a time to stop by (or a virtual walk through) and see the facility and all it has to offer for yourself, where the staff can help you give your child the gift of music!
Museum of Florida Art

DeLand/Central Flroida

Museum tours for Homeschool Families and Art Classes for Homeschool Students.
Youth Classes at The Arts Garage

Delray Beach

Arts Garage provides a variety of opportunities for locals to grow their talents and knowledge of the Visual & Performing Arts. From musical theatre, drumline, chorus to photography and dance, Arts Garage provides meaningful instruction for all ages.
Arts Garage

Delray Beach

Arts Garage's new Arts Education programs is available to students, starting from 3rd grade to high school seniors. All of the programs culminate with a performance showcase. The multi-arts venue in Delray Beach, offers a variety of classes like sculpting, musical theatre, spoken word workshop, a drum line workshop, and chorus. The programs are designed to empower youth to build self-confidence and artistic skill through their creativity and self expression.
Space of Mind; Social Club & Drop In classes

Delray Beach

This is the place to be if you're someone who sometimes doesn't know where – or even how – to be. Our people are quirky, funny, unafraid of some things and terrified of others, looking for friends and also love to be alone, and most importantly, always down for a good time. If you're not social, this is the social club for you. We'll get together twice a month – once on the Space of Mind campus for some creative skill-based fun and once out on the town, living our best lives with the skills we're building.
McKay's Music

Fort Lauderdale

McKay's Music Lessons offers students musical instrument lessons in the convenience of their homes. With our hands-on approach,​ students learn to play the instrument of their choice, utilizing their favorite songs and music genres. Private in-home music lessons, workshops, and summer camps. Ask about the FREE trial lesson when you call!
Alliance for the Arts - arts classes

Fort Myers

Classes designed especially for home schooled students using clay, paper mache, cartooning, drawing, painting, toy making, journaling and more. Call for details 239-939-2787.
McGregor Baptist Fine Arts Academy

Fort Myers/SW Florida

The McGregor Fine Arts Academy functions as an atmosphere for individuals to experience, learn, cultivate, and express the creativity given to them by the Creator, God. Music Lessons and Art Classes for all ages
MUSE Center for the Arts

Ft Lauderdale

Dance, Theater, Music, Art and Creative Writing Classes for all ages.
A+ Music Instruction

Ft. Lauderdale

A multitude of music educational services, including private one on one lessons, group classes, early childhood classes, and recording and production services. Instruction in piano, guitar, bass, drums, and ukulele. Many years of teaching experience. Expert with children and beginners. Patient, positive, and fun!
Fired Clay Sculpture Classes

Gainesville

Please visit my website. Classes are ongoing. Email with any questions. mailto:siennarose@cox.net
Gainesville Circus Center

Gainesville

The Gainesville Circus Center is a 501c3 non-profit circus school and a licensed childcare facility through the Department of Children and Families. We are available to provide private group circus classes for homeschool groups. Circus classes include: aerial acrobatics, floor acrobatics, juggling, stilt walking, dance and theater. Additionally, we have 6000 ft facility available for rental throughout the week from early morning until 2pm. Space includes large open floor plan with padded floors and mats for acrobatic activities; Long tables and chairs for arts, crafts, studying and eating; large flat screen tv for videos; 2 bathrooms and a kitchen (sink, microwave & refrigerator, no stove). Rates vary depending on the length of rental contract.
Plant City Academy of the Arts

Hillsborough & Polk County

Plant City Academy of the Arts is located on the campus of Plant City Church of God. The academy was founded in 2003 with a mission to serve the community with quality musical instruction for children and adults. The academy continues to expand with new art forms, aiming at discovering, awakening, and developing the creativity placed inside of each individual. Lessons are currently offered in Piano, Voice, Violin, Cello, Drums, Guitar, and Dance. Lessons are offered Plant City all year round based on student/teacher preference. Many decide to continue during the summer, as we remain open. Others find it more convenient to conclude the year at the spring recital in May and resume in September.
Valeria's String Studio

Hudson/Port Richey/Spring Hill

Private music studio. Professional violinist with over 15 years of experience teaching violin and viola in private and group settings.
Plan a Trip to the Jacksonville Symphony

Jacksonville

The Jacksonville Symphony provides a variety of educational concert opportunities throughout the school year that can enhance your music curriculum and educational experiences. Each fall and spring thousands of students are transported to Jacoby Symphony Hall to enjoy a 45- to 60-minute symphonic program. Encouraging students in grades 2 and up to visit the Jacksonville Symphony at Jacoby Symphony Hall.
Tandem Media

Jacksonville

Tandem Media offers student photo and video services for home schoolers at its Jacksonville Beach, FL studio, with on-location packages available. The studio also offers acting classes for students age 16 and older at the studio, as well as on-location workshops that can be planned anywhere nationwide. Visit www.tandemmediausa.com for more information.
Children's Art Classes

Jacksonville

Children's Art Classes offers a studio based art education for ages 3 and up! Classes meet weekly for nine months following the school calendar. Upon completion of your child's level, students will advance each year to the next level. This is an 8 year curriculum. Portfolio building and assistance with college applications and scholarships are available to interested students.
Standing Ovation Academy

Lake County

Standing Ovation Academy is excited to announce open enrollment for the Fall/Early Spring Term in Production (Musical AND Non-Musical Focused), Voice Lessons, Gleeful Choir, Music Theory, and Beginning Keyboard classes. Production classes allows young, aspiring performers not only performance opportunities but greater insight into what it takes to bring a production to stage! Students will receive instruction and participate in the many inner workings of stagecraft including project planning, marketing efforts, stage management, and set, lighting, and sound design. Students will learn a greater appreciation for the industry, identify the vast career opportunities available, and gain skills that we'll extend beyond the stage.
School of Rock Lake Worth

Lake Worth

School of Rock offers students of all skill levels age 7-18 a performance-based music curriculum in a fun environment. Weekly private lessons are combined with structured group rehearsals. Students prepare to perform live on stage. Areas of instruction range from guitar lessons to bass, vocals, keys and drums lessons. Also offers summer camps, monthly events, workshops, clinics, guest professors and additional performance opportunities through the local House Band and national All Stars programs. Location: 7433 S Military Trail. Lake Worth, Florida 33463
Mysti's Music Studio

Lakeland

Piano lessons are given to homeschool students, between the hours of 9am and 2:30pm. Lessons are given to current homeschool students at a significant discount. Music theory is included, as well as at least 2 recitals per school year.
Opera for Earth Voice lessons

Largo/Pinellas County

Opera for Earth offers private voice lessons with a $110 / month tax-deductible donation, you may register for voice lessons and get 4 - 1/2 hour lessons with our professional opera singers. Vocal technique, breathing, reading, writing and ear training taught in sessions. Also, monthly free vocal class workshops for students studying privately.
ART U - art classes for kids

Leesburg

Leesburg Center for the Arts offers an afternoon program on Wednesdays that may be of interest to homeschool parents and kids called "ART U". The class is held at 3:30pm every week, and features art projects, encouragement and instruction for creative students, and much more! It's reasonably priced at $12/kid, $10 for members.
Alessi Dance Factory

Lutz

This resource is recreational and competition dance classes ages 3-18yrs. Styles include ballet, tap, jazz, hip hop, modern, boys technique, partnering, and acrobatics. The studio also offers musical theater classes on Saturdays.
MOA+D Art for Tots!

Miami

Fridays from 11:00 am - 12:00 pm. A warm introduction to the Museum through sessions that inspire small artists with age-appropriate art activities that connect to works of art in MOA+D's collection and addresses art history through child centered literature and activities. Children and adults will explore the different exhibitions together, in an intimate setting to discover all that the Museum has to offer. For kids 2-4, one adult required for every child. Class limited to 12 children $15 members, $20 non-members, 25% sibling discount. Email thervera@mdc.ecu or call 305-237-7725.
School of Rock Miami

Miami

School of Rock offers students of all skill levels age 7-18 a performance-based music curriculum in a fun environment. Weekly private lessons are combined with structured group rehearsals. Students prepare to perform live on stage. Areas of instruction range from guitar lessons to bass, vocals, keys and drums lessons. Also offers summer camps, monthly events, workshops, clinics, guest professors and additional performance opportunities through the local House Band and national All Stars programs. Location: 8783 SW 132 Street. Miami, Florida 33176
The Children's Gallery and Arts Center

Miami

This nonprofit organization for the visual and the performing arts created in 2009 is located inside the beautiful Historic Village of Cauley Square. Provides all-inclusive opportunities for learning classic art through classes, portfolio preparation, lectures, workshops and field trips, in addition to prepare students for auditions (open enrollment). It is also a venue for artists of all medium. This amazing place offers cultural enrichment events and activities, and art exhibitions on a monthly basis. Visual artists affiliated with this organization accept commission work and provide assistance with artwork restoration/conservation at affordable prices (consultation required). Performing artists and puppeteers can be hired for children events and parties. No appointment necessary. Open Tuesday-Sunday from 9 AM to 6PM. Tel. 305-258-9901.
Raices, Hispanic Heritage Cultural Arts Center

Miami

Raices Hispanic Heritage Arts and Culture Center at Miller Drive Park is a multi-cultural and multi-disciplinary arts center founded in May of 1996. It provides art education services and cultural activities to the community, in addition to cultivating, promoting, celebrating and preserving the traditions found in Latin-American and Caribbean countries and embracing South Florida's cultural diversity. Raices offers all-inclusive year-round programs for children and adults that contain wide-ranging training academies in the fields of the visual and the performing arts, including summer camp, after school program and break camps. The center is open Monday to Friday from 9 a.m. to 6 p.m. to visitors and to groups for field trips. Current programs: painting and drawing in addition to dance and theater. Raices offers a fully-equipped black box theater space that serves as a performance venue for shows and actors Cultural arts center inside Miller Drive Park, offers a wide variety of art disciplines, events and enrichment activities for the community. Volunteers are welcome 15 year old and up to work mainly in light maintenance, preservation and conservation.
Rudenko Music Studio

Miami

With a unique program, every lesson is custom fit to the needs of the individual student, whether the students wants to learn just for fun, or to be at a competitive level. Lessons will vary based on level of the student. Private music lessons at Rudenko Music Studio are offered on Violin and Piano. Faculty members are professionals who love teaching and inspire their students. The length of the lesson depends on the student's age and level, and will vary between 30 minutes, 45 minutes, or one hour, once or more per week.
Olivia Smith Violin

Miami

Olivia Smith is a violin teacher and performer based in Miami, Florida. As an instructor, Ms. Olivia is trained in the Suzuki violin method and teaches through unit 10. Ms. Smith is also a member of the Greater Miami Youth Symphony artistic team as the conductor of the Concert Orchestra. Growing up as a violinist of the Suzuki school, Olivia began playing at the age of 3. A few years later, she was immersed in the Irish fiddling tradition and can sometimes be found performing with local Irish bands and dance groups. Olivia received a degree in Music Education from the University of North Carolina at Greensboro and specializes in starting the complete beginner on violin, general music, as well as a few other instruments. In addition to teaching music lessons and conducting, Olivia maintains a steady performance schedule and has performed with artists such as Shakira, José Feliciano, Arturo Sandoval, Lynn Harrell, and Nadja Salerno-Sonnenburg. She has also collaborated as a recording studio musician with several artists including Gloria Estefan and Pharrell Williams. When she is not teaching or performing, Olivia can be found cycling through the the streets of Miami or cooking a tasty meal.
Sociedad Actoral Acting School

Miami

This school teaches Acting(Film/theatre) to all ages with 3 separate classes for minors: very small kids, kids, and teens. The school is very welcoming, serious about their craft, and has a very nice learning environment. The staff and teachers encourage their students to do their best and help them reach their full potential by pushing them in their fun and exciting curriculum. They're very understanding and try to work with you. I recommend you check this little gem out if your child is curious about the performing arts because there's a chance they might just love it! *IMPORTANT* this school is dual-language in English and Spanish, they teach in both languages but make sure that if their students only know 1 of the two they get across to them by repeating themselves in the other language. THEY SPEAK BOTH ENGLISH AND SPANISH so don't worry about communication barriers. There have been students who only knew English or only knew Spanish and had no problem communicating and participating. They offer a unique opportunity to perform and speak in whatever language you feel more comfortable in.
Area Stage Company and Theatre Conservatory

Miami

The future of Broadway is right here in Miami! As part of our mission to educate the next generation of theatre artists, the Area Stage Company is proud to offer group classes, private lessons, and professional-caliber performance opportunities to aspiring artists. The Conservatory is a place where young artists can learn from, and perform alongside working professionals. Our students learn and grow from witnessing the power of live, professional theatre in action in ASC's Mainstage productions. Our in-house developed, performance-driven curriculum has produced hundreds of successful now working professionally all around the world. Whether it's in acting, singing, or dancing, the Area Stage Company is the perfect place for your artistic instruction. We are also extremely proud to offer our Inclusion Theatre Project, a theatre program for students with developmental and intellectual disabilities.
Miami Hispanic Cultural Arts Center

Miami

The Hispanic Cultural Art Center has permanent events for children and the community. We have two galleries that present permanent exhibitions of Latin American artists. On the last Sunday of each month, we have Family Sundays, where we have theaters performances, games, stories times, arts and crafts. We have permanent Classical Ballet classes for children from 3 years of age and up. The first Saturday of the month, we have movie Saturdays, Poetic Gathering Fridays, and much more.
Ventura Violin Studio

Miami

Anna Ventura has been a Suzuki violin student for over 35 years, a Suzuki parent for 15 years, and a Suzuki teacher for 12 years. Born in Puerto Rico to Cuban parents, she began taking lessons at the age of 6, at a public school Suzuki Violin program in Puerto Rico. She graduated from Escuela Libre de Música high school and completed her BA degree from the University of Miami, where she studied with Violin Professor Glenn Basham. Anna is an active performer and is featured in various commercial recordings. She contracts chamber ensembles and performs as a soloist for her company, Eleganza Strings (www.eleganzastrings.net). She has been a member of orchestras such as Symphony of the Americas, The Miami Symphony, Palm Beach Pops, Florida Chamber Orchestra and Epcot Center's All American College Orchestra, among others. She also performs for musicals throughout the Miami-Dade and Broward county areas. Mrs. Ventura was a Miami Dade County middle school orchestra teacher for 6 years until her first child was born. She has since taught privately from her home studio and has also worked as a string orchestra consultant for various area schools and conservatories. She has held various positions on the board of the Suzuki Association of South Florida since 2016 and Co-chairs the SASF's annual fall workshop at the Frost School of Music in Miami. Anna believes that every child can learn to play the violin, with the nurturing and positive approach found at the heart of the Suzuki method.
Talents Unleashed

Miami

Talents Unleashed is an organization dedicated to creating community, encouraging learning, and unleashing our God-given gifts. We are located in Kendall (Miami), Florida and serve the South Florida community by hosting and supporting events and activities that promote an appreciation of the arts that are considered uplifting and promote family and community values. Most of our students and leaders are homeschooled and some of our groups are only suitable with the flexibility of a homeschool schedule. Growth Opportunities for Learning and Development (G.O.L.D.) is a 501(c)3 non-profit organization that provides opportunities to grow, learn and develop God-given gifts through the performing arts. Anyone who has a desire to learn something new about the arts or an idea to share can be a part of our community. We meet the need for entry-level exposure to many aspects of the performing arts as well as the need for networking with other like-minded artists for the purpose of collaborating, performing, and sharing their work. Read our full story here.
Mady's Dance Factory

Miami Shores

This resource provides both in-studio and virtual dance classes. The dance styles offered are ballet, hip hop, jazz, tap, contemporary, and lyrical. A wide variety of membership options are available which range from one class a week to an unlimited amount of classes a week. This resource provides professional dance instruction to kids and adults from beginners to professionals.
Trujillo Academy of Music

Miami, FL

"A Community of Passionate Music Educators and Learners" The Trujillo Music Academy is dedicated to a fulfilling and enriching musical experience for all of her students. Instructors believe that music is innate within a human spirit and can be brought out with patience, dedication, and hard work.
Florida Storytelling Festival

Mount Dora

We are a non profit group dedicated to the promotion of and education in storytelling. We hold a festival from Jan. 25th to 28th in Mt. Dora Florida on the grounds of the Lakeside Inn. We also have a Friday field trip opportunity for kids in elementary at 10 am, and for older kids at noon. This is an incredible opportunity to encourage imaginative thinking, public speaking and interest in fairy tales, folklore and other stories. Entry to the Friday field trip performances for kids is $5 and chaperones are free. See the https://flstory.com/festival/school-field-trip/ website for more info on the field trip and the festival itself.
School of Rock North Palm Beach

North Palm Beach

School of Rock offers students of all skill levels age 7-18 a performance-based music curriculum in a fun environment. Weekly private lessons are combined with structured group rehearsals. Students prepare to perform live on stage. Areas of instruction range from guitar lessons to bass, vocals, keys and drums lessons. Also offers summer camps, monthly events, workshops, clinics, guest professors and additional performance opportunities through the local House Band and national All Stars programs. Location: 11650 U.S. Highway One. North Palm Beach, Florida 33408
The MusicBox - Orlando

Orlando

Private Lessons offered in voice, guitar, piano, drums, violin, music theory, songwriting, and acting. The Music Box also offers a variety of performance groups based on the student's age.
Central Florida Community Arts

Orlando

Opportunities for homeschooled PreK-12 students in Central Florida, both during the day and afternoon/evening. Musical Theatre, Young Artists Orchestra, Elementary String Ensemble, and Youth and Children's Vocal Ensemble programs, private music and acting lessons, and camps throughout the year!
Orlando Suzuki Music School

Orlando

Rolando Freitag, registered Violin Teacher Trainer with the Suzuki Association of the Americas is offering Violin and Viola lessons rooted in the principles of Suzuki Talent Education. With the belief that every child is talented and capable of achieving a high multi-disciplinary ability, which includes playing a musical instrument. Suzuki method students gain fundamental life skills such as discipline, learning agility, critical thinking, resilience, and collaboration. Instructor utilizes a supportive partnership approach to educate students and empower parents. Offering Violin and Viola lessons to children 3 years old and above.
Fletcher Wilson Music Homeschool Music Lessons and Classes

Orlando

Are you ready to set out on a musical journey! Develop a love of learning through a balanced musical education that inspires you to become passionate for music in a new way. Select either a private instrument lesson, or a music class to supplement your homeschool lessons. You will be learning about performance, technique, music theory, music history and ear training. Private lesson taught include piano, organ, drums, and composition lessons from levels beginner to advanced, and bass, guitar, ukulele, violin, viola, and cello from levels beginner to intermediate. Classes include learning to play and appreciate all kinds of music, from a historical, cultural and instrumental perspective. Lessons are held at the teacher's home studio, or can also teach virtually over Zoom. Get ready for the musical adventure of a lifetime!

Fletcher Wilson Music Homeschool Music Lessons and Classes details
Ryan Ace Music Academy

Orlando

Ace Music Academy's music teachers have learned from and performed for some of the world's most renowned artists. With many years of experience from all different parts of the music industry, Ace Music Academy's music teachers' team is dedicated to providing high-quality education for anyone looking for music classes. Ace Music Academy opened their doors in 2016, welcoming aspiring musicians of all ages in the Orlando community. No matter if a student has just discovered their love of music or searching for challenging courses to further develop their talents. Ace Music Academy tailors their lesson plans based on their student's musical experience and learning style.
House of T'heArts Praise Dance School

Orlando/Azalea Park

This Dance school is a non profit organization and ministry focused on changing life's thru dance since 2009. Registration is open all year long for ages two through adults. We offer praise and worship dance, profesional ballet , modern, contemporary, flags, tambourine, prophetic, warfare dance and more. Workshops, Daytime classes, after school classes and summer classes are open upon group request. All semester classes are open now. Spots fill up quickly. All are welcome!
Art and Yoga - Anana Prana

Orlando/Hunters Creek

I am an Elementary Art Teacher with 10 years of public school experience and a home studio dedicated to art and yoga instruction for kids of all ages! I offer after-school classes, homeschool support classes, camps, events, birthday parties, scout events, and more.
Dramatic Education

Orlando/Orange County

Dramatic Education is an educational arts company that fuses academics with drama. School arts integration and implementation programs, teacher-led arts workshops, in-school, after-school, summer drama enrichment and homeschool programs are available
Pangur Ban Music and Arts

Orlando/Winter Park

We offer violin, piano, cello, and early music classes. Lessons come in flexible options, with single, bi-weekly, weekly, and semester packages available, in half-hour and hour lengths. We specialize in beginning and intermediate students ages 4 to adult, parents welcome to participate! Lessons are customized for each student, including students on the autism and ADHD spectrums. We have early morning and late afternoon/evening time spots available to accommodate a range of schedules, and are run by former homeschool students. LGBTQ family friendly.
ArtQuest School of Art & Design

Ormond Beach, Volusia, and Flagler Counties

The ArtQuest School is committed to offering the finest art instruction to exceptional children, teens, and adults in drawing, painting, and design. Working in small groups, students expand artistic proficiency through fun, yet intense sessions with local professional artists, college art interns, and ArtQuest trained instructors. REAL skills are developed, essential for personal growth, learning, and self-esteem. Contact Greg Grant for a tour of our studio facility located privately on his horse farm in Ormond Beach: (386) 871-9906.
School of Rock Oviedo

Oviedo

School of Rock offers students of all skill levels age 7-18 a performance-based music curriculum in a fun environment. Weekly private lessons are combined with structured group rehearsals. Students prepare to perform live on stage. Areas of instruction range from guitar lessons to bass, vocals, keys and drums lessons. Also offers summer camps, monthly events, workshops, clinics, guest professors and additional performance opportunities through the local House Band and national All Stars programs. Location: 5420 Deep Lake Road, Suite 1024. Oviedo, Florida 32765
JaM Guitar Studio

Polk County

JaM Guitar Studio offers lessons for guitar and bass. JaM provides individual instruction and group classes for all ages. Offering concerts and community performances. Provide instruction in theory, songwriting, and music appreciation. All classes are provided year round. Send in formation requests to jamguitarstudio@gmail.com
School of Rock Pompano Beach

Pompano Beach

School of Rock offers students of all skill levels age 7-18 a performance-based music curriculum in a fun environment. Weekly private lessons are combined with structured group rehearsals. Students prepare to perform live on stage. Areas of instruction range from guitar lessons to bass, vocals, keys and drums lessons. Also offers summer camps, monthly events, workshops, clinics, guest professors and additional performance opportunities through the local House Band and national All Stars programs. Location: In the Pompano Citi Centre. 1901 N Federal Hwy Unit E209, Pompano Beach, FL 33062
The Lanza Performing Arts Studio

Saint Augustine

This resource provides one-on-one, personalized, ongoing, year-round music lessons in a home studio in Saint John's County, Florida. Each student is taught a specific curriculum based on their needs and interests. This resource offers piano, singing, acting, guitar, ukulele, and songwriting instruction from seasoned professional teachers.
Hands on Pottery Classes

San Antonio

Single Pottery Classes every Saturday No long term commitment and all levels welcome. Learn Hand building, Sculpture and Wheel Throwing. 10 am to 12 noon, ages 9 to 16 yrs. 1:00 pm to 3:00 pm, ages 17 yrs. + up. Cost: $25 each, plus materials.
Mindful Music Center

Sanford

Mindful Music Center is offering a new "Mommy and Me" class called "Mini Musicians". Classes will be held on Fridays, from 10:30-11:00 am, in my home-studio at Krider Road, Sanford. Providing individual or group music lessons in your home or mine, including piano and voice lessons, music and movement, and more. Check out website for more information.
Allegro Music Academy music and dance classes

Sarasota

Group lessons in dance, guitar, violin, wind instrument band
Soul Studios Dance

Sarasota

Soul Studios excels in teaching your child can come and learn technique and choreography in dynamic classes that teach the student to be not just a dancer, but a performer. Students gain confidence, character, individuality, and a creative means of expression.In addition to our dance program. Soul Studios also offers private lessons and exciting workshops.
Sarasota Cuban Ballet School

Sarasota

Providing a homeschool education along side ballet instruction. This award winning school provides world-class ballet instruction in the tradition of the Cuban method. They also provide a comprehensive ballet program with an incredible, strong, qualified and passionate faculty, who care about teaching and sharing their knowledge with the next generation of young talented dancers.
2Di4Glas

Sarasota

This resource, is primarily an art experience, learning about colors, design, balance, depth, opacity, all while designing a fun fused glass piece. This is a glass fusing studio/school. Students can come to the studio and experience the art/science of glass fusing. Students will get hands on training learning to cut, grind, design a glass project. All while following the safety guidelines, required by the studio. The studio will then fuse the project for the students. No "hot" activities here. There is a tour of the glass gallery where student see different applications with glass. They will learn terms and basics of glass properties, and how these properties are applied in fusing. Students will see how kilns work as well.
Sarasota Ballet School

Sarasota

The Sarasota Ballet School offers a quality dance education for children ages 3 and above. Dance training should not only be fun and creative but also develop students' confidence and celebrate their individuality. Offering training for students with no experience ages 3-8. If your child is 8 and above with previous experience, there is a free evaluation and a chance to meet the wonderful and caring teachers. The faculty is trained in the ABT National Training Curriculum; a breakthrough program combining high-quality artistic training with dancer health and child development basics. The ABT National Training Curriculum consists of a comprehensive set of age-appropriate, outcome-based guidelines to provide the highest quality ballet training to dance students of all ages and skill levels. For more information, please visit our website or email, education@sarasotaballet.org.
Private Ballet Lessons with Rebecca Kimsey

Sarasota/Bradenton

Private ballet lessons available weekdays anytime between 9am-3pm. Individual lessons for one on one attention or group lessons so friends can learn ballet together. Ages 3 and up Email rebecca.kimsey@comcast.net for more information
Bambam Drumfun Rhythm Arts'n'crafts

South Florida

Bambam Drumfun is a rhythm-making and arts'n'crafts maker program for all ages and abilities. This unique drumming and art-making class brings together the joys and benefits of syncopated drumming with a fun 'make-a-kit' activity where individuals or groups can make and decorate their drumfun kits. There are numerous benefits to rhythm-making and simple drumming, especially for students in early grades through middle school. Bambam Drumfun can serve many purposes for home schooling.
Mind&Melody Kids

South Florida

Mind&Melody Kids is an enrichment music program that uses a proprietary music curriculum that has proven to improve the quality of life for older adults and neurodiverse children. Implemented by a team of professional musicians, our program is designed to go beyond entertainment into well-being. We serve over 40 facilities, offer private and group sessions, after school programs and curriculum enrichment sessions. We serve South Florida from Homestead to Vero Beach. For more information please call ​(305)582-1006 or email info@mindandmelody.org.
Ms. Lisa's Dance

South Tampa

Ms. Lisa's Dance offers dozens of dance classes, including three special classes just for homeschoolers. Ms. Lisa's Dance offers a Ballet & Tap class on Mondays at 1:00 for students 5-9 years old, Pre Ballet on Wednesdays at 1:15 for 4-5 years old, and a Dance Combo class for 3-5 years old on Thursdays at 1:00. Visit the website at www.mslisasdancestudio.com for more information.
Weeki Wachee High school marching band

Spring Hill

Weeki Wachee Band high school marching band
Adventures in Music

Spring Hill

Our lessons provide time for students to learn new music, improve their skills, and explore their creativity. You'll find that our program has many excellent qualities, such as flexible scheduling, professionally degreed instructors with decades of experience, spacious lesson rooms, complimentary coffee and Wi-Fi, and even a FREE trial music lesson to get you started!
The Arts Conservatory for Teens

St.Petersburg

The Arts Conservatory for Teens is an all inclusive after school arts program. All of our students who register are awarded a $1,000.00 scholarship that covers up to 3-class workshops each quarter for 9-months. Offer classes in Dance, Voice, Drama, Visual Arts, Photography. The office is located at 1111 18th Avenue South, St. Petersburg, Fla. 33705 Find us FB: ACTSTPETE
Brandon Bach's Music School

Sunrise

Acoustic Guitar, Bass Guitar, and Electric Guitar lessons.
Tanya Lewis Fun With Music

Tampa

The time is here to have some fun with music. This program is set up to bring music safely into the lives of children during these crazy Covid times. It offers two different ways to explore and enjoy music through singing. Children will have the opportuny to sing in a traditional choir or a pop/countr/rock band. This program will also incorporate music theory and rhythm classes. To learn more about programs, schedules & pricing please contact Tanya Lewis at pro.tanyalewis@gmail.com.
Face Forward Actors Performing Arts Academy

Tampa

Face Forward Actors & Models is South Tampa's leading boutique development and networking center for actors, models and singers. Face Forward serves its clients by empowering them to unleash their full potential in the Performing Arts Industry. Our foundation is developing poise and etiquette skills such as being confident, good posture, listening skills, interviewing skills and, of course, navigating the ever-changing social world we live in. These life skills carry our talent into whatever career they choose to pursue. As a leading development center for acting and modeling in Tampa, we specialize not only in developing talent, but also in networking with top SAG Agents from around the world. We set up one on one meetings for our talent with Agents who can book them for auditions for their next TV Film or modeling campaigns. Please call Ms. Shannon Willenbring 813-500-8427 for more information.
Violin and Piano lessons in Tampa with Alvaro Rojas

Tampa

Afternoon Violin and Piano lessons for students of all ages and levels in Tampa Florida.
Music lessons by Hannah

Tampa/Wesley Chapel/Carrolwood

Offering music lessons, private in-home lessons or small in-home groups. All instruments can be provided for, no extra charge. Group lessons are designed to give students the opportunity to experiment with different instruments, develop an understanding for basic music theory, while creating their own band, and learning to play with others. Drums, guitar (acoustic/electric), piano, (voice can be added onto learning an instrument. I do not provide only voice lessons.) Discounts for multiple children do apply, so if your interested please call or text and feel free to leave a message! 813-412-8771 or musiclessonsbyhannah@gmail.com
Paige's Planet

Tarpon Springs

Creative workshop-style classes designed to promote science (specifically life science) through safe hands-on experiences with live animals, multi-media presentations, and and empowering kids to share what they learned through their own artistic creations. Taught and designed by Pinellas County certified school vendor Paige Konger, who is also the the head of education and animal care at the Tarpon Springs Aquarium. These workshops are designed specifically to meet the Florida State Standards of education for specific grade levels in a fun and unusual way.
Uniquely Clever

Walton County

Uniquely Clever is a traveling graffiti painted art bus! The artist has a B.A in Art Education and taught 3 years of middle school art. The Art Bus #Imaginationmachine travels between Defuniak springs, Freeport, South Walton, Santa Rosa, Destin, Ft Walton, Niceville, and Crestview (Walton county and Okaloosa county fl). Uniquely Clever provides art camps, parties, and events as well. Right now Uniquely Clever is trying to create a home school art session, one hour, once a week, spring course. Will continue home school art classes throughout the year if enough families are interested. Classes range from 2D drawing and painting to 3D mixed medias and clay modeling.
Jessika Roy Music Studio

Wellington

Jessika Roy's Music Studio provides voice, piano, and music theory lessons for beginners and experienced students. Ms. Roy has over ten years of teaching experience as a private voice and piano teacher, public school music teacher, and university voice professor. She teaches from her home studio in Wellington, Florida, both individual (voice and piano) and group lessons (voice and music theory). I teach during the day and evening to accommodate many schedules.
Willow Music Studio

West Palm Beach

Willow Music is a music school with the vibe of a music club. Willow music teaches classical and jazz piano, as well as flute lessons. Music Theory and Jazz Band classes are forming now. Contact Kathy Willow at kathywillow@comcast.net for more information.
Armory Art Center

West Palm Beach

The Armory Art Center offers art classes and programs for home education students grades Kindergarten through 12 in a wide-range of disciplines: painting, drawing, mixed media, printmaking, sculpture, ceramics, and jewelry/metalsmithing.
West Palm Cello Lessons

West Palm Beach

West Palm Cello Lessons offers private cello instruction for all ages and levels. My philosophy is that music enriches life. Skills like confidence, creativity, discipline, or even just enjoyment can be gained from studying music. Our membership offers both virtual or in studio appointments aimed at helping you achieve your musical goals. Contact Joe Goering at jgoering123@gmail.com for more information.
Florida Homeschool Sports Programs
Bubble Swim School Swimming Lessons

Aventura

Year Round Swimming Lessons. We have facilities where we do classes or we can send a Certified Instructor/Fully Insured to your location for classes.
Fl. Bubbles Swim School

Aventura

Learning how to swim is a must for any child in South Florida. Not only is swimming fun, but one of the easiest exercises for kids to strengthen muscles, and is also a great developmental tool for children. Bubbles Swim School offers many kinds of swim programs for babies, toddlers, and children. Both private and group swimming lessons. Our mission is to ensure your child will be safe in and around the water no matter the age (Bubbles Swim School specializes in babies as young as four months old to 13 years). Our objective is that your child learns how to swim in ten lessons with proven results. We have 26 years of teaching experience. Our swim school has a fun, caring, gentle teaching environment to reach each child based on their personality, and we tailor swim lesson plans to suit each student's specific needs, ensuring an optimal and effective learning experience. Our Water Safety Instructors are Certified by the American Red Cross, and Bubbles Swim School is fully insured and locally operated.
Gracie Bradenton Kids Homeschool Jiu Jitsu classes

Bradenton

Jiu Jitsu Classes for Home Schoolers We invite children ages 6-11 to join our new morning program that will help fulfill their PE requirements, while teaching them valuable lifelong skills. The classes will be 10:30 Mon-Fri. Encourages focus, discipline, and patience Promotes confidence and self-reliance Make friends and build social skills
Tampa Bay HEAT

Brandon

The Tampa Bay HEAT offers sports, classes, field trips, events and FUN for Pre-K through high school.
I Dream Soccer - PE soccer training

Broward County

Coach Nigel believes in going the extra mile to coach soccer players to unlock their potential. Training programs are specifically tailored to help each individual player reach their full potential. He has coached young athletes in broward for over a decade of all ages and skill levels. He facilitates engaging sessions that employs a blend of technical skills, movement and positioning, shooting and serving techniques, dribbling exercises, position-specific strategies, fitness, general soccer education and mentorship. He makes each session equal parts fun and challenging. Coach Nigel was ready to train the group session and met their training goals, definitely the best soccer training in Broward!
Amazing Athletes Sports and Fitness Program

Browrd and Palm Beach Counties

Studies show healthy, active kids make better learners. Amazing Athletes for grades PK- 1st is the premier year-round developmental sports and physical fitness program designed to empower preschoolers through positive movement experiences with a focus on meeting their motor-developmental milestones. Basic fundamentals and mechanics of 9 different sports such as basketball, baseball, soccer, football, volleyball, hockey, golf, lacrosse and tennis. The student will also be introduced to basic nutrition concepts and muscle recognition and exercises.
Ace Of Spades Sports Baseball & Softball Academy

Casselberry

Ace Of Spades is recognized as the premier indoor baseball and softball training center in Central Florida providing state-of-the-art practice facilities, professional instruction and a nationally recognized Pro instruction to fulfill the needs of players of all ages and ability levels in a fun, family atmosphere.
Kids learn tennis with Coach Tom Dundis

Cocoa Beach

Coach Tom Dundis can train homeschoolers to learn and play tennis in a fun and encouraging experience at Kiwanis park tennis facility or at the tennis court of your choice. The Kiwanis park tennis facility has 8 courts to easily handle large groups. The hourly rate is $50 per hour. Lessons can be shared and divided upon the participants creating an inexpensive professional learning experience. Please contact Tom Dundis at cell number 321-223-1050 call or test, email tdundis@gmail.com, or on Facebook at https://www.facebook.com/TomDundisTennis
JQ Basketball Training

Davie

JQ Basketball Training is the newest basketball training facility in South Florida. Owned and operated by basketball influencer John Hansberry. At the facility, players can participate in individual and group sessions for all ages and abilities. Beginner or Advanced, there is an opportunity for you. This 2400 Square-foot facility is perfect for individual training, small group training, and small camps. Gym rentals are available. 3v3 league coming soon. Call/Text/Email to get started: 954-372-5499 jqbasketballtraining@gmail.com
Level Up Taekwondo

Davie, Cooper City, Plantation, Hollywood, Weston Florida

Taekwondo classes in Davie Florida. Get school credit as you learn respect, discipline, self-defense, confidence, physical fitness. More information at 954-648-1744
Rain Makers Christian Sports Ministry

Fernandina Beach/Nassau County

Rain Makers Christian Sports Ministry offers opportunities for youth to learn and be trained in sports (basketball, volleyball, baseball, softball, soccer) in a positive and encouraging environment. Rain Makers offers individual training, group training, traveling teams, players and coaches clinics. Striving to give opportunities to any and all kids who have a interest in participating in sports regardless of experience or skill level.
Indoor Rock Climbing Homeschool Tuesdays

Fort Lauderdale

Come check out ProjectROCK'S Homeschool Tuesdays and climb with some friends! All kids who are homeschooled are welcome to from 12-2PM to come climb with our guides at a low guide to climber ratio. The price of $25 gets you all the gear you need and a spot in the class. During this climbing sessions climbers will get to utilize our top roping sections of the facility. One of our highly trained staff members is present during this event to ensure proper safety measure take place as well as help new climbers experience trying something fun and new. This is a great opportunity to come and try rock climbing in a safe and private environment. Sign up ahead of time to ensure your kids have a chance to climb! Sign up's can be done through website, email or phone call.
Spinz Skating & Event Center

Fort Myers

Bamboozles is a Skating and Event Center. The facility is a hip new place where kids, teens and adults can hangout and listen to hot new music or watch there favorite football teams on our huge video screens. Lessons and special events available.
Taekwondo United

Fort Myers

Learn self-defense, self-control, respect, coordination, confidence, team work, and more all in a fun and comfortable environment. Enrolling for home school Martial Arts class. Call Kaitlyn at 239-822-6544 for more information.
PE With Coach Z

Fort Myers/Florida

PE With Coach Z meets the physical activity and sports conditioning needs of students K-12 during this period of remote learning and social distancing. Students learn and explore Mind & Body Wellness in a manner in which physical health and mental health meet in the minds of children and their families. The Virtual, Group (via Social Distancing guidelines) and Individual answer to the physical fitness and physical activity needs of your children, family, team and/or organization.
Coastal Kicks Soccer

Jacksonville / North Florida

Coastal Kicks Soccer Inc. is a 501.c.3 non profit Youth Soccer Club offering both recreational and competitive programs for ages 3-18 as well as extensive professional one on one and group training for ages 9-18.
Brazilian Top Team Juno Beach/Brazilian Jiu-Jitsu

Juno beach/ North Palm Beach/Jupiter

We are a Brazilian Jiu-Jitsu Academy with world class black belt instructors offering Gi and NoGi jiu-jitsu classes as well as kickboxing. Classes are for children ages 4 and up, including teenagers and adults. ​Having your children learn jiu-jitsu its value is immeasurable and lasting. Jiu-Jitsu is a great sport for kids, it's an athletic endeavor. Jiu-Jitsu will increase self-confidence, self-esteem, strength, discipline, ​and forever good friends.
Ignite Sports Center

Jupiter

Ignite Sports offers children two opportunities for PE and sports programs through Ignite Sports Facility and Ignite Sports Mobile program. Providing PE and sports programs for Home School groups. Programs designed for all ages from 2-4 year olds, Elementary and Middle school aged kids. The indoor facility allows multi sports programs for Home School groups for both PE or sports. All of the equipment for sports programs is provided.
Jupiter Pointe Paddling

Jupiter/Tequesta

Jupiter Pointe Paddling is home to the gorgeous Jupiter Sandbar and only a short paddle from the historic Jupiter Lighthouse. Students can paddle around Jupiter Island, at low tide play at the sandbar, paddle with manatees & sea turtles, or just hang out by the beach. Jupiter Pointe is also home to the Shark Addicts who love to inform anyone and everyone about local sharks and different species. Kids can also enjoy fishing off the docks, where fish are guaranteed! Don't miss out!
Indian Rocks Choi Kwang Do

Largo

This is a martial arts school that offers classes specifically for homeschoolers. These classes are uniform and belt system optional and focus on self defense, building confidence,and raising self esteem. Classes can be taken for physical education, health, or extra circular.
G3 America Homeschool Sports

Margate

Christian based program which offers an opportunity for Homeschooled Children ages 4 and up to participate in Olympic TaeKwonDo classes, Soccer Club, and Leadership Training courses. It provides Children the ability to utilize and excel in their abilities, while being challenged to learn new skills habits. Safe and fun environment helps children and teens build relationships with other homeschoolers in their community while growing their athletic ability.
Raices, Hispanic Heritage Cultural Arts Center

Miami

Raices Hispanic Heritage Arts and Culture Center at Miller Drive Park is a multi-cultural and multi-disciplinary arts center founded in May of 1996. It provides art education services and cultural activities to the community, in addition to cultivating, promoting, celebrating and preserving the traditions found in Latin-American and Caribbean countries and embracing South Florida's cultural diversity. Raices offers all-inclusive year-round programs for children and adults that contain wide-ranging training academies in the fields of the visual and the performing arts, including summer camp, after school program and break camps. The center is open Monday to Friday from 9 a.m. to 6 p.m. to visitors and to groups for field trips. Current programs: painting and drawing in addition to dance and theater. Raices offers a fully-equipped black box theater space that serves as a performance venue for shows and actors Cultural arts center inside Miller Drive Park, offers a wide variety of art disciplines, events and enrichment activities for the community. Volunteers are welcome 15 year old and up to work mainly in light maintenance, preservation and conservation.
305 Ninja Academy

Miami

305 Ninja Academy is a fitness academy located in Miami, FL specializing in ninja training! Come learn from Coach Daniel, an American Ninja Warrior veteran. We offer classes for ages 4 and up including kickboxing, self defense, ninja training, parkour, break dancing, gymnastics, and more. We offer private and group lessons at flexible hours, field trips, and even birthday parties. First time trial classes are available for just $10 and we have membership options for all budgets. Please feel free to contact us at: 305-833-8390 305academy@gmail.com 7213 NW 54th Street Miami FL 33166
IDOL Gymnastics

Miami

This gymnastics program offers classes for all ages, groups, and skill levels; recreational to competitive teams. Classes are also available for mommy & me, dance, acro, and acro tumbling. Homeschool groups are welcome to create their own class and/or time.
Well Balanced Horsemanship

Mount Dora

Well Balanced Horsemanship specializes in youth horseback riding lessons. We utilize riding and horsemanship skills to develop multitasking, leadership, confidence and problem solving skills. We also have opportunities for advanced riders to compete in events. More information and scheduling can be found on our website. Use promo code "intro" to schedule an introductory riding lessons for just $40.00
Ave Maria Dance Academy Home School Dance Program

Naples

Ave Maria Dance Academy provides dance instruction for children 3-18years of age. The Home School Dance Program has classes during the day. The classes run in 8 week sessions.
Tampa Florida Judo

Oldsmar

There is nothing more important in the lives of our children than establishing self-confidence in everything they do. That's why our Kids Martial Arts program builds up students with a series of accomplishments and support throughout the process. Whether your child is a complete beginner or an experienced martial arts student, they'll feel welcomed from day one at Tampa Florida Judo and challenged to give it their all.
R.E.C.E.S.S Homeschool fitness program

Orlando

The R.E.C.E.S.S (Recreation, exercise, conditioning, education, strength, sports) Homeschool fitness program goal is to improve athleticism and overall fitness while having fun in a positive and motivating environment. The program uses exercises, activities, and games to improve agility, strength, balance, coordination and general fitness conditioning. These skills help kids be successful in any sport or physical activity while promoting confidence. Classes are Tuesdays and Thursdays at 10 am.
CBP Martial Arts Academy (Capoeira)

Orlando

CBP's Home School Capoeira martial arts classes combine self-defense with fitness, music, acrobatics, culture, and FUN! Classes are geared for ages 3+. Classes adhere to Sunshine State Standards. Classes can be scheduled Monday - Friday between the hours of 10am - 3pm. Please call for availability and to schedule your first session.
British Swim School in Orlando

Orlando

British Swim School fosters a love and respect for water within kids and adults. The Orlando British Swim School family is delighted to offer on-going enrollment into British Swim School's unique program of classes at four local pools.
TGA Premier Sports Orlando

Orlando

TGA introduces the life-long sports of golf and tennis at a young age through programs that provide a fun and enriching experience for children while being a convenient and affordable option for parents. Our dedicated coaching staff help students develop their skills and a passion for golf or tennis while using the sports as a vehicle for delivering curriculums that are loaded with educational concepts including STEM and life skills such as respect, honesty, perseverance and sportsmanship. We offer year-round afterschool programs, camps, play days, and many other events for the community. Visit our website to learn more and for a full list of programs.
RDV Ice Den Learn to Skate

Orlando

Learn to Skate group classes offer a fun and relaxed environment for skaters of all skill levels. Participants meet once a week for a 30-minute class followed by 15 minutes of supervised practice. Learn to Skate sessions are eight weeks long (4 weeks during our mini session) with achievement testing on the last day of class. The annual membership with Ice Sports Industry (ISI) is included with registration. Skaters earn achievement badges or certificates and advance through the ISI curriculum. Groups are formed with skaters of similar age and skill level. Please indicate the level for which you are enrolling during registration. If necessary, the skater's skill level will be assessed on the first day of class by Ice Den instructors. Sorry, make up classes are not available. If a class is missed, please remind your instructor and he/she will work with the skater during the 15 minutes of supervised practice time immediately following their next lesson. Rental skates are not included with Learn to Skate classes. Skate rental punch cards with eight rentals may be purchased at the Ice Den service desk for $26.25 plus tax. Tuesday 6:00pm & Saturday 11:15am classes are for children 10 and under. Wednesday 6:00pm & Saturday 12:05pm classes are for all ages.
North Orlando Rowing

Orlando, Central Florida

North Orlando Rowing is a non-profit 501(c)(3) organization that promotes the sport of rowing for students ages 12-18 in the Orlando area. Our middle school and high school programs promote the health and growth of student-athletes promote We provide a safe environment for middle school and high school aged youth to engage in healthy competition while promoting the physical well-being and growth of character of our students. Everyone Rows; Everyone Competes. We mentor young men and women to learn the value of hard work, discipline, perseverance, and teamwork. Our club runs year round, with Team practices for fall and spring competition and summer camps during the summer. We have strict COVID-19 protocols in place and unlike many youth sports, rowing is non-contact. Information can be obtained on our website - Northorlandorowing.org, or by calling (407) 610-IROW (4769).
North Palm Beach Rowing Club

Palm Beach

Offering daily rowing classes throughout the summer, and a youth group that develops rowing skill in preparation for our fall and spring racing seasons. NPBRC offers world-class coaching and integrates kids from multiple area schools AND homeschooled kids, all on one team. This builds teamwork, social skills, and friendships that last a lifetime.
Glen Beaver Homeschool Group Golf

Palm Beach County

Coach Glen Beaver launched his homeschool golf program in Fall 2018 with 11 students and by March 2020 it had grown to include 3 different sessions. His goal has always been to give people, no matter their age or ability, the opportunity to learn golf at an affordable price point. "I started teaching because I want others to enjoy the game. It's about seeing my students progress and have fun." Teaching junior golfers is special to Coach Glen because they are the future of the sport and our community. As a result, he strives to not only teach golf skills but also nine core values that will develop character on and off the golf course. He offers Fall, Spring and Summer sessions.
Ingram's Karate Homeschool Karate Class

Pasco County

Karate for Homeschoolers classes are now available. Call today to set up a FREE class for your group or your individual student. Classes in New Port Richey 727-372-7673 and Carrollwood 813-969-4777 Locations: Carrollwood - 14457 N. Dale Mabry, Tampa, FL 33618 New Port Richey- 4116 Little Rd, New Port Richey, FL 34655 Dunedin Community Center - 1920 Pinehurst Road, Dunedin FL 34698
Power and Glory Karate

Pembroke Pines

This martial arts school specializes in teaching life values, confidence, bully proofing and discipline through the martial arts. They have been teaching in Pembroke pines florida since 1999.
Pensacola Area Homeschool Volleyball

Pensacola

This is a group that plays the fall JV/Varsity school girls' volleyball season. The "Phoenix" plays other teams within about a two hour radius of Pensacola, mostly vs. Christian schools.
Glen Beaver Golf Lessons-Homeschool Group Golf

Royal Palm Beach

Coach Glen Beaver has been teaching Homeschool students the basics of the golf swing, chipping and putting since Fall 2018. Students of varying ages are divided by age and/or experience level in a group setting. Students can also expect to learn important core values and life skills that can be applied in the daily lives as they progress through a program adapted from First Tee. Golf clubs will be provided for this class.
The Ball Flight Academy

Sarasota

Junior golf programs to teach kids all aspects of how to play mixing up lessons and games to keep the experience fun!
NXT Generations Wellness LLC

Sarasota

1. Individualized Instruction Overview: 1:1 customized sessions that focus on an array of physical health components such as: cardiovascular conditioning, agility, coordination, strength, balance, and flexibility while incorporating positive mental health strategies. Time/Frequency: Monday-Friday, 5 select weeks, 45 or 60 min 1-3/week Ages and Ability: 4-22, all levels and capabilities welcome Location: Definition Fit 2. Kinesthetic Tutoring Overview: 1:1 customized tutoring program that supports academic goals through movement and other multi-sensory techniques. Time/Frequency: Monday-Friday, 5 select weeks, 45 or 60 min 1-3/week Ages and Ability: 4-22, all levels and capabilities welcome Location: Definition Fit 3. Youth Wellness Camp Overview: This camp is designed for children, of many capabilities, ages 5-11. Throughout the week, many activities will be led to promote self-awareness, confidence, mind/body awareness, and peer connection. 3-5 specialty instructors will lead activities throughout the week (yoga, team building, fitness challenges). A more detailed schedule will be sent upon registration. Dates: Aug 5-9, 9a-1p
Kim Jackson Martial Arts

Seminole/Largo Pinellas County

We teach a fun, focused martial arts program for children.
Tennis Lessons at Westphalen Tennis

SouthWest

Westphalen Tennis provides the highest quality tennis lessons to all ages and levels! From just learning the sport to getting fit, to making a pro run!
Jump for Kids

St. Petersburg

Jump for Kids is a not for profit that is a personal training company for students. They teach exercise in 5 elementary schools in St. Pete and would like to start to work with home school students to help with their PE credits. For more information about partnering with Jump for Kids, contact them through their website.
Soccer Fever @ Indoor Experience

Sunrise

Soccer Fever is a family owned and operated sports facility designed to fulfill the demand for Soccer/Futsal in the Weston, Sunrise, Davie, Cooper City, Pembroke and Miramar area with a high quality state-of-the-art indoor Soccer/Futsal field. The facility is fully air conditioned, so players do not have to worry about the weather conditions or missing classes. Facility is well illuminated and a safe environment. Offering a special program for Home school kids which is designed to be a professional P.E. (Physical education) class like in a regular school, but with emphasis in Soccer.
Stars Gymnastics - Tampa

Tampa

Recreational gymnastics, as well as tumbling for both males and females.
Run Tampa Youth Running Program

Tampa

The for 12 to 15 year olds is geared primarily towards non-runners or beginning runners with the focus on becoming physically fit while having fun in a team environment. The long term goal will be to complete a 5K, but we will build up to that very gradually, and the emphasis will be on completion rather than competition.
Martial Arts Advantage

Tampa

Martial Arts Advantage's programs are designed to promote discipline, respect, confidence, strength, cardio, fitness, focus, and so much more. Cutting edge instruction is delivered by our instructors who not only teach, but live and train by the philosophy of constant and never ending improvement. Programs range from traditional Martial Arts such as TaeKwon-Do to the straight forward self-defense and combat fitness provided in our HaganaH F.I.G.H.T. system, Brazilian Jiu-Jitsu and Muay Thai. Special themes program classes: Anti-Bullying, ABC's of Success, Team-Building workshops, Self-Defense, Art Instruction, and more.
Team Tampa Rowing

Tampa/Bay Area

City of Tampa Parks & Recreation and CANDO have partnered to offer affordable Youth Rowing to the bay area students. Team Tampa Rowing is open to all 6th through 12th grade students in the Bay Area who want to try a new sport, get a great workout, and have fun on the water! Team Tampa offers programming fall, spring, & summer. It is never too late to try out this new sport. Registrations are accepted year round. No experience needed! Everyone Rows & Everyone Races! Rowing offers the highest percentage of college scholarships of any sport!
Spirit Gymnastics Academy

Winter Haven

Gymnastics classes available to homeschoolers, on Thursdays at 10:30; one is for boys and one for girls. It is $65 per month for 1 class per week. There is a $40 yearly registration fee. There are discounts for multiple children. Please call (863) 875-4839 to get more information. Children can take a free 30 minute trial to be sure that they will enjoy it. Please pre-register.
Goldfish Swim School - Winter Park

Winter Park/Orlando

Goldfish Swim School - Winter Park specializes in year-round, indoor swim lessons for children 4 months to 12 years of age in our state-of-the-art aquatic facility. Open enrollment, weekday and weekend morning and afternoon classes, and makeup lessons provide families with flexibility while giving kids the skills they need to learn how to be safer in and around the water.