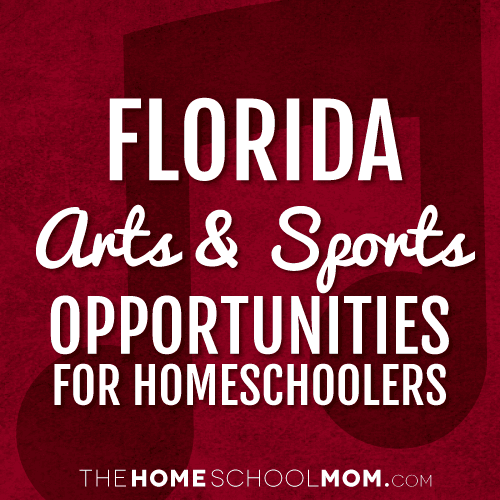 In addition to the opportunity to get out of the house and socialize, homeschool sports and arts programs can offer long-term benefits by developing characteristics like leadership, self-confidence, perserverance, and self-esteem. Many organizations and businesses have opportunities specifically for homeschoolers, while others invite homeschoolers to participate in their regular programs.
Not sure how to choose activity/activities for your children? Read how Rebecca narrows down the choice of extra-curricular activities.
Below is a list of homeschool sports and arts programs in Florida listed alphabetically by city, with arts resources in the first section and sports resources below. If you would like to submit a Florida arts or sports resource, you may do so using the red button above.
Use the secondary navigation menu above to quickly make your way to pages for Florida state organizations, local homeschool groups, classes, co-ops, field trips, and more.
Homeschool Arts Opportunities in Florida
Sound Stage 4 TV & Film Studios Homeschool ClassesAltamonte Springs
New for Home Schoolers; acting, singing, and dancing day time classes.*TV & Film:TV & Film class. All on camera and all for beginners. Students will learn acting, improv, commercials...
Sacred Music Florida CompetitionBoca Raton
Sacred Music Florida is a music competition that takes place as part of the FPEA convention in May. Additionally, there are regional competitions throughout Florida. Helping students set a goal, wo...
Green Art StudioBoca Raton
Green Art Studio is a place where kids can express themselves through art, music, and dance. A family-run business directed by Mrs. Diana, a teacher with over 25 years of experience. Green Art Stud...
Achievement Heights STUDIOBoca Raton
Achievement Heights STUDIO, located in Downtown Boca Raton is the pivotal place for high quality children's education in classical music and the arts. The founder has a doctoral degree in education...
DANL Dance CenterBroward County
DANL Dance Center offers dance classes for ages 2 - Adult. With classes in Ballet, Tap, Jazz, Hip-Hop, Lyrical, and Stretch you are sure to find a class that is right for you! DANL Dance Center has...
Creative Homeschoolers of North OrlandoCasselberry
Creative Homeschoolers is a free homeschool group for the North Orlando area. The group features enriching events based on Art, Creative learning, Creative Writing, Science, Theatre Arts, and Drawi...
North Orlando Homeschool Art Co-OpCasselberry, Winter Park, Maitland
This is a free co-op for homeschoolers in the North Orlando area, or anyone who is able to make it to events!This is a free co-op, parents must be present, this is not a drop-off. Parents must ...
Area Stage Company and Theatre ConservatoryCoral Gables
This fall, South Florida students will have a unique, new and enriching option to include in their home-school curriculum - Theatre and Performing Arts training at the award-winning, nonprofit Area...
School of Rock – Coral Springs and Southwest RanchesCoral Springs and Southwest Ranches
School of Rock offers students of all skill levels age 7-18 a performance-based music curriculum in a fun environment. Weekly private lessons are combined with structured group rehearsals. Student...
School of Rock DavieDavie
School of Rock offers students of all skill levels age 7-18 a performance-based music curriculum in a fun environment. Weekly private lessons are combined with structured group rehearsals. Student...
Art TeacherDavie
On going Art Classes. Heidi Reiter is an experienced Art Teacher. She worked in Dade and Broward County Public Schools Systems for over 20 years. Ms. Heidi is offering individual and small group cl...
Selah AcademyDavie
Selah Academy is a dance school specifically for homeschoolers with all classes occurring during the day. Selah is directed by a former homeschool graduate and offers ballet, modern, pointe, tap a...
Museum of Florida ArtDeLand/Central Flroida
Museum tours for Homeschool Families and Art Classes for Homeschool Students.
Strikers DrumlineDelray Beach
Strikers, is a marching drum line percussion group that will unite and encourage young individuals by sharing and expressing the love for music using percussive instruments. Not only will it teach ...
Arts GarageDelray Beach
Arts Garage's new Arts Education programs is available to students, starting from 3rd grade to high school seniors. All of the programs culminate with a performance showcase. The multi-arts venue i...
Mom OutEstero
This group would held at the homes of students, where we'd explore art and yoga as a form of self expression/ discovery. The course would follow the unique interests of the students and be guided b...
Alliance for the Arts – arts classesFort Myers
Classes designed especially for home schooled students using clay, paper mache, cartooning, drawing, painting, toy making, journaling and more. Call for details 239-939-2787.
McGregor Baptist Fine Arts AcademyFort Myers/SW Florida
Music Lessons and Art Classes for all ages
MUSE Center for the ArtsFt Lauderdale
Dance, Theater, Music, Art and Creative Writing Classes for all ages.
A+ Music InstructionFt. Lauderdale
A multitude of music educational services, including private one on one lessons, group classes, early childhood classes, and recording and production services. Instruction in piano, guitar, bass, d...
In La'Kesh Studio's "High Vibe Fun"Ft. Myers/Cape Coral
In La'Kesh Studio Presents: "High Vibe Fun", whether your child is a Virtual Schooler, Home-Schooler, Private, Charter or Public Schooler In La'Kesh Studio's "High Vibe Fun" has a wide variety of c...
Fired Clay Sculpture ClassesGainesville
Please visit my website. Classes are ongoing. Email with any questions. mailto:siennarose@cox.net
The Florida Theatre ConferenceGainesville
The annual Florida Theatre Conference Festival encompasses a full world of performing arts – over three and a half days we will stage High School, Theatre for Youth, Middle School Community Theatre...
Plan a Trip to the Jacksonville SymphonyJacksonville
The Jacksonville Symphony provides a variety of educational concert opportunities throughout the school year that can enhance your music curriculum and educational experiences. Each fall and spring...
School of Rock Lake WorthLake Worth
School of Rock offers students of all skill levels age 7-18 a performance-based music curriculum in a fun environment. Weekly private lessons are combined with structured group rehearsals. Student...
Mysti's Music StudioLakeland
Piano lessons are given to homeschool students, between the hours of 9am and 2:30pm. Lessons are given to current homeschool students at a significant discount. Music theory is included, as well as...
Izza Lotta Music Homeschool BandLakeland
Located in Polk County, FL , this group collaborates to provide a fun and educational band experience for homeschoolers. The students learn how to play an instrument, read music and attend music re...
MOA+D Art for Tots!Miami
Fridays from 11:00 am - 12:00 pm. A warm introduction to the Museum through sessions that inspire small artists with age-appropriate art activities that connect to works of art in MOA+D's collectio...
School of Rock MiamiMiami
School of Rock offers students of all skill levels age 7-18 a performance-based music curriculum in a fun environment. Weekly private lessons are combined with structured group rehearsals. Student...
Miami Conservatory of Music Musical TheatreMiami
The Miami Conservatory of Music offers 2 musical theatre programs for homeschool students on Tuesday mornings: The Mini Musical Theatre for ages 4-6 (10-week session of one hour concluding with 2 p...
Miami Conservatory of MusicMiami
Research indicates that integrating music into children's educational process has amazing results. Children who study a musical instrument are more likely to excel in all of their studies, work bet...
The Children's Gallery and Arts CenterMiami
This nonprofit organization for the visual and the performing arts created in 2009 is located inside the beautiful Historic Village of Cauley Square. Provides all-inclusive opportunities for learni...
Raices, Hispanic Heritage Cultural Arts CenterMiami
Raices Hispanic Heritage Arts and Culture Center at Miller Drive Park is a multi-cultural and multi-disciplinary arts center founded in May of 1996. It provides art education services and cultural ...
Rudenko Music StudioMiami
With a unique program, every lesson is custom fit to the needs of the individual student, whether the students wants to learn just for fun, or to be at a competitive level. Lessons will vary based ...
Olivia Smith VIolinMiami
Olivia Smith is a former homeschooler and private violin teacher in the Miami area. Miss Smith holds a bachelors degree in Music Education from the University of North Carolina at Greensboro and ho...
Sociedad Actoral Acting SchoolMiami
This school teaches Acting(Film/theatre) to all ages with 3 separate classes for minors: very small kids, kids, and teens. The school is very welcoming, serious about their craft, and has a very ni...
Trujillo Academy of MusicMiami, FL
"A Community of Passionate Music Educators and Learners" The Trujillo Music Academy is dedicated to a fulfilling and enriching musical experience for all of her students. Instructors believe that...
School of Rock North Palm BeachNorth Palm Beach
School of Rock offers students of all skill levels age 7-18 a performance-based music curriculum in a fun environment. Weekly private lessons are combined with structured group rehearsals. Student...
Burt Reynolds Institute for Film and TheaterNorth Palm Beach
Burt Reynolds Institute: Junior Acting Class provides a safe place for students to experiment and explore their artistic talents in the art of performance. This program celebrates all levels of ski...
The MusicBox – OrlandoOrlando
Private Lessons offered in voice, guitar, piano, drums, violin, music theory, songwriting, and acting. The Music Box also offers a variety of performance groups based on the student's age.
Central Florida Community ArtsOrlando
Opportunities for homeschooled PreK-12 students in Central Florida, both during the day and afternoon/evening. Musical Theatre, Young Artists Orchestra, Elementary String Ensemble, and Youth and Ch...
Orlando Suzuki Music SchoolOrlando
Offering Violin and Viola lessons to children 3 years old and above. Rolando Freitag is a registered Violin Teacher Trainer in Central Florida, with extensive experience teaching students of all ag...
Orlando Suzuki Music SchoolOrlando
Rolando Freitag, registered Violin Teacher Trainer with the Suzuki Association of the Americas is offering Violin and Viola lessons rooted in the principles of Suzuki Talent Education. With the bel...
Dramatic EducationOrlando/Orange County
Dramatic Education is an educational arts company that fuses academics with drama. School arts integration and implementation programs, teacher-led arts workshops, in-school, after-school, summer d...
ArtQuest School of Art & DesignOrmond Beach, Volusia, and Flagler Counties
The ArtQuest School is committed to offering the finest art instruction to exceptional children, teens, and adults in drawing, painting, and design. Working in small groups, students expand artist...
School of Rock OviedoOviedo
School of Rock offers students of all skill levels age 7-18 a performance-based music curriculum in a fun environment. Weekly private lessons are combined with structured group rehearsals. Student...
Art CoachPalm Beach
Life Drawing Lessons - Observational Life Drawing foundation skills are learned through guidance on ways of seeing and interpreting three dimensional subjects into two dimensional. Experimentation ...
The Creative Arts CenterPalm Harbor
The Creative Arts Center in downtown Palm Harbor offers several children's programs and classes for home schooled children. The Center offers a wide variety of classes in arts, crafts, cultural dan...
JaM Guitar StudioPolk County
JaM Guitar Studio offers lessons for guitar and bass. JaM provides individual instruction and group classes for all ages. Offering concerts and community performances. Provide instruction in theory...
Hands on Pottery ClassesSan Antonio
Single Pottery Classes every Saturday No long term commitment and all levels welcome. Learn Hand building, Sculpture and Wheel Throwing. 10 am to 12 noon, ages 9 to 16 yrs. 1:00 pm to 3:00 pm, ag...
Mindful Music CenterSanford
Mindful Music Center is offering a new "Mommy and Me" class called "Mini Musicians". Classes will be held on Fridays, from 10:30-11:00 am, in my home-studio at Krider Road, Sanford. Providing indi...
Allegro Music Academy music and dance classesSarasota
Group lessons in dance, guitar, violin, wind instrument band
Soul Studios DanceSarasota
Soul studios dance is a place to learn the art of dance and movement. Classes for all ages and skill of dancers. From Mommy and me to competitive dance. Schedule online at website.
Sarasota Cuban Ballet SchoolSarasota
Providing a homeschool education along side ballet instruction. This award winning school provides world-class ballet instruction in the tradition of the Cuban method. They also provide a comprehen...
McKay's MusicSouth Florida
McKay's Music offers private in-home music lessons, group lessons, music workshops and music summer camps. Ask about the FREE trial lesson when you call!
Bambam Drumfun Rhythm Arts'n'craftsSouth Florida
Bambam Drumfun is a rhythm-making and arts'n'crafts maker program for all ages and abilities. This unique drumming and art-making class brings together the joys and benefits of syncopated drumming ...
Ms. Lisa's DanceSouth Tampa
Ms. Lisa's Dance offers dozens of dance classes, including three special classes just for homeschoolers. Ms. Lisa's Dance offers a Ballet & Tap class on Mondays at 1:00 for students 5-9 years o...
High school marching bandSpring Hill
Weeki Wachee Band high school marching band
The Arts Conservatory for TeensSt.Petersburg
The Arts Conservatory for Teens is an all inclusive after school arts program. All of our students who register are awarded a $1,000.00 scholarship that covers up to 3-class workshops each quarter ...
Brandon Bach's Music SchoolSunrise
Acoustic Guitar, Bass Guitar, and Electric Guitar lessons.
Paige's PlanetTarpon Springs
Creative workshop-style classes designed to promote science (specifically life science) through safe hands-on experiences with live animals, multi-media presentations, and and empowering kids to sh...
Uniquely CleverWalton County
Uniquely Clever is a traveling graffiti painted art bus! The artist has a B.A in Art Education and taught 3 years of middle school art. The Art Bus #Imaginationmachine travels between Defuniak spri...
Willow Music StudioWest Palm Beach
Willow Music is a music school with the vibe of a music club. Willow music teaches classical and jazz piano, as well as flute lessons. Music Theory and Jazz Band classes are forming now. Contact ...
Armory Art CenterWest Palm Beach
The Armory Art Center offers art classes and programs for home education students grades Kindergarten through 12 in a wide-range of disciplines: painting, drawing, mixed media, printmaking, sculptu...
Homeschool Sports Opportunities in Florida
Ignite Sports Center Jupiter
Ignite Sports offers children two opportunities for PE and sports programs through Ignite Sports Facility and Ignite Sports Mobile program. Providing PE and sports programs for Home School groups. ...
Bubble Swim School Swimming LessonsAventura
Year Round Swimming Lessons. We have facilities where we do classes or we can send a Certified Instructor/Fully Insured to your location for classes.
Fl. Bubbles Swim SchoolAventura
Learning how to swim is a must for any child in South Florida. Not only is swimming fun, but one of the easiest exercises for kids to strengthen muscles, and is also a great developmental tool for ...
South Florida Sports Academy(SFSA)Broward County
South Florida Sports Academy has created a program that combines strength and flexibility exercises for children who are currently enrolled in homeschooled programs. Program benefits children both ...
Amazing Athletes Sports and Fitness ProgramBrowrd and Palm Beach Counties
Studies show healthy, active kids make better learners. Amazing Athletes for grades PK- 1st is the premier year-round developmental sports and physical fitness program designed to empower preschoo...
Ace Of Spades Sports Baseball & Softball AcademyCasselberry
Ace Of Spades is recognized as the premier indoor baseball and softball training center in Central Florida providing state-of-the-art practice facilities, professional instruction and a nationally ...
Kids learn tennis with Coach Tom DundisCocoa Beach
Coach Tom Dundis can train homeschoolers to learn and play tennis in a fun and encouraging experience at Kiwanis park tennis facility or at the tennis court of your choice. The Kiwanis park tennis ...
Level Up TaekwondoDavie, Cooper City, Plantation, Hollywood, Weston Florida
Taekwondo classes in Davie Florida. Get school credit as you learn respect, discipline, self-defense, confidence, physical fitness. More information at 954-648-1744
Rain Makers Christian Sports MinistryFernandina Beach/Nassau County
Rain Makers Christian Sports Ministry offers opportunities for youth to learn and be trained in sports (basketball, volleyball, baseball, softball, soccer) in a positive and encouraging environment...
Bamboozles Skating & Event CenterFort Myers
Bamboozles is a Skating and Event Center. The facility is a hip new place where kids, teens and adults can hangout and listen to hot new music or watch there favorite football teams on our huge vid...
Taekwondo UnitedFort Myers
Learn self-defense, self-control, respect, coordination, confidence, team work, and more all in a fun and comfortable environment. Enrolling for home school Martial Arts class. Call Kaitlyn at 239...
Brazilian Top Team Juno Beach/Brazilian Jiu-JitsuJuno beach/ North Palm Beach/Jupiter
We are a Brazilian Jiu-Jitsu Academy with world class black belt instructors offering Gi and NoGi jiu-jitsu classes as well as kickboxing. Classes are for children ages 4 and up, including teenager...
Jupiter Pointe PaddlingJupiter/Tequesta
Jupiter Pointe Paddling is home to the gorgeous Jupiter Sandbar and only a short paddle from the historic Jupiter Lighthouse. Students can paddle around Jupiter Island, at low tide play at the sand...
Glen Beaver Golf Lessons-Homeschool Group GolfLake Worth and West Palm Beach
A 7- week series is offered at Park Ridge Golf Course every Tuesday at 10:00 am. Coach Glen Beaver teaches Homeschool students (ages 4 - 17) the basics of the golf swing, chipping and putting. Th...
G3 America Homeschool SportsMargate
Christian based program which offers an opportunity for Homeschooled Children ages 4 and up to participate in Olympic TaeKwonDo classes, Soccer Club, and Leadership Training courses. It provides Ch...
Raices, Hispanic Heritage Cultural Arts CenterMiami
Raices Hispanic Heritage Arts and Culture Center at Miller Drive Park is a multi-cultural and multi-disciplinary arts center founded in May of 1996. It provides art education services and cultural ...
305 Ninja AcademyMiami
305 Ninja Academy is a fitness academy located in Miami, FL specializing in ninja training! Come learn from Coach Daniel, an American Ninja Warrior veteran. We offer classes for ages 4 and up inclu...
R.E.C.E.S.S Homeschool fitness programOrlando
The R.E.C.E.S.S (Recreation, exercise, conditioning, education, strength, sports) Homeschool fitness program goal is to improve athleticism and overall fitness while having fun in a positive and mo...
CBP Martial Arts Academy (Capoeira)Orlando
CBP's Home School Capoeira martial arts classes combine self-defense with fitness, music, acrobatics, culture, and FUN! Classes are geared for ages 3+. Classes adhere to Sunshine State Standards. ...
British Swim School in OrlandoOrlando
British Swim School fosters a love and respect for water within kids and adults. The Orlando British Swim School family is delighted to offer on-going enrollment into British Swim School's unique p...
North Palm Beach Rowing ClubPalm Beach
Offering daily rowing classes throughout the summer, and a youth group that develops rowing skill in preparation for our fall and spring racing seasons. NPBRC offers world-class coaching and integr...
Ingram's Karate Homeschool Karate ClassPasco County
Karate for Homeschoolers classes are now available. Call today to set up a FREE class for your group or your individual student. Classes in New Port Richey 727-372-7673 and Carrollwood 813-969-4777
Beast Mode Travel Basketball TeamPembroke Pines
Beast Mode is looking for boys 3rd-9th grade and girls 3rd-6th grade for competitive travel basketball teams. Beast Mode believes in developing players on and off the court and teaches kids life l...
Power and Glory KaratePembroke Pines
This martial arts school specializes in teaching life values, confidence, bully proofing and discipline through the martial arts. They have been teaching in Pembroke pines florida since 1999.
The Ball Flight AcademySarasota
Junior golf programs to teach kids all aspects of how to play mixing up lessons and games to keep the experience fun!
NXT Generations Wellness LLCSarasota
1. Individualized Instruction Overview: 1:1 customized sessions that focus on an array of physical health components such as: cardiovascular conditioning, agility, coordination, strength, balance,...
Tennis Lessons at Westphalen TennisSouthWest
Westphalen Tennis provides the highest quality tennis lessons to all ages and levels! From just learning the sport to getting fit, to making a pro run!
Universal allstar gymnasticsSt Cloud
Universal allstars is offering morning gymnastics for boys and girls. This will count as PE hours for school. This class is just for kids that are homeschooled. Classes are 55 min classes and are d...
Jump for KidsSt. Petersburg
Jump for Kids is a not for profit that is a personal training company for students. They teach exercise in 5 elementary schools in St. Pete and would like to start to work with home school students...
Soccer Fever @ Indoor ExperienceSunrise
Soccer Fever is a family owned and operated sports facility designed to fulfill the demand for Soccer/Futsal in the Weston, Sunrise, Davie, Cooper City, Pembroke and Miramar area with a high qualit...
Recreational gymnastics, as well as tumbling for both males and females.
Run Tampa Youth Running ProgramTampa
The for 12 to 15 year olds is geared primarily towards non-runners or beginning runners with the focus on becoming physically fit while having fun in a team environment. The long term goal will be...
Martial Arts Advantage's programs are designed to promote discipline, respect, confidence, strength, cardio, fitness, focus, and so much more. Cutting edge instruction is delivered by our instructo...
Tampa Florida Judo; Home Schooling Martial ArtsTampa
Martial Arts and Self ConfidenceDr. Rhadi Ferguson is a 2004 Olympian, 4-Time National Judo Champion and a former adjunct professor at the University of Tampa (kinesiology), the University of ...
Serenity Stables LLCTampa Bay
Riding Lessons, Kids Camps
Fam FitWest Palm Beach
This is a group for full family fitness! Bring the kids and get a great workout for everyone. Two classes at the same time, one for parents one for kids!Free to members • Bring the kids free • ...
Soccer FeverWeston
Indoor soccer facility
Spirit Gymnastics AcademyWinter Haven
Gymnastics classes available to homeschoolers, on Thursdays at 10:30; one is for boys and one for girls. It is $65 per month for 1 class per week. There is a $40 yearly registration fee. There are ...