Our listing of Florida jobs and volunteer opportunities for homeschoolers is ordered alphabetically by city. If you would like to submit a Florida co-op or academic resource, you may do so using the red button above.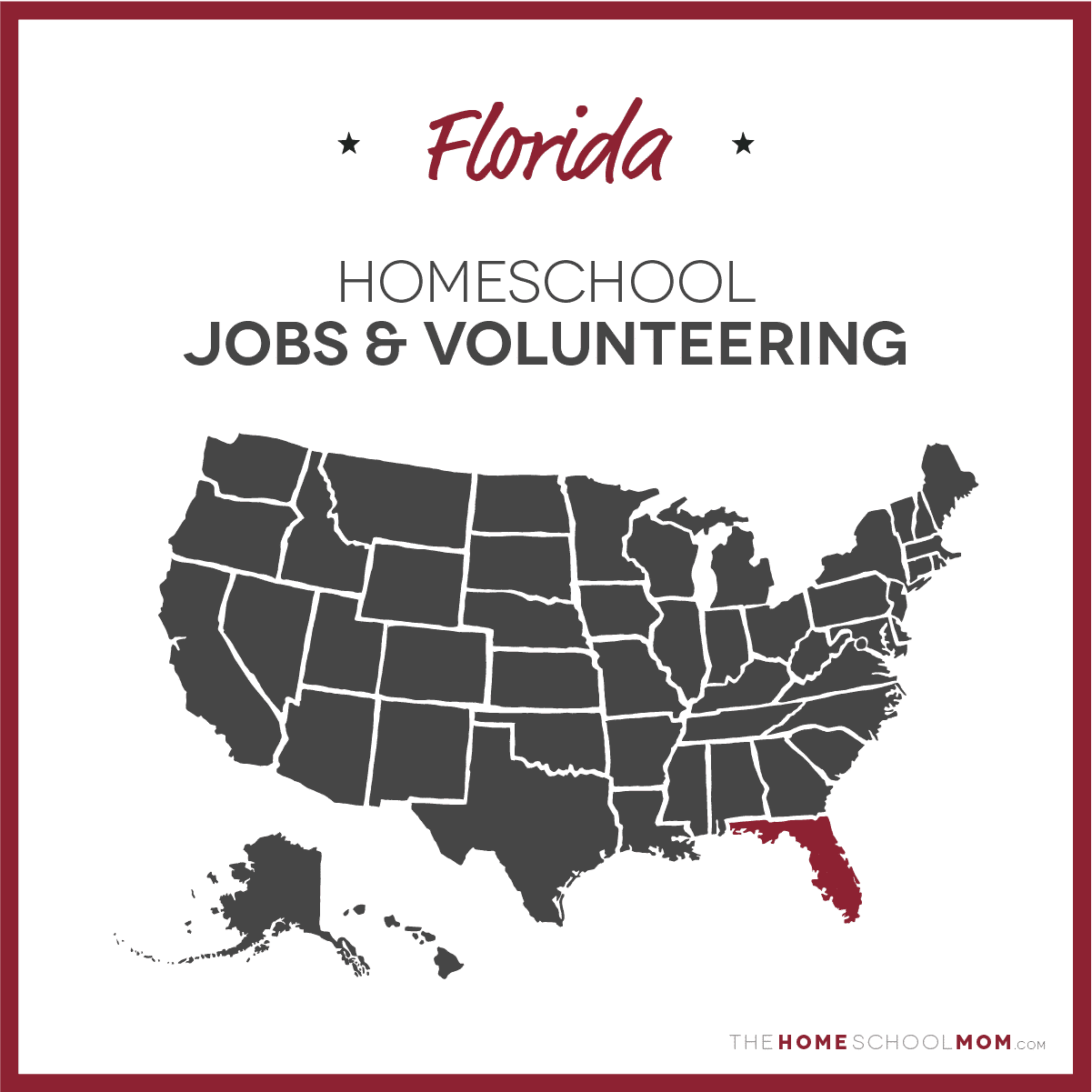 Submit a Local Resource
Part Time Jobs available for teens at new Trampoline Park in BradentonBradenton
Altitude Trampoline Park is coming soon to Bradenton! Submit an application to learn more about becoming part of our opening team. [Read more...]
The Moccasin Lake Environmental Education CenterClearwater/Tampa Bay
Moccasin Lake is a 51-acre nature preserve with trails and boardwalks under a canopy of mature oaks and across ponds and creeks, with an array of wildlife including gopher turtles, raccoons, and ma... [Read more...]
Heathcote Botanical Gardens volunteer opportunitiesFt. Pierce, Treasure Coast
Heathcote is a small, mostly volunteer run, non-profit botanical garden in Ft. Pierce, FL. Volunteer opportunities are open to ages 14 and 15 with parent/guardian/teacher participation. Under 18 vo... [Read more...]
HEART Village (Hunger Education and Resource Training)Lake Wales
Hunger Education And Resource Training Village, or HEART Village for short, is a missionary training institute dedicated to educate, equip and empower Christian workers with practical skills in cul... [Read more...]
Vinceremos Therapeutic Riding CenterLoxahatchee
VOLUNTEER OPPORTUNITY - NO HORSE EXPERIENCE NECESSARY Vinceremos is currently seeking volunteers for Monday - Friday shifts! If you're looking for a way to volunteer with horses and meet new people... [Read more...]
Raices, Hispanic Heritage Cultural Arts CenterMiami
Raices Hispanic Heritage Arts and Culture Center at Miller Drive Park is a multi-cultural and multi-disciplinary arts center founded in May of 1996. It provides art education services and cultural ... [Read more...]
North Port Meals on WheelsNorth Port, Sarasota County
Volunteer drivers needed - 9:30 am to noon, Monday - Saturday Acquire service hours while helping seniors in need. On each day of the week, multiple drivers deliver the meals after they are prepare... [Read more...]
EEIStatewide
EEI is a recruiting/staffing company. EEI's initiative directly connects graduating high school seniors with the workforce, allowing the bypass or delay of an undergraduate education. One of the ke... [Read more...]
Go to...