Our listing of Florida jobs and volunteer opportunities for homeschoolers is ordered alphabetically by city. If you would like to submit a Florida co-op or academic resource, you may do so using the red button above.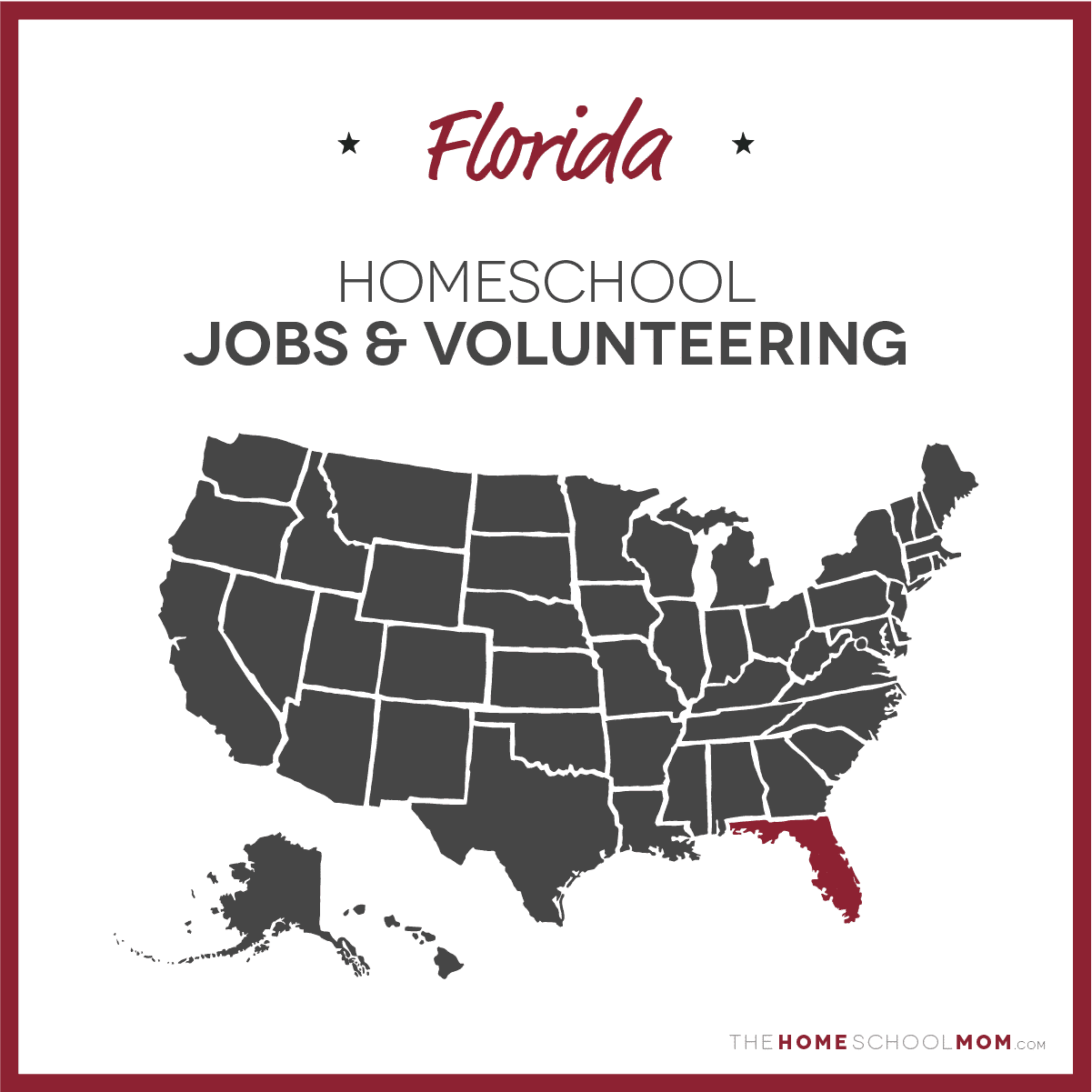 Submit a Local Resource
Part Time Jobs available for teens at new Trampoline Park in Bradenton

Bradenton

Altitude Trampoline Park is coming soon to Bradenton! Submit an application to learn more about becoming part of our opening team.

Part Time Jobs available for teens at new Trampoline Park in Bradenton details
The Moccasin Lake Environmental Education Center

Clearwater/Tampa Bay

Moccasin Lake is a 51-acre nature preserve with trails and boardwalks under a canopy of mature oaks and across ponds and creeks, with an array of wildlife including gopher turtles, raccoons, and many birds. It is home to several injured birds of prey. The park offers classes, programs, camps and meeting/reception rentals with both indoor and outdoor meeting space. Volunteer opportunities are available. Now accepting applications for science and environmental contract instructors. Please call (727) 793-2976 or (727) 742-0600 for information.
Heathcote Botanical Gardens volunteer opportunities

Ft. Pierce, Treasure Coast

Heathcote is a small, mostly volunteer run, non-profit botanical garden in Ft. Pierce, FL. Volunteer opportunities are open to ages 14 and 15 with parent/guardian/teacher participation. Under 18 volunteers must have a parent/guardian permission form on file. All volunteers regardless of age must submit a volunteer application. Parents and Grandparents welcome. This resource has weekly gardening, office and gift shop positions. Seasonal fundraisers throughout the year provide numerous times to volunteer. In the fall volunteers are needed to install the Garden of Lights vignettes and sculptures. Check the website for links to signup sheets.
Vinceremos Therapeutic Riding Center

Loxahatchee

VOLUNTEER OPPORTUNITY - NO HORSE EXPERIENCE NECESSARY Vinceremos is currently seeking volunteers for Monday - Friday shifts! If you're looking for a way to volunteer with horses and meet new people all while gaining experience working with those with physical, emotional, and cognitive disabilities, we want to meet you! We are seeking Volunteers over the age of 12 that are available to volunteer Monday - Friday. If you're interested in learning more about Vinceremos volunteer program, please contact us at volunteer@vinceremos.org or 561-906-9961.
Raices, Hispanic Heritage Cultural Arts Center

Miami

Raices Hispanic Heritage Arts and Culture Center at Miller Drive Park is a multi-cultural and multi-disciplinary arts center founded in May of 1996. It provides art education services and cultural activities to the community, in addition to cultivating, promoting, celebrating and preserving the traditions found in Latin-American and Caribbean countries and embracing South Florida's cultural diversity. Raices offers all-inclusive year-round programs for children and adults that contain wide-ranging training academies in the fields of the visual and the performing arts, including summer camp, after school program and break camps. The center is open Monday to Friday from 9 a.m. to 6 p.m. to visitors and to groups for field trips. Current programs: painting and drawing in addition to dance and theater. Raices offers a fully-equipped black box theater space that serves as a performance venue for shows and actors Cultural arts center inside Miller Drive Park, offers a wide variety of art disciplines, events and enrichment activities for the community. Volunteers are welcome 15 year old and up to work mainly in light maintenance, preservation and conservation.
North Port Meals on Wheels

North Port, Sarasota County

Volunteer drivers needed - 9:30 am to noon, Monday - Saturday Acquire service hours while helping seniors in need. On each day of the week, multiple drivers deliver the meals after they are prepared by the kitchen team. As a driver, you arrive at the back door of the kitchen at an assigned time between 9:15-10 am to receive your pre-bagged meals. For many routes, we have drivers who deliver on the same day and route each week. Substitute drivers are also needed to help fill in when the regular drivers are unable to serve. Each route will have about 12-15 stops. We serve all of North Port city limits east of River Road. Drivers must be at least 16 years old with a full driver's license, insurance, and proof of vaccination. You will also complete an online background check. Call 941-876-9191 to schedule a time to come into the kitchen for training. The driver coordinator will train you regarding the rules for delivering food, visiting people, and what to do in emergency situations. Once you have been trained, you will be added to our substitution list to be contacted to drive a route when a scheduled driver is unavailable. You always have the ability to decline the opportunity If it does not fit your schedule. Once you have substituted several times, you may decide to become a regular weekly driver when a route becomes available.
EEI

Statewide

EEI is a recruiting/staffing company. EEI's initiative directly connects graduating high school seniors with the workforce, allowing the bypass or delay of an undergraduate education. One of the key areas of focus of this resource is working with homeschooling parents and students. The participating businesses pay for the service, so there is no cost to the parents/students.
Faklis Department Store & Shoe Repair paid apprenticeship

Tarpon Springs

Faklis Department Store & Shoe Repair/Faklis Orthopedic Services is seeking teens interested in learning more about a vocation in the field of shoe repair. This is a unique opportunity to learn from a master cobbler. Faklis Orthopedic Services is seeking teens interested in learning more about a vocation in pedorthics and/or orthopedic fabrication. This is a career field with great opportunity for future growth.

Faklis Department Store & Shoe Repair paid apprenticeship details