Homeschooling is regulated at the state level, so connecting with local homeschoolers is an important step to start homeschooling in Florida. Find the Florida homeschool groups closest to you and get connected with your local homeschooling community, learn about the homeschool requirements in Florida, and discover the co-ops, classes, sports and arts opportunities, and social get-togethers in your area.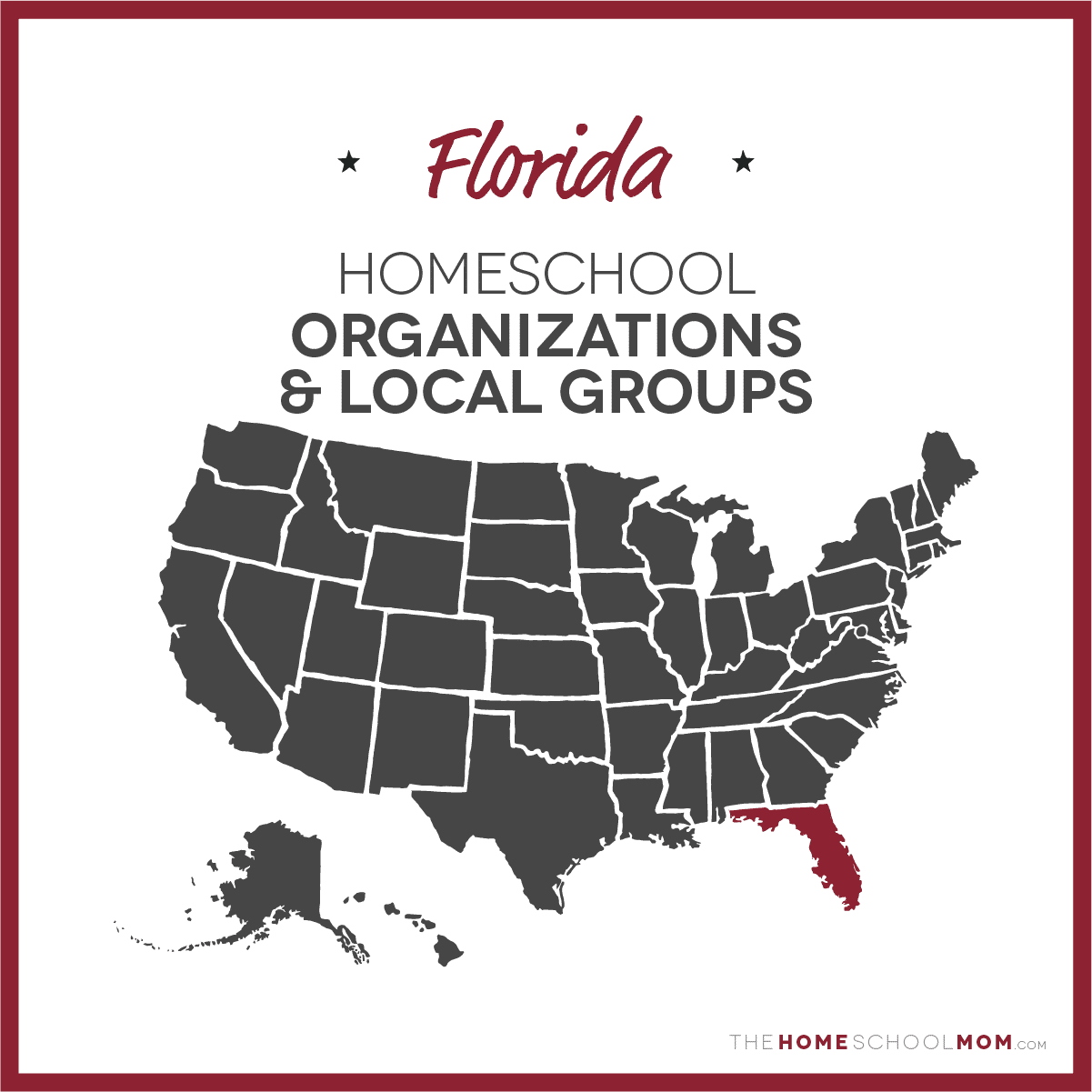 Submit a Local Resource
Jump to: State Organizations | Local Groups
Our listing of Florida state organizations and local homeschool groups is ordered alphabetically by city, with statewide organizations listed first. If you would like to submit a group, you may do so using the red button above.
Florida Homeschool Organizations (Statewide)
Florida Homeschooling

Florida

Florida-homeschooling.org exists to provide support to Florida homeschooling families regardless of race, religion, or teaching style.
Florida Parent Educators Association

Florida Statewide

We are an association of thousands of families in the state of Florida who educate our own children. This site is dedicated to assisting our members to ensure the highest quality of education, and to provide help and information to to other families who are considering homeschooing.
Home Resources & Education, Inc

Florida Statewide

H.E.R.I. is a volunteer organization, of almost 800 families serving homeschoolers in the northeast Florida region. Essentially, we are a support group of other smaller support groups, home-based private schools and individuals, and as such offer unlimited opportunities for serving and encouraging one another.
Allendale Academy

Florida Statewide

Allendale Academy is a homeschool umbrella virtual private school registered with the Florida Department of Education (FL ID 523109). Allendale Academy provides transcripts, diplomas, college and scholarship application assistance, record keeping, guidance counseling and curriculum/scope and sequence recommendations.
Umbrella FVPS

Florida Statewide

UFVPS is a free K-12 virtual private school registered with the fldoe (8712) and is open to students statewide. We provide free resources for curriculum, diplomas, attendance records, student ID's, and guidance. Open enrollment year round. All faiths or no faith, welcome.
Education Revolution

Florida Statewide

Education Revolution provides a variety services for homeschooling including a private umbrella school registered with the state, portfolio reviews, assessment proctoring, educational consultation, and more.
Florida Homeschool Association

Florida Statewide

The Florida Homeschool Association (FLHSA) was founded as a way to support modern homeschool families during a time of expansive growth and emerging needs. We help welcome new families to home education by offering friendly, safe places to ask questions and by providing factual information and real support. Our members may choose to expand access to our resources by subscribing to our membership portal, where we offer advanced levels of training and interaction with our experts. Inside our forums, and across all of our offerings and events, we are committed to academic freedom, supporting excellence and rigor, recognizing emerging trends as they impact home education, and delivering the most current information our ever-changing membership requires. A secular community, we invite all Florida families to link arms, as we share common goals in supporting our children, and leading them toward happy and successful futures.
Florida Local Homeschool Groups
FISH Homeschool

Brandon

FISH is a Christian homeschool ministry in Brandon, FL. They offer: Family and age-specific fellowship/events Competitive sports for 4th-8th grade Competitive sports for high school Mom's encouragement nights Field trips A vibrant high school community complete with monthly socials, dances, spirit nights and graduation Clubs P.A.T.H. Co-op Select drop-off classes A Performing Arts Club that produces two large-scale productions and two "dessert theatres" each year. Graduation and Promotion Ceremonies
Harvest Homeschoolers

Brandon

Harvest Homeschoolers is a new, small Christian Homeschool group for those of us who live in the Brandon, Dover, Valrico, and Plant City area because of the great interest and need for one. The purpose of our group is to create a genuine community with like-minded Christian families where bonds and lifelong friendships are formed. We strive for that sense of village/tribe for support and accountability from fellow Christian Homeschool families that have the same beliefs. We are a small group so we can actually get to know each of our families and provide opportunities for real friendships to develop. Our goal for activities and events is free/low cost and our annual membership is also low (only $35) to make it affordable to families. We center most events and activities in the Brandon-Valrico area so members don't have to drive far to connect and participate. There are some instances in which we do go outside the area, e.g., field trips, etc. The children in our group span from Nursery to High School ages. We meet on a regular basis for Park Days, Field Trips, Special Events, Service Projects, PE days, and Moms' Night Outs. We believe that homeschooling is a calling from God to bring up our children in a way pleasing to Him.
JMJ Hernando

Brooksville, Hernando County

We are a Catholic homeschool support group. We meet weekly, have classes such as choir, violin, art, dance and gymnastics. The focus is on supporting the homeschooling parent while strengthening our faith and allowing children to build lifelong friendships. We also host field trips, events and outdoor activities such as camping.
Broward Homeschool Parent Support Group

Broward County

The purpose of the Broward County Homeschool Parent Support Group (the PSG) is to encourage our membership of approximately 400 families to grow and thrive in their respective homeschool environments. We take great strides to help facilitate our members success by providing information and support services while upholding the philosophies of the PSG (which are founded upon traditional Biblical Judeo-Christian values as defined by the Old and New Testaments of the Holy Scriptures).
Broward Homeschool Parent Support Group

Cooper City, FL 3332

Broward Homeschool Parent Support Group invites you to come out every 2nd Tuesday of each month @ 7:00 pm. (August-May). The mission is to provide South Florida homeschool families an encouraging, enriching environment where children can thrive academically, socially, and spiritually. There is a Co-op listed on their Homeschool Life website as well.
PATH Parents' Association for Teaching at Home

Coral Gables

P.A.T.H. Inc. is a secular, non-profit homeschooling co-op and support group run by parent volunteers. We collaborate to support families in Miami-Dade County who have decided to educate their children at home. All homeschoolers in Miami-Dade are welcome to join PATH, regardless of faith, culture, race, ethnicity, sexual orientation, gender identity, disability, or beliefs. Our goal is to find friendships and support while we inform, encourage, and motivate one another along our homeschooling journey. You can benefit from joining PATH by organizing/participating in our field trips, registering for PATH enrichment classes, attending park days with other PATH families, annual IOWA testing, and many other enjoyable, enriching, community - building activities. PATH families meet at Riverside Baptist Church in Kendall (10775 SW 104th St ) for co-op classes on Thursdays during the fall and winter terms. Please see class registration on the side menu to preview the classes for the up-coming semester.
Parkridge Homeschool Community

Coral Springs

The Parkridge Homeschool Community Support Group was established in August, 2001. It is a ministry of Parkridge Church in NW Coral Springs. We desire to fulfill the church's purpose of "Changed Lives" for our Savior, Jesus Christ. The group was formed to reach out to homeschooling families in our community and encourage them in their efforts to educate their children at home. Ongoing activities and events may include, but are not limited to, Field Trips, Nursing Home Visitations, Middle and High School Events, Spelling and Geography Bees, International Day, Thanksgiving Feast, Christmas Gingerbread Houses, History Day, Science Fair, Resurrection Celebration and Promotion/Graduation Night. Only members can attend and participate in the activities, events and programs offered. The leadership and all activities are organized by PHC members who volunteer their time. Monthly meetings are held at Parkridge Church at 7:30 pm on the first Tuesday of each month (with some exceptions), September through May. All parents, members and non-members interested in homeschooling are welcome to attend. We meet to pray and encourage one another, share methods, curricula, ideas and plan group events and field trips. Please note that our monthly meetings are a time of fellowship for parents only. Please be considerate and make childcare arrangements for your children.
Chipola Home Educators

Cottondale

Chipola Home Educators exists to enrich the educational and social quality of homeschooling families by offering field trips, holiday parties, and other activities, as well as support for moms. We do all this in a Christ-centered environment.
Calvary Chapel Ft. Lauderdale Homeschoolers

Dade, Broward, and Palm Beach counties

Calvary Chapel Fort Lauderdale Homeschoolers is a Christian homeschool support group comprised of dedicated members from Dade, Broward, and Palm Beach counties. We strive to minister to one another in support, encouragement, prayer, and fellowship. Whether you are a newcomer to homeschooling or a seasoned veteran, CCFLH provides opportunities for fellowship, classes, events, field trips, resources, information, and always prayer. As a group we meet monthly to host an event on the 2nd Friday of the month from August to May (excluding December) from 4-6pm.
Nova Leadership Academy

Delray Beach

Home-School Program offered Monday through Friday featuring experienced teachers who can support children in their academic, social and emotional growth. With an additional educational focus on entrepreneurship, leadership and innovation they are driven to prepare our children for a bright future. Catering to 1st - 5th grade in person with two teachers.
Covenant Light Private School & Co-op

Eustis

Covenant Light Private School is a non-traditional private school for homeschool families living in Lake County, (and surrounding areas) in Florida. CLS has been providing services to homeschooling families since 1992 such as umbrella covering, co-op classes, and support group.
Allendale Academy

Florida Statewide

Allendale Academy is a homeschool umbrella virtual private school registered with the Florida Department of Education (FL ID 523109). Allendale Academy provides transcripts, diplomas, college and scholarship application assistance, record keeping, guidance counseling and curriculum/scope and sequence recommendations.
Christian Home Educators of Southwest Florida

Fort Myers

Christian Home Educators of Southwest Florida is a group of families dedicated to bringing up our children with a sound education based on love, respect, hope for the future, and faith in our Lord Jesus Christ. We have family meetings planned beginning in August and ending in May. These gatherings consist of General Meetings, Workshops to equip Parents, Educational Fairs to highlight our children's accomplishments, or just Family-Wide Fellowships. We wrap up the school year with a graduation celebration, combined with an awards and recognition ceremony. All events are designed to encourage building FAMILY relationships among CHESF members, providing opportunities for both the parents and the children. Other activities, field trips, classes, etc. are posted on the calendar and in our forums which are for members only.
Axis Homeschool Group

Groveland

Axis is a ministry of South Lake Christian Church in Groveland, Florida. We offer group support and encouragement to our community of homeschoolers through field trips, educational events, social events, workshops, clubs, meet ups, a full day of co-op classes for students K-12 (nursery/ preschool options for younger siblings), resale curriculum events and more.
SHEAF Homeschool Group

High Springs

Catholic homeschoolers who get together for activities, fellowship, science and art fair, field trips, and support.
International Torah Academy

Hollywood, Davie, Aventura

International Torah Academy is an umbrella school for Jewish homeschoolers providing structural and curricular support as well as socialization opportunities for families and children of K-12.
Home Circle of Hernando

Hudson

We are a faith based homeschooling support group based out of Hernando County, Florida. We serve Spring Hill, Brooksville, Weeki Wachee, Ridge Manor, Spring Lake, Masaryktown and other surrounding areas. We also have grown to serve families in Pasco and Citrus counties as well. We hold monthly meetings to encourage and educate our members. They are held on the third Tuesday of each month at Vineyard Christian Church located in Brooksville, Florida. Prospective members may come to a meeting at any time to get more information about whether or not they'd like to join. Our membership fees are $40 per year per family. Families with only one parent in the home will be provided with a discounted rate of $15 per year per family. With this membership, you gain access to all of our events, support meetings, website, forum, directory and more. We offer the building blocks to make your journey a success. We help our members build relationships, connect with one another & our community, provide support when needed, and encourage growth. Relationships through Fellowship, Member Get-Togethers, Family Fun, Support through Encouragement, Facebook group, Monthly Meetings, Connect through Field Trips, Social Fellowships, Community Events, Growth through Workshops, How-Tos, Orientations
Citrus County Christian Homeschool Group, Inc. (CCCHG)

Iverness

Citrus County Christian Homeschool Group is a Not-For-Profit Corporation Registered with the State Of Florida. Each year we have a spring and fall term, which run independent of each other. Each term has between 10-12 weeks and we meet once a week for classes, and so far its been on Thursdays. We usually have three one-hour class periods, then lunch and recess, which is a great social time for parents, as well as children of all ages. The actual co-op dates, times and class schedule will be posted on the group website each term. We meet at Cornerstone Baptist Church on Highland Avenue in Inverness.

Citrus County Christian Homeschool Group, Inc. (CCCHG) details
Mandarin Christian Homeschoolers

Jacksonville

Mandarin Christian Homeschoolers exists to provide fellowship to families both within and outside of the church community who have chosen to home educate. We accomplish this through park days, field trips, social events, and service projects. MCH also sponsors a Friday co-op of parent-led classes with separate and limited membership.
Intracoastal Adventures

Jacksonvillen Beach

Intracoastal Adventures (IA) is a Christian-based, peer-led support group that seeks to help meet the needs and challenges of school-aged homeschooling children and their families, by providing fellowship, support, enrichment, and social activities. Our ultimate goal is to help discover and carry out God's unique plan for our lives. IA meets weekly (Wednesdays at 1:00pm) in and around the Intracoastal, Beaches, Arlington, and Southside areas for playdates, as well as field trips and other enrichment activities several times a month. With almost 40-member families, we typically have an average of 35 kids at each event, varying in age from preschool to 8th grade. There are also several high-school aged students with which to make more age specific connections.
Homeschoolers of Lake County

Lake County

This is a support group dedicated to the homeschooling families in Lake County, Florida. The purpose of our group is share information and ideas as it pertains to homeschooling. In addition, our group does plan, coordinate and schedule various events, activities and field trips for the members. Group meetings are scheduled throughout the calendar year that include a general information orientation to the school year and a mid-year curriculum share/sale. Homeschoolers of Lake County also offers topical meetings as requested, needed or offered. Each month brings several opportunities to connect with homeschooling families in the area though park days, field trips and "mom's night out". Also hosting seasonal events such as a traditional Thanksgiving Feast, Christmas Party, Back to School BBQ. Special activities throughout the year such as a book club, sewing classes and unit studies.
HOPE Homeschoolers

Lakeland

Each month, HOPE families join together for the fellowship so vital to our homeschooling journey. Here are some of our regularly scheduled activities: Moms' Night Out – the second Tuesday of each month (August – May) Park Days – weekly (September – May) Field Trips – as planned by our members Website – provides our calendar of upcoming opportunities and a forum for Q&A, classified ads, prayer needs, etc. Future HOPE – Monthly meetings for students in grades 6-8 and 9-12 Celebrate & Graduate! – our year-end graduation/awards celebration
JMJ Largo Homeschool Support Group

Largo

We are a Catholic homeschool group of families gathered under the Mantle of Mary and the protection of St. Joseph, with Jesus at our center to provide a social, academic, and faith filled environment for our children and families in which to thrive and grow in holiness and to foster one's God-given vocation through the intercession of the Holy Family and guidance of the Holy Spirit. JMJ Largo is a Catholic Homeschool Support Group but will accept members who respect the Catholic Faith. JMJ Largo serves families in the Clearwater, Largo, Pinellas Park, St. Petersburg, Seminole and Treasure Island areas. We also accept families from other areas who would like to join us. We offer Art, Science, Music, and Drama classes for all ages; Mom and Me Bootcamp are for ages newborn to 3; and a morning and afternoon Sensory Studio class for all ages; Writing and Chess classes are available for 6+ years of age. We also partner with Catechesis of the Good Shepherd to offer Infant Toddler Atrium and Level 1 Atrium. Check our our website to learn more about us: https://www.jmjlargo.com/
Heritage Homeschool Group - Florida

Lutz

This is a private Christian organization focused on providing fellowship, Bible study and educational enrichment for Idlewild homeschool families. We meet on the 2nd and 4th Fridays of each month from August through April at Idlewild Baptist Church in Lutz, Florida.
JMJ Tampa Bay

Lutz

JMJ Tampa Bay is a Catholic homeschooling community offering social opportunities for families in the Tampa area. Although the focus of our group is not the classes, we do offer them as a means to support the homeschooling families and to foster our community. Classes offered include: world history, Spanish, writing, literature, ballroom, ballet, art, science and more.
Christian Home Educators Association of Marion County

Marion County

A Christian support group offering: acitivies, opportunities, fellowship, support, and encouragement for homeschooling families

Christian Home Educators Association of Marion County details
Melbourne Arch Angels

Melbourne

Melbourne ArchAngels Homeschooling Community is here to offer support to families who might be thinking of homeschooling for the first time
P.A.C.E. of Miami

Miami

P.A.C.E. of Miami Enrichment meets every Friday (only 1 day per week) during the school year. P.A.C.E. offers a variety of classes, most lasting 55 minutes, for every age group, from 10:00 AM - 2:45 PM. Students may choose one or more classes. A 45 minute lunch break is provided at 12:00 noon. There are two 12-week semesters during the school year. Fall Semester; From the Friday before or after Labor Day for 12 consecutive Fridays, ending Friday before Thanksgiving Spring Semester; From the 1st or 2nd Friday after New Year's for 12 consecutive weeks, ending in late March/early April. All P.A.C.E. supported activities heretofore available to P.A.C.E. Members families only. These include, but are not necessarily limited to: access to the P.A.C.E. library of homeschooling books & tapes, participation in yearbook, ID cards, field trips, T-Shirts, Testing discounted fees, and end of the year promotion for all grades including Kindergarten & High School Graduation. All PACE members will also have the benefit of joining FPEA and HSLDA for the group discounted rate.
P.A.C.E.

Miami

P.A.C.E. of Miami Enrichment meets at Glendale Baptist Church, 14580 SW 117 Avenue, Miami, every Friday (only 1 day per week) during the school year. P.A.C.E. offers a variety of classes, most lasting 55 minutes, for every age group, from 10:00 AM - 2:45 PM. Students may choose one or more classes. There are two 12-week semesters during the school year. Fall Semester -- From the Friday before or after Labor Day for 12 consecutive Fridays, ending Friday before Thanksgiving Spring Semester -- From the 1st or 2nd Friday after New Year's for 12 consecutive weeks, ending in late March/early April P.A.C.E. also offers Support membership for those families that aren't interested in participating in classes but would like to go to field trips, graduations, testing and other support events.
Dade Broward Homeschoolers

Miami Lakes/Plantation

Dade Broward Homeschoolers is an inclusive homeschool group aimed at providing fun, friendship and enriching educational activities for members and their families. Children in the group form lasting friendships, and is a place where the parents find support and camaraderie. Activities are aimed at school-aged kids. There is also groups for both tweens and teens. Members get together for local area events, take part in outside-structured homeschool activities like ongoing classes, co-ops, and we aim for at least one educational field trip a month. Active participation is encouraged and attending at least one event every two months is required in order to maintain your membership. Help make this group what you want it to be! Our goal is to make the best of our families' homeschooling experience. Events are centered in the North Dade and South Broward areas (Miami Lakes, Palm Springs North, Hialeah, Pembroke Pines, Miramar, Cooper City, Davie, Plantation).
CHEACC Inc. (Christian Home Educators Association of Collier County)

Naples

The purpose of CHEACC, Inc. is to provide support and encouragement to local, Christian home school families. The organization was established upon basic Christian values and principles found in the authoritative Word of God. Individual members are encouraged to reflect those principles during CHEACC, Inc. functions and activities. At CHEACC, Inc. you'll find a diversified group of home educating families. Some members adhere to strict curriculum planning, while others follow learning through unit studies. There are also members enrolled in on-line courses of study and local co-ops. We encourage this diversity at CHEACC, Inc. We believe it is the responsibility of each family to decide their own home school philosophy and establish their own programs.

CHEACC Inc. (Christian Home Educators Association of Collier County) details
Cheerful Heart Academy

Naples

Cheerful Heart Academy is a non-traditional private school serving as an umbrella for home educated students in the state of Florida. Cheerful Heart Academy is registered with the Florida Department of Education as a private non-public school. (FLDOE #5844) Our purpose is to provide parents with the structured organization and accountability of a school while they enjoy the benefits of teaching at home. We hope to help many parents with this responsibility of giving their children a superior education.
Growing Great Minds, (GGM)

New Port Richey

Growing Great Moms and Minds is a Christian support group for stay at home moms, work at home moms, and home schooling families serving Pasco, Pinellas, and Hernando counties.
North Florida Homeschool Support Group

North Central Florida

North Florida Homeschool, a group of homeschooling parents in North Central, Florida, offers friendship; support and encouragement; and buying and selling of curricula.
Ocala Homeschooling

Ocala

This group is for homeschoolers, or those interested in becoming one, who live in Ocala Florida and the surrounding areas. We welcome all homeschoolers, regardless of the method used.
H.E.A.R.T. Inc.

Ocala

Whether you're new to homeschooling, or already homeschooling but new to Marion County, H.E.A.R.T. Inc. is a group that can help you on your journey. We are NOT a private/academic school, often referred to as Umbrella Schools. Each family in our group is independently responsible for the education of their children, their choice of curriculum, and record keeping. Our group provides the platform for people to exchange ideas, resources, personal experiences, and at times benefit from group rates or discounts. Thanks to some of our members who volunteer their time, we're also able to provide various social, academic, and sporting events. These activities give our homeschool children the opportunity to come together with other children.
Orlando Christian Home Educators

Orlando

Orlando Christian Home Educators (OCHED) is an active Christian, family oriented group whose desire is to serve the Lord Jesus Christ, while teaching our children at home. Also, we believe that our children are gifts from God. As parents, we are fully responsible for their education, instilling Godly character and training our children to love God with all their heart. OCHED offers various activities for students of all ages, such as Field Trips, a Published Yearbook, FPEA Membership, Holiday Celebrations, Science Classes, Art Classes, Christmas Celebration, End of The School Year Celebration, Geography Fair, Science Fair, Co-op, Community Service and more. The Co-op Meets every Tuesday 9:00 - 3:00 p.m. For more information please contact carmen at carmen@cfl.rr.com
Watermark Homeschool Enrichment

Orlando

Watermark Homeschool Enrichment partners with local businesses and professionals to educate homeschool students through in person enrichment classes. Some of these classes consist of Dance, Ballet, Jujitsu, Art, Cooking, Baking, Sewing, and various other classes or clubs. They provide high-quality education for the Homeschool community while also providing other activities to grow social skills and cognitive development. These other activities vary but include field trips to local businesses, parks, and educational experiences, as well we have social outings to help develop students communication and interpersonal skills. Families choose which classes and activities to participate in based on their individual needs and schooling style. They do not require all-day classes or parents to teach, only to volunteer at some level throughout the course of your participation. They also have an active community that meets weekly for mom connects, play dates, and social outings.
NearHim Home Educators

Orlando (Northern Suburbs)

A Christian homeschool support group which exists to support and encourage families whom God has called to the task of teaching their children at home. It is the desire of NHE to be a model of Christ's love and to serve the families of both NHE and the greater homeschooling community.
Home Grown Kids of Central Florida

Oviedo

HGK is not affiliated with any particular church. The students in Home Grown Kids range from preschool through twelfth grade. While we fellowship often through planned events, field trips, clubs and other ways, we are not a co-op (co-operative program where families share the responsibilities of teaching classes to a group of students). Most of our activities take place in the Oviedo and Winter Springs areas though our member families live throughout Central Florida
Parents Educating Children

Palm Beach County

PEC was created out of a need for homeschooling parents to come together to offer each other support and to share information on different aspects of home education. The purpose of PEC is to support and encourage its member families who are engaged in a home education program, as well as those considering home schooling as an academic option. Our philosophy is founded on traditional, Biblical, Judeo-Christian values. Membership is open to all who are engaged in a home education program and pay annual dues.
Christian Homeschool Support

Palm Beach County

This group is dedicated to the Christian Homeschool Support of the Western Communities in Palm Beach County, FL. This group primarily serves residents of Loxahatchee, Royal Palm Beach, Wellington and Palm Beach Gardens, but all are welcome to join. We are here to provide support, fellowship & encouragement to one another. CHS offers monthly Parent/Park meetings, Field Trips, Sub-Groups which can include: Little Lead (0-6 years), Faith Girlz (girls only 6-14), Boys' Group (boys only 7-13), Middle School/ High School (12-17), Mom's Night Out!
PBC Homeschoolers, Inc.

Palm Beach County

PBC Homeschoolers, Inc. is an inclusive volunteer-run homeschool support group open to local Palm Beach County, Florida homeschoolers regardless of beliefs, ethnicity, or homeschooling style. Our focus is on homeschooling with an aim to provide friendly support with social and educational opportunities for all. PBCH is an incorporated, not-for-profit group. We host regular park meetings, field trips, a wide variety of clubs and classes, and have regular events such as Science Day, World Day, an annual Talent Show, an annual mock trial, and more.
Priceless Treasures Academy

Palmdale

Priceless Treasures Academy was established by the Prevatt Family after much intrigue, encouragement, and prayer. We are a homeschooling family embarking on our 15th year of school. We have used a myriad of methods such as: Classical, Charlotte Mason, Traditional (In-a-Box), Unschooling, etc... Turns out we are pretty much..."Eclectic" in our methods. Through our homeschooling we have been registered with our county (Glades) & enrolled in a classical, college-prep non-traditional private school. I believe there are different seasons in a family's homeschooling journey and at this time establishing the non-traditional private school and offering enrollment to other families fits our plans.
Fellowship of Christian Teaching Homes (FCTH)

Panama City and Bay county area

Our mission is to support and assist parents in their God-appointed responsibility of training (which includes educating) their children in the nurture and admonition of the Lord. It is our express desire and intent that as a result of our efforts, the Lord Jesus Christ is honored and exalted in our families, home schools, and community. Some of the benefits of membership are Fellowship, Mom's Night Out (MNO), Father's Night Out (FNO), Co-op, classes, Park Days, Beach Days, Field Trips, e-Loop Used Curriculum Sale, e-Loop chat line, "offloop", e-News Updates, Promotion/Performance/Project/Pizza Night and Legal Updates
Bay Homeschools

Panama City, Bay County

Bay Homeschools is here to provide help, information, and opportunities to homeschool families in the Panama City, Bay County, Florida area. We hope to provide helpful information on our site to enhance your homeschooling experience. Visit the Calendar page to see what's happening in the area.
Olivet Private School

Port St Lucie

Olivet Private School is a K-12 school registered since 1982 according to the Florida Statutes as a 617 (non-profit, private) school. Years of experience and continued training provide members with a secure environment for their children's academic oversite. Olivet Private School is a school dedicated to Christian principles. It is an organization for the academic, moral, and social accountability of home-educating families. It has a library with over 1,000 books, curriculum and wonderful fiction, that members may use free of charge. General opportunities include: three monthly field trips, monthly parent-led co-op classes, parent-teacher workshops, high school socials, Field Day, Spelling Bee, Talent Show, yearly testing, maintenance of student transcripts, a Kindergarten, 5th, & 8th Grade Graduation Ceremony, a High School Graduation Ceremony, and a recognized high school diploma.
Parents Educating on the Treasure Coast

Port St. Lucie

PETC is made up between 100-150 homeschooling families. They come together and make an effort to provide social and academic benefits for thier children. The group is all volunteer led, and depends on members to be able to provide the benefits listed below. Events and activities vary from year to year based on the creativity and desire of members to coordinate them. Some of the benefits offered are: Back to School Bash (Fun place for the kids to play) *Fall & Spring Co-ops (Registration window is in Aug. for the Fall & in Dec. for the Spring) Co-op Orientation Meeting (for co-op participating members) Fall & Spring Soccer (registration window is in Aug. for the Fall & in Jan. for the Spring) Field trips (we get group rates & we depend on all members to make this happen) Mom's Night Out (any member can host one at their home or restaurant) Social Gatherings (members can schedule playdates at parks or their homes) Academic Events (*if there's an interest) Park Days Service Project Used Curriculum Sale Theater Performances Bowling League (sign ups are in the fall & spring) Holiday Celebrations (varies & we depend on our members to organize them) Year End Celebration (fun activity for the kids) Non-PETC Classes (members can arrange a class just for our group) E-mail updates of community programs
Learning and Families

Sarasota

Learning and Families is a South Florida Home Education Support group located in the Sarasota/Bradenton, SW Florida area. LAF provides a wide array of benefits to members including website access and communication, special events throughout the year, small groups to fit homeschoolers of every age, parent meetings to equip and encourage you in your role as a home educating parent.
Palm Grove Christian School

Sarasota

Palm Grove Christian School serves as a non-traditional private school for families that wish to home educate their children. Also called an "Umbrella" or " Cover" school.
Vital Academy

Seminole County

Vital Academy is a faith-based homeschool support group based out of Vital Church in Oviedo, FL. The Academy provides an umbrella covering for students who live anywhere within the state of Florida. This is an active group, with many events and activities planned throughout the school year. Offering monthly park days, monthly field trips, and special events planned throughout the year.
Homeschoolers By The Sea

St Johns, St. Augustine

An intimate group of 10-15 families in our co-op with a maximum of 40 children. Our children enjoy close friendships with a small group of children. Our co-op offers a nursery for infants and young children. The 4-6 year old group had classes in Spanish, Famous People, and United States Government. The 7-9 year old group had classes in Physical Science with a science fair and World Geography. The 10+ year old group had IEW (Institute for Excellence in Writing) Ancient History-Based Writing Lessons and Hand-On-History Lap-Pak "Wonders of the World, Ancient, Medieval, Modern, and Natural." Please RSVP to our coordinator, Kathryn, at info@homeschoolersbythesea.com for more information.
Applewood Private Education

Statewide

Applewood Private Education is a Florida-based Umbrella School program that offers year-round enrollment. Their program is designed to offer the most freedom possible to homeschooling families: enrolled families are not required to report curriculum, portfolios, or complete standardized tests. At the same time, they have a qualified staff of education professionals who are always available to offer guidance and support, as needed.
Life Learning Academy Umbrella School

Statewide in Florida

Life Learning Academy is a private umbrella school serving students throughout the state of Florida. Students have opportunities to gather together virtually for academics and fun.
Sonshine Christian Academy Florida

Stuart

Sonshine Christian Academy is a group of families who come together to support one another and share in homeschooling their children.
Tampa Bay Community Homeschool

Tampa

We are a two day faith based hybrid homeschool co-op program offering classes for children in grades 4th through 5th. Every child is unique, each having different God given gifts. We all learn differently, and learning should be fun! We love to take a hands-on approach any time we can to keep the kids engaged. Information will be presented in various formats to meet each child's need such as auditory, kinesthetic, and visual. We meet every Tuesday and Thursday from 9:15 AM to 2:15 PM at Tampa Bay Community Church at 3318 Moran RD Tampa, FL 33618
Tampa Covenant Homeschoolers

Tampa

Tampa Covenant Homeschoolers, Inc. is a non-profit serving homeschool families in the Tampa Bay Area. We provide classes, field trips, parent education, special events, family support, and more.
Homeschool Around Temple Terrace (HATT)

Temple Terrace

HATT is a group established to help homeschooling families in the Temple Terrace area gain social experiences. We meet weekly to learn in a group setting, establish lasting friendships, and provide a social outlet for students and parents.
West Florida Home Education Support League(WFHESL)

West Florida

WFHESL members help organize a wide variety of activities and events that are announced to members in the monthly newsletter. WFHESL is a Christ-centered, family oriented, volunteer organization established by homeschooling fathers and mothers desiring to help, support, and encourage homeschoolers in Northwest Florida, according to Biblical principles. mailto:pres@wfhesl.org
Willow Creek Home Educators

Winter Springs

WCHE, a ministry of Willow Creek Church in Winter Springs, FL, initially began as an outreach to its families, but has now grown to include families from all over the Central Florida area. Some of our members are new to homeschooling, while others are veterans. The ages of the WCHE students range from Pre-K through High School. WCHE offers many activities throughout the year, including engaging enrichment co-op classes for students grades Pre-K through High School; special events, such as geography, biology, and science fairs; meet-ups and holiday parties; as well as a supportive environment for both parents and students to form lasting friendships. WCHE is not an umbrella or cover school. We are true co-operative, and rely on the time and talent of our member families to make events successful. If you are interested in more information, click on the WCHE Information link above. Or, if you would like to join our group, please click on the Request Membership link above.
South Lake Home Educators

Yalaha
Nassau County Home Educator

Yulee

Nassau County Home Educator Support Group (NCHE) is a Christian Homeschool Support Group representing several denominations and various walks of life. Our purpose is as follows: to uphold Christian values, provide educational opportunities for our children, support new and veteran home educators, share information and exchange ideas about home schooling, and stay informed of current legal and legislative happenings. Membership Requirements include organizing one field trip per year and/or co-leading one of our large annual events. Membership Benefits include a website, a large library of homeschool resources, park and beach days, the opportunity to participate in one of our co-ops (BLESS or STEAMschoolers), field trips, and other group activities that offer many opportunities for fellowship and support.