Jump to: Homeschool Arts | Homeschool Sports
In addition to the opportunity to get out of the house and socialize, homeschool sports and arts programs can offer long-term benefits by developing characteristics like leadership, self-confidence, perserverance, and self-esteem. Many organizations and businesses have opportunities specifically for homeschoolers, while others invite homeschoolers to participate in their regular programs.
Not sure how to choose activity/activities for your children? Read how Rebecca narrows down the choice of extra-curricular activities.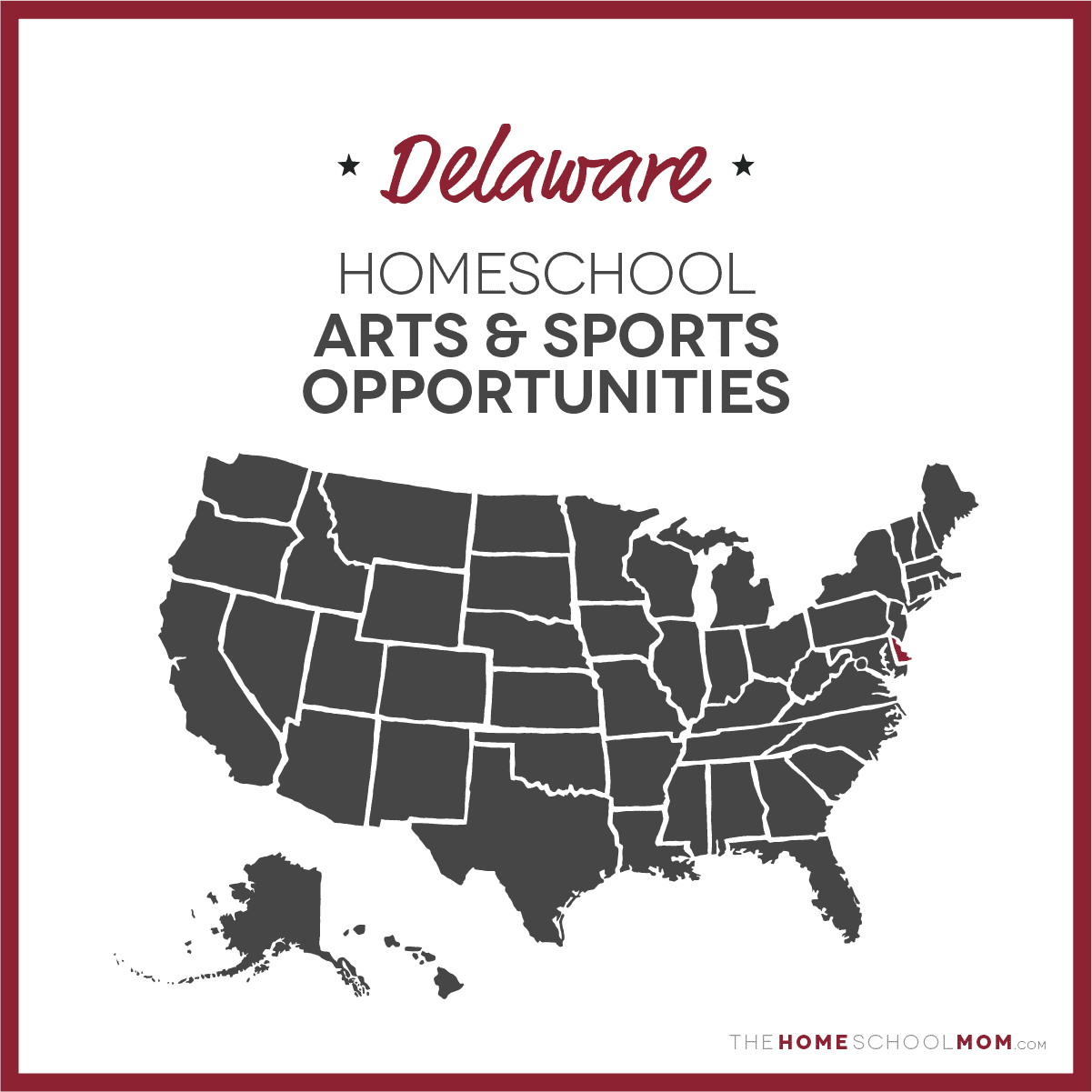 Submit a Local Resource
Our listing of Delaware list of homeschool arts and sports programs is ordered alphabetically by city, with arts in the first section and sports in the second section. If you would like to submit an Delaware arts or sports program, you may do so using the red button above.
Delaware Homeschool Arts Programs
Center for the Creative Arts

Chester County, New Castle County

The Center for the Creative Arts (CCArts) is a community-focused, regional arts organization which provided high quality visual and performing arts opportunities; programs, events and exhibitions designed to nurture the creative spirit in people of all ages and abilities. CCArts holds quarterly classes in visual and performing arts, private music, art and drama lessons, a ten-week summer arts camp for children, and hosts art exhibitions, plays, concerts, music festivals and an annual Artisans Show. Also offering several classes for homeschooled children including Visual Arts and Theater Arts.
Historical Performance with Daisy Century

Delaware, Maryland, and Pennsylvania

A Historical Interpreter from Philadelphia, Dr. Daisy Century performs a one woman show of seven historical women like Bessie Coleman, Harriet Tubman, and Sojourner Truth. Contact Dr. Century through the website to bring history to your Home Schooling programs, meetings, conferences, seminars, classes or special events.
88KeysToFreedom Studio

Dover

Piano lessons offered in your home in the Dover, DE area. Currently accepting new students. Contact Mary Martin 717.269.2661 or visit www.88keystofreedomstudio.com
Delaware Youth Chorale

Dover

The Delaware Youth Chorale (DYC) provides young people from the Kent County area an opportunity to learn and perform fine choral music, in association with the Delaware Choral Society. DYC welcomes students from 3rd to 8th grades without audition. Formed in 2014, DYC provides local students with the opportunity to sing engaging, challenging choral music in a non-school setting. Our singers work on developing musical skills and vocal techniques and learn a range of music in a variety of languages. In addition to singing with the adult DCS choir, the DYC has performed at Barratt's Chapel's Lessons and Carols, for Dover's Christmas Tree ceremony, opened 87er's/Bluecoats games, and even sang at Carnegie Hall! For any questions, parents may email delawareyouthchorale@gmail.com or visit the DYC's Facebook Page.
Home School Connection at The Hockessin Montessori School

Hockessin

Home School Connection Enrichment Program - The Hockessin Montessori School brings expertise in education and creativity to the home school community through our HOME SCHOOL CONNECTION. This program offers a variety of enrichment subjects for children in Kindergarten through 8th grade including Art, Physical Education, Music, Spanish, S.T.E.M, Technology and Steel Drums (Middle School level only). Classes are prepared and taught by the HMS experienced instructional staff and teachers. Home School Connection Math Support Program - Teaching Mathematics can be an overwhelming task in a home school environment. The Elementary and Middle School staff of The Hockesson Montessori School are offering expertise in academics for parents and students in 4th, 5th, 6th, 7th, and 8th grade.

Home School Connection at The Hockessin Montessori School details
School of Rock Wilmington

Wilmington

School of Rock offers students of all skill levels age 7-18 a performance-based music curriculum in a fun environment. Weekly private lessons are combined with structured group rehearsals. Students prepare to perform live on stage. Areas of instruction range from guitar lessons to bass, vocals, keys and drums lessons. Also offers summer camps, monthly events, workshops, clinics, guest professors and additional performance opportunities through the local House Band and national All Stars programs. Location:484 Century Blvd. Wilmington, Delaware 19808
Music School of Delaware

Wilmington

The Music School of Delaware, founded in 1924, is the only statewide, accredited, community music school in the nation, serving residents of Delaware, Pennsylvania, New Jersey and Maryland. A community resource open to the public, the Music School employs nearly 100 expert educators and offers standard-setting instructional programs for people of all ages and levels. In addition, over 75 public performances each year, many of them free, offer opportunities to enjoy outstanding music in a variety of styles and genres. A financial assistance program is available to ensure music excellence for everyone.
Lakatos Music

Wilmington

Playing a stringed instrument teaches students self-awareness, motor skills, muscle memory, passion and confidence! "Music is the one incorporeal entrance into the higher world of knowledge which comprehends mankind but which mankind cannot comprehend." -Ludwig van Beethoven Lakatos Music focuses on strings instructions, concentrating on violin, viola, cello and double bass. Private lessons start from age 5 to 18, and level is determined based on experience. Middle and High school aged are welcomed to begin with no experience. Lakatos Music currently includes a spring recital, and public performances during the holiday season. Public performances are at various locations, such as retirement homes. These public performances allow students to play as an orchestra, observe other student's skills, gain motivation, be inspired, feel valued in a larger ensemble, and make new friends. Furthermore, students have successfully been accepted in All-State Orchestra, and other musical events. Lakatos Music plans to expand performance opportunities in the near future. Private lessons are taught for 30 minutes, 45 minutes and 60 minutes, once a week.
Delaware Homeschool Sports Programs
FlipKidz Olympiad Gymnastics

Bear, De and Newport, DE

This is a gymnastics school for children ages 3-17. Classes are offered in the late afternoon and evenings to the general public. However, classes are also available during the day at a discounted rate to groups. These classes can be a field trip style (one time event) or ongoing in session format. There are 2 locations; one in the Newport area of Wilmington and one in the Bear/Newark area.
Life Center Academy Girls High School Basketball

Burlington

Life Center Academy is a private Christian school in Florence Twp., NJ. Our girls basketball program plays a competitive independent schedule during the high school season from November through February. Because we are an independent school our program is open to home school students. Any girls who are looking to play basketball at the collegiate level would benefit from the game schedule and coaching at LCA. For me information contact the Athletic Director - Tammy Nowicki tnowicki@lcmail.org
Hurricane Martial Arts Homeschool / After School Martial Arts Program

Dagsboro & Sussex Counties

Our Martial Arts Program is for ages 7 - 12. It is offered to children who are home schooled or attend a public or private school. It runs from 3:00 - 5:30 p.m. We teach traditional Hapkido classes daily, as well as offering snack, homework and social interaction time. Instructor & 7th Degree Black Belt, Master Bradd Zullo is a certified public educator with 27 years of experience in teaching Health and Physical Education and coaching wrestling. He has been instructing Hapkido for over 30 years. Questions about our program, please call 302-732-9097, visit our website: hapkidous.com, email us: hurricanehkd@gmail.com or visit our Facebook page at hurricane martial arts

Hurricane Martial Arts Homeschool / After School Martial Arts Program details
FCA Bucks Football

Georgetown

The FCABucks Football program is now accepting sign ups for the 2016 season. The FCABucks offer high school aged homeschool and private school players an opportunity to play football in a Christ-Centered environment. For more information please visit www.fcabucks.com
Freed Youth Running and Fitness

New Castle County

Freed Youth Running and Fitness is a youth enrichment program that uses three-dimensional, social emotional learning (SEL), in the form of running and physical fitness, to teach growth mindset principles and nutrition concepts, support healthy lifestyles, and develop strong minds, bodies, and strength of character. Operated by a Registered Dietitian with a degree in Exercise Health and Promotion, this program is intended to serve as a health and wellness, physical fitness program for youth ages 5-12, with additional program curriculum for ages 3-5 available. This resource provides an 8-week program which meets 1 hour/week as well as opportunity for workshops, events, etc. Freed Youth Running and Fitness is for kids of all interests and abilities ranging from desires to engage in a physically active program to goals for improving specific agility, endurance, and mindset skills. The heartbeat of this program is to have kids tackling challenges and running freely; away from negative inputs, towards positive mindsets, achieving goals, and having fun.
Sky Zone Trampoline Park Homeschool Hop

Newark

Homeschool Hop Takes to the Sky! Sky Zone Trampoline Park is offering an exclusive jump time of the fourth Friday of every month for homeschool students. From 1pm-3pm for $10 an hour or $12 for 90 minutes. Enjoy the awesome, healthy,anf fun activities Sky Zone Newark has to offer. Sky Socks included.
The Skating Club of Wilmington

Wilmington

Offering figure skating, ice hockey, ice dancing, synchronized skating, ballet and yoga. Focus is on serious competitors, recreational skaters, and community service, emphasizing the health and fitness benefits of ice skating.