Jump to: Homeschool Arts | Homeschool Sports
In addition to the opportunity to get out of the house and socialize, homeschool sports and arts programs can offer long-term benefits by developing characteristics like leadership, self-confidence, perserverance, and self-esteem. Many organizations and businesses have opportunities specifically for homeschoolers, while others invite homeschoolers to participate in their regular programs.
Not sure how to choose activity/activities for your children? Read how Rebecca narrows down the choice of extra-curricular activities.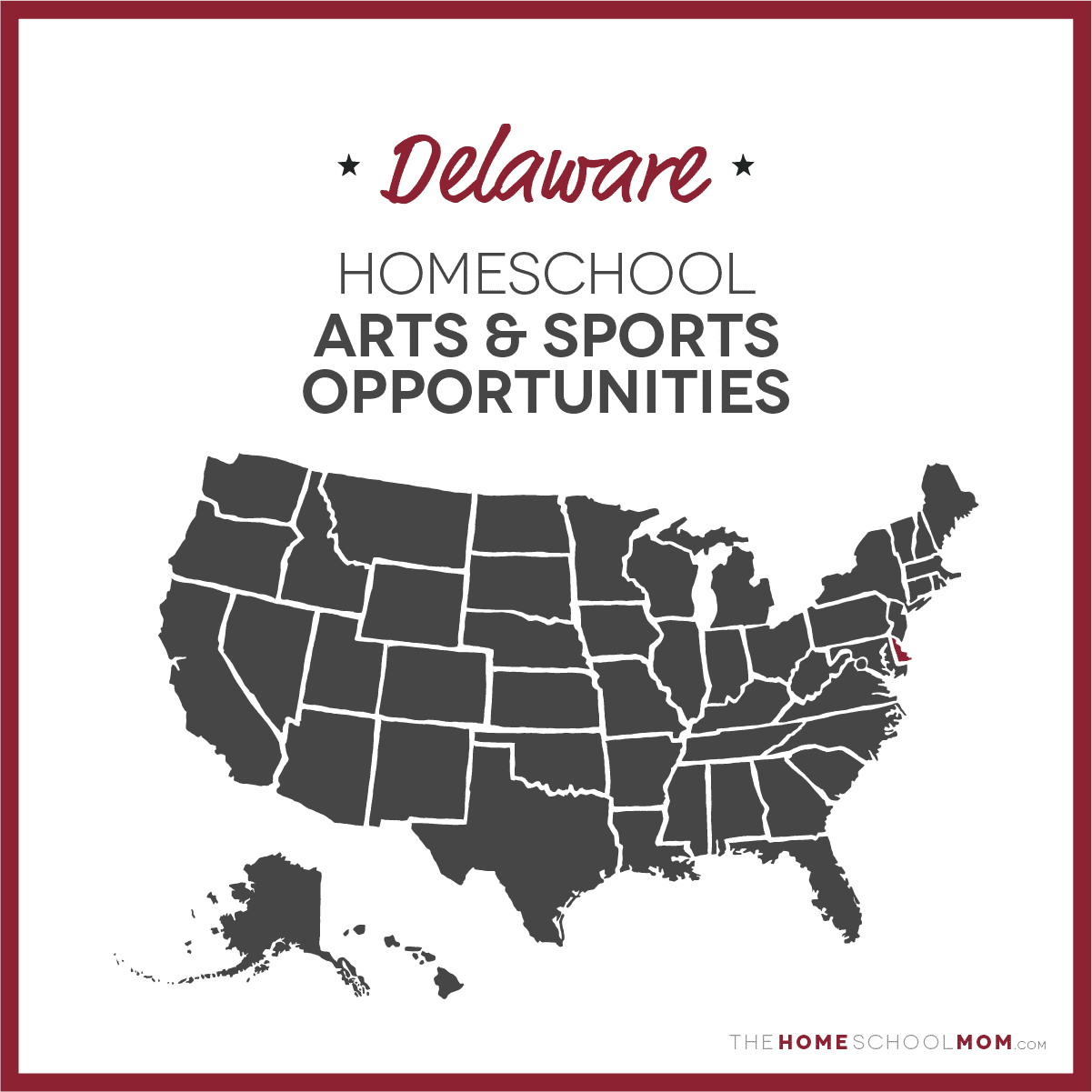 Submit a Local Resource
Our listing of Delaware list of homeschool arts and sports programs is ordered alphabetically by city, with arts in the first section and sports in the second section. If you would like to submit an Delaware arts or sports program, you may do so using the red button above.
Delaware Homeschool Arts Programs
Center for the Creative ArtsChester County, New Castle County
The Center for the Creative Arts (CCArts) is a community-focused, regional arts organization which provided high quality visual and performing arts opportunities; programs, events and exhibitions designed to nurture t...
Historical Performance with Daisy CenturyDelaware, Maryland, and Pennsylvania
A Historical Interpreter from Philadelphia, Dr. Daisy Century performs a one woman show of seven historical women like Bessie Coleman, Harriet Tubman, and Sojourner Truth. Contact Dr. Century through the website to br...
Piano lessons offered in your home in the Dover, DE area. Currently accepting new students. Contact Mary Martin 717.269.2661 or visit www.88keystofreedomstudio.com
The Delaware Youth Chorale (DYC) provides young people from the Kent County area an opportunity to learn and perform fine choral music, in association with the Delaware Choral Society. DYC welcomes students from 3rd t...
Home School Connection at The Hockessin Montessori SchoolHockessin
Home School Connection Enrichment Program - The Hockessin Montessori School brings expertise in education and creativity to the home school community through our HOME SCHOOL CONNECTION. This program offers a variety o...
School of Rock WilmingtonWilmington
School of Rock offers students of all skill levels age 7-18 a performance-based music curriculum in a fun environment. Weekly private lessons are combined with structured group rehearsals. Students prepare to perform ...
Music School of DelawareWilmington
The Music School of Delaware, founded in 1924, is the only statewide, accredited, community music school in the nation, serving residents of Delaware, Pennsylvania, New Jersey and Maryland. A community resource open t...
Lakatos MusicWilmington
Playing a stringed instrument teaches students self-awareness, motor skills, muscle memory, passion and confidence! "Music is the one incorporeal entrance into the higher world of knowledge which comprehends mankind b...
Delaware Homeschool Sports Programs
FlipKidz Olympiad GymnasticsBear, De and Newport, DE
This is a gymnastics school for children ages 3-17. Classes are offered in the late afternoon and evenings to the general public. However, classes are also available during the day at a discounted ... [Read more...]
Life Center Academy Girls High School BasketballBurlington
Life Center Academy is a private Christian school in Florence Twp., NJ. Our girls basketball program plays a competitive independent schedule during the high school season from November through Feb... [Read more...]
FCA Bucks FootballGeorgetown
The FCABucks Football program is now accepting sign ups for the 2016 season. The FCABucks offer high school aged homeschool and private school players an opportunity to play football in a Christ-Ce... [Read more...]
Freed Youth Running and FitnessNew Castle County
Freed Youth Running and Fitness is a youth enrichment program that uses three-dimensional, social emotional learning (SEL), in the form of running and physical fitness, to teach growth mindset prin... [Read more...]
Sky Zone Trampoline Park Homeschool HopNewark
Homeschool Hop Takes to the Sky! Sky Zone Trampoline Park is offering an exclusive jump time of the fourth Friday of every month for homeschool students. From 1pm-3pm for $10 an hour or $12 for 90 ... [Read more...]
The Skating Club of WilmingtonWilmington
Offering figure skating, ice hockey, ice dancing, synchronized skating, ballet and yoga. Focus is on serious competitors, recreational skaters, and community service, emphasizing the health and fit... [Read more...]
Go to...