Jump to: Homeschool Co-ops | Homeschooling Classes & Academic Enrichment
Looking for someone to teach physics to your teen? Need a way to avoid teaching algebra? Want to enroll your Kindergartener in a co-op for social time? Homeschool classes and co-ops are a great way to spend time with other homeschoolers and skill-share with other homeschool parents.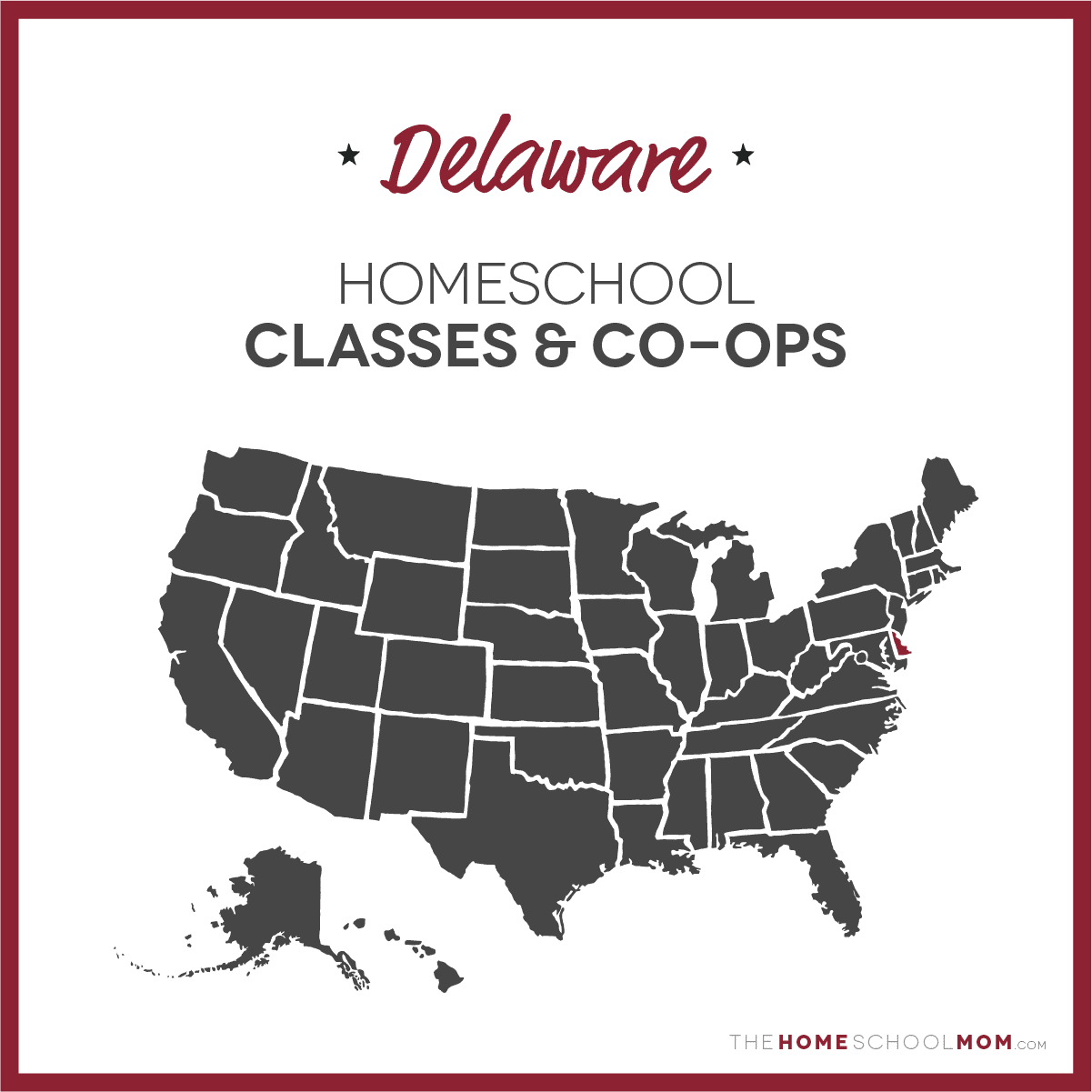 Submit a Local Resource
Our listing of Delaware co-ops and academic classes for homeschoolers is ordered alphabetically by city, with co-ops in the first section and all other academic resources below. If you would like to submit a Delaware co-op or academic resource, you may do so using the red button above.
Delaware Homeschooling Co-ops
REACH Co-op - Delaware

Laurel

R.E.A.C.H. (Reaching, Encouraging, and Adorning Christian Homeschoolers) is a cooperative of families who come together to share teaching and learning experiences, to enhance the educational experience of our homeschooled children, to provide affordable, fun-filled classes and activities, and to provide prayer, support, and encouragement for their parents. We are an elective-based, parent-led co-op. We offer classes for Kindergarten through 12th grade. Co-op will meet on Fridays from 10:30 - 3:30pm, September through May. Nursery and Preschool are also available for REACH members with children ages 4 and under. We meet at The Church of Christ at 1010 S. Central Avenue in Laurel, Delaware 19956
Walnut Grove Coop

Newark

Walnut Grove Coop is a nonprofit educational organization serving Delaware, Maryland, New Jersey, and Pennsylvania. This group provides opportunities for children to learn in a respectful, inclusive, secular community through fun classes and meaningful experiences. Walnut Grove Coop offers both instructor and child-led homeschool enrichment programs.
Delaware Homeschooling Classes & Academic Enrichment
Delaware Classical Conversations

Delaware Statewide

Classical Conversations Communities exist to complement your home-centered education and connect you with like-minded families. Each community is facilitated by a trained parent-director, and classes are led by trained parent-tutors who model the classical tools of learning. Tutors have the privilege of encouraging students toward becoming lifelong learners while also encouraging parents in the classical teaching of their children. Classical Conversations values your time and commitment to quality classical Christian education for your family. We honor your desire to train your children in the way they should go.
Historical Performance with Daisy Century

Delaware, Maryland, and Pennsylvania

A Historical Interpreter from Philadelphia, Dr. Daisy Century performs a one woman show of seven historical women like Bessie Coleman, Harriet Tubman, and Sojourner Truth. Contact Dr. Century through the website to bring history to your Home Schooling programs, meetings, conferences, seminars, classes or special events.
Towle Institute

Hockessin

Towle Institute is a non-traditional school for those families seeking to educate their children in their home environment. We are a private school, incorporated in Delaware, serving home-educated students from Maryland, Pennsylvania, New Jersey and Delaware. We offer a full-course curriculum for grades six through twelve and provide oversight for siblings of families living in Delaware for kindergarten through fifth grade.
Home School Connection at The Hockessin Montessori School

Hockessin

Home School Connection Enrichment Program - The Hockessin Montessori School brings expertise in education and creativity to the home school community through our HOME SCHOOL CONNECTION. This program offers a variety of enrichment subjects for children in Kindergarten through 8th grade including Art, Physical Education, Music, Spanish, S.T.E.M, Technology and Steel Drums (Middle School level only). Classes are prepared and taught by the HMS experienced instructional staff and teachers. Home School Connection Math Support Program - Teaching Mathematics can be an overwhelming task in a home school environment. The Elementary and Middle School staff of The Hockesson Montessori School are offering expertise in academics for parents and students in 4th, 5th, 6th, 7th, and 8th grade.

Home School Connection at The Hockessin Montessori School details
DelawareReadingExpert.com

Kent & Sussex Counties

Professional reading specialist serving Kent and Sussex counties. Services include evaluating and analyzing student's ability to learn, identifying barriers to learning, developing a structured plan for addressing learning challenges, and holding student accountable to ensure success. Orton-Gillingham, Reading Assist, and Brain Integration Therapy are a few "tools in the toolbox" utilized by DelawareReadingExpert.com. This reading specialist is often able to help students find success when previous efforts have failed. Therefore, she is willing to work with students outside of Delaware. While some onsite visits are necessary, the goal is to minimize these via use of video conferencing technology (e.g. Skype, Google Hangout).
Maryland/Delaware/Washington D.C. Classical Conversations

Maryland, Delaware, and Washington D.C.

CC is a national homeschooling program that uses a Bible based curriculum taught in a christian, classical tradition. Classes are geared for age 4 through high school.

Maryland/Delaware/Washington D.C. Classical Conversations details
Family Learning Academy

New Castle, Kent & northern Sussex counties

Family Learning Academy (FLA), founded in 1984, is registered with the state of Delaware as a "Multi-family Homeschool" as defined in the Delaware Education Code: (An umbrella or support group for our member families). Family Learning Academy is also registered with the IRS as a non-profit, tax-exempt organization. Presently, serving families in southern New Castle, Kent & northern Sussex counties. Alumni have gone on to join the military, study at various universities across the country (many with substantial scholarships), and begin their careers.
Greater Castle Academy, LLC

Newark

Greater Castle Academy, LLC is an all-inclusive K-12 non-public school. It focuses on teaching every student based on their individual learning style and developmental domain.
GEZ: Girls Empowerment Zone

Philadelphia area

GEZ is a 501(c)3 PA nonprofit program for ages 7-14. The President of this organization homeschools her children and knows that the program impact on today's young ladies. The GEZ program offers the following to girls and engagements for Moms * Customized 5 week Summer Experience/Camp (both overnight & day camp options available)-June 24-August 2,2018. Registration opens Dec 1, 2018 * Mother-Daughter Weekend Retreat-May 31 - June 2,2019. Registration opens January 2019 (5th-8th grade girls) * Particpation In academic enrichment(Math, Reading & Language)-email us for details *Saturday Program: September 2019-May 2019 - Are you & your Powerful girl ready to join us? Spend 2 Saturdays a month exploring different genres of Music, Art, Science and Culture. Includes surprise guests and field trips. Registration opens September 1, 2019 GEZ@TheWomensEmpowermentSeries.org
The Bullock Garden Project, Inc.

Swedesboro

This resource can assist in building and maintaining a learning garden (outdoor classroom). Educators can also provide literature-based garden education activities for children. Through this resource's website a contact form can be submitted to gain additional information.
Back to Basics Learning Dynamics, Inc

Wilmington

Back to Basics Learning Dynamics can help you meet the educational challenges that many homeschool families face. From K-12, Back to Basics works collaboratively to ensure that your child is given the opportunity to reach his/her maximum potential and to lessen the workload for homeschool parents. Is the Back to Basics Homeschool Support Program right for you? Customized program designed to meet the unique needs of your child Team of instructors assigned to your child Flexible scheduling, 7 days a week Your choice of location (our centers in Newark and Wilmington or your home) All subjects taught 1-on-1 Available for grades K-12 Individual learning style addressed through multiple teaching methods Back to Basics' Homeschool Curriculum in Delaware Four core curriculum areas: English/Language Arts, Math, Science and Social Studies Foreign Languages: Spanish, French, German, Italian, Korean, Japanese, and many more Electives: Art to Sociology, to Life Skills, to Personal Finance, to Basic and Advanced Computer Skills. View our complete list of subjects. Back to Basics can assist in everything from instruction in one subject to oversight of total instructional needs. For more information on homeschool support for Delaware families, please call 302-594-0754.
Brain Balance of Wilmington

Wilmington

Brain Balance helps children struggling with social, academic or behavioral issues. The program is designed for children with ADHD, Asperger Syndrome (ASD), High Functioning Autism, PDD-NOS, Dyslexia, Processing Disorders and other spectrum disorders. The program establishes a unique plan for each child that includes sensory motor work, eye tracking, core exercises, academic skill training, healthy nutrition, confidence building and many other activities that work to bolster a child's developmental deficits. What is unique is that Brain Balance brings all these activities together in one program, including monitoring and reporting on a child's progress. It's is ideal for home school parents of children who are struggling.