Jump to: Homeschool Co-ops | Homeschooling Classes & Academic Enrichment
Looking for someone to teach physics to your teen? Need a way to avoid teaching algebra? Want to enroll your Kindergartener in a co-op for social time? Homeschool classes and co-ops are a great way to spend time with other homeschoolers and skill-share with other homeschool parents.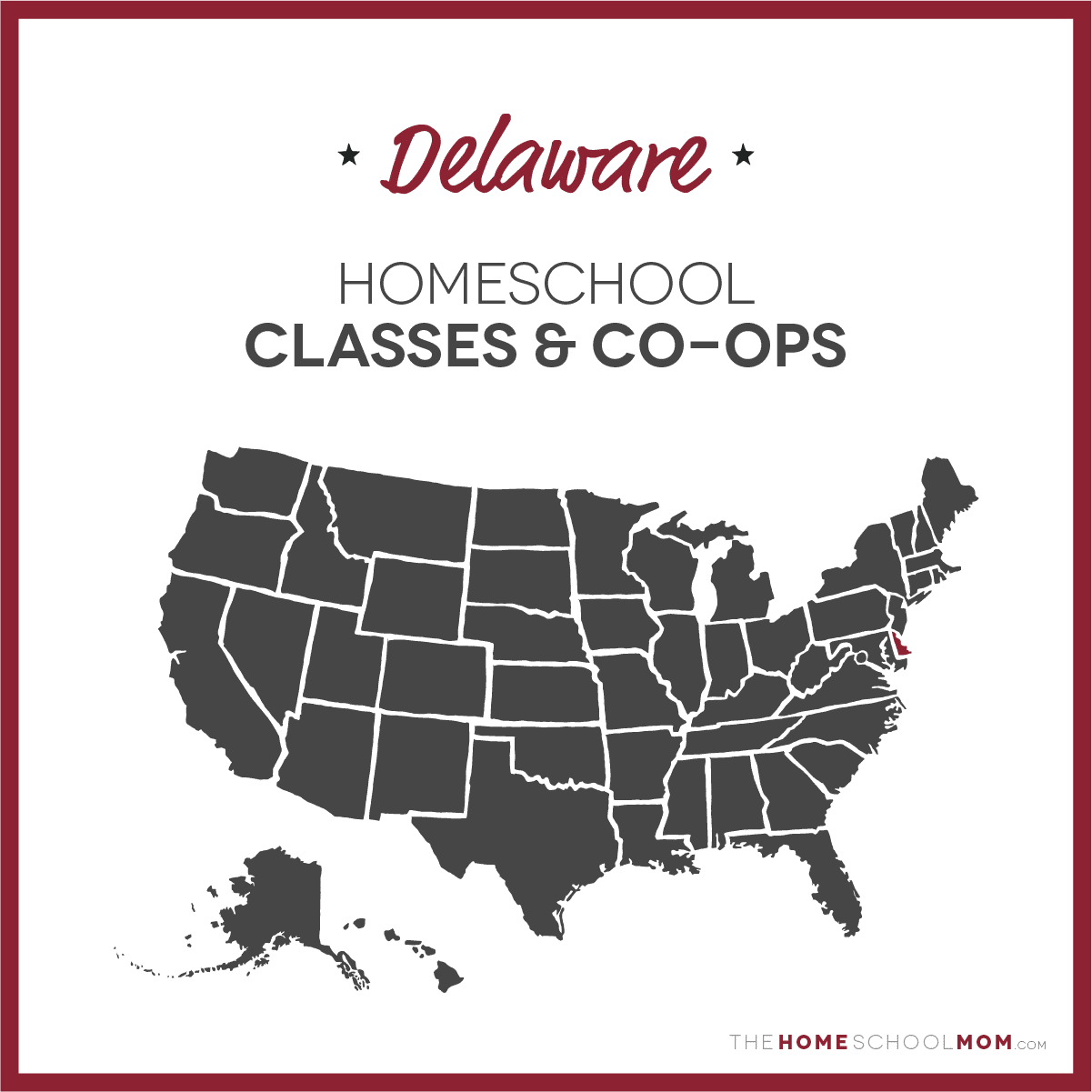 Submit a Local Resource
Our listing of Delaware co-ops and academic classes for homeschoolers is ordered alphabetically by city, with co-ops in the first section and all other academic resources below. If you would like to submit a Delaware co-op or academic resource, you may do so using the red button above.
Delaware Homeschooling Co-ops
Southern Delaware Schole GroupGeorgetown
Southern Delaware Schole Group is a classical Christian co-op meeting weekly in Georgetown. SDSG is the first and currently only Schole Group model co-op in Delaware. SDSG offers enrichment classes in Bible, literatur...
REACH Co-op - DelawareLaurel
R.E.A.C.H. (Reaching, Encouraging, and Adorning Christian Homeschoolers) is a cooperative of families who come together to share teaching and learning experiences, to enhance the educational experience of our homescho...
Walnut Grove CoopNewark
Walnut Grove Coop is a nonprofit educational organization serving Delaware, Maryland, New Jersey, and Pennsylvania. This group provides opportunities for children to learn in a respectful, inclusive, secular community...
Delaware Homeschooling Classes & Academic Enrichment
Delaware Classical ConversationsDelaware Statewide
Classical Conversations Communities exist to complement your home-centered education and connect you with like-minded families. Each community is facilitated by a trained parent-director, and classes are led by traine...
Historical Performance with Daisy CenturyDelaware, Maryland, and Pennsylvania
A Historical Interpreter from Philadelphia, Dr. Daisy Century performs a one woman show of seven historical women like Bessie Coleman, Harriet Tubman, and Sojourner Truth. Contact Dr. Century through the website to br...
Southern Delaware Schole GroupGeorgetown
Southern Delaware Schole Group is a classical Christian co-op meeting weekly in Georgetown. SDSG is the first and currently only Schole Group model co-op in Delaware. SDSG offers enrichment classes in Bible, literatur...
Towle InstituteHockessin
Towle Institute is a non-traditional school for those families seeking to educate their children in their home environment. We are a private school, incorporated in Delaware, serving home-educated students from Maryla...
Home School Connection at The Hockessin Montessori SchoolHockessin
Home School Connection Enrichment Program - The Hockessin Montessori School brings expertise in education and creativity to the home school community through our HOME SCHOOL CONNECTION. This program offers a variety o...
DelawareReadingExpert.comKent & Sussex Counties
Professional reading specialist serving Kent and Sussex counties. Services include evaluating and analyzing student's ability to learn, identifying barriers to learning, developing a structured plan for addressing lea...
Maryland/Delaware/Washington D.C. Classical ConversationsMaryland, Delaware, and Washington D.C.
CC is a national homeschooling program that uses a Bible based curriculum taught in a christian, classical tradition. Classes are geared for age 4 through high school.
Family Learning AcademyNew Castle, Kent & northern Sussex counties
Family Learning Academy (FLA), founded in 1984, is registered with the state of Delaware as a "Multi-family Homeschool" as defined in the Delaware Education Code: (An umbrella or support group for our member families)...
Greater Castle Academy, LLCNewark
Greater Castle Academy, LLC is an all-inclusive K-12 non-public school. It focuses on teaching every student based on their individual learning style and developmental domain.
Meet The Pharaohs Exhibition and Workshops program for school childrenPA, DE, NJ
An educational program on ancient Egypt that teaches children through creative, hands-on on various topics of this amazing culture. Topics include: *Kings of Egypt *Queens of Egypt *Jewelry and Fashion *Lifestyle *Arc...
GEZ: Girls Empowerment ZonePhiladelphia area
GEZ is a 501(c)3 PA nonprofit program for ages 7-14. The President of this organization homeschools her children and knows that the program impact on today's young ladies. The GEZ program offers the following to girls...
The Bullock Garden Project, Inc.Swedesboro
This resource can assist in building and maintaining a learning garden (outdoor classroom). Educators can also provide literature-based garden education activities for children. Through this resource's website a conta...
Back to Basics Learning Dynamics, IncWilmington
Back to Basics Learning Dynamics can help you meet the educational challenges that many homeschool families face. From K-12, Back to Basics works collaboratively to ensure that your child is given the opportunity to r...
Brain Balance of WilmingtonWilmington
Brain Balance helps children struggling with social, academic or behavioral issues. The program is designed for children with ADHD, Asperger Syndrome (ASD), High Functioning Autism, PDD-NOS, Dyslexia, Processing Disor...
Tutoring Club of Wilmington, DEWilmington
At the Tutoring Club, we serve New Castle County and Garnet Valley, PA, helping students of all ages and grade levels. We provide both in-center and live online tutoring. We can help your child to succeed regardless o...
Tutoring Club of WilmingtonWilmington, Delaware
Tutoring Club will help your child on their way to success regardless of their skill level. Whether your student needs help with the fundamentals, math, reading, writing, or even SAT & ACT Prep, our tutors will ge...
Go to...