Field trips are a great way to reboot a bad homeschooling week, get out of the house when everyone has cabin fever, and learn about your local area. Before heading out, check out Jeanne's tips for improving homeschool field trips.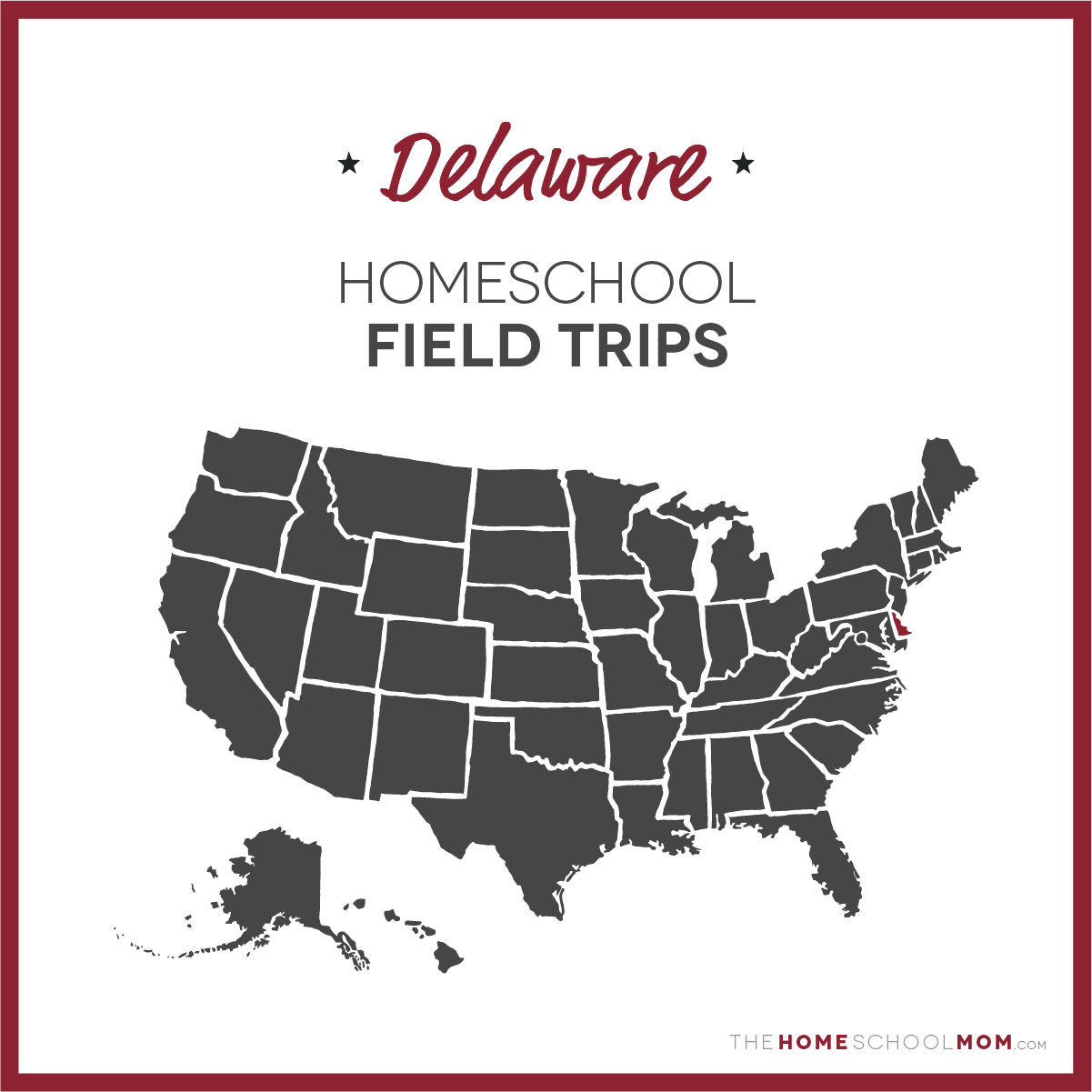 Submit a Field Trip Destination
Our listing of Delaware field trips for homeschoolers is ordered alphabetically by city. If you would like to submit a Delaware field trip destination, you may do so using the red button above.
An asterisk * after the title indicates that a virtual field trip is also available.
Lums Pond State Park

Bear

Lums Pond State Park is built around the largest freshwater pond in Delaware. The park features excellent fishing, sports facilities, hiking trails and more on its 1790 acres on the north side of the Chesapeake and Delaware Canal.
Fort Delaware State Park

Delaware City

Fort Delaware is one of Delaware's first state parks, created in 1951. On the National Register of Historic Places, the Union fortress dates back to 1859, and once served as a prison for Confederate prisoners of war. It was originally built to protect the ports of Wilmington and Philadelphia. Today, visitors enjoy birding, hiking, history tours, a living history program, picnicking, paranormal and ghost tours, school field trips, and Community outreach programs.
Port Penn Interpretive Center

Delaware City

Named for Rear Admiral Samuel Francis du Pont, the Fort was actively used as a military base from the Civil War through World War II. The Center offers displays and programs which explain the folk life of the historic wetland communities along the shores of the Delaware. Self-guided walking tours are available featuring the historic homes of Port Penn, as well as the scenic marshlands surrounding the town. Visitors enjoy boating, fishing, hiking, and picnicking.
Fort Delaware Society

Delaware City

Most remembered as a Civil War prison camp, Fort Delaware on Pea Patch Island served as a guardian of the Delaware River from the War of 1812 through World War II. The Society operates the Fort Delaware Museum, the Sutler Shop, and the W. Emerson Wilson Research Library.
302 Aquaponics

Dover

302 Aquaponics is a greenhouse in the heart of Delaware. During your visit you will learn how we use tilapia to grow lettuce for consumers throughout the state of Delaware. Watch the future of farming in action as we can produce more that 1.4 million heads of lettuce per year within a 20,000 square foot floor plan. See how the lettuce is planted, grown, is harvested, packaged, and prepared for delivery. Additionally, we have large areas of outdoor space to use for more learning opportunities, play or lunch space
First State Heritage Park at Dover

Dover

The state's first "park without boundaries" links historical and cultural sites in the capital city of Dover. While the major park sites are open throughout the week, visitors are especially encouraged to sample Dover's rich history on the first Saturday of each month. Highlighted by guided tours of Legislative Hall, the park sites are open 9 a.m. to 5 p.m. with special programs at each site developed every month.
Air Mobility Command Museum

Dover

The only museum dedicated to airlift and air refueling history.! If aviation history is your thing, see several "First, Last or Only" aircraft from jet fighters to a WWII bomber complete with authentic nose art. Experience what it's like to fly a giant airplane by taking a seat in a flight simulator. Junior aviators can "pilot" a mini-airplane to have their picture taken by mom and dad. It's all free from movies to guided tours.
Delaware Agricultural Museum and Village

Dover

For the child who believes milk comes from the grocery store instead of a cow, for the woman who remembers using a cornsheller on her grandmother's farm, the family who takes twentieth century technological advances and the farmer for granted, the Delaware Agricultural Museum and Village offers a memorable and educational experience.
Delaware Historical Cultural Affairs Museums

Dover

The eleven nationally recognized museums and public sites nestled throughout the Capitol of the First State offer a glimpse into hundreds of years of history. A tour experience with something for every one. From the Native Americans who first inhabited the region to the Colonial Founders, from Victorian to modern, from art to airplanes, the Museums will charm, enthrall, entice and thrill you.
Biggs Museum of American Art

Dover

The Biggs Museum of American Art showcases a unique collection of paintings, sculptures, illustrations, furniture and silver made and used in the Delaware Valley from as early as the 18th century to the present. Admission is free.
Johnson Victrola Museum

Dover

The Johnson Victrola Museum is a tribute to Delaware's native son, Eldridge Reeves Johnson, who founded the Victor Talking Machine Company in 1901. Exhibits include phonographs, recordings, memorabilia, trademarks, objects, and paintings that highlight Mr. Johnson's successful business enterprises and chronicle the development of the sound-recording industry.
Killens Pond State Park

Felton

Killens Pond State Park houses a 66-acre millpond which features boating and fishing. Summer fun includes a water park with zero depth entry pools. Park visitors also enjoy baseball, biking, boating, camping, canoeing, nature programs, disc golf, fishing, geocaching, hiking, horseshoes, picnicking, shuffleboard, swimming, volleyball, and youth group camping.
Killens Pond Water Park

Felton

Located at Killens Pond State Park, Killens Pond Water Park is a summer fun experience for the whole family. Gently sloping from ground level, the innovatively-designed pool's zero-depth entrance provides easy access to the water. Three lap lanes give serious swimmers more than enough room to find their stroke. From the Mushroom Fountain to the adventure-filled Floating Lily Pad Fun Walk, the pool's exciting interactive water features give visitors of all ages plenty of reasons to head for the park.
Fenwick Island State Park

Fenwick

Fenwick Island State Park is a playground of sand, surf, and sun along Delaware's Atlantic coast. Park visitors enjoy boating, fishing, hiking, horseback riding, kayaking, picnicking, surfing, and swimming.
DiscoverSea Shipwreck Museum

Fenwick Island

DiscoverSea Shipwreck Museum is an ever-changing exhibit of shipwreck and recovered artifacts both regional and worldwide.
Barratt's Chapel

Frederica

Barratt's Chapel is the oldest surviving church building in the United States built by and for Methodists. The Chapel as it appears from the outside today looks very much the way it did when Coke and Asbury met there. Inside the Chapel has undergone several renovations. The present appearance dates from 1842.
Marvel Carriage Museum

Georgetown

The museum features a collection of antique carriages as well as restored buildings on the museum property.
Harrington Historical Society Museum

Harrington

Collection of memorabilia of Harrington. The railroad complex is located on Hanley St. and includes the railroad tower, caboose and watchman's hut. Large groups require 24 hour notification.
Ashland Nature Center

Hockessin

Programs for ages 18 months through 18 years, adults and families are offered year round at Ashland Nature Center
Trap Pond State Park

Laurel

Trap Pond State Park contains a sampling of the Delaware's Cypress swamp's original bald cypress trees in the United States. park visitors enjoy biking, boating, camping, disc golf, fishing, hiking, horseshoes, picnicking, and volleyball.
Lefty's Alley and Eats

Lewes

Come for Fun! Stay for the Food! Lefty's has 16 bowling lanes, state of the art laser tag arena, an arcade full of different, exciting games. Offering a wide variety of different amenities that are suitable for all ages. Exceptional guest-centered service, mind-blowing and the most creative gaming and laser tag arena you've been to at the beach. Bring the children and adults to a new venue, where learning becomes fun!
Cape Henlopen State Park

Lewes

Cape Henlopen's beaches attract thousands of visitors who enjoy ocean swimming and sunbathing. Includes Seaside Nature Center and Biden Environmental Training Center. The Seaside Nature Center offers environmental education programs and recreational activities year-round, and is a good place to stop for park information. Marine aquariums and displays there let visitors meet ocean creatures face to face.
Lewes Historical Society

Lewes

From Captain Kidd and the eternal rhythms of the tides to the salty courage of the Delaware pilots and the nationally-recognized architecture of our historic district - Lewes' past is colorful, unique and proud. The ancient beam of old Cape Henlopen Light still haunts the local seas and local imaginations in "Delaware's Saltiest Town."
Abbott's Mill Nature Center

Milford

Features: Nature education programs year-round for ages 18 months-18 years, adults and families, Programs for school classes and public groups, Short, easy walking trails through fields, pine woods and along a stream including the Lindale Tract and Marvel Saltmarsh, A historic grist mill, Tours conducted during programs and Autumn at Abbott's Mill Festival, summer, week-long programs for youngsters and in mid-October, the Autumn at Abbott's Mill Festival
Read House & Garden

New Castle

Built in 1801 by the son of one of Delaware's signers of the Declaration of Independence, the Read House exhibits the height of Federal grandeur.
New Castle Historical Society

New Castle

The New Castle Historical Society's three historic houses: the Amstel House, Dutch House and Old Library Museum are open to the public for group and individual tours. The Historical Society is also involved in educating the public about the history of New Castle and in disseminating information through exhibits, programs, lectures, publications and resource materials.
White Clay Creek State Park

Newark

White Clay Creek park contains a nature center which hosts fun and interesting public programs. Park visitors also enjoy outdoor activities such as fishing, birdwatching or disc golf. Picnic areas and a pavilion are available for a reunion or to host a casual barbecue with friends. In summer, the park hosts a summer concert series. Sledding and cross-country skiing are available during the winter.
Iron Hill Museum

Newark

The Iron Hill Museum, operated by the Delaware Academy of Science, is the primary educational resource for the study of human and natural history of the Iron Hill region. Its programs, collections, and library interpret the relationships between the people and the land.
Historic Odessa

Odessa

Known in the 18th-century as Cantwell's Bridge, Odessa played a vital role in commercial life along the Delaware River as a busy grain shipping port. Today, you can stroll along tree-lined streets and admire examples of 18th and 19th century architecture. Chief among these are the five properties that make up the Historic Houses of Odessa.
Delaware Seashore State Park

Rehoboth Beach

The park is a beach-goer's delight. Visitors enjoy biking, boating, camping, clamming, crabbing, cultural/history/nature programs, fishing, hiking, hunting, horseback riding, kayaking, picnicking, surfing, and swimming.
Holts Landing State Park

Rehoboth Beach

Park visitors enjoy boating, clamming, crabbing, fishing, hiking, horseback riding, horseshoes, hunting, picnicking, and youth group camping.
Funland

Rehoboth Beach

Funland is a family amusement center located on the boardwalk in Rehoboth Beach, Delaware. The park offers great entertainment for the whole family, featuring 18 rides, 13 midway games, an electronic shooting gallery, redemption games and redemption center, and an arcade with video and pinball machines.
Midway Speedway

Rehoboth Beach

Midway Speedway, your place to race, offers four different family tracks, and three tracks designed especially for the kids. The fun and excitement at Midway Speedway doesn't stop at the tracks. Right behind the tracks is White Water Mountain, which features 3 flumes for inner tubing at it's best, an arcade, snack bar, kiddie pool, and a large sunbathing deck.
Bombay Hook National Wildlife Refuge

Smyrna

Bombay Hook was established in 1937 and is a refuge and breeding ground for migrating birds and other wildlife.
Old Swedes Historic Site, National Park Historic Landmark

Wilmington

Old Swedes Historic Site, part of the First State National Historic Park System, offers hands-on activities for students grades 4-12. Students learn about our local history starting with the Swedes coming to New Sweden to why we remember our ancestors from long ago. Complete a scavenger hunt to learn about the history of Old Swedes, simulate a archeological excavation, and meet Mrs Hendrickson in the Hendrickson house are just a taste of what we offer. Contact us 302-652-5629

Old Swedes Historic Site, National Park Historic Landmark website
Bellevue State Park

Wilmington

The park is the home of Bellevue Hall mansion. On-site are tennis courts, equestrian stables, gardens, and a picturesque pond. The hall can be rented out for wedding and events. Visitors enjoy biking, disc golf, educational programs, equestrian stables, fishing, gardening, hiking, horseshoes, pavilions, playgrounds, picnicking, sledding, tennis center, trails, and volleyball.
Fox Point State Park

Wilmington

Park visitors enjoy boat watching, biking on paved trails, horseshoes, kite flying, picnicking, playground, volleyball, and walking/jogging.
Wilmington State Parks

Wilmington

The parks include Brandywine Park (including Baynard Stadium), Brandywine Zoo, H. Fletcher Brown Park, and Rockford Park
Brandywine Creek State Park

Wilmington

The park is divided by grey stone walls built of local stone in the late 1800's. Today, visitors enjoy camping, canoeing, cross-country skiing, disc golf, fishing, geocaching, hiking, mountain biking, nature/cultural/historical programs, picnicking, and sledding.
Brandywine Zoo

Wilmington

Planned learning activities at the Brandywine Zoo are numerous and available for all ages. Our mission is to enhance and enrich people's understanding and respect of the complex relationships among all living things and inspire wildlife conservation.
Delaware Museum of Natural History

Wilmington

The Delaware Museum of Natural History opened its doors in 1972 to excite and inform people about the natural world through exploration and discovery. Encounter life-sized dinosaurs, look beneath the seas, come face-to-face with a jaguar, marvel at the diversity of birds and shells from around the world.
Rockwood Center Park Museum

Wilmington

New Castle County's Rockwood Park is the ideal place to learn about history and nature for your students from K-6. Each tour is designed to meet Delaware's educational standards. In the Rockwood Museum you will find the rooms restored to the way they looked in 1895, the Gilded Age of the Victorian Era. The Museum reflects the way the Bringhurst Family, descendants of Shipley, lived in their early years at Rockwood.
Hagley Museum and Library

Wilmington

Hagley Museum and Library collects, preserves, and interprets the unfolding history of American enterprise. Hagley houses an important collection of manuscripts, photographs, books, and pamphlets documenting the history of American business and technology.
Delaware Center for the Contemporary Arts

Wilmington

The DCCA, a non-collecting museum, currently presents nearly 30 exhibitions annually of regionally, nationally, and internationally recognized artists. In addition to the exhibitions, DCCA commits to educational and community outreach through various programs, such as Artist Residencies with underserved community groups and Contemporary Connections, a model program that fuses art with schools' core curriculum, offering fresh new ways to teach subjects such as math and science.
Delaware Art Museum

Wilmington

The Delaware Art Museum regularly presents major traveling exhibitions. The Museum also displays smaller exhibitions, often assembled from its permanent collection, to complement shows or bring select works to light.
Delaware History Museum

Wilmington

The Delaware History Museum, located in a renovated art-deco Woolworth store, features three galleries of changing interactive exhibits on Delaware history, including displays of rare items of everyday life, costumes, children's toys, regional decorative arts, and paintings. A nine-foot-tall folk-art statue of George Washington greets you at the door of the large gift shop specializing in Delaware handcrafted items, and souvenirs.
Delaware Children's Museum

Wilmington

The Delaware Children's Museum empowers kids of all ages, abilities, learning styles and backgrounds; a place for school and other special groups to engage in science-focused, inquiry based exploration and learning.
Wilmington & Western Railroad

Wilmington

From the Conductor's "All Aboard" to the clang of the locomotive's bell, the Wilmington & Western presents real railroading from an earlier era.
Delaware Children's Theatre

Wilmington

Theater for children by children.
Wilmington Blue Rocks Baseball

Wilmington

Great inexpensive family fun for the whole family! Group rates and Birthday packages available. Contact Bill Levy at blevy@bluerocks.com for more information.
Winterthur Museum and Country Estate

Winterthur

Founded by Henry Francis du Pont, Winterthur is the premier museum of American decorative arts, reflecting both early America and the du Pont family's life here. Its 60-acre naturalistic garden is among the country's best, and its research library serves scholars from around the world.