State Facts
Wisconsin was the 30th state to join the union. It became a state on May 29,1848.
Capital - Madison
Abbreviation - WI
Nickname - Badger State
Motto - "Forward"
Song - On, Wisconsin!
Bird - Robin
Flower - Wood Violet
Insect - Honey Bee
Area - approximately 65,503 square miles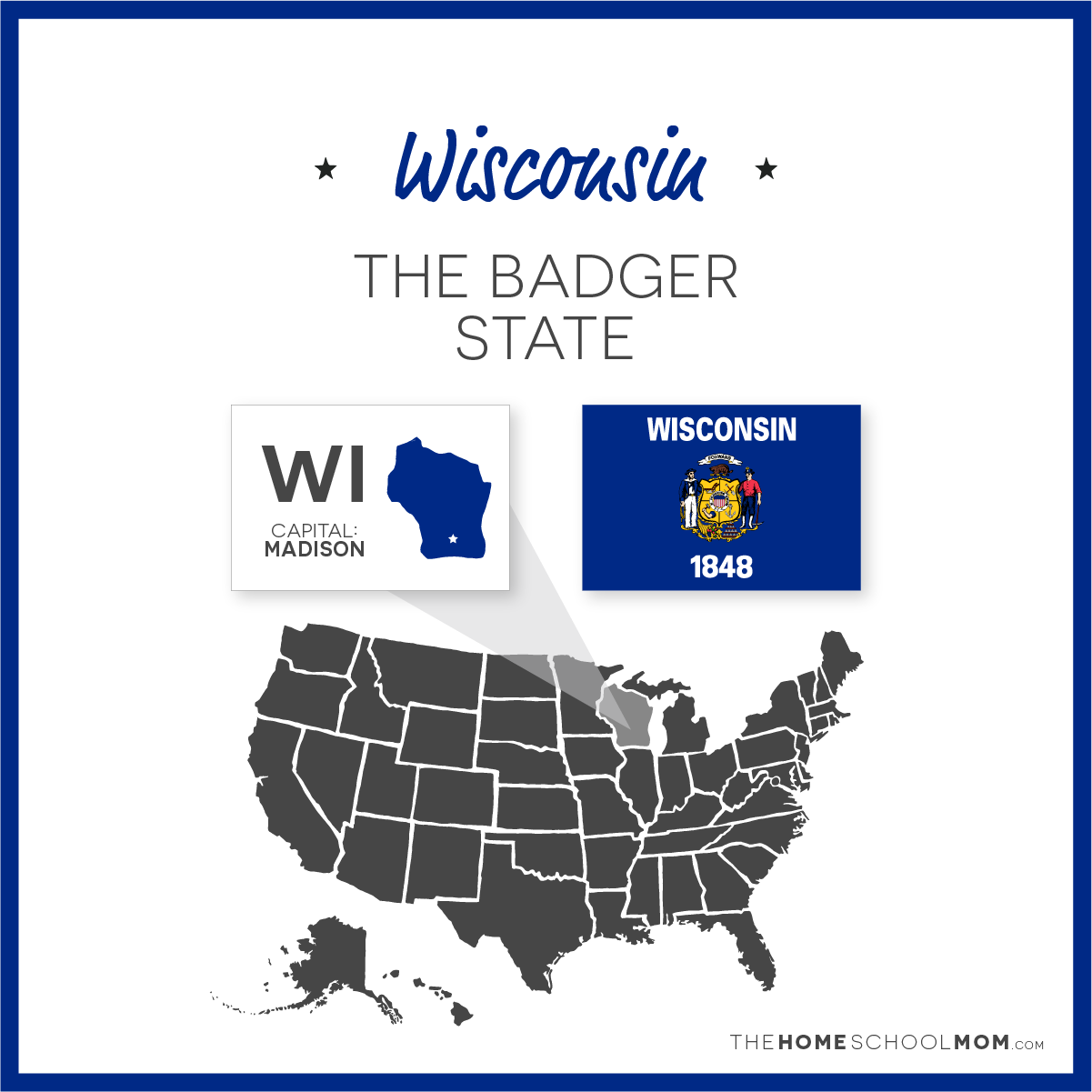 Websites for studying about Wisconsin
Reed School, built in 1915, served as a one-room country school through 1951. It provided a first- through eighth-grade education with only one teacher. The school is typical of the more than 6,000 one-room schools that dotted the landscape of rural Wisconsin. This type of school formed the basis of the educational system for rural children in the 19th and first half of the 20th century. Reed School offers visitors a unique interpretation of country school life by focusing on the first half of the 20th century, specifically 1939. Most similar museums focus on 19th-century education. Come explore Reed School. See one of the finest examples of rural education in Wisconsin's history.
From TeachersFirst. A comprehensive resource on Wisconsin
Mr. Donn has been online for as long as I can remember and he has one of the largest collections of social studies resources available. This is his collection of Wisconsin resources.
Facts & Trivia about Wisconsin
Loads of fun facts, photos, and travel information about Wisconsin.
Herps of Wisconsin Amphibians and reptiles
Wisconsin is home to 19 species of amphibians (frogs and salamanders) and 37 reptiles (snakes, turtles and lizards). Of these, seven are listed as endangered, three are threatened and 19 are listed as special concern.
University of Wisconsin Sea Grant Institutes website. Resources and publications you can download for free.
19th-Century Immigration in Wisconsin
The first quarter of the nineteenth century was marked by westward migration into the regions north and west of the Ohio River. Though Wisconsin was initially a distant frontier, the small numbers of French, English, Americans, and American Indians who resided there had nonetheless explored and used the rich land and water resources that would soon bring thousands of immigrants into Wisconsin. There are many Primary Source documents on this site from the Wisconsin Historical Society.
Wisconsin Virtual Field Trips
Aztalan State Park
Jefferson
Virtual field trip online

This park contains one of Wisconsin's most important archaeological sites. It showcases an ancient Middle-Mississippian village and ceremonial complex that thrived between A.D. 1000 and 1300. Archaeologists think the occupants have cultural traditions in common with Cahokia, a large Middle-Mississippian settlement near East St. Louis, Illinois. The people who settled Aztalan built large, flat-topped pyramidal mounds and a stockade around their village. They hunted, fished, and farmed on the floodplain of the Crawfish River. Portions of the stockade and two mounds have been reconstructed in the park.