State Facts
West Virginia was the 35th state to join the union. It became a state on June 20, 1863.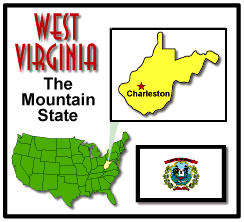 Capital - Charleston
Abbreviation - WV
Nickname - Mountain State
Motto - "Montani semper liberi" - Mountaineers are always free
Song - West Virginia My Home, The West Virginia Hills, This Is My West Virginia
Bird - Cardinal
Flower - Rhododendron
Insect -
Area - approximately 24,231 square miles
Websites for studying about West Virginia
West Virginia State Symbols Games
Worksheets and puzzles for kids to learn more about West Virginia
A to Z Kids Stuff - West Virginia
Fun Educational Activities
From TeachersFirst. A comprehensive resource on West Virginia
Mr. Donn has been online for as long as I can remember and he has one of the largest collections of social studies resources available. This is his collection of West Virginia resources.
Explore the States - West Virginia
From the Library of Congress. Games and stories of America's past.
Facts & Trivia about West Virginia
RoadsideAmerica.com - West Virginia
Unique tourist attractions and landmarks in West Virginia
Awesome America - West Virginia
Loads of fun facts, photos, and travel information about West Virginia.
West Virginia Map/Quiz Printout
EnchantedLearning.com
H.I.P. Pocket Change Coin Coloring sheet - West Virginia
Created by the U.S.Mint
West Virginia Virtual Field Trips
Babcock State ParkClifftop
Virtual field trip onlineBabcock State Park offers its guests 4,127 acres of serene, yet rugged beauty, a fast flowing trout stream in a boulder-strewn canyon and mountainous vistas to be viewed from several scenic overlooks. All of this variety is located adjacent to the New River Gorge National 'River and the heart of the whitewater rafting industry of West Virginia.
Blackwater Falls State ParkDavis
Virtual field trip onlinenamed for the falls of the Blackwater River whose amber-colored waters plunge five stories then twist and tumble through an eight-mile long gorge. The "black" water is a result of tannic acid from fallen hemlock and red spruce needles. The falls are one of the most photographed sites in West Virginia.
Blennerhassett Island Historical State ParkParkersburg
Virtual field trip onlineThe Island is open May 1 through October of each year. While visiting our park you should allow at least three hours for a complete tour. This includes the boat trip to and from the island. Blennerhassett Museum should be the first stop of your tour. It is the perfect orientation for all that you will see throughout the day. Your museum visit begins with viewing the video that briefly explains the lives of Harman and Margaret Blennerhassett. You will then be free to tour the three floors of intriguing archaeological and historical exhibits.
Cathedral State ParkAurora
Virtual field trip onlineAn ancient hemlock forest of majestic proportions, and one of the last living commemorations of the vast virgin hemlock forest which once flourished in the Appalachian highlands. Trees up to 90 feet in height and 21 feet in circumference form cloisters in the park. Throughout the woods, eastern hemlock is the dominant species.
Harpers Ferry National Historical ParkHarpers Ferry
Virtual field trip onlineA visit to this quaint, historic community, at the confluence of the Potomac and Shenandoah Rivers, is like stepping into the past. Stroll the picturesque streets, visit exhibits and museums, or hike our trails and battlefields. There's a wide variety of experiences for visitors of all ages, so come and discover Harpers Ferry.
Virtual field trip onlineNamed for the horseshoe curve of the North Fork of the Hughes River, North Bend State Park in West Virginia, offers a multitude of recreational facilities in a beautiful pastoral setting. The fishing streams, hiking trails, abundant wildlife and excellent overnight accommodations and restaurant are among this year-round park's most popular features.
Pricketts Fort State ParkFairmont
Virtual field trip onlinePerched on a small rise overlooking the confluence of Prickett's Creek and the Monongahela River, this rustic log fort is a re-creation of the original Prickett's Fort of 1774, which served as a refuge from Native American war parties on the western frontier of Colonial Virginia. Built in 1976 by the Prickett's Fort Memorial Foundation, the "new" fort serves as a living history site where interpreters recreate late 18th century lifestyle through period attire and demonstrations of a variety of colonial crafts. Throughout the season, visitors may find blacksmiths, spinners, weavers and other traditional artisans at work, and a gun shop which features the only public demonstrations of 18th century firearm manufacturing in the state.
More West Virginia field trips ...
Thanks to graphicmaps.com for the state graphics