Field trips are a great way to reboot a bad homeschooling week, get out of the house when everyone has cabin fever, and learn about your local area. Before heading out, check out Jeanne's tips for improving homeschool field trips.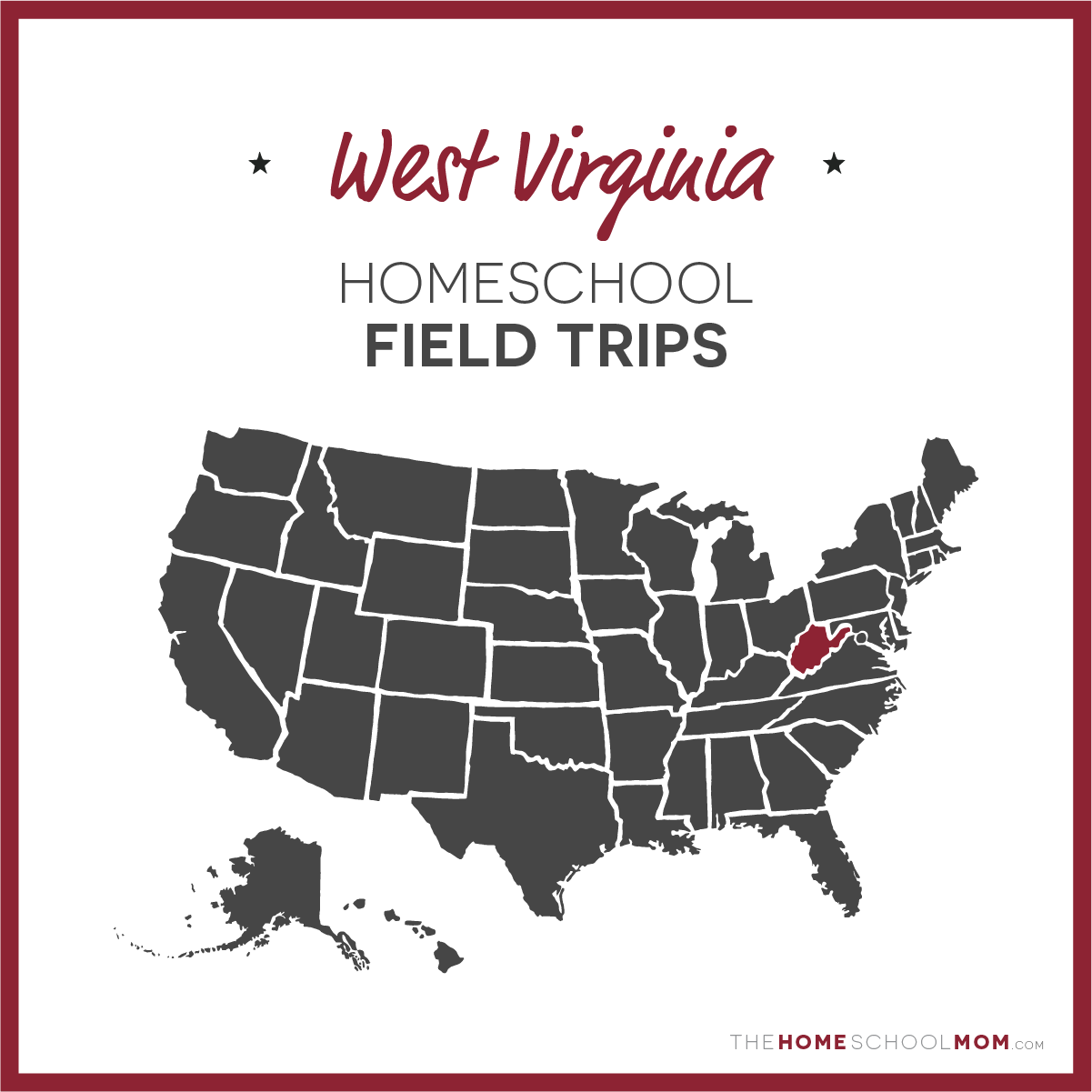 Submit a Field Trip Destination
Our listing of West Virginia field trips for homeschoolers is ordered alphabetically by city. If you would like to submit a West Virginia field trip destination, you may do so using the red button above.
An asterisk * after the title indicates that a virtual field trip is also available.
Hawks Nest State Park

Ansted

Long known for its panoramic views, the park offers a modern, 31 room lodge for the comfort of overnight guests. Below the lodge, the New River forms peaceful Hawks Nest Lake. Above the lake, the narrow canyon and rushing water create one of the most challenging whitewater boating waterways in the nation.
Appalachian National Scenic Trail

Appalachian Mountains

The People's Path and America's First National Scenic Trail. The Appalachian Trail (A.T.) is more than 2,175-mile long footpath stretching through 14 eastern states from Maine to Georgia. Conceived in 1921 and first completed in 1937, it traverses the wild, scenic, wooded, pastoral, and culturally significant lands of the Appalachian Mountains.
Cathedral State Park

Aurora

An ancient hemlock forest of majestic proportions, and one of the last living commemorations of the vast virgin hemlock forest which once flourished in the Appalachian highlands. Trees up to 90 feet in height and 21 feet in circumference form cloisters in the park. Throughout the woods, eastern hemlock is the dominant species.
Beech Fork State Park

Barboursville

Many varieties of migratory water fowl, neotropical songbirds, raptors, whitetail deer, fox, even an occasional passing black bear may be viewed while visiting the park. The early spring brings with it the welcome call of different species of frogs and toads. Spring wildflowers are a common sight to hikers and those who look carefully as they walk or bicycle along the roads and trails. Fishing is one of the most common activities that visitors and overnight guests may enjoy. The lake is known for largemouth and hybrid striped bass, catfish, walleye, saugeye (a cross of walleye and sauger), and bluegill.
Little Beaver State Park

Beaver

Little Beaver State Park is a 562-acre day-use park that features many outdoor recreational opportunities. At the center of the park is an 18-acre lake open for fishing year-round. The lake has may types of game fish including bass, crappie, channel cat, bluegill and trout. Paddle and rowboat rentals are available seasonally.
Berkeley Springs State Park

Berkeley Springs

lThe Bathhouse first opened in 1930. Since then, thousands have enjoyed the variety of baths and treatments in the warm mineral waters that flow from the springs at a constant temperature of 74.3 degrees Fahrenheit. The springs discharge from five principle sources and numerous lesser ones, all within a hundred yards, approximately 2,000 gallons of clear, sparkling water per minute. Bathing in the springs has been popular since before the days of George Washington.
Cacapon Resort State Park

Berkeley Springs

Offering 6,000 acres of exciting outdoor getaways any time of year. Cacapon Resort State Park provides golfing, lake activities and hiking opportunities in West Virginia's eastern panhandle, while providing top visitor service in a first-class lodge.
Pinnacle Rock State Park

Bramwell

Pinnacle Rock State Park is one of the more interesting wayside parks operated by the West Virginia State Park system. Towering above the rugged mountains of southeastern West Virginia, Pinnacle Rock is an unusual sandstone formation reaching 3,100 feet above sea level. This park provides a relaxing picnic area in an unusual scenic setting.
Audra State Park

Buckhannon

Before the turn of the century, West Virginians were drawn to the natural beauty of the Middle Fork River and its surroundings. This area is now Audra State Park, a heavily wooded riverside campground that continues to awe visitors.
North Bend State Park

Cairo

Named for the horseshoe curve of the North Fork of the Hughes River, North Bend State Park in West Virginia, offers a multitude of recreational facilities in a beautiful pastoral setting. The fishing streams, hiking trails, abundant wildlife and excellent overnight accommodations and restaurant are among this year-round park's most popular features.
Camp Creek State Park

Camp Creek

Camp Creek State Park was formed from Camp Creek State Forest in 1987, when a tract of approximately 550 acres was set aside to create this recreation area. Still adjacent to the park lies Camp Creek State Forest. Consisting of nearly 5,300 acres of forest land this property is managed to demonstrate sound forest management principles through the concept of multiple-use. A hunter will find many species of game including deer, native wild turkey, ruffed grouse and a variety of small game. Camp Creek, from which these areas take their name, is one of the best stocked trout streams in the state and can offer hours of fishing enjoyment.
Cass Scenic Railroad State Park

Cass

Nestled in the mountains of West Virginia, Cass Scenic Railroad State Park offers excursions that transport you back in time to relive an era when steam-driven locomotives were an essential part of everyday life. Trips to Cass are filled with rich histories of the past, unparalleled views of a vast wilderness area, and close-up encounters with the sights and sounds of original steam-driven locomotives.
West Virginia Humanities Council

Charleston

e-WV: The West Virginia Encyclopedia is the comprehensive reference resource for the Mountain State of West Virginia. Based on the best-selling West Virginia Encyclopedia, e-WV offers thousands of articles on West Virginia's people and places, history, arts, science and culture. e-WV includes video and audio files, static and interactive maps, exhibits and a classroom section featuring lesson plans appropriate for West Virginia Studies. Articles in The West Virginia Encyclopedia are submitted, written and edited by scholars in their fields and updated by e-WV staff at the West Virginia Humanities Council.
Kanawha State Forest

Charleston

Located just seven miles south of Charleston, West Virginia, this forest's close proximity to the heavily populated Kanawha Valley has made it a recreational haven. Some of the state's most popular picnic areas are here, along with significant hiking, mountain biking, and cross-country skiing opportunities. A playground attracts families during the summer season and the fully equipped campground is one of the few in the Charleston area. The 9,300-acre forest is noted among naturalists for its diverse wildflower and bird populations. Rich cove forest sites provide nesting habitat for 19 species of wood warblers, a feature which draws birders from as far away as Canada.
Clay Center

Charleston

We invite you to discover a world of Music, Theater, Art and Science. From exciting performances to family fun days, you're sure to find the Clay Center to be a priceless experience that will cause you to say, "WOW!" The mission is to inspire creativity, learning and wonder through experiences in the arts & sciences for all people of West Virginia and the region.
Chesapeake Bay Gateways Network

Chesapeake Bay region

First thoughts of the Chesapeake Bay often bring up images of crabs and oysters. But, as the largest estuary in North America, the Chesapeake Bay has touched and influenced much of the American story -- early settlement, commerce, the military, transportation, recreation and more. The Bay and its surrounding 64,000 square mile watershed hold a treasure trove of historic areas, natural wonders and recreational opportunities.
Babcock State Park

Clifftop

Babcock State Park offers its guests 4,127 acres of serene, yet rugged beauty, a fast flowing trout stream in a boulder-strewn canyon and mountainous vistas to be viewed from several scenic overlooks. All of this variety is located adjacent to the New River Gorge National 'River and the heart of the whitewater rafting industry of West Virginia.
Canaan Valley Resort

Davis

The ultimate vacation destination. Nestled amid more than 6,300 acres of state parkland on the edge of the Monongahela National Forest. This inspiring West Virginia mountain resort is cradled by picturesque terrain and breathtaking countryside. It is surrounded by 18 miles of trails - in wetlands and northern hardwood forests - as well as open meadows, abundant with wildlife. Choose from a thrilling variety of fun activities including golf, horseback riding, skiing, snowboarding, and ice skating.
Blackwater Falls State Park

Davis

Named for the falls of the Blackwater River whose amber-colored waters plunge five stories then twist and tumble through an eight-mile long gorge. The "black" water is a result of tannic acid from fallen hemlock and red spruce needles. The falls are one of the most photographed sites in West Virginia.
Cabwaylingo State Forest

Dunlow

Cabwaylingo State Forest is located on 8,123 heavily forested acres in the heart of Southern West Virginia in Wayne County. Built in the 1930's, the forest gets its unique name from the four surrounding counties from which it serves: CABell, WAYne, LINcoln, MinGO.
Seneca State Forest

Dunmore

Oldest of West Virginia's state forests, Seneca borders the beautiful Greenbrier River in Pocahontas County. The forest offers pioneer guest cabins; a four(4) acre lake for trout, bass and bluegill fishing; a small campground and 11,684 acres of lush woodlands for hiking, hunting or communing with nature. The lake and forest are named after the Indian tribe which once roamed the area. Seneca's large size and modest development make it a great place to find peace and solitude.
Randolph County Community Arts Center

Elkins

We provide a home for local and visiting artists across a wide variety of media. From exhibits to performances to art education, the Center is supported by the community it serves.
Pricketts Fort State Park

Fairmont

Perched on a small rise overlooking the confluence of Prickett's Creek and the Monongahela River, this rustic log fort is a re-creation of the original Prickett's Fort of 1774, which served as a refuge from Native American war parties on the western frontier of Colonial Virginia. Built in 1976 by the Prickett's Fort Memorial Foundation, the "new" fort serves as a living history site where interpreters recreate late 18th century lifestyle through period attire and demonstrations of a variety of colonial crafts. Throughout the season, visitors may find blacksmiths, spinners, weavers and other traditional artisans at work, and a gun shop which features the only public demonstrations of 18th century firearm manufacturing in the state.
Valley Falls State Park

Fairmont

Valley Falls State Park is a place of scenic beauty and historical significance and has continued to grow in popularity with both local and out of state visitors.
Moncove Lake State Park

Gap Mills

Tucked away among the hills on the southeastern edge of the state lies Moncove Lake State Park. Located in the pastoral setting of Monroe County, Moncove Lake State Park seems worlds away from everyday realities. With all park facilities located within easy walking distance, this is the place to enjoy the simple things in life. Local groups and individuals have been using the park for years as a location for social outdoor gatherings, a place to do some quiet reading, take a stroll, or to put a fishing line in the water. In more recent years, campers have discovered the quiet, easy-paced life in this area and have been returning on a regular basis. Even during the busier summer months lazy afternoons are commonplace and a moments rest is only a sunset away. However, for your best chance at total quiet and solitude the spring and fall seasons present the best opportunities.
Bluestone National Scenic River

Glen Jean

A living landscape that provides an unspoiled experience for visitors and a haven for a variety of plants and animals. The park protects a 10.5-mile section of the Bluestone River in Southern West Virginia.
Gauley River National Recreation Area

Glen Jean

Wild and Wonderful: The 25 miles of free-flowing Gauley River and the six miles of the Meadow River pass through scenic gorges and valleys containing a wide variety of natural and cultural features. The Gauley River contains several class V+ rapids, making it one of the most adventurous white water boating rivers in the east.
New River Gorge National River

Glen Jean

A rugged, white water river, flowing northward through deep canyons, the New River is among the oldest rivers on the continent. The park encompasses over 70,000 acres of land along the New River, is rich in cultural and natural history, and offers an abundance of scenic and recreational opportunities.
Cedar Creek State Park

Glenville

One of the unique aspects of the Cedar Creek State Park is the check-in station, a restored log cabin which was formerly a Gilmer County historical landmark. Further adding to the charming ambiance of the park, a reconstructed one-room schoolhouse has been erected as a testimonial to the early years of education. The schoolhouse has been faithfully restored complete with student desks, inkwells and a potbellied stove. Guided tours of this nostalgic attraction are offered on Saturdays during the summer months.
Tygart Lake State Park

Grafton

A cozy, quiet getaway for couples and families. It sits among West Virginia's rolling hills and alongside 10-mile long, 1,750-acre Tygart Lake.
Green Bank Observatory

Green Bank

Discover the wonders of the Green Bank Science Center, where interactive exhibits and captivating displays introduce you to the fascinating world of radio astronomy in an entertaining manner. The Science Center at the Green Bank Observatory extends a warm welcome to the general public. Allow at least 2 hours of your time to fully experience the GBO tour, embark on an exciting exhibit hall scavenger hunt, and browse through our delightful gift shop. The majority of activities are tailored to accommodate groups of 20 individuals. For those planning a day trip, our Starlight Cafe offers lunch.
Holly River State Park

Hacker Valley

The dense forests of Holly River State Park provide guests with a natural feeling of peaceful solitude. Located near the center of the state in Webster County, it is far from the hustle and bustle of city life making it a perfect vacation getaway.
The John Brown Wax Museum

Harpers Ferry

The John Brown Wax Museum graphically tells the story of John Brown and the raid on Harpers Ferry. Voice, music, and animation enhance the experience. Ages 6 through 60 will benefit from this educational and entertaining museum. This is a favorite of junior high schoolers. Lower group rates are available. Everyone's a student when you bring 10 or more. All adults that accompany 10 or more students pay the student price too.
Harpers Ferry National Historical Park

Harpers Ferry

Harpers Ferry is best known for its role in the Civil War as the location of John Brown's raid on the Armory in 1859. The website offers many links to educate history buffs on the people and stories involved with that time in American history.
Beartown State Park

Hillsboro

Beartown is noted for its unusual rock formations, which are comprised of Droop, or Pottsville, Sandstone formed during the Pennsylvanian age. Massive boulders, overhanging cliffs, and deep crevasses stir the imagination of most visitors. Pocketing the face of the cliffs are hundreds of eroded pits, ranging from the size of marbles to others large enough to hold two grown men. Ice and snow commonly remain in the deeper crevasses until mid to late summer. Vegetation clings tenaciously to life, sending roots into mere cracks in the rocks.
Droop Mountain Battlefield State Park

Hillsboro

The site of West Virginia's last significant Civil War battle. The Civilian Conservation Corps (CCC) built the Museum, Lookout Tower & other buildings in the 1930's.
Bluestone State Park

Hinton

Encompassing over 2,100 acres of rugged, heavily forested, mountainous terrain, Bluestone State Park provides a wide variety of water-oriented activities for guests and residents of southern West Virginia. In the midst of this wilderness park, just five miles south of Hinton, are nestled modern cabins, a campground and fine recreational facilities. The extra plus is that Bluestone is adjacent to Bluestone Lake, the state's third largest body of water.
Huntington Museum of Art

Huntington

Visitors enjoy the beauty of glass, particularly that from the Ohio Valley; the wisdom and whimsy of Appalachian folk art; the functional artistry of American furniture and firearms; the serenity of 19th and 20th century American and European paintings; and the intricacy of Islamic prayer rugs. They can ponder the exotic mysteries of Middle Eastern arts; the exquisite acrobatics of sculptures by Calder and Rickey; and the marvels of nature's own canvas.
Zoology Zone Science Center

Hurricane

The Zoology Zone & Science Center is a non-profit that offers exhibits for all ages of different rescued reptiles and amphibians. Prices range from free for children up to 3, $5 for those 4-12, $7 for 13+, and $5 for seniors 65 and older. Entry fee includes all day access with story time and lab.
Kumbrabow State Forest

Huttonsville

Kumbrabow State Forest is located along the western edge of the allegheny Highlands atop Rich Mountain. The 9,474 acres of forest range from 3,000 to 3,930 feet above sea level, making Kumbrabow the state's highest forest. Acquired in 1934, the forest derives its unusual name from the three prominent families, KUMp-BRAdy-BOWers, who were instrumental in the purchase of the land.
Chief Logan Lodge, Hotel and Conference Center

Logan

The newest lodging addition to the West Virginia State Parks system. Offering superior customer service, 75 modern rooms and suites, guest laundry, indoor pool, fitness room, and hot tub, this overnight facility is a welcome addition for travelers of US 119. The hotel and conference center at Chief Logan is perfect for vacation, reunion, conference, or business travel.
Chief Logan State Park

Logan

The park and town share the name of the Chief of the Cayuga Tribe (also known as the Mingo tribe). This 4,000-acre park is one of the most visited in the state park system. The park features a 25-site campground, outdoor amphitheater, and wildlife center. The recreation enthusiast can enjoy miles of hiking trails, a swimming pool with water slide, tennis, and miniature golf. Picnic shelters and playgrounds are found throughout the park.
Watters Smith Memorial State Park

Lost Creek

The heritage of early West Virginia is preserved in the pioneer homestead restoration at this park. Through the wisdom of a descendent, the late 1700s farm of Watters Smith was bequeathed to the state park system to be preserved for posterity. A log cabin similar to the original was moved and reconstructed on the park, the Smith family home (c. 1876) has been restored as a museum, and an additional museum houses many early farm artifacts. Guided tours are offered from Memorial Day weekend through Labor Day. In addition, the park features swimming, picnicking, hiking trails, and horseback riding.
Watoga State Park

Marlinton

Watoga State Park is located in the mountains of Pocahontas County just 14 miles south of Marlinton, West Virginia. The park consists of 10,100 acres filled with a multitude of recreational activities including hiking, swimming, fishing and boating. There is something for everyone to enjoy at Watoga State Park.
Lost River State Park

Mathias

Enjoy an invigorating hike to "Cranny Crow" with its commanding views of the surrounding ridges, stroll around park headquarters or enjoy a book on a park bench under the massive branches of an ancient pine. All of this creates an atmosphere of peacefulness and serenity for visitors to Lost River State Park.
Twin Falls Resort State Park

Mullens

Set in the rugged mountains of Southern West Virginia, Twin Falls Resort State Park is the ideal site for nature seekers. Visitors here enjoy overnight accommodations ranging from a 20-room lodge located on the mountain top to secluded cottages and deluxe and standard campsites.
Tomlinson Run State Park

New Manchester

Located at the extreme tip of West Virginia's northern panhandle, Tomlinson Run provides a wide range of recreational opportunites to a large number of local and out-of-state visitors. The park's 1,398 acres extend along the stream from which it gets its name, both of which are named for a family of early settlers, to within a mile of the stream's confluence with the Ohio River. Roughly divided into two sections, the park offers a wilderness area of heavily forested hills, overhanging cliffs of sandstone and shale, and a profusion of wildflowers and fauna. Featured within the developed areas of the park are picnicking, boating, miniature golf, basketball and volleyball courts, swimming, a campground and a group camp.
Panther Wildlife Management Area

Panther

Located in the rugged hills near West Virginia's southern border with Virginia and Kentucky, Panther offers a small campground in heavily wooded surroundings. Hiking trails to scenic overlooks, trout fishing, picnicking, swimming and hunting are featured at the forest.
Blennerhassett Island Historical State Park

Parkersburg

The Island is open May 1 through October of each year. While visiting our park you should allow at least three hours for a complete tour. This includes the boat trip to and from the island. Blennerhassett Museum should be the first stop of your tour. It is the perfect orientation for all that you will see throughout the day. Your museum visit begins with viewing the video that briefly explains the lives of Harman and Margaret Blennerhassett. You will then be free to tour the three floors of intriguing archaeological and historical exhibits.
Pipestem Resort State Park

Pipestem

The "Year-round Crown Jewel of West Virginia State Parks." From beautiful scenic overlooks of the Bluestone Gorge to the two lodges, vacation rental cottages, campgrounds, golf courses, restaurants, modern conference facilities, and much more, Pipestem Resort State Park has something for everyone.
Tu-Endie-Wei State Park

Point Pleasant

At the junction of the Ohio and Kanawha Rivers stands this monument which commemorates the frontiersmen who fought and died at the Battle of Point Pleasant. This battle was fought with Chief Cornstalk on October 10, 1774, and is recognized as the decisive engagement in a proactive series of Indian wars. The name "Tu-Endie-Wei" is a Wyandotte word meaning "point between two waters."
Stonewall Resort

Roanoke

Spanning 2,000 pristine acres and featuring a surrounding state park, Stonewall Resort offers endless recreational choices. Swimming, golf, and a full-service spa offer a plethora of ways to unwind and relax. As one of West Virginia'smost primitive and scenic lakes, Stonewall Jackson Lake is an ideal setting for camping, hiking and biking. Along 82 miles of beautiful shoreline, observe incredible views as well as wildlife and plant species indigenous to the lake environment. Whatever your interests, you'll find activities to suit them when you stay at Stonewall Resort.
Potomac Eagle Scenic Railroad

Romney

Our historic tracks run deep into the heart of West Virginia's Potomac Highlands. The Potomac Eagle Scenic Railroad crosses sweeping valleys and rolling countryside to our most popular destination, the wild and wonderful Trough Canyon. Named by George Washington and steeped in history, the canyon is home to American bald eagle families. Journey along the South Branch Potomac River and thrill to the spotting of these mighty raptors, our namesake, thriving in their country home. Bring binoculars for eagle spotting and wildlife viewing while you learn aboard our living classroom.
Jones-Imboden Raid

Rowlesburg

Reenactment of the Jones-Imboden Raid in Rowlesburg, WV, when General W.E. "Grumble" Jones led an attack on the town to destroy the vital B & O railroad bridge and the famous Tray Run Viaduct. Union forces under the command of General Charles Hill defended the town with 250 soldiers and townsmen. Union forces were outnumbered 1500 to 250 but were successful in turning back "Jones' Raiders" and preserving "Lincoln's Lifeline". Union and Confederate camps will be represented and a weekend full of activities will be presented, along with reenactments of the Battle of Greenland Gap and the Battle of Rowlesburg. Check website for details of event held in May.
Carnifex Ferry Battlefield State Park

Summersville

An important Civil War battle site. This Civil War battle represented the failure of a Confederate drive to regain control of the Kanawha Valley. As a result, the movement for West Virginia statehood proceeded without serious threat from the Confederates.
Museums of Oglebay Institute

Wheeling

Oglebay Institute operates six facilities in the Wheeling area: The Schrader Environmental Education Center, the Mansion Museum and the Glass Museum in Oglebay Resort; the Stifel Fine Arts Center and School of Dance on National Road; and Towngate Theatre and Cinema on Market Street. The Institute also operates Terra Alta Mountain Camp in Terra Alta, West Virginia.
Wheeling National Heritage Area

Wheeling

The Wheeling National Heritage Area celebrates the city's dramatic setting along the Ohio River, providing experiences in Victorian architecture, waterfront park development, historic city markets, renovated industrial buildings featuring retail shops, restaurants and interpretive exhibits, and West Virginia Independence Hall, the birthplace of the state of West Virginia during the Civil War.