State Facts
Virginia was the 10th state to join the union. It became a state on June 25, 1788.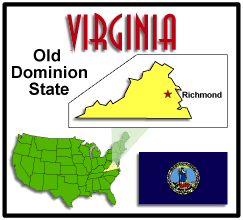 Capital - Richmond
Abbreviation - VA
Nickname - Old Dominion
Motto - "Sic Semper Tyrannis" - Thus Always to Tyrants
Song - Carry Me Back to Old Virginia
Bird - Cardinal
Flower - American Dogwood
Insect - Tiger Swallowtail Butterfly
Area - approximately 42,769 square miles
Websites for studying about Virginia
PBS Learning Media uses three pieces of art as a basis for studying Mexican Independence: a war sketch, a broadside poster celebrating independence, and a painting of a post-independence ceremonial celebration. A download with background material is available.
Mexico Independence Day: What You Need to Know
"Commonly confused with Cinco de Mayo in the U.S., the celebration of Mexican independence focuses on the moment the revolt began in September 1810." (from National Geographic)
Mexican Culture and History through Its National Holidays
"This lesson will focus on holidays that represent and commemorate Mexico\'s religious traditions, culture, and politics over the past five hundred years. The holidays celebrated by Mexico today exemplify the synthesis of ancient Mexican religion and Catholicism, and commemorate the struggles of Mexico's different social classes and ethnic groups." From NEH.gov's EDSITEment!
The Declaration of Causes of the Seceding States
The declarations of secession for Georgia, Mississippi, South Carolina, Texas, and Virginia (primary sources)
Worksheets and puzzles for kids to learn more about Virginia
America's Maritime Treasure. You'll find one of the largest international maritime history museums filled to the crow's nest with prized artifacts that celebrate the spirit of seafaring adventure. Explore over 60,000 square feet of gallery space with rare figureheads, handcrafted ship models, Civil War ironclad USS Monitor artifacts, paintings, small craft from around the world, and much more.
Colonial Williamsburg Foundation Home Educator Experience
Learn about running a household and preparing foods, colonial diversions and pastimes as well as education and apprenticeships at the Benjamin Powell House.
Fun Educational Activities
From TeachersFirst. A comprehensive resource on Virginia
Mr. Donn has been online for as long as I can remember and he has one of the largest collections of social studies resources available. This is his collection of Virginia resources.
From the Library of Congress. Games and stories of America's past.
Facts & Trivia about Virginia
RoadsideAmerica.com - Virginia
Unique tourist attractions and landmarks in Virginia
Loads of fun facts, photos, and travel information about Virginia.
EnchantedLearning.com
H.I.P. Pocket Change Coin Coloring sheet - Virginia
Created by the U.S.Mint
Ready Virginia is a statewide public education effort to prepare Virginians for all hazards, including natural disasters and potential terrorist attacks. Ready Virginia encourages Virginians to do three things to prepare for emergencies: * Get an emergency supply kit * Make an emergency plan * Stay informed about the hazards that could impact Virginia The Ready Virginia Web site is a central, authoritative resource for preparedness information for all Virginians.
Jamestown Settlement & Yorktown Victory Center Home Educator Program
Hands-on history programs for home-educated students
Virginia Virtual Field Trips
American Shakespeare CenterStaunton
Virtual field trip onlineThe American Shakespeare Center in Staunton, Virginia is a wonderful field trip if you are lucky enough to live nearby. By following the basic principles of Renaissance theatrical production, the American Shakespeare Center gives its audiences some of the pleasures that an Elizabethan playgoer would have enjoyed in the world's only re-creation of Shakespeare's original indoor theatre. If you are not close enough for a visit, you can still enjoy the online resources offered by the Center. Although some parts of the guides are specific to the play experience at the Center, the guides are in-depth, informative resources for studying the plays of Shakespeare.
Appomattox Court House National Historic SiteAppomattox
Virtual field trip onlineOn Palm Sunday, 1865, Lee's surrender at Appomattox Court House, Virginia signaled the end of the Southern States attempt to create a separate nation. The site contains links for kids and educators, as well as virtual photof of the area now and in 1865.
Arlington House, The Robert E. Lee National MemorialArlington
Virtual field trip onlineArlington House was the home of Robert E. Lee and his family for thirty years. George Washington Parke Custis built the house in 1802 to be his home and a memorial to George Washington, his step-grandfather. Since then, the house has served as a family home, a military headquarters, a national cemetery, and more.
Battle of FredericksburgFredericksburg
Virtual field trip onlineFrom the National Park Service. The Battle of Frederickburg took place in December of 1862. There are links for both kids and educators. View an animated recreation of the entire battlefield on December 13, 1862. http://www.travelbrains.com/shockhtml/FburgDemo.htm
Frontier Culture MuseumStaunton
Virtual field trip onlineThe Frontier Culture Museum tells the story of the thousands of people who migrated to colonial America, and of the life they created here for themselves and their descendants. These first pioneers came to America during the 1600s and 1700s from communities in the hinterlands of England, Germany, Ireland, and West Africa. Many were farmers and rural craftsmen set in motion by changing conditions in their homelands, and drawn to the American colonies by opportunities for a better life. Others came as unwilling captives to work on farms and plantations. Regardless of how they arrived, all became Americans, and all contributed to the success of the colonies, and of the United States.
History Museum of Western VirginiaRoanoke
Virtual field trip onlineThe Museum's Step Into The Past education programs are unlike any other history-oriented services offered in the Roanoke Valley. These programs were created to meet the requests of local teachers, P.T.A. representatives and youth group leaders for historical programming that is readily available and affordable. Step Into The Past consists of both Outreach and In-house Programs.
Sky Meadows State ParkDelaplane
Virtual field trip onlineJust an hour's drive from Washington, D.C., Sky Meadows State Park in Clarke and Fauquier counties, offers a peaceful getaway on the eastern side of the Blue Ridge Mountains. With rolling pastures and woodlands, the park boasts beautiful vistas of the foothills and access to the Appalachian Trail. Its rich history is shaped by the development of agriculture and the impact of the Civil War. Activities include hiking, fishing, picnicking, horseback riding, primitive camping, and nature and history programs.
Williamsburg Special Events for HomeschoolersWilliamsburg
From History.org
Thanks to graphicmaps.com for the state graphics