State Facts
Virginia was the 10th state to join the union. It became a state on June 25, 1788.
Capital - Richmond
Abbreviation - VA
Nickname - Old Dominion
Motto - "Sic Semper Tyrannis" - Thus Always to Tyrants
Song - Carry Me Back to Old Virginia
Bird - Cardinal
Flower - American Dogwood
Insect - Tiger Swallowtail Butterfly
Area - approximately 42,769 square miles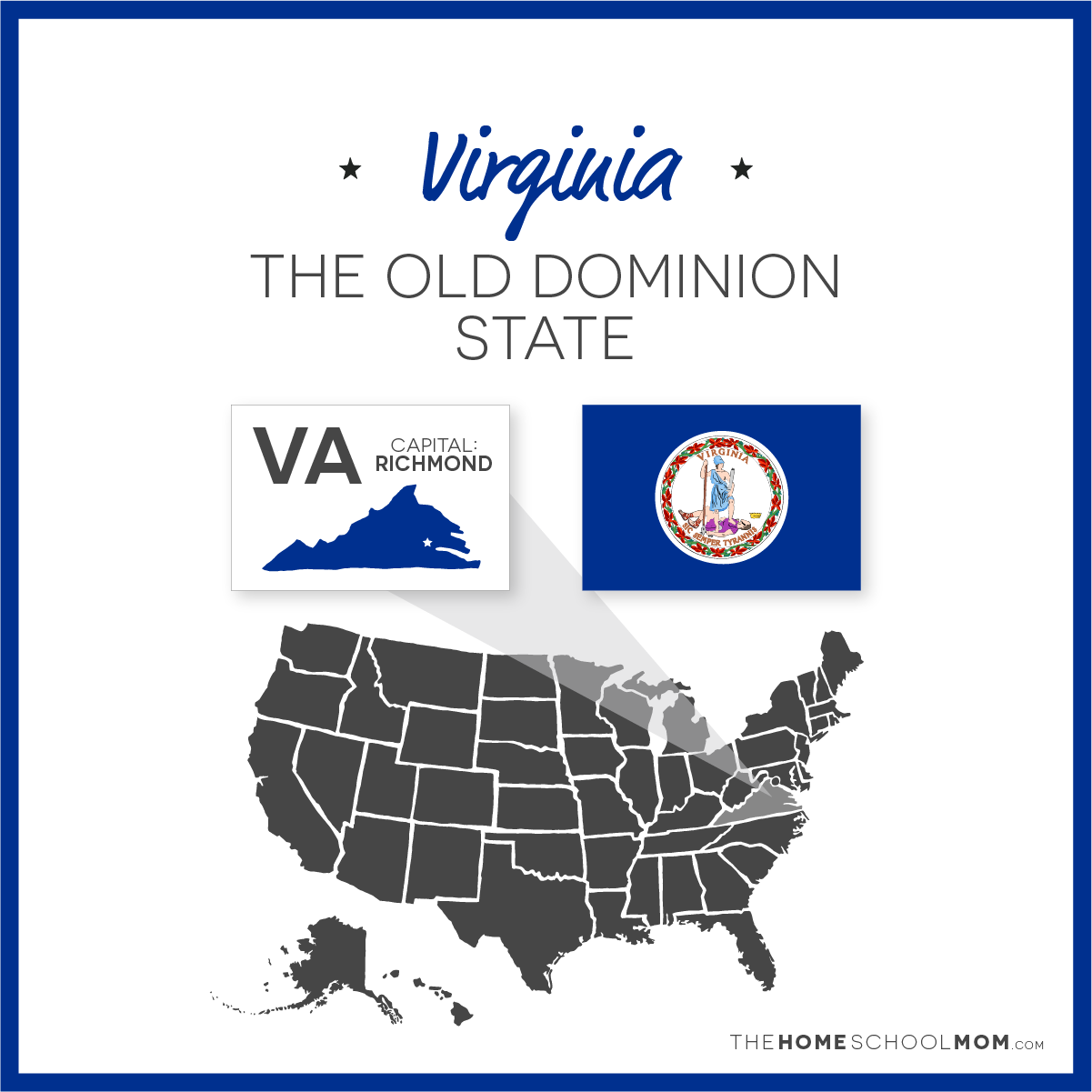 Websites for studying about Virginia
Worksheets and puzzles for kids to learn more about Virginia
America's Maritime Treasure. You'll find one of the largest international maritime history museums filled to the crow's nest with prized artifacts that celebrate the spirit of seafaring adventure. Explore over 60,000 square feet of gallery space with rare figureheads, handcrafted ship models, Civil War ironclad USS Monitor artifacts, paintings, small craft from around the world, and much more.
Fun Educational Activities
From TeachersFirst. A comprehensive resource on Virginia
Mr. Donn has been online for as long as I can remember and he has one of the largest collections of social studies resources available. This is his collection of Virginia resources.
Information about Virginia. State study guides have been added to the Fast Facts pages
From the Library of Congress. Games and stories of America's past.
Facts & Trivia about Virginia
Loads of fun facts, photos, and travel information about Virginia.
Ready Virginia is a statewide public education effort to prepare Virginians for all hazards, including natural disasters and potential terrorist attacks. Ready Virginia encourages Virginians to do three things to prepare for emergencies: * Get an emergency supply kit * Make an emergency plan * Stay informed about the hazards that could impact Virginia The Ready Virginia Web site is a central, authoritative resource for preparedness information for all Virginians.
Virginia Virtual Field Trips
History Museum of Western Virginia
Roanoke
Virtual field trip online

The Museum's Step Into The Past education programs are unlike any other history-oriented services offered in the Roanoke Valley. These programs were created to meet the requests of local teachers, P.T.A. representatives and youth group leaders for historical programming that is readily available and affordable. Step Into The Past consists of both Outreach and In-house Programs.
Lewis and Clark Resources at the Jefferson Monticello
Charlottesville
Virtual field trip online

The Jefferson Monticello website hosts loads of information about Thomas Jefferson and his role in the Lewis and Clark expedition, the Louisiana Purchase, and more. Among the educator resources on the site, you\'ll find maps, artifacts, activities, and lessons to accompany your studies.
Luray Caverns
Luray
Virtual field trip online

Luray Caverns is the largest caverns in the eastern United States. Enormous chambers are filled with towering stone columns, shimmering draperies and crystal-clear pools. The National Park Service and the Department of Interior designated it a Registered Natural Landmark.