State Facts
Tennessee was the 16th state to join the union. It became a state on June 1, 1796.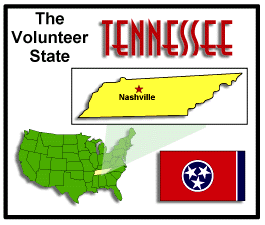 Capital - Nashville
Abbreviation - TN
Nickname - The Volunteer State
Motto - "Agriculture and Commerce"
Song - My Homeland Tennessee, The Tennessee Waltz, When It's Iris Time in Tennessee, My Tennessee, Rocky Top, Tennessee, and The Pride of Tennessee
Bird - Mockingbird
Flower - Iris
Insect - Firefly and Ladybug (Ladybird Beetle)
Area - approximately 42,146 square miles
Websites for studying about Tennessee
Worksheets and puzzles for kids to learn more about Tennessee
Fun Educational Activities
From TeachersFirst. A comprehensive resource on Tennessee
Mr. Donn has been online for as long as I can remember and he has one of the largest collections of social studies resources available. This is his collection of Tennessee resources.
Explore the States - Tennessee
From the Library of Congress. Games and stories of America's past.
Facts & Trivia about Tennessee
RoadsideAmerica.com - Tennessee
Unique tourist attractions and landmarks in Tennessee
Loads of fun facts, photos, and travel information about Tennessee.
EnchantedLearning.com
H.I.P. Pocket Change Coin Coloring sheet - Tennessee
Created by the U.S.Mint
Tennessee Virtual Field Trips
Bicentennial Capitol Mall State ParkNashville
Virtual field trip onlineThe Bicentennial Capitol Mall State Park is located in the shadow of the State Capitol in downtown Nashville. The 19-acre park is designed to complement the Tennessee Capitol Building, give visitors a taste of Tennessee's history and natural wonders, and to serve as a lasting monument to Tennessee's Bicentennial celebration.
Bledsoe Creek State ParkGallatin
Virtual field trip onlinePark Activities/Amenities:Boating, Camping, Fishing, Hiking Trails and Picnic Facilities.
Fall Creek Falls State ParkPikeville
Virtual field trip onlineA paradise of more than 20,000 acres sprawled across the eastern top of the rugged Cumberland Plateau, Fall Creek Falls State Park is one of the most scenic and spectacular outdoor recreation areas in America. Laced with cascades, gorges, waterfalls, streams, and lush stands of virgin hardwood timber, the park beckons those who enjoy nature at her finest. While Fall Creek Falls, at 256 feet, is the highest waterfall in the eastern United States, other waterfalls in the park are Piney and Cane Creek Falls and Cane Creek Cascades.
Frozen Head State ParkWartburg
Virtual field trip onlineFrozen Head State Park and Natural Area is situated in the beautiful Cumberland Mountains of eastern Tennessee. The 13,122 acres of relatively undisturbed forest contain some of the richest wildflowers areas in Tennessee. The mountainous terrain varies from an elevation of 1,340 feet to over 3,000 feet on 16 different mountain peaks. Frozen Head, elevation of 3,324, is one of the highest peaks in Tennessee west of the Great Smoky Mountains. From its observation tower on a clear day, one can plainly see the Cumberland Plateau, Tennessee Ridge and Valley, and the Great Smoky Mountains. In winter, the mountain peaks are often capped with snow or ice while the lower valleys remain unadorned, thus giving the park's namesake, Frozen Head. The park's lush vegetation, small streams, waterfalls and beautiful mountains make Frozen Head one of Tennessee's most scenic parks.
Paris Landing State ParkBuchanan
Virtual field trip onlineParis Landing State Park is an 841 acre park located on the western shore of the Tennessee River, which is dammed to form Kentucky Lake (160,000 acres). The park sits on the widest part of the lake (3 miles wide) and is the perfect location for all water sports such as fishing, boating, swimming, and skiing. On land, there is plenty of activity with golfing, hiking, camping, or just relaxing and enjoying the natural beauty and wildlife. Be on the lookout for deer, turkey, fox, and coyote that roam the park. Eagles can be seen in the winter months.
Pickwick Landing State ParkPickwick Dam
Virtual field trip onlinePickwick Landing State Park is located just south of Pickwick Dam, 12 miles south of Savannah, TN., in Hardin County. The lake and river offer excellent fishing, boating, swimming and a marina. Accommodations on the park include a modern Inn and Restaurant, cabins and camping. There is also a beautiful and challenging golf course. The park contains 1,400 acres of forested hills and hollows. There is a 2.8 mile trail to explore and enjoy the wildlife and plant life around the lake. Picnicking, swimming and play fields are also available.
More Tennessee field trips ...
Thanks to graphicmaps.com for the state graphics