California Facts for Kids
California was the 31st state to join the union. It became a state on September 9, 1850.
Capital - Sacramento
Abbreviation - CA
Nickname - The Golden State
Motto - Eureka - I have found it
Song - "I Love You, California"
Bird - California Valley Quail
Flower - California Poppy
Insect - California Dog-Face Butterfly
Area - approximately 163,707 square miles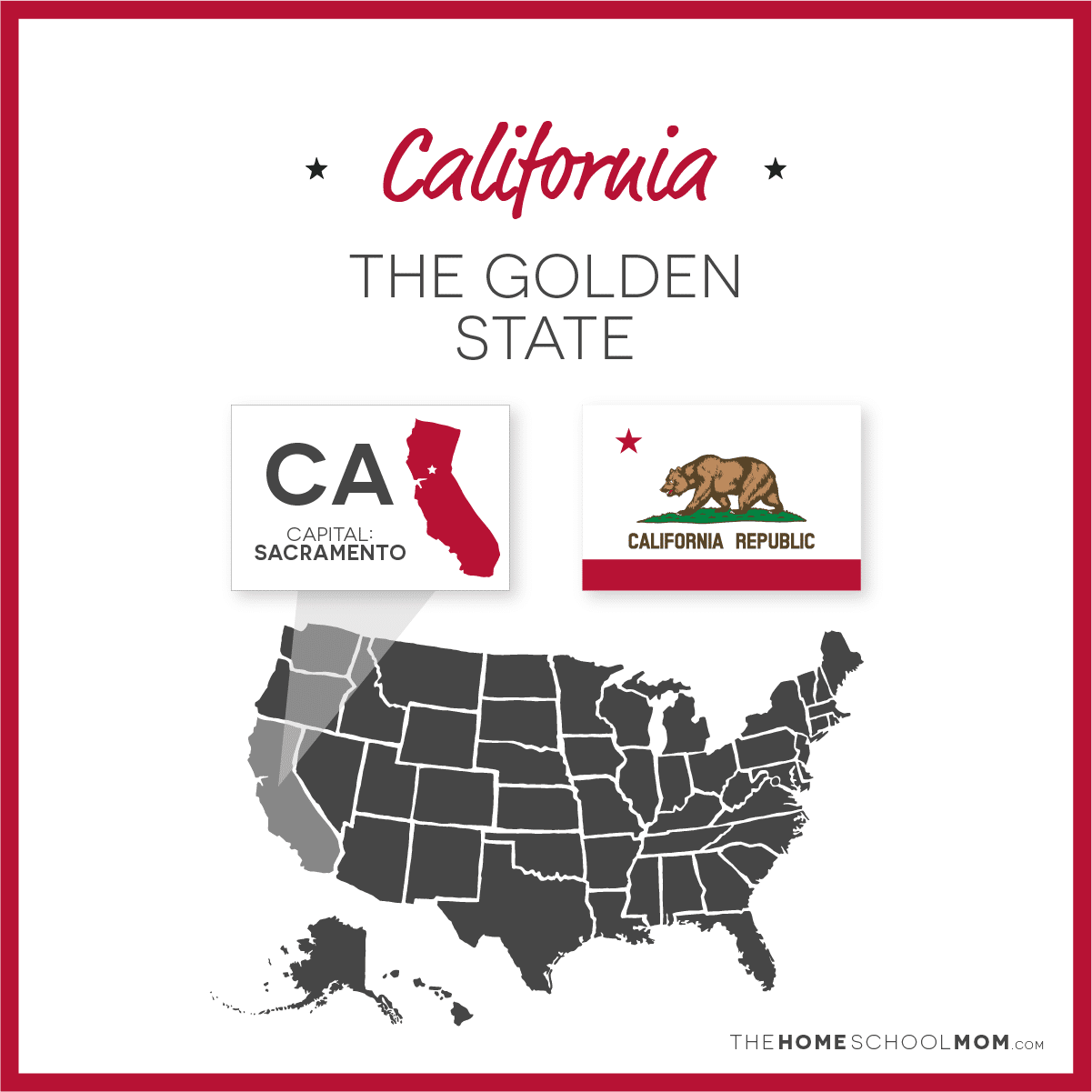 Learn more about California
California State Symbols Games 
Worksheets and puzzles for kids to learn more about California
A to Z Kids Stuff - California
Fun Educational Activities
TheUS50.com - California
Information about California. State study guides have been added to the Fast Facts pages
The 50 States - California
From TeachersFirst. A comprehensive resource on California
Mr. Donn.org - California
Collection of California resources from Mr. Donn, who offers one of the largest collections of social studies resources available.
Explore the States - California
From the Library of Congress. Games and stories of America's past.
50 States.com - California
Facts & Trivia about California
RoadsideAmerica.com - California
Unique tourist attractions and landmarks in California
California Map/Quiz Printout
EnchantedLearning.com
Awesome America - California
Loads of fun facts, photos, and travel information about California.
Kids' literature featuring California
From balmy beach towns to Sierra snows, from desert palms to redwood forests, there is almost everything you could imagine in this state. Traveling in California with kids, stand among trees 1,000 years old, fly a Chinese kite in front of the Golden Gate, ride rapids through Gold Country, boogie board on endless beaches, get your picture taken with Minnie or Mickey Mouse at Disneyland, pet a baby cheetah at the San Diego Zoo, or watch the waves break at Big Sur. Don't miss the top picks section for children's books on California.
John Muir National Historic Site
John Muir: Man of the Mountains. The site preserves the Victorian home of the noted author and preservationist. Surrounded by almost 9 acres of fruit orchards and 326 acres of oak woodland, the site today is just a small piece of the original 2,600 acre ranch. The United States is forever indebted to the "Father of the National Park Service" for helping to preserve this country's greatest treasures.
Learn more through virtual and in-person California field trips ...