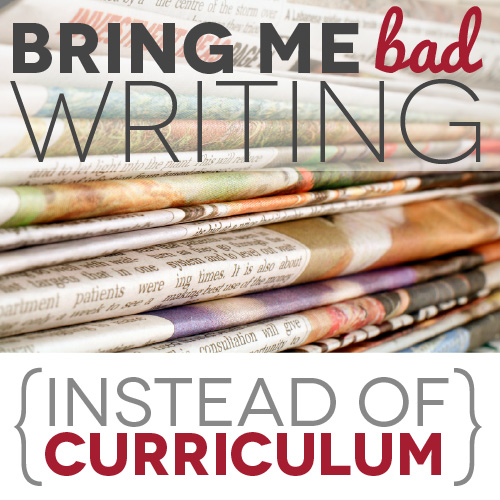 "Bring me bad writing," I told my two homeschool co-op classes of middle school and elementary age writers. "Incorrect writing, wrong apostrophes, sentence fragments, typos, passive voice. Horrible stuff. Bring it."
The next week, they marched in with an array of bad writing they'd found on websites, on convenience store signs, on gas pumps, in a letter from a college administrator, in text books, in novels, and in their own journals.
They had snapped photos, hand copied passages, bookmarked pages, and printed screen shots.
There I was, sitting with a bunch of kids who were anxious to share their observations of subject verb disagreement, misspelled words, errant apostrophes, impossibly punctuated dialogue, and overwritten purple prose.
They were arguing about who got to go first.
Learning Without Curriculum
With no packaged curriculum at all, we got in lesson after lesson on punctuation, capitalization, the its/it's crisis, and mix-ups such as using the word for the metal "lead" as the past tense of the verb "to lead" (which is, for the record, "led").
They had context for what they were learning. They asked questions. They were noisy collaborators.
In the past, I've written about how homeschoolers use effective resources and activities, often in addition to or instead of curriculum. The "Bring Me Bad Writing" exercise is one of my favorites.
My young writers are at a delicate stage, especially the middle schoolers. They have spent considerable time this year learning to trust their own voices, learning to spin out their stories even when they're not sure where they will go, learning not to censor first efforts with an inner editor who is afraid of letting mistakes slip through.
This means their writing has gotten better. Their scenes are authentic; their characters are plausible and imperfect; their writing vibrates with strong verbs. Many of them have begun to write when nothing is assigned. Many of them are keeping journals and bringing stories to share outside of class. There are poets.
Over-emphasizing revision in the kids' own writing, stressing incorrect mechanics and usage -- "grammar," as many people say -- is risky at this stage. Too much attention, too early, on the need to revise writing for correctness, can cause fear and hesitancy to creep in.
So much carefulness chokes the pleasure out of rip roaring chase scenes, squeezes the speculation out of why the man in the bank is angry, frightens the red tailed hawk right out of my writers' skies.
For the boys, the boys especially, the thought of recopying, or even in Word, dragging-and-dropping, to fix All These Things That Are Wrong, can quickly become overwhelming. Thus, they conclude, it's better to write just a couple of sentences --careful, boring, correct sentences--so as to avoid Revision Hell.
I don't want to be part of that disincentive to write well.
However, this doesn't mean they're too young to be Editors to the World. Sent on an error hunt, their eyes and minds are keen to collect examples of what doesn't work. Yes, they're getting coaching from their moms and competition from their siblings and "look at that one" from their dads.
Even better, when they bring their "bad writing" samples to class at homeschool co-op, they're learning from each other and from me about errors they may have been only vaguely aware of.
They're tuning up an inner editor who will recognize there could be a problem with their/there/they're--but I'm not allowing that inner editor to eat its own young. Yet.
In addition to discussing the particular examples of bad writing the kids brought in, we enjoyed a discussion about how correct writing, "good" writing, is part of the expectation for successful college students and professionals. We talked about "code switching" -- why texting works with its audience but its conventions don't belong in work completed for a class.
"Unless," one of them says confidently, "you are developing a character whose texting is authentic to the story."
Ahem. Yes. I think she's got it.