Homeschool Organization
Homeschooling can challenge the scheduling skills of even the most organized moms. How can you keep different ages and abilities scheduled with academic work, field trips, extracurricular activities, and the usual other appointments that life requires? The best way is by having a vision that it can be done and by working with your own personality. If you are a person who abhors schedules, don't try to implement something that will detail your life down to five minute intervals. If you cannot stand to do without your schedules and lists, then a PDA is more likely to suit you than winging it.
There are many different ways to be organized, ranging from different piles on the kitchen table to expensive and elaborate software. Find the one that makes you feel most at ease while allowing you to maintain a comfortable level of control over your home and your school.

This symbol indicates a resource on TheHomeSchoolMom.com


TheHomeSchoolMom Planner - TheHomeSchoolMom Planner is a comprehensive organizer for appointments, school assignments, lesson planning, record keeping, and family menu planning. It is free for personal use and can be viewed and printed with the free Adobe Acrobat Reader.
Motivation
To start, you must be motivated. If you are overwhelmed, take a few moments to do some reading and let yourself rediscover the notion that it is possible to feel more in control of your life and your schedule. Maybe you have your homeschool under control but your house is beginning to take on a life of its own. Or maybe you are the opposite and your house is spotless but you can't seem to get on top of the lesson plans for your school. Wherever you find yourself, browse through these articles and websites, letting them inspire you and motivate you to take a step forward in taking back control.


Record-Keeping & Organizing: 10 Reasons to Keep Records by Barb Shelton


A Real Mom's Homeschool by Maggie Hogan
Getting Organized, Part I: Tips and Tricks - by Kathy von Duyke
Part 2: Store for Success
Part 3: Plastic Bins
Flylady.net, an entire website devoted to helping you to keep your house neat and clean in as little time as possible. With sayings like "Even housework done poorly blesses your family", the Flylady will soon have you Finally Loving Yourself, too.
Application
Now that you are motivated, it's time to face the challenge: getting organized! It is possible for a homeschool mom to keep it all together, as the below resources will show. Let's start with keeping your home organized, then move to your homeschool, and finally your kitchen.
Home Organization

A Place for Everything - "So, you've made the excellent decision to get organized, you've sorted through your belongings and you now have only items that you love and are usable. This may be for one small area of your home, a few areas, a drawer or two, or the whole house. However much you have done, it is an accomplishment no matter how big or small, so congratulations!"
Daily Reminders from Menus4Moms - Once you have a weekly house cleaning in place, these daily reminders will help you clean those occasional spots. Spend 15 minutes a day only doing one quick task like cleaning switchplates, mopping the floor in one room, getting bugs out of light fixtures, and more.
My Top Ten To Dos - "I had a question recently as to what are my 'Top Ten's in Homemaking?' So, here's an idea of my top ten, plus a few!" from Pamela Spurling
Organized Home Household Planner Forms - If you are looking for a place to help you get started on your way to organization, Organized Home is that place. Be sure to look around the whole site and take advantage of the many free articles, but the real jewel are these household planner forms.They offer dozens of forms for just about any organizational need you may have!
Home Management Tips for Homeschool Families- from OrganizedHome.com, this article will keep you organized using tools like a household notebook and teaching you to utilize freezer cooking.
Cleaning: Where Do I Start? - How to implement personalized regular cleaning as a part of your home organization
Keeping Organized While Traveling - tips for being prepared while traveling from A Christian Home

Time Management - Principles for making the most of the time you have
Homeschool Organization

Other Homeschool Planners - There are numerous tools for organizing your homeschool paperwork and schedule including software and printable paper organizers. Find some of the best ones in this list.
How Can I Homeschool If I Can't Even Keep Keep My House Clean? - Revelations that helped author Susan Franklin recognize and overcome habits contributing to chaos
How to keep records for your homeschooled child - It is important to keep good records of your child's homeschooled years whether to fulfill state requirements or for your own documentation.
Keeping Meals Organized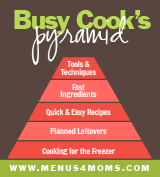 Our sister site, Menus4Moms, can help you put dinner on the table with less stress and more savings. The Secrets of a Busy Cook, seen in pyramid format to the left, are the key to making dinner prep stress-free.
At Menus4Moms you will find recipes, tips for saving time and money, bulk/freezer cooking helps, and dinner menus plans.
Get organized in the kitchen »
Holiday Organization
Holiday Timetable from Marilyn Moll to help you get your holidays organized!
More Christmas planning helps