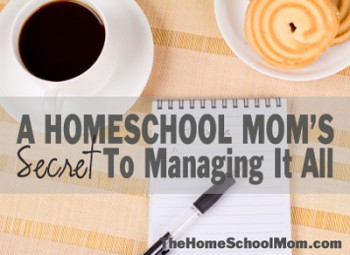 I think every successful homeschool mom has a secret...her secret to managing it all.
Because the truth is that homeschooling itself is overwhelming; it's just difficult to get it all done. When you add in the responsibilities of keeping the household going along with it, sometimes we feel like we're on some roller-coaster that we can't ever get off. Academics to teach, social skills to impart, character to instill, cleaning to complete, food to make, activities to attend, transportation to provide, jobs to fulfill...it's just so much. Too much, sometimes. Enough that it usually takes some sort of plan, some sort of secret -- to actually get it all managed well.
Secrets of a Successful Homeschool Mom
I've seen homeschool moms with motivation systems, and chore charts, and kitchen white boards that function as a veritable mission control. I'm always impressed by the creative secrets homeschoolers use to keep their lives together and to actually accomplish everything for which they are responsible. I started wondering, "What's my secret? What, exactly, is the key that helps me (sort of) keep things going?"
In determining the answer, I thought about what my biggest challenge is. For me, it's cooking. I hate to cook. I do it, because eating is pretty much a non-negotiable, and since I have agreed to this single-income-homeschooling-thing, eating out on a regular basis just isn't an option. Besides, I'm one of those moms who believes that a huge part of our well-being and ability to effectively learn is based on the nutrition we get. So, even though I don't enjoy doing it, I make everything from scratch and do, well, a whole lot of chopping.
The good news is that my family gets to eat healthfully. The bad news is that one of the biggest challenges of my life is how to get food made, in addition to everything else that I have to do. This is especially difficult because we are rarely at home in the late afternoons. We school in the morning and early afternoon, and then after school is done, we do our activities. Horse lessons, church choir, missions activities, and swimming at the pool for exercise are all in our regular schedule – and most all of them are completed right around 5:30 p.m. In other words, at dinner time.
It isn't exactly easy to make dinner (from scratch) when you're not in the house the hours preceding dinner.
So...I figured out my secret. My secret to making it all work.
I fix dinner every day during school time.
This may not be a revelation to many of you super-homeschoolers who manage 12 kids under the age of 10 with aplomb and simultaneously homeschool and hold down a part-time job with finesse. But I am the struggling mom of two (well, three, if you count how the emotional issues over losing my third child factor in to the whole deal) that often still feels like she can't get it all done. So, for me, this is the key.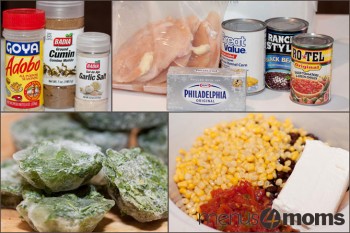 First of all, I always plan my meals at least a week ahead, so that I already have everything I need on hand, because nothing is a time-waster like having to make an impromptu trip to the store for one missing item. Then, I've learned the art of multi-tasking. I make meals for dinner that I can prepare ahead of time (crock pot meals, soups, etc.), or I do all the prep work (and clean-up) on cook-it-right-before meals, so that all I have to do is pop it in the oven right beforehand. While I chop and prepare, the child who is able to work independently on the subject at hand works in the dining room at the table, while the child who needs one-on-one assistance or active teaching works with me in the kitchen. Then, as the needs arise, they switch. I save literature time (when I have to read aloud), and other subjects which require intensive engagement on my part, for after my meal preparation is complete. And, if the kids need a break from academics part-way through, they focus on responsibility by helping some with the cooking.
It's pretty simple, and not particularly creative, but that is my secret to managing it all. I've found that if I can get the food issue taken care of, while simultaneously homeschooling, then I am able to have the time I need to get to most everything else. We can get cleaning done after school or on the weekends, we can get to all of our extra-curricular activities, and no school time gets sacrificed. It's a tremendous blessing of homeschooling that academics can be done anywhere! Many a math lesson has been done through my chopped onion-teary eyes.
I believe every successful homeschool mom has a secret – a way of making it all work for her. If you haven't found it yet, just start talking to some other homeschoolers and try out some of their ideas. For me, making dinner while homeschooling is what makes everything else in our day possible. It may not be the most innovative secret, but, for our family, it's effective. If you haven't found your own secret to managing it all yet, give it a try.
Anybody up for crock pot roast beef with a side of Grammar?