This post is contributed by Oak Meadow, the sponsor of our Living Education series.
School classrooms are often set up with nifty learning stations where each student can be working on a different project or subject. When they complete the activity at one station, they move to the next one. While you might not have all the resources at home that a teacher does at school, you can still set up your homeschool learning space to encourage this kind of autonomy and self-direction.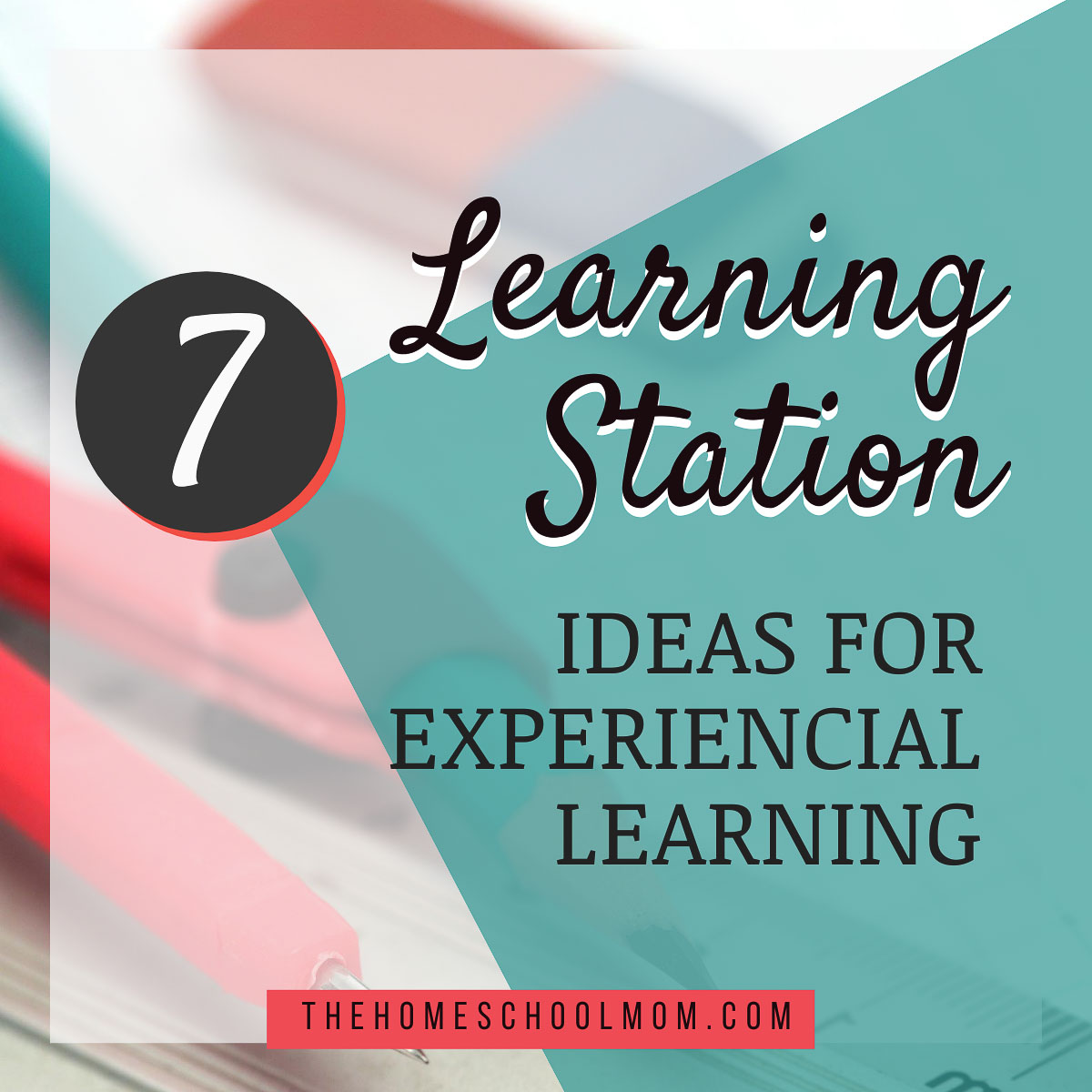 Although we may have homeschool classrooms where we store our supplies, homeschoolers often do their learning all over the house (or even outside). Don't limit yourself to thinking that learning stations must be in a homeschool classroom (lots of families homeschool without a homeschool room).
One benefit of learning stations for homeschooling is that they can often accommodate students of varying levels—activity prompts and supplies can encompass different abilities. Your learning stations can be focused on themes and subjects from the curriculum (such as animal habitats or creative writing) or just offer a space for children to create, explore, and enjoy.
These stations can be changed daily or weekly depending on projects, interest, or space needs. Your home may only be able to accommodate one or two learning stations at a time, and that is fine!
Jump to:
Deciding on learning station content
When you set up a learning station, you might want to have a theme or general activity in mind so that the materials suggest certain explorations. You probably won't want to have all the materials displayed at once—that could be too overwhelming. Offering just a few items at a time will usually result in more focused, purposeful activity.
What goes in a learning station? Here are a few ideas to get you started.
Setting up a math station
Get our free Tangram Design Ideas for your Math Station— you can use them with wood or plastic tangrams to give your kids a jump start on designing shapes. Either leave them grouped as they are, or cut them so that there is one design per page and rotate them out.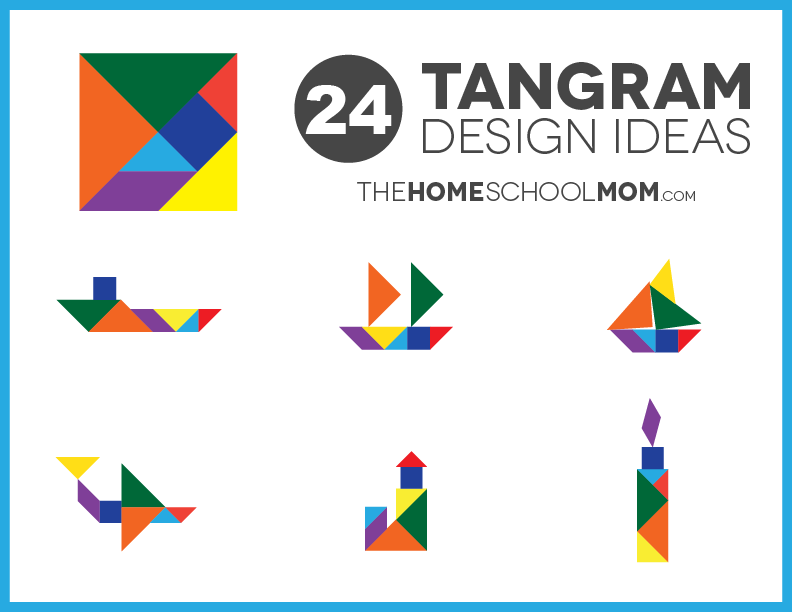 Items to include in your math station:
tangrams and other puzzles
playing cards
dice
ruler
tape measure
balance scale
empty egg cartons or ice cube trays for sorting and grouping
items for sorting and counting (pebbles, dried beans, marbles, coins, etc.)
protractor
bow compass
Setting up a reading station
Create a book nook with a book basket and comfy pillows; think outside the box and in addition to fiction and non-fiction, include:
books of riddles
jokes
art
maps
cross-sections
comics
Setting up a writing station
pencils
pens
colored pencils (and pencil sharpener)
markers, envelopes
small journal (each child should have their own)
writing prompts (print TheHomeSchoolMom's monthly prompt calendars or write prompts on strips of paper and put in a jar for children to choose one)
crossword puzzle book
paper of different types, sizes, and colors
Setting up a science station
This station works well at a window that looks out onto a natural area for nature observations.
magnifying glass
microscope
telescope
binoculars
magnets and metal objects (such as paper clips)
scale
compass
stopwatch
prisms
rocks and crystals
notebook and colored pencils
Setting up a maker space
tools
broken toys and gadgets to take apart
wood
nails and screws
wood glue
dowels
cardboard tubes
hand-powered drill
rubber bands
string
scissors
Setting up an arts and crafts station
paper (many different types and colors)
scissors
glue
crayons
colored pencils
pencil sharpener
painting supplies and smock
modeling clay or beeswax
sewing supplies
fabric
Setting up a sensory station
sand tray with small figurines
shells
stones
spoons
containers
a small comb for raking patterns in the sand (you can also include a cup of water if the sand tray is waterproof)
Introducing each station
When you introduce children to each new station, show them what is available, and go over any safety rules. Depending on the age and temperament of your children, you can discuss ideas, have an activity prompt or instructions, or let them have free rein. Also show them how to clean up after they are finished so the station is ready for the next person or the next visit.
Improving stations over time
As your children become familiar with learning stations, ask them what they might like included in the existing kits or what their ideas are for new learning station activities.
You don't have to reinvent the wheel every single day of the week, either. As you build activity boxes or develop your learning stations, you can rotate materials. Swapping out supplies or adding a new element can generate a new excitement.
For instance, your child might show up at the science station one day to find binoculars, a bird book, a sketch pad, and colored pencils; another day, there might be a stethoscope, stopwatch, and a data table ready for filling out. If your student is doing a unit on geometry, the math station might include a Spirograph with colored pens and paper.
Another day, the communication station might include a voice or video recorder and a few props (hats, scarves, and a wig or fake mustache, for instance) with a prompt to "Pretend you are a famous person from history being interviewed."
Avoiding Pinterest paralysis
Don't go crazy looking at gorgeous ideas on Pinterest—if you go down that rabbit hole, you might never feel ready to set up your own learning stations. Just carve out a space wherever you can in your home, and get started.
Your ideas will evolve as you and your children gain experience. With a little advance planning, you can boost your child's learning, engagement, self-motivation, and enthusiasm.
Active, engaged learning that encourages students to take ownership of their education—now that sounds like fun!