Do you ever scroll through Instagram or Pinterest and see perfectly perfect homeschool rooms? The huge farm tables, the meticulous supplies (color coordinated, of course), built in book shelves with alphabetized books, a delightful desk for planning and a lovely set of double doors to close off everything at the end of the day.
Sigh.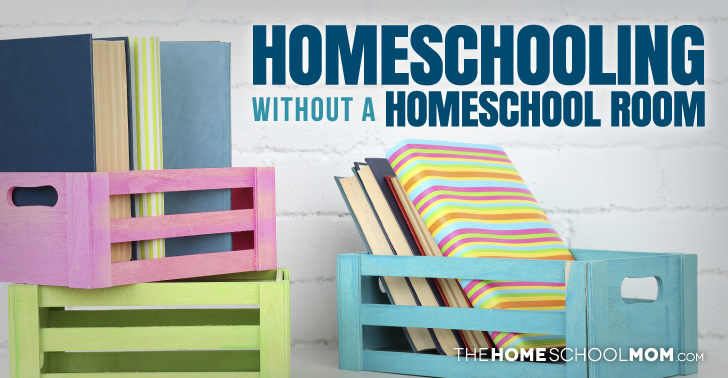 Perhaps you're new to homeschooling, or maybe you've been at this life for a few years. You see the images of lovely homeschool room ideas, and you feel frustrated because you don't have a dedicated space just for homeschooling.
You're not alone! Most homeschoolers do not have homeschooling rooms in their homes. It's true! And those who do—well—they often end up just using them to store homeschool supplies or play games. That was me a few years ago. We had a larger house and converted our dining room into a school room. We did use it at first—but most days we ended up on the floor, at the kitchen table, outside, or in the living room.
Over the course of two years, we moved two times and I had to be creative with how we set up our homeschool room in a small space—especially as my kids got older. Their needs changed, and our homeschooling days did too.
Truth? Homeschool rooms are unnecessary, because learning happens anywhere and everywhere!
Let's step back and examine why we're homeschooling. Sure, we all might have a variety of reasons, but I am willing to bet that flexibility and a desire to cultivate love of learning are somewhere on your list. The great thing about learning at home is that we do not have to replicate traditional school. We can get creative with our spaces—no matter how big or small. We can make our homes work for our family right now for our season of life, even if that means work-arounds because we don't have a dedicated homeschool room.
If you have babies and toddlers and you're homeschooling elementary age children, then you will need to be mindful of where you leave art supplies and LEGO™ bricks. Perhaps you're homeschooling tweens and teens and they are working more independently. You might need to consider desks in their rooms, quiet spaces for them to sit with their laptops or devices, a reading nook, and places for science experiments or art projects.
Don't cling to an image in your mind of what you think you need for homeschooling to "work" in your home. Take the time to walk your home, talk to your kids, write down your thoughts, and, if you must, go online for some inspiration—just don't pin 423 photos. Promise me.
You can create a home for learning and connection—without a homeschool room

Once you have some ideas on where you'd like to set up spaces in your home for learning, projects, etc., spend some time prepping: Get rid of old curriculum, books, the science project that's been sitting on the shelf since last summer, the crafting supplies that somehow migrated into the bathroom (please tell me this isn't just at my home), and anything that is just taking up precious real estate.
After purging, get organized:
If you tend to settle in the kitchen for projects and lessons, then find a cabinet or book shelf that is in the kitchen or close by so that everything is right at your fingertips. Yes, this might mean the Christmas china has to be stored somewhere else. It will also mean embracing that your kitchen is also your homeschool space for a large portion of your day. Yup! If you fight this, you will be miserable and always wishing you had another room. By prepping your kitchen area and getting into the mindset that this is where homeschool happens, you'll be great! When you're done for the day, have everyone collect their projects, books and notebooks and put them away.
In our home, I have a tall bookcase in the kitchen. Each child has a vertical magazine holder. They place their work in their own sections and I scoop up the art supplies and toss them in our caddy. I turned an old entertainment center into a homeschool storage space and it sits in our kitchen next to the book case. I do not have a separate dining room, so if you come to visit, you'll see that our homeschool is just part of my decor.
Use bookshelves or cubbies to organize books, projects, art supplies, science kits, or whatever else your family is using. Grab a label maker or a Scotch tape and a permanent marker and label the shelves so that the kids know where to put things when they're done. I usually go through our shelves two to three times a year and take out things we haven't used and add in new things to keep things fresh. This helps keep items from piling up too. My younger son loves organizing and cleaning, so I usually hand this job off to him in exchange for a pack of football cards. It's a win-win situation.
I would be remiss if I didn't include a shout-out to my beloved metal rolling carts. These three-tiered wonders are probably my favorite way to turn any space into a learning space. You can line up books, art supplies, a microscope, snacks, a tablet—whatever you need! It's all on wheels! Roll it to the kitchen table for art. Roll it to the family room and grab your read-aloud book and Lego bricks and have fun. Time for an experiment? Roll it back to the table or outside and get to work. They are space savers! One friend keeps hers in her walk-in pantry so it's out of site when she's not using it. Genius!
Backpacks and crates can work too! My kids all have backpacks and they use them for both outside classes and for when we're on road trips or field trips and they need to pack up some school work. We like to take school work to a local coffee shop or the library. When we were moving, I kept our supplies organized in crates. I could toss them into the car at a moment's notice and be out the door or just even bring a crate up to a bedroom or the deck in a pinch.
What's on your walls?
When I first started homeschooling, I remember looking around and being inspired by the empty walls. Sure, I had framed photos of my babies, but that was it. My kids are very visual. We tacked up a world map, a USA map, and decorated the walls with all kinds of educational posters. My favorite place to hang things up was in the powder room. Math facts and the solar system adorned that space. Take advantage of your captive audience.
Don't be afraid to utilize wall space to display art, projects, posters, maps, timelines, and more. Embrace the homeschooling life full on—even in your decorating choices. Now that my kids are older, we use a series of white boards in the kitchen/dining area. This helps keep us organized and gives my now tweens and teen visual reminders of what's coming that day and that week.
Keeping the home in homeschooling
Your home is a huge part of your homeschooling. Make it a team effort by engaging the whole family in the organizational process. If your kids have access to their supplies, a comfortable place to sit and think and learn and dream, then you're golden.  By making simple adjustments to your space and how you organize your supplies, you will find that there is no place like home—with or without a homeschool room.