This post was originally published as the introduction to an issue of TheHomeSchoolMom newsletter. Sign up here and get access to subscriber exclusive resources.
If you want to liven up homeschool for your older kids as you start the new year, consider whether they might be ready for a mentor. Mentors can be powerful positive influences in the lives of homeschooled teens.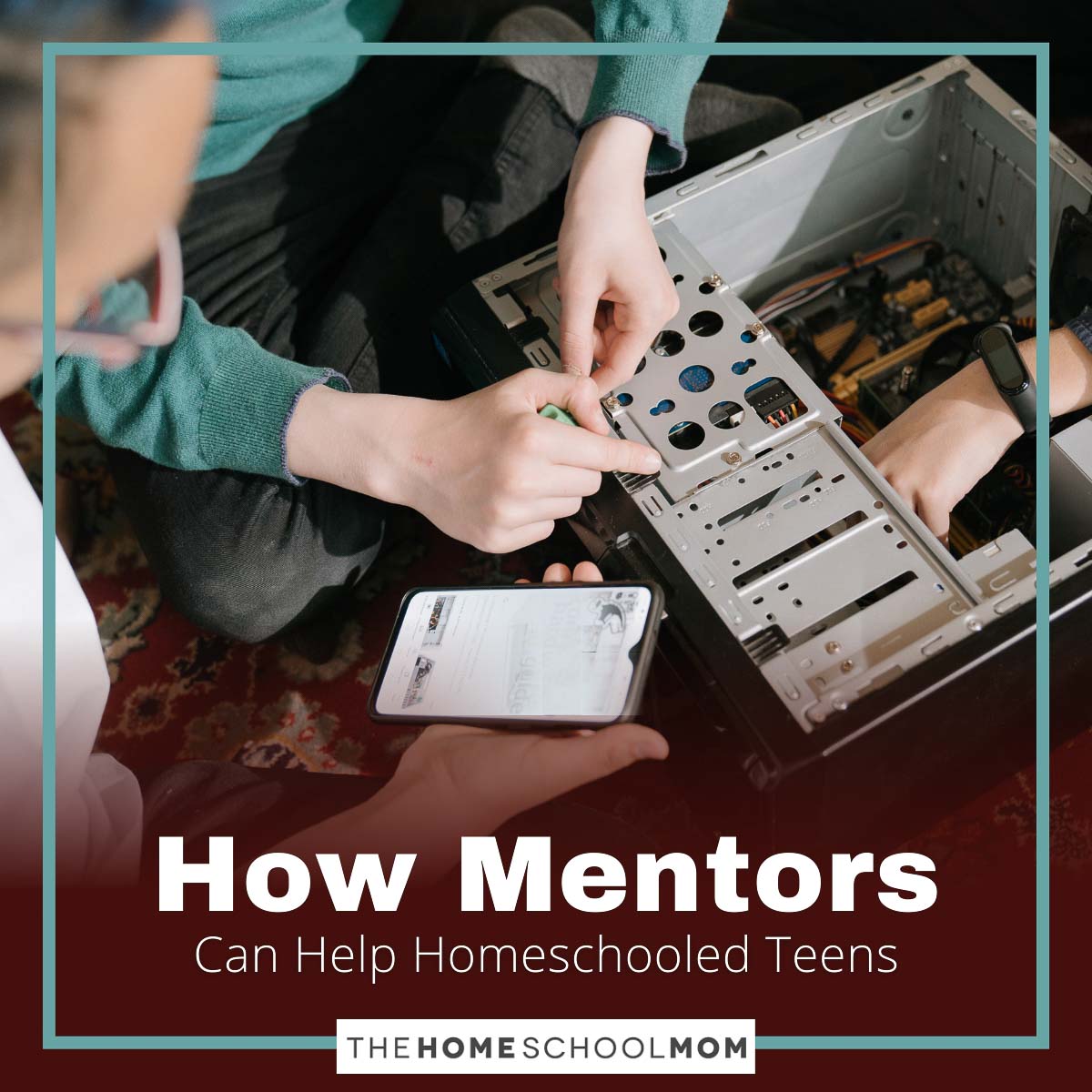 Does your teen have a mentor? Can you be a mentor to a teen in someone else's family?
Here are six ways mentors can help homeschooled teens:
Mentors can help set up and provide opportunities to learn specific skills, including small engine repair, hair styling, animal training, fitness, computer repair, child care and more.
They can help teens network with others who have expertise in a field a teen is interested in.
They can serve as an additional example of a way to live a life and earn a living.
They can be another source of guidance for teens who need a sounding board and adult counsel.
They can help teens expand their circle and transition to more adult responsibilities.
They can provide references for college, scholarship, and employment applications.

My kids grew up with a variety of mentors.
One of my sons spent several days a week at a mom and pop music shop starting around age 12, and the owner took him under his wing. Another built his first computer at a locally-owned computer repair shop, where he traded some of his time answering the phone and sweeping up in exchange for the owner's know-how in building a computer. At various times, my kids found mentors in youth organizations, sports, and co-ops, building years-long relationships while learning life and work skills.
Sometimes mentorships are informal. When younger teens (or even tweens) spend time as mother's helpers in a functional household with younger kids and a caring parent, we may not think they are "getting mentored," yet that may be the effect, exactly!
While the two are not exactly the same, if you're doing "cold calls" to find a skill mentor for your child, you may find people more familiar with the word "apprentice." When I called and visited computer shops in the town we just moved to, I asked if they would be interested in having my son apprentice there. He would shadow the owner, help out, and learn, with no money exchanging hands.
The first four or five places I asked looked at me like I was from Mars, but we finally got to someone who instantly understood and was happy to have help and provide help in a positive, transparent way.
Of course, there are cautions:
You need to make sure that assisting in a shop (if you look for that kind of apprenticeship) doesn't violate labor laws or put your teen in a dangerous situation.
You need to make sure your teen does not get taken advantage of.
You need to make sure your teen is ready for the responsibility and the interaction.
You need to assure yourself of the character of the mentor.
For more formal apprenticeships, I recommend short trial periods that can be renewed if things are going well.
And maybe you are the one who knows how to start a business, plant a garden, test stream water quality, cook, build a website, or tell incredible stories about history. You may be able to mentor a teen who could use that outside evidence and another positive adult influence.
Older kids are often ready for something more, and the right mentor might be able to provide the appropriate relationship and experience for the coming school year!