(All Amazon links in this post are affiliate links)
A library of field guides is an important resource for homeschooling families, and with spring just around the corner, it's a great time to make sure you have what you need on hand to help with identification of birds, trees, insects, spiders, snakes, turtles, frogs, toads, and wildflowers.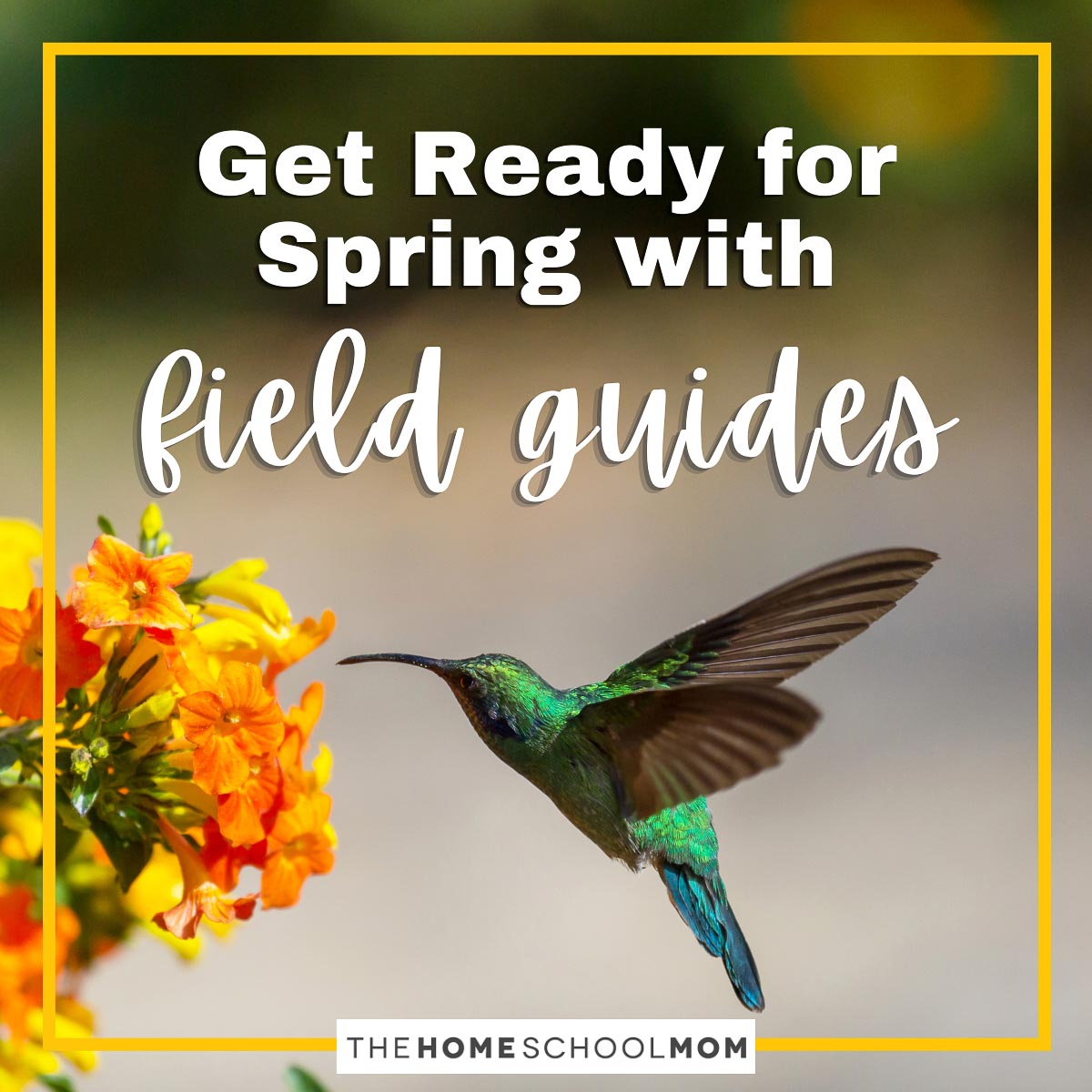 Jump to:
What's a Field Guide?
A field guide is a book that provides descriptions and pictures of plants and animals so they can easily be identified when they're found in nature. Much of this information is on the Internet today, but it's often handier to have paperback books.
They are convenient for stashing in a backpack and easier to refer to on bright days when you're trying to examine a creature in its natural habitat. Most field guides are also well-indexed, which is still sometimes not the case with online resources.
Field guides are frequently geographically specific, such as our copy of Amphibians and Reptiles of the Carolinas and Virginia (Bernard Martof) and our Birds of North America: A Guide To Field Identification (Golden Field Guide Series) (Chandler S. Robbins).
Field guides may also cover certain groups of species, such as our copies of Stokes Beginner's Guide to Shorebirds (Donald and Lillian Stokes) and Stokes Beginner's Guide to Dragonflies (Blair Nikula).
How Do I Build a Field Guide Library?
Field guides are frequently available at yard sales and thrift shops, as well as in book stores and online retailers.
Grandparents are frequently glad to add field guides to their grandchildren's library of reference books because there is a sense that this kind of book will have a long-term presence in the home.
Keep a list of field guides you're looking for—it can be quite the treasure hunt at library book sales and even on Freecycle email lists.
Which field guides you want will depend on your family's interests and what you are likely to come across in your own backyard and on your nature walks. When we lived in Mississippi, we became fascinated with the huge variety of fungi we saw on our walks. Other families may want field guides for seashells or mammals.
Make sure you acquire field guides that are right for your part of the world, or your kids will be frustrated.
We've lived in various places in the United States, and we definitely found we needed some different resources in different states, especially for identifying snakes and wildflowers.
I've worried less about reading level. We have some advanced books meant for adults, but because they are heavily illustrated, my children had no trouble using them when they were young, with just a little help from me.
On the other hand, your kids might also enjoy some of the field guides designed for children, such as Usborne Hotshots Creepy Crawlies (Mandy Ross, ed.), because they have explanatory text written for younger readers.
One caution, though--some of the books for children group similar species together, and children who are detail-oriented may have a hard time if they can't find a picture that depicts the exact spider they are looking at.
Some commonly loved field guides are Golden Field Guides, Peterson Field Guides, and National Audubon Society Field Guides.
How Can We Use Field Guides?
Our field guides have always been among the most accessible books in our house.
Tips for making sure your field guides are frequently-used:
Make them accessible. Rather than shelving them with other books, keep them stacked with titles showing on a low bookshelf or table near the back door.
Keep magnifying glasses nearby. Keep enough hand lenses right next to the books so that each child can grab a magnifying glass to go look at a beetle or a caterpillar in the yard.
Add binoculars to the area. Keep a pair or 3 of binoculars next to your stack of field guides, making it easy for us to get a close-up look of birds visiting your feeder.
Record sightings. Keep a "life list" of the bird species you have seen, and keep notes in the pages of the field guides when we identify a particular species of spider or insect.
Branch out beyond brief notes. Encourage artistically recording your sitings through drawings in a nature journal (great for those who use a Charlotte Mason approach), photography (great for recording things like spiders in their webs and crayfish in creeks), or recording a child giving a detailed description of the observed plant or animal.
I encouraged the kids to use the books independently, but I also took initiative to call the kids around if one of us stumbled on an interesting creature.
We frequently walked to the creek with a backpack full of sandwiches, water, and a couple of our field guides.
Why Use Field Guides?
Using field guides promotes:
Attention to detail. Children learn to pay attention to detail as they use field guides to look up the plants and animals they encounter.
Is there a single white stripe or a double white stripe from the sparrow's eye? Is the snake's head diamond-shaped? Does the turtle have stripes or spots?
Appreciation for nature. This careful observation leads to a general appreciation of nature, a reverence for living things. In addition to inspiring wonder, this experience can also encourage children to become good stewards of the environment, since they understand that litter and pollution may be harmful to the plants and animals they have learned about.
Interest in species classification, habitats, and characteristics. Observation and identification lead to interest in how species are classified, how plants and animals live in specific habitats, and characteristics of different types of animals. This is a firm foundation for the study of biology.
For many young children, following up their questions and interests with trips to the library to get related books can serve as part of a most effective science curriculum.
Children also like this activity because it uses real books that adults use, too.
A habit of life-long learning. If you model curiosity about living things and use field guides to identify and learn more about insects, plants, trees, and frogs, for example, you are planting a seed for life-long learning.
Appreciation for books as reference material.  Children develop ongoing first-hand experience with turning to books for authoritative information. Over time, they will learn to use the indexes, the range maps that show where different species live, and the pictures not only of the trees themselves — but trees' leaves, seeds, and fruit.
An unexpected thing that happened to our family is that in several places where we've lived, we ended up becoming the "go-to family" if a neighbor sighted an unusual snake or bird.
Obviously, we were careful not to project expertise we did not have, but we were more than willing to look through our field guides with our friends in order to help them identify just what kind of snake was in the woodpile or what kind of dragonfly was buzzing their pond. Our kids learned that having learning resources on hand was also a way to be a resource for others.
Yes, frequently we could follow up on the Internet to flesh out even more information about various critters, which was a great way to demonstrate different approaches to research.
Starry, Starry Night
For good measure, be sure to add a guide to stars, planets, and constellations to your stack of field guides.
I can't say enough good things about H.A. Rey's two books for kids, The Stars and Find the Constellations — you'll recognize the author as the writer and illustrator of the Curious George books.
We're looking forward to spring nights now, and there is nothing better than enjoying sleeping bags, flashlights, and star books with your children under the night sky.
Jeanne Faulconer appreciates the example her own mother set in using field guides at home when Jeanne was growing up.