This post was originally published as the introduction to an issue of TheHomeSchoolMom newsletter.
Sign up here (and get access to subscriber-exclusive printables!)
Are you required to submit an end-of-year homeschool progress report? Many homeschoolers have to meet state, school division, or charter school requirements at the end of the academic year. Plan now to save yourself turmoil and make that process easier. Ask yourself these questions:
What is the end-of-year requirement for homeschoolers where I live?
What are the stakes?
Who has information about meeting the requirements when kids are not homeschooling in a structured way?
What are my evidence of progress choices?
What do I need to save or keep?
What appointments will I need to make, if any?
What will it cost me?
How should I prepare my kid?
Keep reading for insight into how the answers to these questions will help you prepare now for homeschool end-of-year requirements.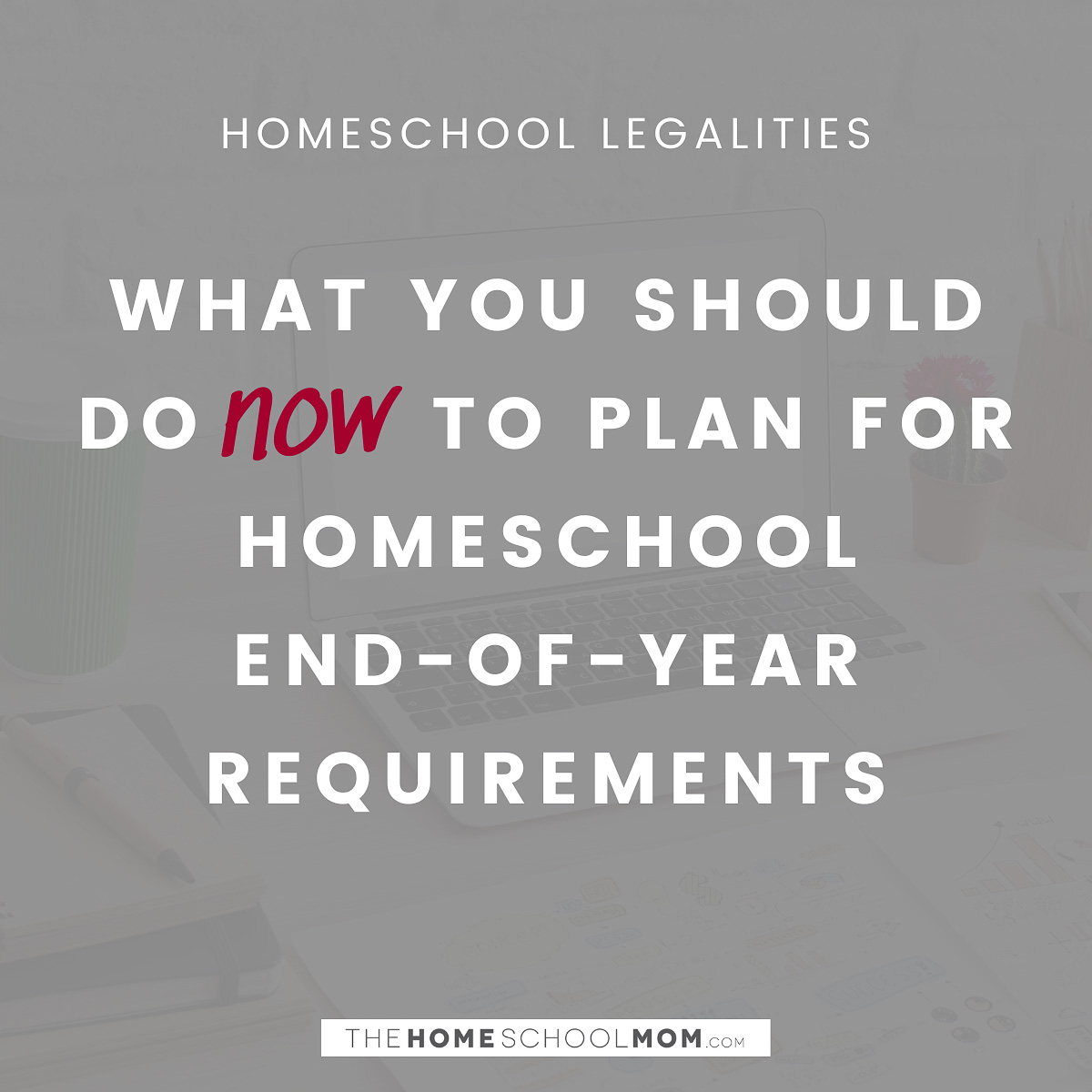 Jump to:
📝  What are the end of year requirements?
Read your state law and/or charter school regulations. Most states have at least one statewide homeschool organization that links to the law and explains how homeschoolers meet end-of-year requirements, if there are any.
Some states require testing. Some states require a portfolio review. Some require a meeting with an evaluator. Some states do not have any requirement (and, by the way, there is no evidence that homeschoolers "do better" if they live in states with more stringent requirements, but that's another story).
Remember that if your child is enrolled in a public charter school but is learning at home, you will have to follow rules for the charter school which are likely different from homeschoolers who aren't enrolled in a charter school.
Important for 2020 & 2021: Some states waived end-of-year progress reporting requirements in 2020 because of the unusual situation with shut-downs and social distancing. Parents should keep up with any announcements from their local authorities regarding possible changes to reporting requirements for 2021.
👉🏻   Find out if you have an end-of-year homeschooling requirement and what it is.
🛑  What are the stakes surrounding reporting?
In one state, I had to test my kids but didn't have to submit the scores anywhere. This was a low-stakes situation.
In another state, I had to submit scores to my local school division and could be required to send my kids to school if I didn't. If they failed to meet a certain score, our homeschool could be put on a probation prescribed by the school division. This was a higher-stakes situation.
There are often alternatives that take the pressure off. For example, in some states, if your child doesn't meet a test score requirement, you can meet with an evaluator. Don't panic about the possibility of not meeting an end-of-year requirement—get information.
👉🏻   In your state, find out what the penalties are for not complying. What happens if your child doesn't meet some prescribed score or standard? How do homeschooling families handle this situation?
🎨  How should you meet requirements when kids are not homeschooling in a structured or "typical" way?
You might have kids who were behind in school, kids with academic challenges, kids who need accommodations, gifted kids, or kids who homeschool without a curriculum as interest-based learners or unschoolers.
How do these kids meet the requirements in your state? Homeschool groups, state organizations, social media groups, and individual families have kids like yours. Start researching now so you're not in a lurch ten days before the deadline in the spring or summer.
👉🏻   Read state website articles, network on Facebook, and find parents who have been in your situation. Research how families homeschooling in an atypical way meet your state's requirements.
✍️  What are the evidence of progress choices?
Some states have three or four different but equally acceptable ways to meet requirements, possibly including test scores, review by an "umbrella school," grades from a homeschool co-op, submission of a portfolio, or meeting with an evaluator.
Some choices expand over time—teens may use outside evidence of progress such as SAT or ACT scores and grades from dual enrollment at community college.
In some states, homeschool parents acquire the test from the testing company and the kids take it at home, or parents may have the choice to have kids test at a school.
There are pros and cons to each method, so consult your homeschool org and talk to experienced parents.
And again, in many states, there is no requirement for the end of the year.
👉🏻   Know the possibilities in your state and decide which best meets the needs of your family.
📥  What should you keep?
If you meet with an evaluator or have a portfolio review, ask now for their guidelines of what to include so you're not in a scramble later.
It's common to need samples from the beginning, middle, and end of the year. Will your evaluator look at non-curricular materials, such as letters to Granny?
If yes, make copies of these items while you still have access to them.
Will your evaluator look at reading lists?
Can your portfolio include photos?
Start taking photos of experiments and nature walks, and find out how you'll be expected to share them.
Many evaluators prefer digital portfolios these days, which could be as simple as a private Instagram account or a slide show that works on an iPad or laptop.
Ask your evaluator about their preferred format.
Keep copies of everything you submit.
Keep a copy of the test scores, evaluator letters, or anything for which you send in the original. That way you have a backup.
Do you submit evidence of progress by postal mail?
If you mail things via postal mail, pay the bit extra for a delivery receipt. If they say they did not receive it, you can show you met your obligation.
👉🏻   Determine which items are needed based on the above considerations and plan now to compile them throughout the year. Keep copies of everything, and save delivery receipts.
📅  Do you need an appointment, and is there a time and cost commitment?
You may need to make an appointment, order a test, or make a reservation for testing or evaluation. In my state, popular evaluators book all their appointments early.
Yes, some tests accepted by some school divisions in some states are offered online and can be done at home, and you can get immediate scores. Please don't wait until the last minute to find out that this won't meet the requirements where you live!
👉🏻   Find out when you can make your appointment or order your test. Put a tickler in your calendar to remind you when it's coming up. Inquire about cost, if any, so it's in your budget for that month.
🧒🏽  How should you prepare your child?
You know your child best, so your answers to the following considerations will help you decide how to prepare your child:
Do they need a long lead-up to get used to the idea?
Do they need to meet with an evaluator early so they are familiar before the "real" evaluation date?
Are they "no big deal" about most stuff so you can just go along matter-of-factly about this, too?
If they will test at a school or office, will visiting ahead of time reduce or amp up any nervousness?
Do they know how to color in bubbles for a "bubble test?"
Will your child have to take "grade-level tests" that are based on state standards your child is expected to meet by having covered certain content?
Or is the test an "achievement test" where general knowledge and skills count, but "teaching to the test" is discouraged and actually doesn't help much?
Did your child have accommodations in school because of an IEP? You'll need to ask the test provider whether accommodations can be used for this test.
For many kids, meeting with an evaluator is a fun show and tell, and doing a standardized test is no biggie. For others, warming up to the idea or covering specific content ahead of time creates a better experience. Either way, it's fun to pair the experience with a celebration after, so plan to go out for a milkshake or put on the dance music in the kitchen!
👉🏻   Use the answers to the questions above to determine how to prepare your child. On the day of the evaluation or testing, plan to mark the experience with a small celebration.
Spend the time now looking into "proof of progress" or "evidence of progress" or "end of year" requirements.
Your Spring Homeschool Self will thank your Fall Homeschool Self!