New homeschoolers are bombarded with information from which curriculum to use (see #11) to how to train their children (see #3). Homeschoolers are a wonderful group for crowd-sourcing information, but not all of the information available online or from other homeschoolers is helpful, useful, or productive.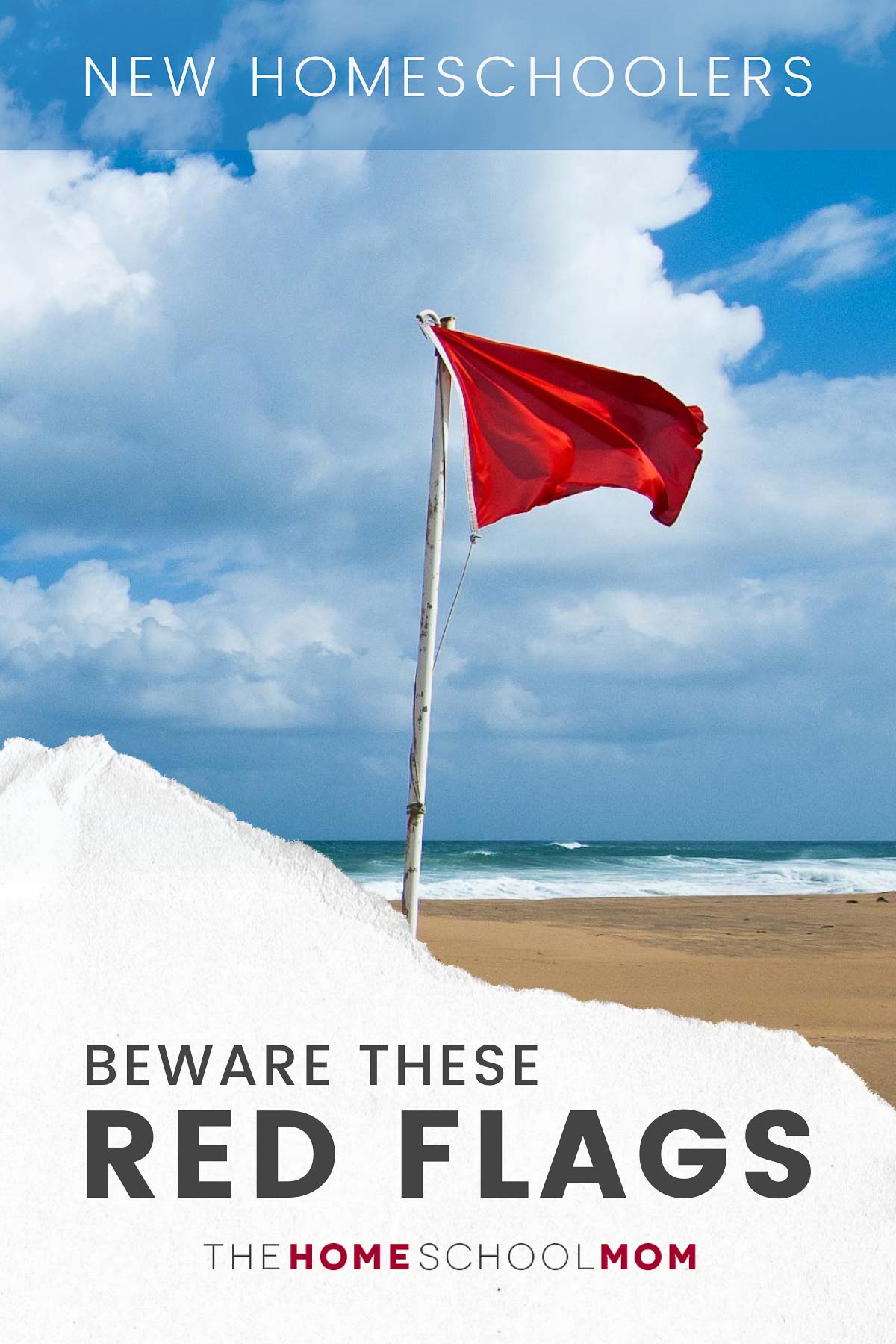 New homeschoolers are wise to beware the following:
Beware people who tell you exactly how you should homeschool. Find homeschooling friends and mentors who have experience, suggestions, and resource ideas, but who encourage you to find what works for your family.
Beware homeschooling organizations and homeschooling leaders who not only tell you how to homeschool, but how to live, what your religious beliefs should be, what your position on non-homeschooling issues should be, and how you should vote. Double beware if they want you to pay them to tell you what to think.
Beware books or resources which emphasize the importance of controlling children above all other aspects of homeschooling or child-rearing. Absolutely beware those which advocate physical punishments for or absolute control of babies.
Beware books, resources, or people who tell you that children need to be left to their own devices as the only way to learn, that their freedom to make all decisions about all things should always be completely unlimited, and that any guidance or input by parents interferes with children's "natural" growth.
Beware people and resources which lead you to believe that homeschooling will guarantee a desired outcome for your children—be that educational, spiritual, economic, or vocational. There is no homeschool guarantee.
Beware promises by curriculum companies and virtual education establishments. The truth is, real learning will take place if your child engages with the materials, and less or no learning will take place as a result of the curriculum if your child doesn't engage with the materials. (See "no homeschool guarantee" above.)
Beware homeschooling groups, organizations, or activities that suck all the life out of you with little return. Find the activities that work well for you and your family, and volunteer your time in ways that make you feel fulfilled and/or benefit your children. On the other hand, don't be one of those people who is plenty willing to take what other homeschoolers are offering, but never bothers to offer an activity or service of your own.
Beware thinking "other people will do it." Yes—this one seems opposite of the one above—but it's worth mentioning that, for example, homeschooling freedoms can be at risk if everyone thinks "other homeschoolers" will volunteer to lobby the legislature, call a representative, or answer a reporter's questions. If you have those skills and it turns you on to use them, please don't think other people will do it. Homeschooling organizations across the country have vital positions unfilled because people think "other people will do it."
Beware reality shows and sensational media "opportunities." If you put yourself in a position to represent homeschooling on an outrageous television, radio, or internet show, homeschooling will surely be depicted as outrageous. Further, if you're part of the audience for such reality shows on homeschooling, beware that what they are showing is not reality. Contact your statewide homeschool organization for information about how to best represent homeschooling in media interviews.
Beware believing or repeating the "good test scores" stereotype about homeschooled children. Frankly, many of the studies are flawed due to their biased samples or because they are not adjusted for other variables that contribute to student success. Real academic researchers have known this for years.And there are two other things: One is—as homeschooling becomes more popular and represents the general population more, we can expect test scores to become more representative of the general population as well.The second thing is—do we really want the general public focused on high test scores as an indicator of why people should homeschool? Don't kids with average and low test scores also deserve homeschooling, and perhaps stand to benefit more?

And if you need a third reason—the testing thing is out of hand in schools, driving many people to homeschool in search of a more holistic approach to education. Let's not go down any further down the "testing is everything" road in homeschooling.

Beware spending a ton of money on curriculum before you've figured out your approach to homeschooling. Seasoned homeschoolers keep saying this; new homeschoolers frequently keep ignoring it, only to come back preaching it to new homeschoolers in a couple of years. Really, I know it seems like the right curriculum is the most important thing. But really, it isn't.
Beware the homeschool insider's joke that socialization "is not a problem—we've got too much of it." In general, it's really true that elementary-age homeschoolers in or near large towns and cities have more than enough social opportunities. But homeschoolers in rural areas, homeschooling families with an only child, homeschoolers of high school age in smaller communities, homeschoolers with children who have special needs, and homeschoolers who don't fit their local profile of the dominant "type" of homeschooler, all may have challenges in finding friends and community for their families.
Beware getting your homeschooling information from your local school authorities. In general, they are experts on education at public school, and even when they intend to be helpful, they are often not well-versed in homeschool laws, homeschool resources, or higher education opportunities for homeschool grads. Join a statewide homeschool organization, research homeschooling questions online, and network with local homeschoolers in order to get accurate information.
Beware assuming that free online "homeschool" program offered through public school divisions is homeschooling as defined by law in your state. In most states, it's not homeschooling; it's "virtual public school," and your kids will be required to meet public school requirements including testing, completion of assignments, attendance, and seat time. While this might be a great option for your family, it does not offer the flexibility or freedom of independent homeschooling.
Homeschooling is truly a great step to embark on with your children, but there are a few caveats that may keep you out of unexpectedly deep water. "Beware" is not meant to create fear, but only to encourage you to "take heed" about where the shoals are. Why hit the rocks when we have the opportunity to learn from those who are a few years ahead of us?