Setting the Record Straight
It's no secret that our family has taken advantage of a variety of school situations or that I am a fan of supporting parents no matter what their educational choice, but homeschooling has been the choice with the greatest flexibility and the one that I prefer.
Despite being an ardent supporter of home education, I find myself consistently feeling obligated to set the record straight when it comes to claims of the vast superiority of homeschoolers. I've noticed a tendency of homeschool advocates commenting online to be elitist.
I'm not sure many of the commenters are even homeschoolers themselves - I get the sense that they are just politically opposed to public schools - but regardless, it's not helpful or accurate. If they are homeschoolers, I'm not sure if it is a defense mechanism, a lack of knowledge, or isolation from public school families, but I find it to be disingenuous and divisive.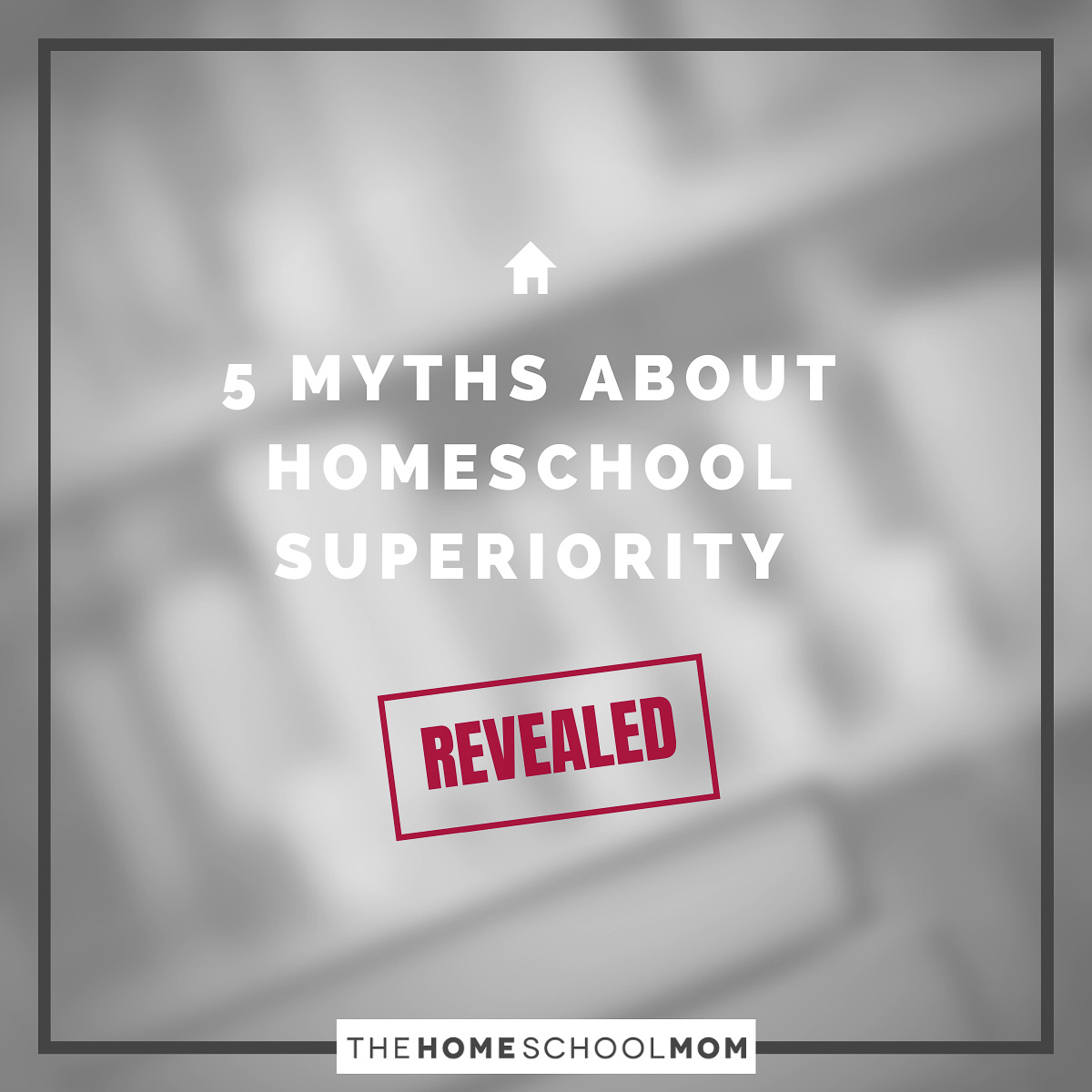 I spend a lot of time following homeschool blogs, Facebook pages, and articles related to homeschooling, and I have seen several myths about homeschoolers repeatedly posted that are an inaccurate representation of reality.
It's time for homeschoolers to stand up and set the record straight. I've been homeschooling my daughters off and on for 16 years, and we know lots of homeschooling families both in person and online. We also know lots of families that have chosen public and private schools. In my experience, these 5 claims are not supported by the facts.
Myths About the Superiority of Homeschoolers
Myth #1: Homeschoolers perform better than public school students academically.
Homeschoolers, like public schoolers, are all over the map academically. There have been studies done and debunked (usually due to poor methodology) about the academic performance of homeschoolers. It is almost impossible to get a random representative sample of homeschoolers for a statistically valid study, so even if homeschoolers did perform better we wouldn't know it.
Some homeschoolers perform better than they would have in an institutional setting because they get one on one attention, are allowed to fidget and move while learning instead of having to take medication, or do not have to deal with labels.
Some children thrive in a classroom, are academically competitive, and benefit from positive academic "peer pressure".
Some homeschoolers would benefit from the rich academic opportunities available in public and private schools.
Some homeschoolers were brought home from schools because they were pressured to perform before they were at a stage of academic readiness.
There are as many environmental and personal factors that affect the performance of homeschoolers as there are homeschoolers, and a study that accurately depicts homeschooler performance does not exist.
Reality: No one really knows how homeschoolers compare academically to their peers in public school when all factors are taken into consideration. 
Myth #2: Homeschoolers are prodigies musically/athletically/intellectually.
This one is so outrageous that it is hard for me to even present an argument, but I still see comments from people suggesting that homeschoolers who win geography and spelling bees or make it into pro sports are representative of all homeschoolers. That is as ludicrous as suggesting that someone in public school is representative of all public schoolers.
Yes, there are homeschoolers that participate in and even win spelling and geography bees. There are also public schoolers who do the same.
And just like with public schoolers, the homeschoolers doing so represent a small minority of the whole. Whether it is athletics, music, art, theater, or academics, homeschoolers cover a broad range of abilities.
And you know what? It's okay to be "just okay."
Reality: The homeschoolers in the news do not represent all homeschoolers.
Myth #3: Homeschoolers are better socialized than kids in public school.
I was guilty of pushing this myth when I first started homeschooling, but it was many years ago and I've matured.
Socialization is defined as "to make social; especially : to fit or train for a social environment ... to adapt to social needs or uses".
That covers a lot of ground, ranging from fitting in with your peers (which tends to be how critics define it) to acting appropriately for a situation (which tends to be how homeschool parents define it). Neither is exclusively true, but both together paint a picture that is somewhat more complete.
As I've posted before, most people would say that they want their children to learn to function in a group setting, to learn respect for others, and to have the ability to get along with people of different ages, races, genders, and socioeconomic groups. Neither public school nor homeschooling is the source of those things.
Instead, it is about how you parent and with whom your child spends time. Are there some homeschoolers who are socially awkward? Are there some public schoolers who are socially awkward? The answer to both is yes.
Socialization will continue to be a point of attack by critics and a defense for advocates, but the truth is somewhere in the middle. The personality of the child, the expectations of the adults in the child's life, and the definition of socialization all affect the determination of whether a child is "well-socialized".
Too many people like to point to peer segregation and high student-to-teacher ratios in public schools and make the assumption that it necessarily means that homeschoolers are better socialized. When my daughter spent a year in public school in elementary school, as a whole the children in her class were much better behaved and respectful than the homeschoolers in our local "nature days" classes. That is just one anecdote, but it shows that assumptions are a bad idea.
Reality: Just like public schoolers, some homeschoolers are "well-socialized" and others are not.
Myth #4: Homeschoolers are more successful than public schoolers.
While it is true that many homeschoolers start earning college credit during high school or start their own businesses as teens, those experiences are not exclusive to homeschoolers. I have seen homeschoolers and public schoolers both that go on to be successful, and I've seen homeschoolers and public schoolers both that can't find jobs that pay a living wage.
The drive of the student, the support of the parents, the opportunities the student has during the school years, and the opportunities available to them as adults all combine to create unique outcomes for each individual.
There are homeschool parents and public school parents who are giving their kids a great start and working hard to give them many and varied opportunities, and there are homeschool parents ("But those aren't real homeschoolers!") and public school parents that hinder their children's success in a variety of ways. Homeschooling can rescue some kids from what would have been sure failure in the public school system in certain cases, but in other cases public schooling might be the place where a child thrives.
Reality: Encouragement and support from parents are far more likely to determine whether a child will succeed than type of schooling.
Myth #5: Homeschooling guarantees that your kids will <insert ideology here>.
Whether the desired result is academic, political, religious, or social, there is no homeschool guarantee. An honest and respectful relationship with your children, whether they are homeschooled or in public/private school, is the best way to instill values and help your children work toward their goals. Homeschooling is not a magic pill that produces guaranteed results.
Reality: There are no guarantees for homeschoolers or anyone else.
Homeschooled kids as a whole are not any more socialized, academic, intellectual, athletic, musical, or entrepreneurial than their public and private schooled peers of the same socio-economic status with involved parents.
Setting the standard that they are is harmful because it sends the message to our homeschooled children (who are paying a lot more attention to our attitudes than we often realize) that they have something to prove. When kids believe that they have something to prove and they don't meet that standard, they believe that they have somehow failed. Our kids have nothing to prove - let's stop sounding like they do.