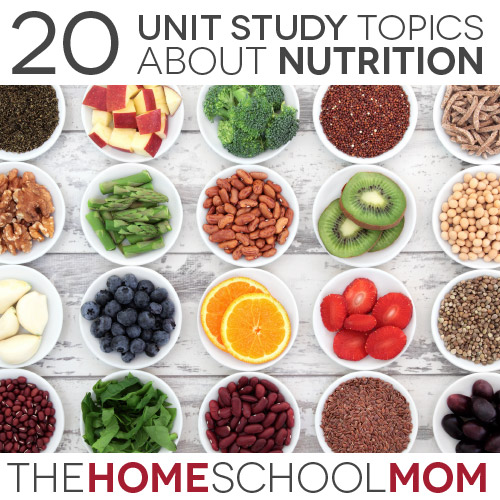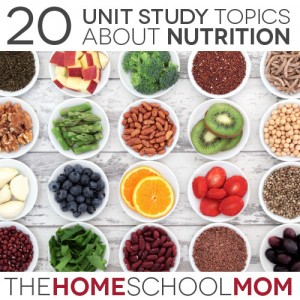 Nutrition is an ideal homeschooling topic for the 10 - 14 year olds in your family or homeschool co-op. These middle years are an excellent time to go into more depth about what we eat and how it affects our health and growth. Tweens and early teens are especially interested in the changes brought by adolescence, and nutrition is a "safe" topic where kids can think about how their  current choices affect their future.
When my oldest boys (now graduated) were young, the co-op we were in did a nutrition unit based on the topics in the book What Are We Feeding Our Kids? by Michael Jacobson. You might choose other books, but it helped us to have the chapter titles and information to think of topics to cover.
My twenty favorite topics for a nutrition unit study for middle schoolers include:
Fast food. How is it produced? How does its nutrition compare to home cooked meals? What is the role of fast food in our economy? How does our lifestyle contribute to the proliferation of fast food eating?
Food advertising. How are our eating choices influenced by ads on television and the internet?
School lunches. How do schools decide what to serve children? Who influences the content of school lunches?
The nutrients we need. What exactly does a person need each day in protein, vitamins, minerals, water, fat, and carbohydrates? When do we need to supplement with vitamins? Is a daily vitamin a good idea for "insurance"? What would the ideal diet look like for a growing teen compared to a toddler or an adult? How does our diet affect the way our bodies work?
Vegetarianism. Why do some people choose to be vegetarian? What are differences between a vegan diet and other vegetarian diets? How do vegetarians get enough protein and eat healthfully? What are some easy-to-prepare vegan and vegetarian meals?
Food production. How does food production affect the environment? Why do some countries have chronic food shortages? How is food produced differently by family farms and factory farms? What foods can we produce at home?
Organic, natural, and genetically modified foods. What do these designations mean? Does it make a difference if we eat them? How does their production affect the environment?
Food labels. How do we interpret the information on a food label? How could food labels be improved to give more useful information? How has food labeling changed over the years?
Food recalls. What are the common reasons that food has been recalled because of health and safety risks? How do you determine if food in your refrigerator, freezer, or pantry is part of a recall? What are the laws and regulations governing food processing?
Cooking and preserving. How do I prepare healthy food that tastes good? How do I store it safely? How do I make jelly and pickles?
Foraging and hunting. Are there natural foods that I can gather and eat in our locale? Is hunting animals for food common in our area?
Local foods. What is the "locavore" movement? Does my area have harvest boxes and farmers markets? Does the farmer market insure food is really local?
Health, weight management, exercise. What is a calorie? How are food intake and exercise inter-related? What is the philosophy behind different weight loss diets, such as Atkins and Weight Watchers? What contributes to obesity? What health-related problems are associated with being overweight?
Disordered eating. What are anorexia and bulimia? How does body image relate to disordered eating? What are the social pressures around body image (magazine and internet advertising, clothing models, film)? What should I do if I suspect a friend or family member is showing signs of disordered eating? If I think I need to lose or gain weight, what should I do?
Treats, candy, and desserts. What is the role of sweets in our diets? What happens to our bodies when we eat foods with a lot of sugar and fat? Should we avoid all desserts or eat them in moderation? Are there desserts with unprocessed foods that are healthier?
Food additives. What is the history and development of artificial sweeteners, modified fats, preservatives, and colors found in processed foods? Do these pose a risk to us? Why do food companies add them? Are they legal in all countries? Have regulations changed?
Breastfeeding. How does breastfeeding help a baby get off to a good start? What are the advantages for the mother? If breastfeeding is difficult, where should parents turn for information? How long should a baby breastfeed?
Food allergies and sensitivities. What are common food allergens? Does anyone in our family or group have allergies to nuts, gluten intolerance, or sensitivity to dairy foods? How can we enjoy meals together with people who may have limitations on what they can eat?
International and cultural considerations. How do people in different cultures and countries eat differently? How did their history and geography shape their diets? How healthy are the diets in other countries? What happens as countries "westernize" their diets when they become more developed? What is the importance of food preparation and family meals in other countries? How do inadequate diets in some countries affect children's growth and people's lifespans?
Food and money. How much of our family's budget goes for food eaten at home or eaten at restaurants? How do food producers make money with "value added" products? Is it cheaper to eat food prepared at home? Why do food prices sometimes change? What is the history of government and non-profit programs to feed people who do not have the money for adequate nutrition? What does "food insecurity" mean?
You can build a semester or a full-year study of nutrition, taking one-to-three weeks to cover each of these topics. Today, there are many documentaries about food (preview them first; some include graphic depictions or discussions of factory farming and meat processing; others are clearly not children's films for other reasons).
There are also wonderful field trip opportunities -- farmers markets, food co-ops, organic farms, natural food stores, mainstream grocery stores, beekeepers, restaurants with an international or specialty menu, and pick-your-own fruit and vegetable farms.
You can also have guest speakers. A breastfeeding mom can responsively nurse her baby as she talks about why it is good for her little one. A local chef or cooking teacher might talk about making foods from scratch. A farmer can talk about the challenges he or she faces getting high quality food to the market.
There are also many hands-on opportunities if you do a study on nutrition with your co-op or homeschool group (and some of you do these at home as part of daily life already -- consider your kids ahead of the game nutrition-wise!) Kids might work together on a community garden plot. Some might get together to can vegetables or freeze blackberries. Yes, it's true, these jobs can be big if you have a big family garden, but it's also okay to let kids participate on a small scale to understand how food gets into the freezer or can in the first place!
Having a shared meal, conducting some basic menu-planning and cooking classes, bringing food labels in to decipher, and even asking kids to start looking for "food in the news" stories to bring in and discuss -- all these help kids think about nutrition in a discerning way.
And of course, there are opportunities for service. Kids may be able to participate in a food drive for the needy or prepare meals for less able relatives; older kids might be able to volunteer in a soup kitchen, or you may be able to host a food packaging event through an organization such as Stop Hunger Now, which distributes food to the hungry worldwide. Sometimes kids are able to volunteer at a local food co-op, helping to sort orders or be in on deliveries.
Don't miss the opportunity to address nutrition with your kids. If you explore these topics and use some of the hands-on suggestions and field trips, I promise that while they learn about nutrition, they will also learn about science, geography, and social studies, and get a big dose of life skills, consumer skills, and critical thinking skills.