Some of my favorite children's books are also wonderful learning resources you can use instead of curriculum. Among these are the oversize children's classics about mythology by the d'Aulaires.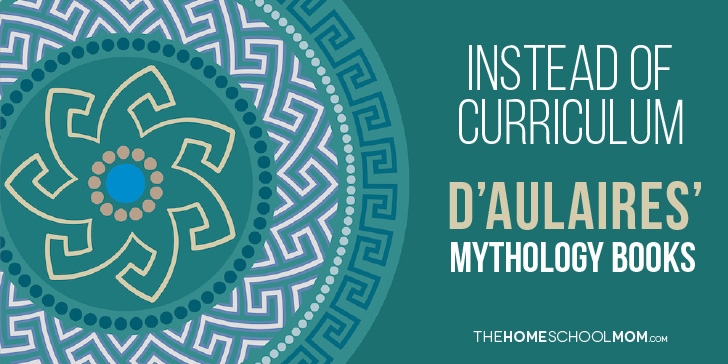 The D'Aulaires' Book of Greek Myths and the D'Aulaires' Book of Norse Myths (affiliate links) delighted all my kids when they were pre-readers through their late elementary years, and I found that the understanding of mythology they learned from these books persisted through their middle school and high school years, when they needed to spot and comprehend literary allusions to mythology.
These two books by Edgar and Ingri d'Aulaire feature charming retellings of culturally important mythological tales as well as colorful illustrations that kids love to imitate in their own drawings.
The book on Greek myths features stories about the god Zeus and his family, including Hera, Hephaestus, Apollo, Artemis, Poseidon, Hades and Aphrodite. There are also stories about the minor gods, nymphs, satyrs, and centaurs -- such as Prometheus, Pandora, Echo, Orpheus, and the Nine Muses. The mortal descendants of Zeus are not left out, with stories about King Midas, Europa, Heracles, and Oedipus.
The book on Norse myths gives us stories about Odin, Thor, and Freya -- note that these words provide the origins of our words for Wednesday (Odin's Day), Thursday (Thor's Day), and Freya (you get it).
There are origin stories about the creation of the world and its people, as well as stories about giants and Yggdrasil, the world tree – an image so strong for me that I even began taking pictures of a signature tree in the pasture next to our hayfield, which I'm collecting on a nascent website that I call Yggdrasil Images.
Like my children were, I became fascinated by the "pourquoi" quality of these stories – how earlier cultures explained natural phenomena without benefit of science.
I recently read a story from Greek Myths to the elementary writers I teach at our homeschooling co-op, and then challenged them to come up with their own pourquoi tales, which they did very well with the d'Aulaire's inspiration.
Now I used these books instead of a packaged curriculum. They were just part of our reading and literary life. But they have been noted by curriculum providers as well, and you will see them recommended in homeschooling curricula (Sonlight and Beautiful Feet, among others) and used as part of multiple approaches to homeschooling, including Waldorf, Charlotte Mason, and Classical homeschooling.
These books are worthy of becoming part of your permanent homeschooling library. I expect I'll keep them long past our youngest son's graduation from homeschooling.