Steiner was therefore not concerned to bring old teachings in new forms, nor to promulgate doctrines of any kind, but to nurture a path of knowledge in freedom, and of love in action, that can meet the deep and pressing needs of our times. These are the ideals, however imperfectly realized, by which those who find in anthroposophy a continuing inspiration for their lives and work seek to be guided. ~ John Davy
The Waldorf homeschooling method was popularized by Rudolf Steiner in Europe in the late 19th and early 20th centuries. The Waldorf approach is a holistic liberal arts education where subjects are not separated from one another and education covers body, mind, and spirit. Textbooks are not used until the children are older and then only infrequently, and moral qualities are subtly emphasized through life. Early education is focused on activities and experiences rather than head learning and in that regard, Waldorf has much in common with the Moore Formula. Discovery is the focus of the middle years and experiences relating to finding one's place in the "real world" are the focus of the upper grades.
Insight into Waldorf homeschooling:
The Steiner Waldorf approach to education emphasizes on the use of practical, artistic and conceptual elements into education. This method of education was established by Rudolf Steiner, the founder of a philosophy called anthrophosophy. The Steiner Waldorf approach is based on the fact that the role of imagination in learning is integral for the development of creative and analytical thinking. This educational approach is aimed at providing an environment where young people can develop free thinking, which can be a basis for developing their own personalities as responsible individuals by fulfilling their destiny. Read More...
Despite the fact that there are over 100 Waldorf schools and kindergartens in the USA (and about 1000 more in countries as diverse as Mexico, Latvia, France, Germany, Israel, India and Egypt), Waldorf education is not well known. Indeed, amongst homeschoolers, those of us who work with Waldorf are almost invisible! My hope is to address this imbalance and to help get the word out about a form of education which others might find beneficial to their children. Read More...
Sometimes we have had a designated nature table, something which is suggested by both the Waldorf-inspired approach and the Montessori-inspired approach to homeschooling, and something many Charlotte Mason homeschoolers implement as well. Other times, we have just gathered seasonal treasures together as a kitchen table centerpiece. A walk in the brisk air, the scavenger hunt for natural objects that are lovely to see and touch and smell and shake, the artful arranging and rearranging of the bounty -- these refresh the senses and clear the cobwebs out of minds. Read More...
For thirty years I have been asking these questions, and more: What is the best method for teaching art? Should art only be taught in art classes? Should art classes be discipline-based, process-based, or choice-based? Do certain ages and stages of aesthetic development correspond particularly well with one form of self-expression or another? I have embraced the search for these answers since I first knew that I wanted to be an artist and work with others at making art. While I was a homeschooling parent using Oak Meadow to teach three of my five children, I searched for the best ... Read More...
For many families, homeschooling provides amazing opportunities to reflect on, reconsider, and restructure daily routines and rhythms around what matters the most. They find themselves opting out of the rush 'n go in favor of a slower-paced, more balanced, fully flavored schedule. Having more TIME is just one awesome by-product: time to slow down and do things your own way, with intention and purpose; time to establish routines that will nourish and nurture you, your children, and your family, your community, restore balance, and provide important flexibility; time to explore and follow your passions, get involved in community projects, try ... Read More...
Spending time in nature can lead to some of the most enjoyable and profound learning experiences. Nature-based learning touches on and connects every academic discipline imaginable while enlivening the senses and invigorating the body. It encourages curiosity and inquiry, exploration and experimentation, while the mind catalogs, analyzes, and compares. Homeschoolers are in a unique position to take full advantage of the learning opportunities that present themselves right outside the door. Families who discover Oak Meadow homeschooling curriculum find curriculum materials that actively support and encourage a close connection with nature. Read More...
Many of us find it easy to dive into new things with gusto. Once we've made the decision to try something new, like homeschooling, we want to learn everything we can so we can be really, really good at it. We make big plans—we'll work our annual trip to the seashore into a unit on oceanography!—and create rosy images of winter days with our children studiously bent over their books at the kitchen table while we bake homemade crackers and upload photos of the latest clever homeschool project to our blog site. Read More...
Some of my favorite children's books are also wonderful learning resources you can use instead of curriculum. Among these are the oversize children's classics about mythology by the d'Aulaires. The D'Aulaires' Book of Greek Myths and the D'Aulaires' Book of Norse Myths delighted all my kids when they were pre-readers through their late elementary years, and I found that the understanding of mythology they learned from these books persisted through their middle school and high school years, when they needed to spot and comprehend literary allusions to mythology. Read More...
Everyone has a comment on the increasing popularity of homeschooling. When I talk to people about homeschooling, they frequently mention the availability of "so much curriculum these days," as if that is the single most important factor in being able to homeschool. Non-homeschoolers, prospective homeschoolers, and new homeschoolers seem surprised that many homeschoolers use learning materials that are not, strictly speaking, part of a homeschool curriculum. There are many reasons why people use other learning resources instead of curriculum. Read More...
How YOU can get involved in real science! There is a new craze hitting the streets, and hopefully this one is here to stay. It's called citizen science. With the advancement of technology, it has become easier and easier for "regular" people to do real science. There are people everywhere interested in contributing to science, especially if it's made easy for them. With citizen science, it is. Not only do citizens collect and report data, but they are becoming valuable helpers in analyzing the vast amount of data that is now available due to increased technology. The best part is ... Read More...
One of the most wonderful things about homeschooling is that it can accommodate the needs of students across the full spectrum of ability. One-to-one attention can encourage and expand on individual strengths, and curriculum can adapt to address individual needs. Read More...
How can I homeschool multiple children? If you've asked this question, you're in good company. Meeting the needs of multiple children is a challenge for any parent. But homeschooling parents needs to be able to do it all day long. How is that possible? Read More...
Rhythms, routines, and rituals help us stay centered and on track as homeschooling parents, and they enable our children to relax and feel secure because they know what to expect each day. A thoughtful routine allows us to focus our energy in one area at a time, knowing that other essential areas will not be neglected. Well-established rhythms help us manage the ebb and flow of homeschooling and free our remaining energy to deal with the unexpected. Read More...
We just started homeschooling about a month ago. Our son is in first grade. We purchased the curriculum (here she named a specific well-known Christian curriculum), but it's not going as well as I had hoped. My son really doesn't like the structure of the program. He's a six-year-old boy who loves to be outside. Any encouragement, advice, resources, wisdom, or thoughts would be appreciated! Thanks so much! Read More...
Sending your child off to school is a big transition. Making the shift to homeschooling when your child has been in school is another big transition. It may take some time to feel settled on the homeschooling path. Here are some things to anticipate as you make your way. Read More...
The Festival of Martinmas is observed by many Waldorf schools and Waldorf-inspired homeschoolers on November 11 each year, and you might enjoy creating a little festival to celebrate with your family or a group of homeschooling friends. Anything that involves children carrying their homemade lanterns is sure to be charming to adults and children alike. Martinmas originated in France in honor of St. Martin, who was, as Wikipedia describes, "known as friend of the children and patron of the poor" in the fourth century. Legend has it that he shared his cloak with a beggar by cutting it in half, so ... Read More...
Making the decision to switch gears and begin homeschooling partway through the school year takes courage and faith. Whatever you were doing before wasn't working, and whatever you are beginning hasn't had time to feel routine yet. Here are ten suggestions to ease the way. Read More...
It turns out that children who have an immersive experience in nature develop a deep love of the environment that they carry with them their entire lives. Aside from significantly increasing the likelihood that they will actively work to preserve the important life-giving aspects of the environment as adults, an engagement with nature has other positive cognitive impacts, from an improved performance in school to a greater involvement and concern for community well-being. Here are some ways you can (safely) launch your child into the wild. Read More...
Suggested Reading:

From amazon.com Sarah Baldwin has created a beautiful portrait of the grace that a Waldorf parent/child program can be -- for the parents, the children and the entire community. She writes from her heart, from her considerable knowledge of children and families, and from her experience leading the Ashwood School's Parent/Child Class. The result is a book that covers all the bases, from why to have such a class at all, to what sort of qualities a parent/child teacher needs, to a detailed description of the rhythms of day and season in her own class. In addition, about half the book is devoted to discussion about parent education, space, publicity, festivals, field trips, birthdays and more. Finally, there are brief descriptions of other Parent/Child classes at other schools. All in all, this is a beautiful, delicious resource -- one which will inspire and guide anyone interested in young children, families and the fostering of healthy community. Like a small seed on fertile soil, I can see this book growing beyond its covers until it shares its harvest with all who pass by.     Read more at amazon.com
From amazon.com This basic introduction to the Waldorf School describes the philosophy and ideals behind the movement that aims to help children become freethinking, socially responsible adults with initiative    Read more at amazon.com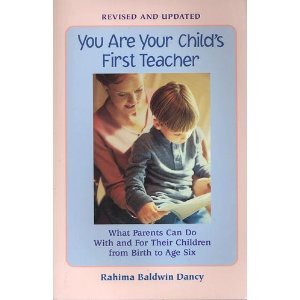 From amazon.com Nowadays parents are bombarded by any number of approaches about how to be with their children. YOU ARE YOUR CHILD'S FIRST TEACHER introduces a new way of understanding the human being so that parents can be best equipped to serve as their own children's best teachers. Chapters include: Caring for the Newborn, Helping Your Toddler's Development, The Development of Fantasy and Creative Play, Nourishing Your Child's Imagination, Rhythm and Discipline in Home Life, Readiness for School, and more.     Read more at amazon.com
From amazon.com What draws parents and educators toward Waldorf Education today? "Waldorf Education - A Family Guide" offers a "first look" for parents and educators into the history, philosophy, curriculum, and traditions of this unique education. This comprehensive book is a collection of articles describing the world of Waldorf Education - the fastest growing independent school movement in the world.     Read more at amazon.com
From amazon.com Free to Learn is a unique guide to the principles and methods of Steiner Waldorf Early Childhood education. The author draws on kindergarten experience from around the world, with stories, helpful insights, lively observations and pictures. This inspiring book will interest parents, educators, and early years education students. It is up to date, comprehensive, and contains many illustrations, including a 16-page color section. Lynne Oldfield invites you to explore Steiner Waldorf kindergartens. Here, teachers and parents believe that children's early learning is profound, that childhood matters and that the early years should be enjoyed, not rushed through.     Read more at amazon.com
From amazon.com Written by a teacher with more than 25 years of experience, this book offers a jargon-free view of Waldorf schools with their philosophy of the importance of a three-dimensional education. Through learning experiences that involve all of the senses, children use a variety of intelligences to develop thought, feeling, and intentional, purposeful activity. Whether you're a Waldorf parent or teacher, or you just want to learn more about these innovative educational concepts, this book contains important ideas on learning that you can apply today.    Read more at amazon.com
From amazon.com Today's children are an endangered species. As a result of reductionism and the homogenization of the human stages of life, it seems that many children have lost their childhood only to be thrust into a confusing and chaotic world. Eugene Schwartz presents an incisive analysis of how errors during the first third of the twentieth century have now returned to haunt us at the beginning of the new century. After carefully examining Sigmund Freud's tragic misunderstanding of childhood and tracing its consequences for today's parents and educators, the author points us toward the radically new paradigm of childhood development offered by Rudolf Steiner and embodied in Waldorf education. Parents, teachers, and child psychologists will find a wealth of insight concerning such diverse subjects as the nature of play, the causes of ADHD, computers as teachers, and the power that love and imagination will have in educating the Millennial Child.     Read more at amazon.com
From amazon.com One of the most talked about alternatives to public schooling today is method known as Waldorf education. But what is it? Simply put, it is an approch that considers the "whole" child, not just intellectual capacities. It also considers the child's whole life - how a teacher's actions will affect the child later in life, physically, emotionally, and spiritually. Here is a reader-friendly Waldorf "taster." It contains three lectures on Waldorf education by Rudolf Steiner and a thought-provoking, accessible introduction by a Waldorf teacher and longtime student of Steiner's educational methods. The lectures present what Steiner sees as the "fundamentals" of Waldorf pedagogy in a matter-of-fact, objective, non-dogmatic way. The introduction is broad and informative, explaining that, before all else, a Waldorf school must be a good school. This is a must-read for anyone involved with, connected to, or interested in Waldorf education. If you are at the point of deciding where and how your child will be educated, you cannot afford to ignore this.     Read more at amazon.com
Curriculum provider of customized Waldorf plans
Large collection of links to anthroposophical websites
Resources for nourishing family life from a collection of Waldorf-oriented authors
Yahoo group with Waldorf-inspired educational information, methods, artistic ideas, and pragmatics, sharing spiritual insights and practical advice with others. It is an outgrowth of the Shining Star School's Suns and Moons home school program, located in Portland, Oregon, and founded in 2003. Hosted by Marsha Johnson, this site is dedicated to the parent-teacher who is seeking to discover how to imbue their home education format with the inspirations of Rudolf Steiner, founder of the Waldorf-Steiner Schools for educating children.
Christopherus Homeschool Resources was founded in 2003 by Donna Simmons and Paul Newton. Donna articulated her desire to create resources for homeschoolers after meeting Waldorf homeschoolers who were tying themselves up into knots trying to create little Waldorf schools at home and who were frustrated by the beautiful but often inaccessible materials then available. In addition, Donna was also appalled by the often trivial and ugly materials written by and for conventional homeschoolers. Thus Christopherus Homeschool Resources was born in 2003.
The web home of Barbara Dewey, a private consultant for homeschoolers using the Waldorf Method. In addition, she publishes a quarterly newsletter, writes publications, provides lecture tours, and spends her spare time with family and friends, enjoying her unique solar home, and developing her farmland. She is the mother of four and grandmother to six.
Oak Meadow publishes homeschool curriculum materials adapted from the Waldorf method and has an accredited distance education school. For over 30 years, Oak Meadow has created independent learning materials for families around the world. Through experience, Oak Meadow provides a firm foundation for academic excellence, while offering new opportunities for learning. They offer a unique hybrid of accredited standards delivered with imagination and heart. Visit their website to request a catalog and view sample lessons, or call their office in Vermont to speak with their supportive staff.