Jump to:
Introduction to Waldorf Homeschooling
The Waldorf homeschooling method was popularized by Rudolf Steiner in Europe in the late 19th and early 20th centuries. The Waldorf approach is a holistic liberal arts education where subjects are not separated from one another and education covers body, mind, and spirit. Textbooks are not used until the children are older and then only infrequently, and moral qualities are subtly emphasized through life.
Steiner was therefore not concerned to bring old teachings in new forms, nor to promulgate doctrines of any kind, but to nurture a path of knowledge in freedom, and of love in action, that can meet the deep and pressing needs of our times. These are the ideals, however imperfectly realized, by which those who find in anthroposophy a continuing inspiration for their lives and work seek to be guided. ~ John Davy
Early education is focused on activities and experiences rather than head learning and in that regard, Waldorf has much in common with the Moore Formula. Discovery is the focus of the middle years and experiences relating to finding one's place in the "real world" are the focus of the upper grades.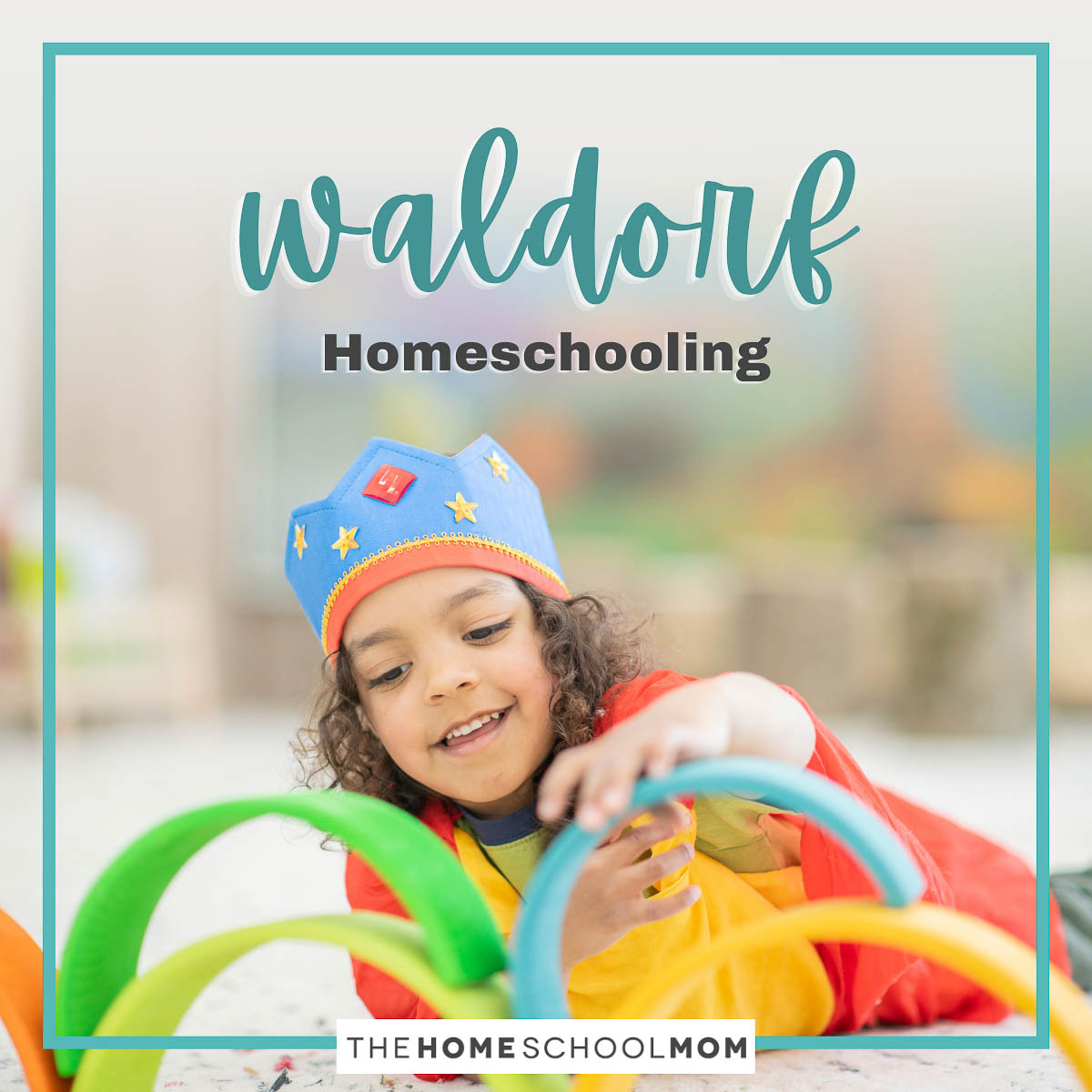 Insight into Waldorf homeschooling
Suggested Books
Nurturing Children and Families: One Model of a Waldorf Parent-Child Program by Sarah Baldwin
From amazon.com Sarah Baldwin has created a beautiful portrait of the grace that a Waldorf parent/child program can be -- for the parents, the children and the entire community. She writes from her heart, from her considerable knowledge of children and families, and from her experience leading the Ashwood School's Parent/Child Class. The result is a book that covers all the bases, from why to have such a class at all, to what sort of qualities a parent/child teacher needs, to a detailed description of the rhythms of day and season in her own class. In addition, about half the book is devoted to discussion about parent education, space, publicity, festivals, field trips, birthdays and more. Finally, there are brief descriptions of other Parent/Child classes at other schools. All in all, this is a beautiful, delicious resource -- one which will inspire and guide anyone interested in young children, families and the fostering of healthy community. Like a small seed on fertile soil, I can see this book growing beyond its covers until it shares its harvest with all who pass by.
Waldorf Education (Rudolf Steiner's Ideas in Practice Series) by Christopher Clouder
From amazon.com This basic introduction to the Waldorf School describes the philosophy and ideals behind the movement that aims to help children become freethinking, socially responsible adults with initiative
You Are Your Child's First Teacher: What Parents Can Do With and For Their Chlldren from Birth to Age Six by Rahima Baldwin Dancy
From amazon.com Nowadays parents are bombarded by any number of approaches about how to be with their children. YOU ARE YOUR CHILD'S FIRST TEACHER introduces a new way of understanding the human being so that parents can be best equipped to serve as their own children's best teachers. Chapters include: Caring for the Newborn, Helping Your Toddler's Development, The Development of Fantasy and Creative Play, Nourishing Your Child's Imagination, Rhythm and Discipline in Home Life, Readiness for School, and more.
Waldorf Education: A Family Guide by Pamela J. Fenner
From amazon.com What draws parents and educators toward Waldorf Education today? "Waldorf Education - A Family Guide" offers a "first look" for parents and educators into the history, philosophy, curriculum, and traditions of this unique education. This comprehensive book is a collection of articles describing the world of Waldorf Education - the fastest growing independent school movement in the world.
Free to Learn: Introducing Steiner Waldorf Earkt Childhood Education by Lynne Oldfield
From amazon.com Free to Learn is a unique guide to the principles and methods of Steiner Waldorf Early Childhood education. The author draws on kindergarten experience from around the world, with stories, helpful insights, lively observations and pictures. This inspiring book will interest parents, educators, and early years education students. It is up to date, comprehensive, and contains many illustrations, including a 16-page color section. Lynne Oldfield invites you to explore Steiner Waldorf kindergartens. Here, teachers and parents believe that children's early learning is profound, that childhood matters and that the early years should be enjoyed, not rushed through.

Understanding Waldorf Education: Teaching from the Inside Out by Jack Petrash
From amazon.com Written by a teacher with more than 25 years of experience, this book offers a jargon-free view of Waldorf schools with their philosophy of the importance of a three-dimensional education. Through learning experiences that involve all of the senses, children use a variety of intelligences to develop thought, feeling, and intentional, purposeful activity. Whether you're a Waldorf parent or teacher, or you just want to learn more about these innovative educational concepts, this book contains important ideas on learning that you can apply today.

Millennial Child : Transforming Education in the Twenty-First Century by Eugene Schwartz
From amazon.com Today's children are an endangered species. As a result of reductionism and the homogenization of the human stages of life, it seems that many children have lost their childhood only to be thrust into a confusing and chaotic world. Eugene Schwartz presents an incisive analysis of how errors during the first third of the twentieth century have now returned to haunt us at the beginning of the new century. After carefully examining Sigmund Freud's tragic misunderstanding of childhood and tracing its consequences for today's parents and educators, the author points us toward the radically new paradigm of childhood development offered by Rudolf Steiner and embodied in Waldorf education. Parents, teachers, and child psychologists will find a wealth of insight concerning such diverse subjects as the nature of play, the causes of ADHD, computers as teachers, and the power that love and imagination will have in educating the Millennial Child.

What Is Waldorf Education?: Three Lectures by Rudolf Steiner
From amazon.com One of the most talked about alternatives to public schooling today is method known as Waldorf education. But what is it? Simply put, it is an approach that considers the "whole" child, not just intellectual capacities. It also considers the child's whole life - how a teacher's actions will affect the child later in life, physically, emotionally, and spiritually. Here is a reader-friendly Waldorf "taster." It contains three lectures on Waldorf education by Rudolf Steiner and a thought-provoking, accessible introduction by a Waldorf teacher and longtime student of Steiner's educational methods. The lectures present what Steiner sees as the "fundamentals" of Waldorf pedagogy in a matter-of-fact, objective, non-dogmatic way. The introduction is broad and informative, explaining that, before all else, a Waldorf school must be a good school. This is a must-read for anyone involved with, connected to, or interested in Waldorf education. If you are at the point of deciding where and how your child will be educated, you cannot afford to ignore this.
Other Online Resources
Live Education
Curriculum provider of customized Waldorf plans
Rudolf Steiner Archive
Large collection of links to anthroposophical websites
Waldorf in the Home
Resources for nourishing family life from a collection of Waldorf-oriented authors
Waldorf Inspired Home Education Resource
Yahoo group with Waldorf-inspired educational information, methods, artistic ideas, and pragmatics, sharing spiritual insights and practical advice with others. It is an outgrowth of the Shining Star School's Suns and Moons home school program, located in Portland, Oregon, and founded in 2003. Hosted by Marsha Johnson, this site is dedicated to the parent-teacher who is seeking to discover how to imbue their home education format with the inspirations of Rudolf Steiner, founder of the Waldorf-Steiner Schools for educating children.
Christopherus Homeschool
Christopherus Homeschool Resources was founded in 2003 by Donna Simmons and Paul Newton. Donna articulated her desire to create resources for homeschoolers after meeting Waldorf homeschoolers who were tying themselves up into knots trying to create little Waldorf schools at home and who were frustrated by the beautiful but often inaccessible materials then available. In addition, Donna was also appalled by the often trivial and ugly materials written by and for conventional homeschoolers. Thus Christopherus Homeschool Resources was born in 2003.
Waldorf Without Walls
The web home of Barbara Dewey, a private consultant for homeschoolers using the Waldorf Method. In addition, she publishes a quarterly newsletter, writes publications, provides lecture tours, and spends her spare time with family and friends, enjoying her unique solar home, and developing her farmland. She is the mother of four and grandmother to six.
Oak Meadow
Oak Meadow publishes homeschool curriculum materials adapted from the Waldorf method and has an accredited distance education school. For over 30 years, Oak Meadow has created independent learning materials for families around the world. Through experience, Oak Meadow provides a firm foundation for academic excellence, while offering new opportunities for learning. They offer a unique hybrid of accredited standards delivered with imagination and heart. Visit their website to request a catalog and view sample lessons, or call their office in Vermont to speak with their supportive staff.