Jump to: Homeschool Arts | Homeschool Sports
In addition to the opportunity to get out of the house and socialize, homeschool sports and arts programs can offer long-term benefits by developing characteristics like leadership, self-confidence, perserverance, and self-esteem. Many organizations and businesses have opportunities specifically for homeschoolers, while others invite homeschoolers to participate in their regular programs.
Not sure how to choose activity/activities for your children? Read how Rebecca narrows down the choice of extra-curricular activities.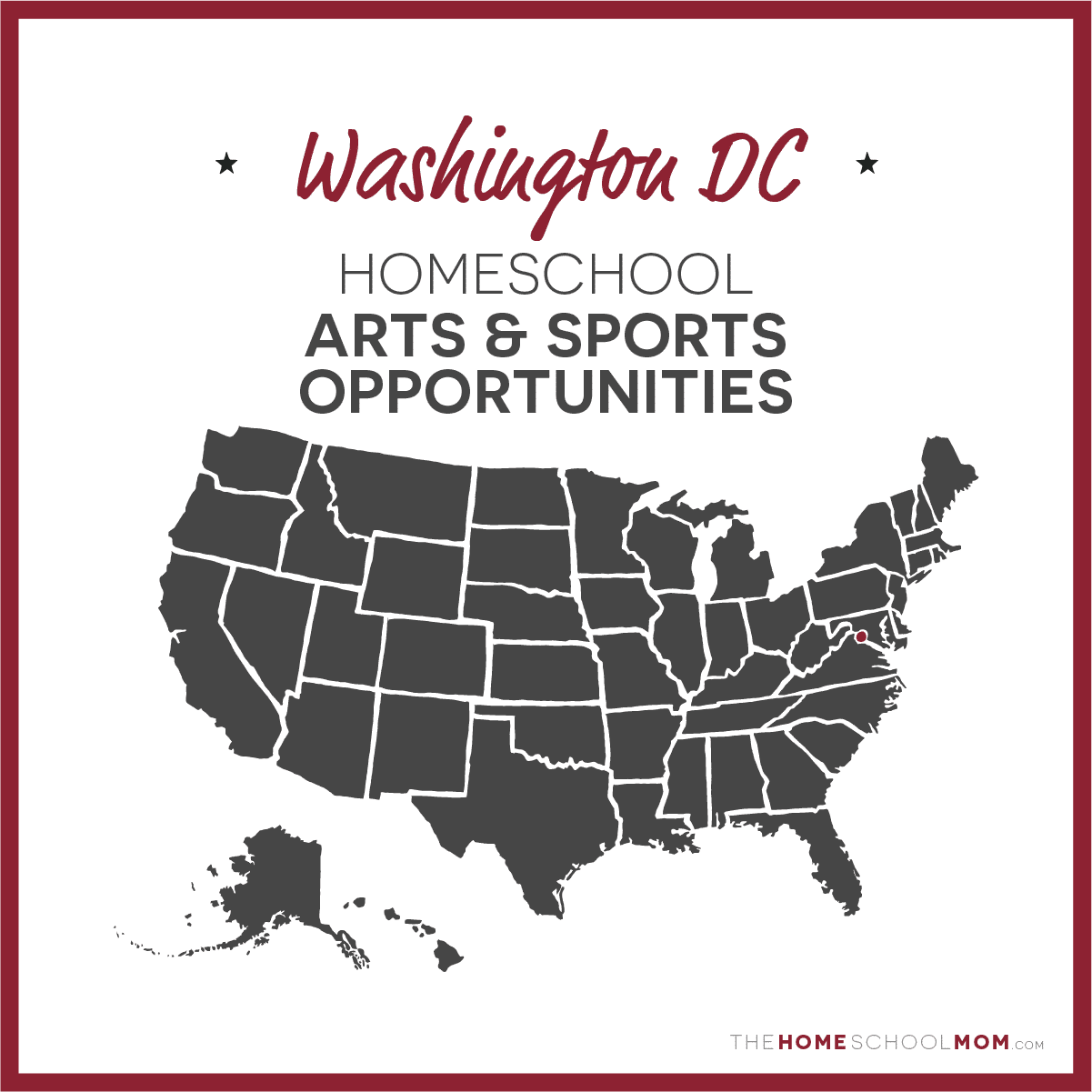 Submit a Local Resource
Our listing of Washington, D.C. list of homeschool arts and sports programs is ordered alphabetically by city, with arts in the first section and sports in the second section. If you would like to submit an Washington, D.C. arts or sports program, you may do so using the red button above.
Washington, D.C. Homeschool Arts Programs
Vicky's Music Studio Piano and Voice LessonsAnnandale, VA and D.C. Metro Area
Music lessons enhance skills in every area of life. The ability to create music is a skill very few regret learning, and the other skills learned through music lessons (discipline, time management, appreciation, obser...
Arlington Arts CenterArlington
Join the Arlington Arts Center for a class that explores the visual arts through a variety of fun and engaging techniques. Observation and imagination will be emphasized while students learn about line, color, shape, ...
School of Rock - LoudounAshburn
School of Rock's performance-based music curriculum develops confidence and skills in students using a fun and interactive environment. This method combines weekly private lessons with structured group rehearsals and ...
Music and NarrativeBaltimore/Washington DC area
Children love stories and music. With this precept, Music and Narrative has created children's programs to introduce young listeners to the literature of classical piano music by way of storytelling. These programs of...
Creative ThinkersBethesda
Reggio inspired art sessions offered as a one time experience or scheduled weekly or monthly. Ages 2 - 8. Can work one on one or with larger combined group. High quality materials are used and experiences can highligh...
Music Enrichment Center - MECDC metropolitan area (DMV)
25 years of experience teaching music both in the classroom and privately. My focus is on developing a quality TONE. So many young or beginner musicians focus on playing fast, technically challenging music, often over...
Elizabeth's Music & ArtsFairfax
Piano lessons, group piano classes, and arts classes designed to inspire creativity are available in-home, in a home studio in Fair Oaks, and online. Elizabeth teaches piano using a unique combination of Suzuki, tradi...
Awaken the Voice: StudioFalls Church
This is a private voice/music studio offering a wide range of services including coaching in singing, acting, public speaking, presentation coaching, and more. The studio trains homeschool students currently, and has ...
Art With Mrs. JaynieHarrisonburg
Art with Mrs. Jaynie teaches in-person pod learning art classes to kiddos in and around the Harrisonburg, VA area. She will bring all the art supplies you need to complete art projects ranging from drawing, to paintin...
Rock Creek Music Studio: Brass lessonsMontgomery County
Private and group instruction for brass instrumentalists. Learn to play your instrument with an easy and relaxed sound. Develop your ear, your sense of musical line and play the music that you want to play. This studi...
CREATE Arts CenterMontgomery County, Maryland and Washington, DC
CREATE Arts Center in Silver Spring offers classes for homeschool students ages 5-18. Painting, drawing, sculpture, mixed media, portrait, science and art, movement and art. Age 14-18 years can participate in "Portfol...
Astilla Piano StudioNorthEast
As a musician who practices continued learning, evolving and figuring out ways to elevate performance, Christopher has worked as an educator in the Capitol Hill and greater Washington, DC community for over ten years....
Integrity Of Self MovementArts® (ISMA) HomeSchool Movement ClassesNorthEast DC
Integrity of Self MovementArts® (ISMA) is now offering a Homeschool Program for ages 6-12 year old. Classes incorporate ISMA Core-5 Disciplines of Breathing, Skeletal Awareness, Balance, Energy Dynamics, and Labanotat...
Joy of Motion Dance CenterNorthEast Washington
Joy of Motion Dance Center is offering dance classes exclusively for home school students. Classes will be offered in General Dance, a class which will introduce various dance styles including ballet, jazz, hip hop an...
Joy of Motion Home School Dance ClassesNorthEast Washington
Joy of Motion Dance Center offers weekday dance classes specifically for homeschooled students designed to teach students dance technique, stimulate creativity, and build confidence and teambuilding. Students will rot...
Brian Lotter Piano StudioRockville
Private piano lessons are available from one of the area's best piano teachers, who is also an accomplished performer and composer. Styles available include Baroque, Classical, Romantic, Modern, Ragtime, Blues, Rock, ...
Round House Theatre EducationSilver Spring
Round House Theatre Education offers an exciting array of classes for students during the school year. These programs inspire creativity, exercise imaginations, and promote artistic risk-taking, while developing skill...
Violin Lessons with Cecilio StudiosSilver Spring
Welcome to Cecilio Studios! I have been a full time violin teacher for over 15 years and provide violin instruction in person at my home studio, and online through high quality virtual lessons. My primary teaching cur...
The Maryland Christian Youth Band and OrchestraSilver Spring area
The Maryland Christian Youth Band and Orchestra offers to both homeschool and traditionally schooled students performance groups with professional instruction in all of the orchestral winds, strings, and percussion. A...
Homeschool Ballet ClassesSouthEast
The Washington School of Ballet is pleased to announce our new daytime ballet classes for homeschoolers being offered at our SE campus at THEARC. We are currently offering two daytime classes for young homeschooled da...
The Washington School of Ballet Homeschool ClassesSouthEast Washington
The Washington School of Ballet's SE Campus will be offering daytime ballet classes for homeschoolers ages 5-10, beginning in September 2019. Classes will take place on Mondays and Wednesdays between 10:30am-2:30pm (e...
Adrenaline Dance StudioTysons Corner
The Adrenaline Dance Academy offers professional and accessible jazz, lyrical , hip hop, and tumbling programming to your student. Your dancer(s) can expect high quality classes taught by professional instructors.
School of Rock - ViennaVienna
School of Rock's performance-based music curriculum develops confidence and skills in students using a fun and interactive environment. This method combines weekly private lessons with structured group rehearsals and ...
Mark's Music PrepWashington D.C Metropolitan
Mark's Music Prep is a music education service that offers private and group music lessons for the piano, violin, viola, cello, composition, performing, and music theory to people of all ages. The mission of Mark's Mu...
Paula DeFrancis: Private/Group Music LessonsWashington DC
Weekly in-home Private and group music lessons offered to children and adults ages 5 and up in the Capitol Hill area. Instruments/classes offered are: *Beginning-Advanced level Voice *Beginning-Intermediate level Pian...
Dodgeball TheatreWashington DC area/Herndon
Dodgeball is dedicated to empowering young artists and developing their theatrical voices through all-ages classes, independent productions, and its youth company, the Teen Ensemble. Dodgeball makes theatre focused on...
Washington, D.C. Homeschool Sports Programs
Royal Fencing AcademyGaithersburg
Royal Fencing Academy is a Montgomery County, Maryland based Fencing Sport Academy and Club well suited to serve Home Schooling Students in the region. Competitive as well as recreational Fencing p... [Read more...]
Invicta Sports Club: Fencing and ArcheryGaithersburg/Washington DC metropolitan area
Classes and one-time trial sessions in Olympic Sport of Fencing for children ages 5 and up. Fencing is an exciting activity to train sharp minds and reflexes, sport of tactics, and psychology, dubb... [Read more...]
TGA Premier Tennis of North DCNorthWest Washington
TGA introduces the life-long sport of tennis at a young age through programs that provide a fun and enriching experience for children while being a convenient and affordable option for parents. Ded... [Read more...]
Washington Tennis & Education FoundationNorthWest Washington
Attention All D.C. Home-schoolers, Washington Tennis and Education Foundation located on 16th & Kennedy is offering morning and early afternoon tennis classes. Tennis is a great way to get your... [Read more...]
Jeff Smith Mile High KarateSterling
Jeff Smith Mile High Karate is a martial arts school in Sterling, Virginia providing a perfect venue for children (and adults) to train and get exercise while learning to protect themselves. Progra... [Read more...]
Go to...