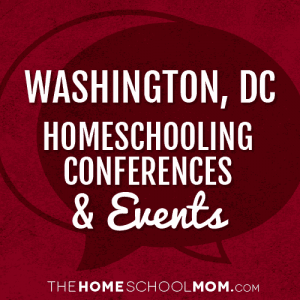 Our listing of Washington, D.C. conventions and other homeschool events is ordered by date with ongoing events listed first. If you would like to submit a Washington, D.C. homeschool convention or event, you may do so using the red button above.
National Building Museum – Homeschool DaysNorthwest
February 27, 2019 - May 24, 2019
Children learn to create buildings and places while focusing on teamwork and problem-solving skills. Homeschool programs accommodate ages 4–14 and a range of ability levels and learning styles. Hom...
Science SaturdayNorthwest
March 23, 2019
Visit the Museum for a fun-filled afternoon of science activities in the Learning Center. This month's theme is Handwriting, Forgery, and Counterfeiting. Learn how to detect counterfeit bills, hone...
Ikebana International Washington D.C.Alexandria
April 13, 2019
Ikebana International, Washington, DC, Chapter No.1, is a non-profit, cultural organization based in NOVA. Ikebana is Japan's Flower Art. We are hosting an IKEBANA FOR KIDS Workshop, April 13, 20...
Tudor Place Homeschool Day: Nurturing Nature in the CityNorth West Washington
April 26, 2019
Homeschool students jump into the garden and discover the plants, bugs and animals that live at Tudor Place. With plentiful historic plants, an array of animals and bountiful bugs, there are countl...
Family Camp at Holiday Lake 4-H CenterAppomattox
May 27, 2019 - May 31, 2019
Family camp, an annual event at Holiday Lake 4-H Educational Center in Appomattox, Virginia. Family camp offers the chance for family members to bond with each other while at the same time experien...
National Fossil Day at the National MallWashington D.C.
October 16, 2019
Come enjoy a National Fossil Day celebration experience at the National Mall where nine National Fossil Day Partners will be hosting activities and exhibits.Partner activities include:Natio...
US Science and Engineering FestivalWashington, DC
April 22, 2020 - April 23, 2023
The mission is to stimulate and sustain the interest of our nation's youth in science, technology, engineering and math (STEM) by producing and presenting the most compelling, exciting, and educati...