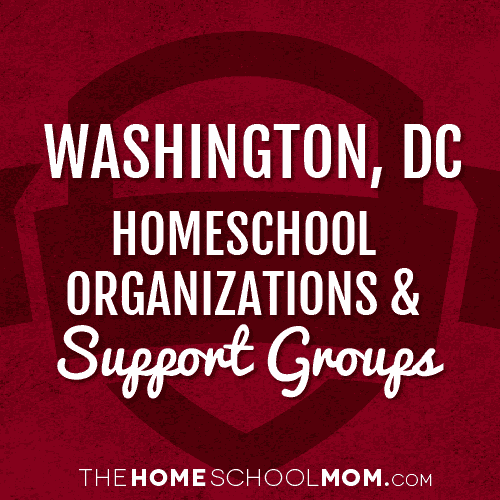 Since homeschooling is regulated at the state level, connecting with local homeschoolers is an important step to start homeschooling in Washington, D.C.. State homeschool organizations and local homeschool groups are not just a good place to learn the specifics of legally homeschooling in Washington, D.C.—they can also help you to get connected with the local homeschooling community. Many homeschool groups offer co-ops, classes, sports and arts opportunities, and social get-togethers.
Our listing of Washington, D.C. state organizations and local homeschool groups is ordered alphabetically by city, with statewide organizations listed first. If you would like to submit a group, you may do so using the red button above.
Use the secondary navigation menu above to quickly make your way to pages for Washington, D.C. state organizations, local homeschool groups, classes, co-ops, field trips, and more.
Washington, D.C. Homeschool Organizations
No state organization information found for Washington, D.C..
Washington, D.C. Local Homeschool Groups
MD_DC_VA_EducatorsBaltimore-Washington Metropolitan area, Hampton Roads (Tidewater) Virginia, Delaware and Pennsylvania.
This groups exists to create an online forum to share resources, activities, ideas, and support among the homeschooling community to include the Baltimore-Washington Metropolitan area, Hampton Road...
Baltimore-Washington Home EducatorsBaltimore-Washington-Northern Virginia
This list is designed for Baltimore-Washington-Northern Virginia homeschoolers as on-line community for open-minded homeschoolers in the region who are interested in participating in a community th...
Culture at HomeNOVA, So. MD and DC
An African American homeschool support group in the Washington D.C., Maryland and Virginia area with an emphasis on the older homeschooled student. Culture at Home is a support group for families c...
Social Skills Support GroupsRockville,MD and Washington,DC
In groups of 3-7 members, preschoolers through adolescents who are having difficulty in social situations work on communication skills, self-esteem, expressing feelings and learning how to read bot...
Sankofa Homeschool CommunityWashington
Sankofa is a community of homeschooling families of color who want to grow, learn, and build together. We are dedicated to creating a rich, supportive homeschool village through a combination of so...