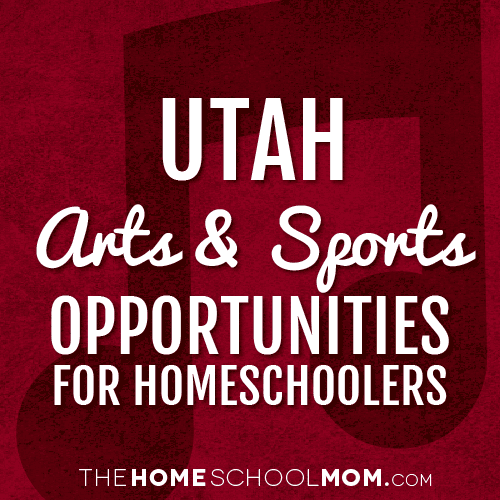 In addition to the opportunity to get out of the house and socialize, homeschool sports and arts programs can offer long-term benefits by developing characteristics like leadership, self-confidence, perserverance, and self-esteem. Many organizations and businesses have opportunities specifically for homeschoolers, while others invite homeschoolers to participate in their regular programs.
Not sure how to choose activity/activities for your children? Read how Rebecca narrows down the choice of extra-curricular activities.
Below is a list of homeschool sports and arts programs in Utah listed alphabetically by city, with arts resources in the first section and sports resources below. If you would like to submit a Utah arts or sports resource, you may do so using the red button above.
Use the secondary navigation menu above to quickly make your way to pages for Utah state organizations, local homeschool groups, classes, co-ops, field trips, and more.
Homeschool Arts Opportunities in Utah
Music Lessons with SusieAlpine
Susie has been a musician for over 20 years. She teaches private Fiddle, Mandolin, Beginning Guitar and Ukulele lessons. with an expertise in Country, Bluegrass, Improvisation, bowing technique, an...
Flying Pig Art StudioAlpine
Flying Pig Art Studio is an in-home art school located in south Alpine, UT. They serve the Alpine, Highland, and Cedar Hills communities. They offer art classes, summer camps, and art-themed partie...
Piano LessonBluffdale, Draper, Herriman
Daytime spots open for students that don't have a traditional school schedule. Offering a tuition discount for adult, homeschool, and early-learner students that can come during regular school hour...
Bountiful Davis Art CenterBountiful
Bountiful Davis Art Center is dedicated to deepening and enhancing the experience of the arts for people of all ages, whether you're an experienced artist or just starting out, BDAC offers art clas...
Linda S. Clement Piano StudioBountiful, Davis County
Private and Group piano lessons. Late morning and early afternoon times available.
Let's Play MusicCedar City
Music Lessons from Let's Play Music. Classes in theory, ear training, vocal training, and piano. All accomplished through play!
Heather Smith Piano StudioCenterville
Students studying at Heather Smith's Piano Studio participate in The Royal Conservatory Music Development Program. The Royal Conservatory of Music provides a recognized national standard of success...
ON Q MusiqClearfield/Davis
ON Q Musiq teaches group classes for beginners and intermediate students in ukulele, guitar and piano. Classes are 1 hour long in morning times 9-12. Available Tuesday through Friday for Art and ...
Music Motivation® with Jerald SimonFruit Heights (Davis and Weber Counties)
Jerald Simon created his company, Music Motivation®, to motivate music students of all ages with "Cool music that excites, entertains, and educates". The three main areas of focus for Music Motivat...
Music Day AcademyHerriman, Riverton, Bluffdale, South Jordan, Draper
Want to include music in your home curriculum? Music Day Academy is an in-home studio offering both private piano lessons and small group music classes during the school day. Choose from a variety ...
Dance Arts Theatre of UtahHolladay
Offering daytime classes for children age 2-18. Visit us online at www.datutah.com or call (801) 278-0250 for class times and availability!
Sweet Notes Music StudioLayton
Sweet Notes is a professional music studio based in Layton, Utah. Offering Flute, guitar, piano, voice, and ukulele lessons. Owner Krystle Fryzel has over 12 years teaching experience at all level...
Piano Studio of Elizabeth WeedLehi/ Traverse Mountain
Providing piano lessons for beginning to advanced students. Curriculum includes repertoire, theory, technique, ear-training, sight-reading, improvisation, collaboration, and performance. Along with...
Flute Lessons or Flute ChoirProvo
With a musical background reaching nearly 20 years, Rachel C. works with students who want to learn the flute so they can better fulfill their potential through consistent training and improvement....
Up With Kids Musical Theatre AcademySalt Lake and surrounding areas
Weekly classes providing professional instruction in singing, dancing and acting. Every student plays a speaking part in the final production in May. This year'; show is "Wonderfully WICKED Wizard ...
Hein Academy of ArtSalt Lake CIty
The Hein Academy of art is a fine art atelier in downtown Salt Lake City. Hein offers two options for art education, both of which are a good fit for a homeschool lifestyle. Full-time apprenticeshi...
Piano Lessons with Diane CrotchettSalt Lake City
Offering piano and music theory at in-home studio in Sugarhouse. Lessons are $95/month, and are taught weekly. Currently accepting new students Monday through Friday, 12-6 pm.
Kate's KeysSalt Lake City
Private piano lessons online or in the instructor's home. Teacher has over 8 years of experience and a current studio of 33 students.
General Music Lessons Online: Piano, Violin & VocalSalt Lake City
Offering online, private, or group music lessons over Google Hangouts! Instruction in piano, violin and voice as well as general music. Online instruction is convenient and flexible for the studen...
Riverton Music Band and OrchestraSalt Lake City
These are beginning to advanced band and orchestra classes offered by Riverton Music. Students of all musical abilities are welcome. Experienced teachers will teach students how to read music and t...
Hannah Garrett Violin StudioSalt Lake City
Hannah Garrett has taught dozens of violin students over the last fifteen years. She teaches using the Suzuki method, but also focuses on note reading and theory. She also teaches fiddling to stude...
Draper Music StudioSalt Lake City
Draper Music Studio is an LLC run by professional violinist, Melissa Draper. They are offering private violin lessons for students of all ages during school hours. In the winter, there will also ...
Cello Lessons with Matthew LiversedgeSalt Lake City
Matthew Liversedge is a graduate of Vanderbilt University's Blair School of Music with a degree in cello performance. He offers private lessons to cellists of all levels in the Salt Lake City area....
Dance ConceptsSandy
Dance Classes
Kendali StudiosSandy
Art classes and workshops for home school, after school and adults. Classes include watercolor, exploring art mediums, color pencil, arts and crafts, basic drawing. The studio also offers group act...
Private Voice Lessons with JenSandy City
Now enrolling for Private Voice Lessons! Vocal Coach, Jen Wilhite has a BFA in Music Dance Theatre from BYU and has been teaching private voice for 22 years. Her positive, upbeat, encouraging sty...
Commonwealth Performing Arts and Youth Entrepreneurial CenterSouth Salt Lake City
The Commonwealth Performing Arts and Youth Entrepreneurial Center is a free after school community program (put on through Promise South Salt Lake) that works to expand learning and provide positiv...
Piano Keys Spanish Fork Music StudioSpanish Fork
Weekly piano and voice lessons. Homeschool students welcome, with time slots available during regular school hours as well as after school.
Yamaha Music SchoolSpanish Fork
At Yamaha, we believe learning music is like learning a language. The best way to become fluent is to start on a solid foundation and build from there. Yamaha music lessons teach you the right co...
Udy Studio Violin and Piano LessonsSpringville
Rebecca Udy is now accepting violin and piano students during the morning and early afternoon for homeschooled students. Theory and Music History classes are also available if enough students are...
Homeschool Sports Opportunities in Utah
The Ninja Playground is an obstacle gym modeled after the hit TV show American Ninja Warrior. We take pride in having a wide variety of obstacles built to the most professional quality level. We h...
Inspire GymnasticsOgden
Non-competitive gymnastics instruction. Inspire Gymnastics is open year around to teach tumbling, floor, bars, vault and beam gymnastics. Offering classes for all ages (walking to 18). Call today f...
The Utah Sport Fencing Center gives custom rates for home school groups of six or more. One of the owners is a home school Mom so she gives a special rate to those kids because she knows how hard i...
Bridle RanchProvo
Bridle Ranch offers local horseback riding classes to people of all ages. Individual lessons for 7 years old and older. Group classes for kids 6 years old and under that help them to have fun and l...
SwimLabs Swim SchoolSalt Lake City
At SwimLabs Sandy, we know the better you can see your stroke, the faster you can improve it. So from young kids who are just learning to swim to competitive swimmers who need an added edge, our un...
Ninja WarehouseSalt Lake City/Ogden
Ninja Warehouse is a ninja obstacle gym inspired by the hit TV show American Ninja Warrior and designed by 3-time American Ninja Warrior National Finalist - Karson Voiles. Karson has competed on A...