Jump to: Homeschool Arts | Homeschool Sports
In addition to the opportunity to get out of the house and socialize, homeschool sports and arts programs can offer long-term benefits by developing characteristics like leadership, self-confidence, perserverance, and self-esteem. Many organizations and businesses have opportunities specifically for homeschoolers, while others invite homeschoolers to participate in their regular programs.
Not sure how to choose activity/activities for your children? Read how Rebecca narrows down the choice of extra-curricular activities.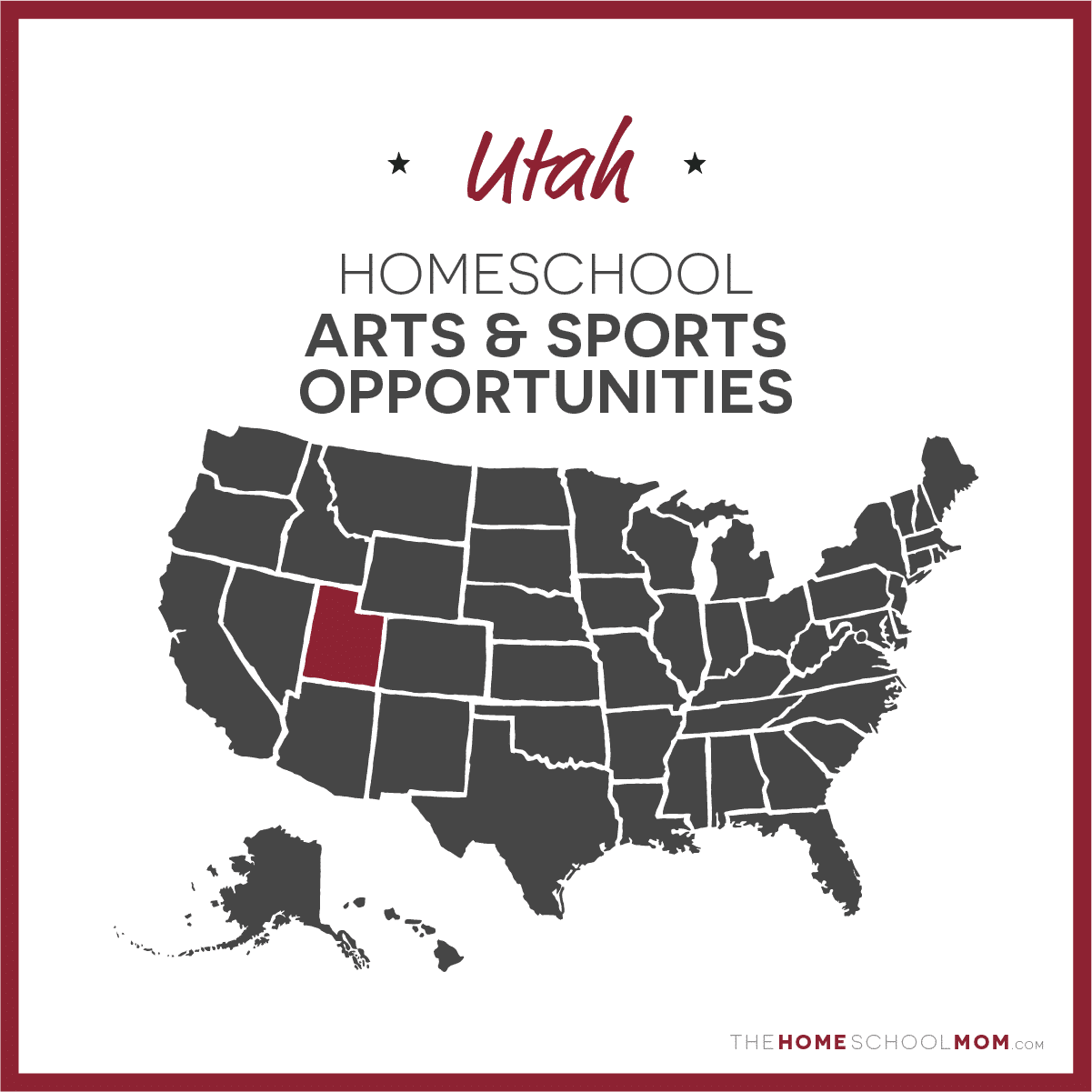 Submit a Local Resource
Our listing of Utah list of homeschool arts and sports programs is ordered alphabetically by city, with arts in the first section and sports in the second section. If you would like to submit an Utah arts or sports program, you may do so using the red button above.
Utah Homeschool Arts Programs
Music Lessons with Susie

Alpine

Susie has been a musician for over 20 years. She teaches private Fiddle, Mandolin, Beginning Guitar and Ukulele lessons. with an expertise in Country, Bluegrass, Improvisation, bowing technique, and ear training. She is the perfect teacher for a well-rounded learning experience. Her students age range from 6 - 74 yrs old! Ask about a free trial lesson. Contact Susie at 801-610-9322 or LessonsWithSusie@gmail.com
Adams Piano Studio

Bluffdale, Draper, Herriman

Daytime spots open for students that don't have a traditional school schedule. Offering a tuition discount for adult, homeschool, and early-learner students that can come during regular school hours.
Kyu Shin Ryu Karate

Bluffdale, Sandy, Draper, Lehi

Kyu Shin Ryu Karate is offering home school classes. Kyu Shin Ryu will travel to your homeschool group and teach at your location or another local location as agreed upon.
Bountiful Davis Art Center

Bountiful

Bountiful Davis Art Center is dedicated to deepening and enhancing the experience of the arts for people of all ages, whether you're an experienced artist or just starting out, BDAC offers art classes and workshops for everyone! We are happy to add class sessions that support both home-school and after-school art programs in Davis County.
Resonate Cello Studio

Bountiful

Ciera Rasmussen is a working professional musician performing throughout the Wasatch Front with a degree in music and over 20 years of cello experience. Ciera has been teaching cello for 10 years and has an established studio located in Bountiful that offers private cello lessons to all ages and ability levels. For more information, or to schedule a free 30-minute trial lesson please contact: ciera.m.rasmussen@gmail.com
Master Keys Music Academy

Bountiful

Master Keys Music Academy teaches students to become well-rounded musicians by teaching them piano repertoire, technique, sight-reading, ear training and theory, etc. Students are enrolled in the Royal Conservatory of Music Piano Certification Program to participate in exams and performance opportunities.  We are also on Facebook https://www.facebook.com/masterkeysmusicacademy
ATPurser Studio

Bountiful

This resource is new to the Bountiful, UT area. This music studio provides specialized music lessons for those interested in improving their music skills including singing, playing piano, reading music, learning foreign languages for singing, and music theory. Alexander is a well-trained musician whose goal is to help others improve their talents and skills to a level they desire. The first lesson is 30-minutes long and free!
Linda S. Clement Piano Studio

Bountiful, Davis County

Private and Group piano lessons. Late morning and early afternoon times available.
Let's Play Music

Cedar City

Music Lessons from Let's Play Music. Classes in theory, ear training, vocal training, and piano. All accomplished through play!
Cedar City Junior Ballet

Cedar City

Cedar City Junior Ballet offers ongoing ballet classes for ages 2 years through Adults at many different levels. We also offer children's beginning Tap Dance and Teen/Adult Luigi Based Jazz Warm-up and Conditioning classes. We offer a FREE TRIAL CLASS. We can also schedule home school groups in the mornings and early afternoons. The goal of Cedar City Junior Ballet is to enrich the community arts by maintaining the highest standards of classical ballet in its purest form. CCJB is first and foremost a community organization that encourages people of all ages, with or without dance experience, to participate in our classes and productions. There is always a place for anyone who's ever wanted to be on stage or behind the scenes to become a part of our productions. It is not only the audience whose perception of the art of classical dance is enriched by experiencing these ballets, it is the experience of the performers who become part of something magical which materializes out of thin air and evolves into a beautiful production on stage.
Heather Smith Piano Studio

Centerville

Students studying at Heather Smith's Piano Studio participate in The Royal Conservatory Music Development Program. The Royal Conservatory of Music provides a recognized national standard of success through an effectively sequenced course of study from beginner to advanced levels.
ON Q Musiq

Clearfield/Davis

ON Q Musiq teaches group classes for beginners and intermediate students in ukulele, guitar and piano. Classes are 1 hour long in morning times 9-12. Available Tuesday through Friday for Art and extra curricular credit. Owner holds a Bachelor in Music Ed. and is a WSU alumni.
Youth Symphony of Denton

Denton

The Youth Symphony of Denton provides an orchestral experience for string, wind, brass, and percussion students who desire to pursue excellence in their musical endeavors. This program has regular weekly rehearsals during the standard school year, and performs 4 main concerts each season, along with other smaller concerts at events and festivals. There is a summer camp program in July, and the top level orchestra travels internationally every two to three years. Students from all types of schools and of all ages are welcome to join the program.
Music Motivation® with Jerald Simon

Fruit Heights (Davis and Weber Counties)

Jerald Simon created his company, Music Motivation®, to motivate music students of all ages with "Cool music that excites, entertains, and educates". The three main areas of focus for Music Motivation® are Theory Therapy, Innovative Improvisation, and Creative Composition. Jerald's primary Music Motivation® mission is to: Create fun, original piano music that is cool, exciting, entertaining, and educational to help motivate and inspire piano students – especially during their teenage years. The theme for Music Motivation® is: "Let music motivate you!" Weekly and monthly piano lessons primarily focused on teaching teenagers ages 12 and up and adults. Learn intervals, chords, scales, etc., and how to use them. Jerald puts the FUN into theory fundamentals. Change any style/key signature, etc. Learn to arrange music and play the same piece 100 different ways! Learn to compose music of your own. Learn how to create a melody, add harmony, and publish your own music!
Music Day Academy

Herriman, Riverton, Bluffdale, South Jordan, Draper

Want to include music in your home curriculum? Music Day Academy is an in-home studio offering both private piano lessons and small group music classes during the school day. Choose from a variety of times to meet your schedule. With 13 years of experience, a background in homeschooling, and a Bachelor's in Education, Music Day is happy to provide classes to students ages 3-18!
London Studios Music School

Holladay

London Studios has been voted Best in Music Education in Salt Lake for the last 6 consecutive years. They offer guitar, ukulele, bass, vocal, piano, drums, violin, and cello lessons in 2 convenient city center locations: one in Holladay and one in North Salt Lake. London Studios provides flexible schedules, private & group lessons, masterclasses & workshops, an awesome youth and teen band program, summer camps, and several opportunities for live performances & recitals. All the instructors have fun, outgoing personalities, have been thoroughly vetted and background checked, and most have advanced music degrees. The studios are very cool with industrial chic interior and spacious teaching rooms.
Sweet Notes Music Studio

Layton

Sweet Notes is a professional music studio based in Layton, Utah. Offering Flute, guitar, piano, voice, and ukulele lessons. Owner Krystle Fryzel has over 12 years teaching experience at all levels and a Bachelors and Masters in Music Performance. Sweet Notes offers competitive pricing and higher quality lessons from top tier qualified teachers. The goal is to make every lesson fun and engaging, building a lifelong love of music. Lessons are well rounded and include theory, technique, practice skills, history, and an emotional connection to music. Students will go beyond just learning what to play, also learning why they are being taught a technique and how to use it in the future. Every student's lesson is customized to offer an age and goal appropriate music experience. Offering special times and discounts to homeschool students.
CG Music Studio

Lehi

Clarinet and saxophone private or group lessons. Catelyn Gentry's teaching philosophy centers around individual development. Students receive the tools necessary to become a better player and it is their responsibility to utilize those tools at home. Students become well-rounded players in all aspects of music. They learn ensemble skills as well as how to think like a soloist. Each musician is capable of confidently performing in front of an audience and Catelyn gives as many opportunities for that as possible. She loves working with all skill levels and ages. Students receive help with THEIR musical goals. Whether it be on bass clarinet or alto sax, or whether they want to get help connecting notes on the staff to fingers on the instrument or have a goal to be the best in the room, Catelyn helps musicians plan and prioritize personal achievement.
Homeschool Culinary Course

Lehi

This course is created to help kids and teens gain skills and confidence in the kitchen. Structured as culinary school, there are 6 cuisine weeks and 6 pastry weeks to give your kids a solid foundation to build upon and find joy in the kitchen. Not only will they learn to cook in class and taste each recipe, they'll be sent home with pre-measured take-home ingredients to make each recipe at home. A step-by-step color recipe booklet and kitchen scale are also included. See website for contact information, dates, and pricing.
Bassic Harmony Studio

North Salt Lake

Double Bass and Piano teacher with 13+ years of teaching experience. Daytime openings available. Located in the Foxboro Neighborhood of North Salt Lake.
Piano Lessons with Diane Crotchett

Provo

Offering piano and music theory at in-home studio in Provo, Utah. See webpage for tuition details. Currently accepting new students Monday through Friday, 12-6 pm.
The Artful Musician Music School

Provo Utah, Utah County

The Artful Musician music school uses a singing based curriculum to inspire participants of all ages to gain confidence in their music ability. Authentic folk song, children's singing games, and masterworks are the basis for high-quality music education. Each class is carefully designed based on age-appropriate sequential materials which will aid in the development of musical skills including vocal development, aural development, music literacy and more. Music classes are joy filled experiences where, social interaction is enjoyable, real progress is seen, confidence grows, and pride in personal accomplishment is felt. Ongoing classes include: Sing Me a Story, Mom and Tot music, PreK-12 core music education, children and adult choirs, and enrichment classes. Small class sizes allow for personalized attention from the teacher, and close interaction with peers. Registration will remain open for each class until classes are full, at which time, names will be taken put on a waiting list and contacted when an opening becomes available. The music teacher has over 25 years of experience both teaching and performing including singing for many years with the Tabernacle Choir on Temple Square. Her greatest love is teaching others to love and appreciate music.
Christianson Piano Studio

Riverton

Private piano lessons offered during the day by Danielle Christianson, a teacher with 25 years of teaching experience and Master's and Bachelor's degrees in Piano Performance from BYU. Morning and early afternoon lessons are available. Students have weekly private lessons and participate in recitals, group classes, and festivals. We learn to love music and become well-rounded musicians together!
Up With Kids Musical Theatre Academy

Salt Lake and surrounding areas

Weekly classes providing professional instruction in singing, dancing and acting. Every student plays a speaking part in the final production in May. This year'; show is "Wonderfully WICKED Wizard of Oz,"; an original, creative combination of the Broadway Musical, WICKED, and the classic American fairy tale, The Wonderful Wizard of Oz. Great opportunity to make new friends and build confidence and self-esteem! Local groups all across the Salt Lake area, from Brigham City to Payson, Tooele to Park City.
Kate's Keys

Salt Lake City

Private piano lessons online or in the instructor's home. Teacher has over 8 years of experience and a current studio of 33 students.
Riverton Music Band and Orchestra

Salt Lake City

These are beginning to advanced band and orchestra classes offered by Riverton Music. Students of all musical abilities are welcome. Experienced teachers will teach students how to read music and to play an instrument. Classes meet twice a week for 45 minutes. Must provide your own instrument which are available rent to own from Riverton Music. $140 per school year, pro-rate available. Call Leslie 801-259-6314 for more information.
Hannah Garrett Violin Studio

Salt Lake City

Hannah Garrett has taught dozens of violin students over the last fifteen years. She teaches using the Suzuki method, but also focuses on note reading and theory. She also teaches fiddling to students of all ages. In addition to private weekly lessons, she also holds monthly group classes, which gives students drive and motivation in their daily practice. Hannah teaches all ages and abilities.
Draper Music Studio

Salt Lake City

Draper Music Studio is an LLC run by professional violinist, Melissa Draper. They are offering private violin lessons for students of all ages during school hours. In the winter, there will also be general group music classes (suitable for all instruments) offered to introduce/reinforce rhythm, pitch, tone, etc... This is an ongoing opportunity.
University of Utah, School of Music Preparatory Division

Salt Lake City

The Preparatory Division at the University of Utah is an outreach arm of the School of Music. It offers quality music lessons to children and adults in the greater Salt Lake community. The division offers music lessons in Piano, Strings, Guitar and Organ. An expert and nurturing faculty with a commitment to excellence offer the essential fundamentals of music to all who have a desire to learn

University of Utah, School of Music Preparatory Division details
Suzuki Cello Lessons

Salt Lake City

Katherine Baird is a skilled and passionate music educator offering cello instruction for children as young as four years old, as well as teens and adults. Students register for weekly lessons (in 30-minute, 45-minute or 60-minute increments) and a monthly group class (for ensemble experience and making musical friends) and semester recital. Students are accepted at any time during the year (while there are openings). Students need to rent a properly-sized cello (Ms. Baird can assist with this process) as well as appropriate materials (book, audio recording, etc.). Registered by the Suzuki Association of the Americas in Suzuki Cello Teacher Training Levels 1-10, Katherine has over twenty-five years' experience teaching all ages and stages, as well as early childhood music & movement and general elementary classroom music. Katherine is on the faculty of Gifted Music School in Salt Lake City as well as operating a private music studio.
Make Cool Stuff With Ms McCool

Salt Lake City

Make Cool Stuff - with Ms. McCool is offering Summer art classes that range from Fine Art (painting, drawing, ceramics, and printmaking) to the coolest of crafts (punch needle embroidery, jewelry making, string art, claymation, and so much more)! Students entering 6th - 9th grade are invited to check out classes! Summer classes will be held in Ms. McCool's school classroom at Bennion Jr. High (6055 S 2700 W, Salt Lake City, UT 84129). Check the full class listing at msmccool.com! Let's Make Cool Stuff!
Dance Concepts

Sandy

Dance Classes
Carolyn Emery Piano Studio

Sandy

Now enrolling new students! As a piano teacher in Sandy, Carolyn has 30 years of experience playing the piano and over 17 years teaching. She can work with students of any age or skill level, and offers in-person lessons at her studio located in Sandy. Lessons are typically 30 minutes long once per week. They focus primarily on a thorough understanding of how to read music; including notes, rhythm, technique and styling. Performance classes and recitals are offered as well. Carolyn studied with Dr. Jie Lu at the University of Utah while working towards a degree in Piano Performance and Pedagogy and has an extensive musical background. Ask about a complimentary consultation to see if you like her teaching style before signing up. 801-637-3694 CarolynEmeryPiano@yahoo.com
The Music Coaches

South Salt Lake City

The Music Coaches provides in-person music lessons to families in the greater Salt Lake City area. We match families and teachers together based on the family's musical goals, budget and schedule. Our teachers provide private lessons through a wide variety of instruments: piano, guitar, voice, violin, viola, ukulele, drums, trumpet, banjo, accordion, and songwriting. Lessons take place at the student's home, at the teacher's studio or online. All students have performance opportunities through recitals, community events, and state or national testing programs.
Piano Keys Spanish Fork Music Studio

Spanish Fork

Weekly piano and voice lessons. Homeschool students welcome, with time slots available during regular school hours as well as after school.
Yamaha Music School

Spanish Fork

At Yamaha, we believe learning music is like learning a language. The best way to become fluent is to start on a solid foundation and build from there. Yamaha music lessons teach you the right concepts at the right time in your musical development. As a Yamaha student you'll get to experience playing in group sessions, which teaches you important concepts like listening to others, keeping time and applying dynamics. It's an integral part of your music education. Plus, playing music with others is just more fun. Our proven curriculum will give you the techniques and understanding of what it takes to find your own voice. Whether it's rock, blues, jazz, classical or any other style, we will help you play whatever moves you.
Udy Studio Violin and Piano Lessons

Springville

Rebecca Udy is now accepting violin and piano students during the morning and early afternoon for homeschooled students. Theory and Music History classes are also available if enough students are interested. Rebecca has a BA in Music with an emphasis in String Pedagogy.
Joanna Roberts Cello Studio

St. George

Joanna Roberts is a cello teacher registered with the National Suzuki Association of the Americas, newly moved to and currently teaching in southern Utah. Consistent with Suzuki (ear training) and traditional (music reading) methods of music instruction, and as studio membership permits, she provides individual and group music lessons to students each month. Lessons may be in-person or remote using the RockOutLoud app (for virtual real-time duets) or either FaceTime or Zoom. Her beginner students have ranged in age from 4- to 76-years young. As a former homeschooling mom, she approaches education in an individualized way through relationship and fun. Accordingly, she cultivates a mutually-supportive and interactive group of students and families in her studio. Her students have performed at various formal and informal events and venues throughout the year.
Utah Homeschool Sports Programs
USA Gym World American Fork Home School Classes

American Fork

If you are one of the many parents who have decided to educate your children at home, we have a great program that will allow children ages 5 and up to socialize with peers while learning the basic fundamentals of fitness. Our students will participate in learning gross motor skills, games of all types, a wide variety of sports and conditioning and flexibility. We offer this class on Tuesdays and Thursdays at 2:00pm
Kyu Shin Ryu Karate

Bluffdale, Sandy, Draper, Lehi

Kyu Shin Ryu Karate is offering home school classes. Kyu Shin Ryu will travel to your homeschool group and teach at your location or another local location as agreed upon.
Elevate Gymnastics

Eagle Mountain

Elevate Gymnastics is wholly dedicated to providing the local youth with supervised, fundamental learning experiences in an athletic setting. The mission of Elevate Gymnastics is to: (i) teach children skills in the sport of gymnastics through coaching, clinics, and competitions, while also facilitating character and sportsmanship development; (ii) promote, encourage and improve the standard of recreational and amateur gymnastics in Utah; (iii) foster the values of integrity, teamwork, mutual respect and the pursuit of excellence through hard work; (iv) develop confidence, concentration, discipline and physical fitness and (v) promote fun and enjoyment for every participant. Elevate Gymnastics always focuses on the positive, fun aspects of learning, enabling each child to enjoy the instruction and develop both their aptitude and self-confidence. We offer recreational classes and homeschooling type PE classes for parents that homeschooling their children and need a physical outlet.
The Ninja Playground

Lehi

The Ninja Playground is an obstacle gym modeled after the hit TV show American Ninja Warrior. We take pride in having a wide variety of obstacles built to the most professional quality level. We have fun things for all ages and all abilities and ALL of our coaches have competed on American Ninja Warrior. Our objective is to have fun, build strength, gain confidence and be a part of the very accepting Ninja culture. Find a sense of belonging and become part of this family like Ninja Culture. ​
Inspire Gymnastics

Ogden

Non-competitive gymnastics instruction. Inspire Gymnastics is open year around to teach tumbling, floor, bars, vault and beam gymnastics. Offering classes for all ages (walking to 18). Call today for a FREE TRIAL CLASS. (385)289-2962
Utah Sport Fencing Center

Orem

The Utah Sport Fencing Center gives custom rates for home school groups of six or more. One of the owners is a home school Mom so she gives a special rate to those kids because she knows how hard it can be to find good activities. The course is fun and can be as introductory, or challenging as you want. The sport itself is fun and fits in great as a PE activity or in a renaissance or Shakespeare educational segment. If kids like it, they offer other classes and camps that really are a lot of fun. The offer is ongoing, just email laga@utahvalleyfencing.com for more information and to get a special rate based on your group size.
SwimLabs Swim School

Salt Lake City

At SwimLabs Sandy, we know the better you can see your stroke, the faster you can improve it. So from young kids who are just learning to swim to competitive swimmers who need an added edge, our unique facility provides instant video feedback that transforms swim instruction. It's the same techniques and technologies used by Olympic swimmers. And it's now available near you in Sandy, Utah! We offer a range of classes for every level of swimmer and all learning styles. Our Learn-to-Swim program for kids includes private, semi-private or small group lessons in our warm water tanks (no more watching your child shiver while instructors are working with kids across the pool.) We also offer ParentTot classes for your little ones. No matter the ability level, learning style, or age, one key remains the same: our tanks are the best place to learn and improve swimming skills. Plus, we offer an array of options for competitive swimmers, helping you perfect the mechanics of each stroke and compare your stroke to side-by-side videos of elite swimmers for a unique view of how to improve.
Ninja Warehouse

Salt Lake City/Ogden

Ninja Warehouse is a ninja obstacle gym inspired by the hit TV show American Ninja Warrior and designed by 3-time American Ninja Warrior National Finalist - Karson Voiles. Karson has competed on American Ninja Warrior 4 times and was also the Team Captain of the "Karsonic Boom" on the new spin-off series, Team Ninja Warrior. Ninja Warehouse offers classes, summer camps, birthday parties, corporate events, private coaching and open gym! Classes are for ages 5 years old and up and Open Gym is for ages 14 years old and up. The obstacles at Ninja Warehouse range from beginner to extremely advanced so that all skill levels are sure to have a great time! Well-trained coaches help everyone advance and achieve their goals. New weekday homeschool programs information at http://www.ninjawarehouse.com/homeschool