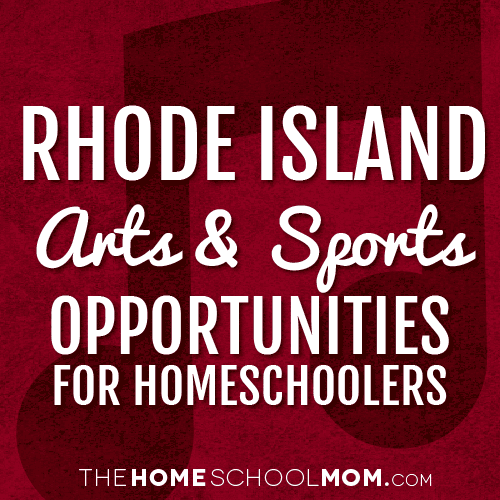 In addition to the opportunity to get out of the house and socialize, homeschool sports and arts programs can offer long-term benefits by developing characteristics like leadership, self-confidence, perserverance, and self-esteem. Many organizations and businesses have opportunities specifically for homeschoolers, while others invite homeschoolers to participate in their regular programs.
Not sure how to choose activity/activities for your children? Read how Rebecca narrows down the choice of extra-curricular activities.
Below is a list of homeschool sports and arts programs in Rhode Island listed alphabetically by city, with arts resources in the first section and sports resources below. If you would like to submit a Rhode Island arts or sports resource, you may do so using the red button above.
Use the secondary navigation menu above to quickly make your way to pages for Rhode Island state organizations, local homeschool groups, classes, co-ops, field trips, and more.
Homeschool Arts Opportunities in Rhode Island
Barbieri Voice StudioAttleboro, North Attleboro, Plainville,Norton, Mansfield, Foxboro, Sharon, Pawtucket, Providence
Barbieri Voice Studio offers voice lessons for students ages 10-up. The focus is on learning to sing in a natural, healthy manner. Lessons can be 30 or 60 minutes. 30 minute lessons are recommended...
Michelle Lavin MusicBarrington
Michelle Lavin Music is a music studio located in Barrington RI. The school currently offers private and group lessons in piano, voice, guitar, saxophone, percussion, and early childhood music.
Newport County Youth ChorusNewport County
The Newport County Youth Chorus is an after school choral music education program offered to students in grades 2 - 6. Students meet once a week for one hour to learn songs from different countries...
Rhode Island Philharmonic OrchestraProvidence
Groups of 10 or more enjoy exclusive benefits including: Up to 25% off the single ticket price, Priority seating, Flexible payment options, Exclusive add-on options such as backstage tours, Pre or ...
The New England Studio of MusicProvidence
Offers flexible lesson schedules for piano, voice, guitar, strings, brass, and woodwind at two convenient studio locations. Call to find out about a limited number of in-home lesson slots.
School of Rock: Seekonk, MAProvidence
School of Rock offers students of all skill levels age 7-18 a performance-based music curriculum in a fun environment. Weekly private lessons are combined with structured group rehearsals. Student...
The East Side Choir SchoolProvidence
The East Side Choir School is an educational choir based at St. Martin's Church in Providence. The curriculum for the choir is based off of the Voice for Life method fashioned by the Royal School o...
Connecticut Entertainment Interactive Music PerformancesSoutheastern Connecticut
This resource provides Live Interactive Music Performances at your location on instruments from around the World. Featured instruments include Steel Drum from Trinidad, Alphorn from Switzerland, Ca...
Homeschool Sports Opportunities in Rhode Island
Old Coach Farm Riding lessonsSouth County
Old Coach Farm provides quality-care boarding in a new state-of-the-art barn located in Southern Rhode Island. The facilities include bright, airy stalls, common-area chat room and wash stall. Indo...
Rock Spot Climbing of Peace DaleSouth Kingstown
This program is perfect for first-time climbers or groups of mixed experience. Rock Spot Climbing provides the necessary equipment and climbing safety instruction. Allow the staff to hold the ropes...