Jump to: Homeschool Co-ops | Homeschooling Classes & Academic Enrichment
Looking for someone to teach physics to your teen? Need a way to avoid teaching algebra? Want to enroll your Kindergartener in a co-op for social time? Homeschool classes and co-ops are a great way to spend time with other homeschoolers and skill-share with other homeschool parents.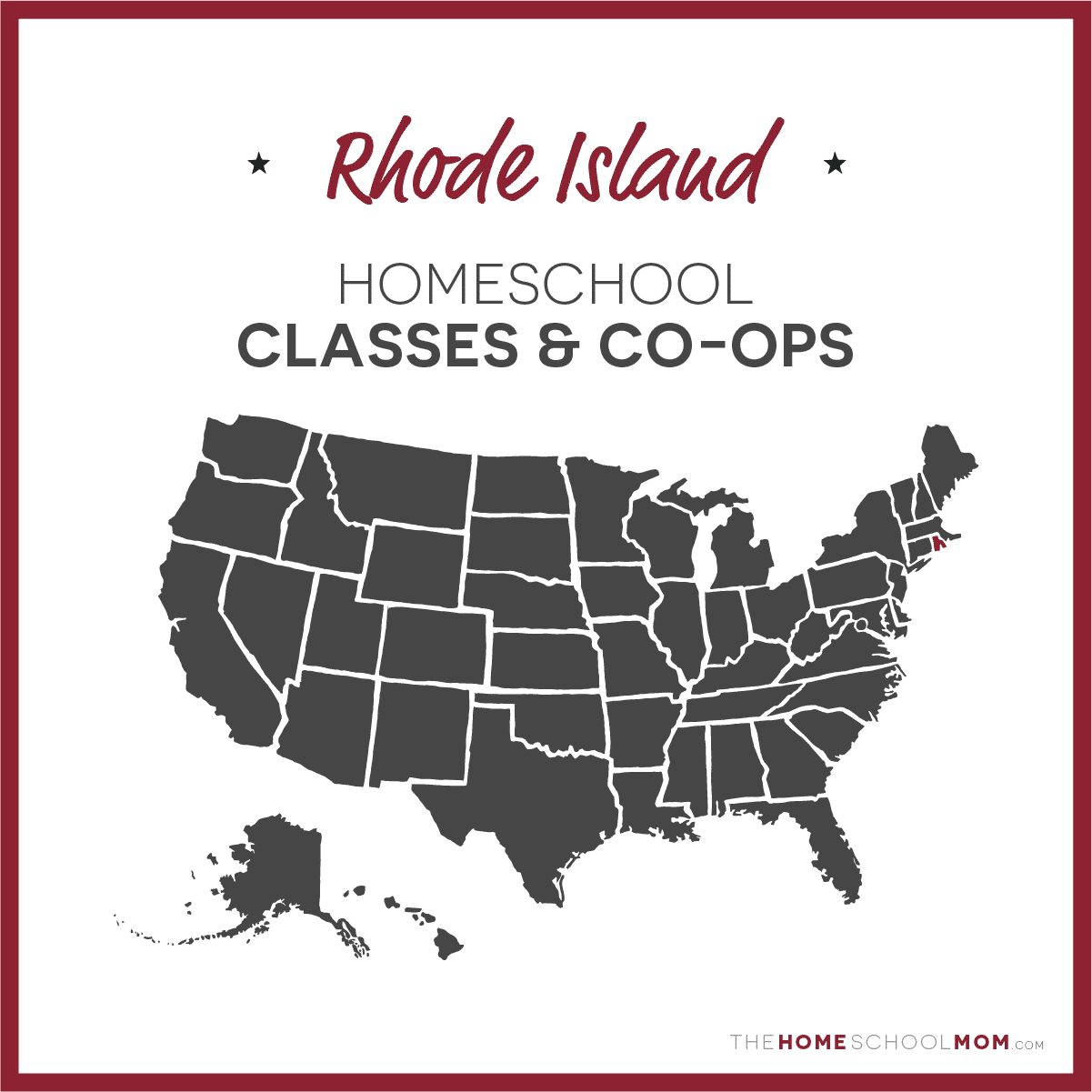 Submit a Local Resource
Our listing of Rhode Island co-ops and academic classes for homeschoolers is ordered alphabetically by city, with co-ops in the first section and all other academic resources below. If you would like to submit a Rhode Island co-op or academic resource, you may do so using the red button above.
Rhode Island Homeschooling Co-ops
ENRICHri HomeschoolersCoventry
ENRICHri is an all volunteer inclusive group that offers two co-op locations, many events, field trips, and support services throughout the year. Should you need help in getting started with homesc...
Rhode Island Homeschooling Classes & Academic Enrichment
Good Company TutorialsAttleboro, MA and Cranston, RI
Ongoing weekly classes for students in grades 5-12. Over 40 courses, including apologetics and worldview; various levels of public speaking, literature, and writing; Spanish; seven science courses;...[Read more...]
Mayflower TutoringBoston
Mayflower Tutoring is a reputable Plymouth, MA-based tutoring service. It proudly offers online and in-person tutoring sessions for elementary through high school students. Its founder, Matthew Row...[Read more...]
Rose Public Speaking and Debate InstituteBoston Area Metropolitan
Rose Debate Institute offers private Public Speaking and Debate programs to the home school community in homes, co-ops, and churches etc., grades 4-12. Rose Debate's Public Speaking 1 course lays a...[Read more...]
Frosty Drew Nature Center Field StudiesCharlestown
The Frosty Drew Nature Center and Observatory are dedicated to environmental stewardship and delivering environmental education to people of all ages, with primary focus on marine and aquatic habit...[Read more...]
Frosty Drew Homeschool Science ProgramsCharlestown
Science classes to supplement the education of homeschool students. Families from all over Rhode Island meet at the center, where small, intimate classes and hands-on learning help to feed young mi...[Read more...]
Tim KenneyCoventry
"My name is Tim Kenney and I am an English teacher at East Greenwich High School in East Greenwich, Rhode Island. I have been an English teacher for over 25 years and, now that my own children are ...[Read more...]
Circuit Lab Electronics ProgramsGreater Boston Area
Circuit Lab runs hands-on learning programs to teach children about circuitry (electrical engineering) and programming (computer science). Circuit Lab after-school and summer programs are offered i...[Read more...]
Compassionate MathHartford area
Compassionate Math is the idea that learning mathematics is both an intellectual and emotional challenge – you can't move forward intellectually if you don't address negative emotions. Compassionat...[Read more...]
The Empowerment FactoryPawtucket
The Empowerment Factory, located in Pawtucket, Rhode Island, is a small nonprofit organization offering free enrichment programming and community events (both virtual and in-person) to Rhode Island...[Read more...]
Dyad Speech ServicesProvidence
Dyad Speech Services offers speech therapy for ages K -12. Free screeings, collaborative and intergrative with curriculum. Days, evenings and weekends, year round. Therapy provided in home. Social/...[Read more...]
MagneticVisions 3D Modeling and Printing trainingRhode Island / Bristol
This resource provides two and three day courses, with hands-on instruction and training to design and build 3D models, using Rhino NURBS modeling (CAD-Computer Aided Design) software. No previous ...[Read more...]
Marine Science Experiential LearningStonington
New England Science & Sailing (NESS) is based in Stonington, CT, and runs on-the-water programs with homeschool families across New England. NESS's marine science and adventure sports programs ...[Read more...]
Go to Rhode Island...