Jump to: Homeschool Co-ops | Homeschooling Classes & Academic Enrichment
Looking for someone to teach physics to your teen? Need a way to avoid teaching algebra? Want to enroll your Kindergartener in a co-op for social time? Homeschool classes and co-ops are a great way to spend time with other homeschoolers and skill-share with other homeschool parents.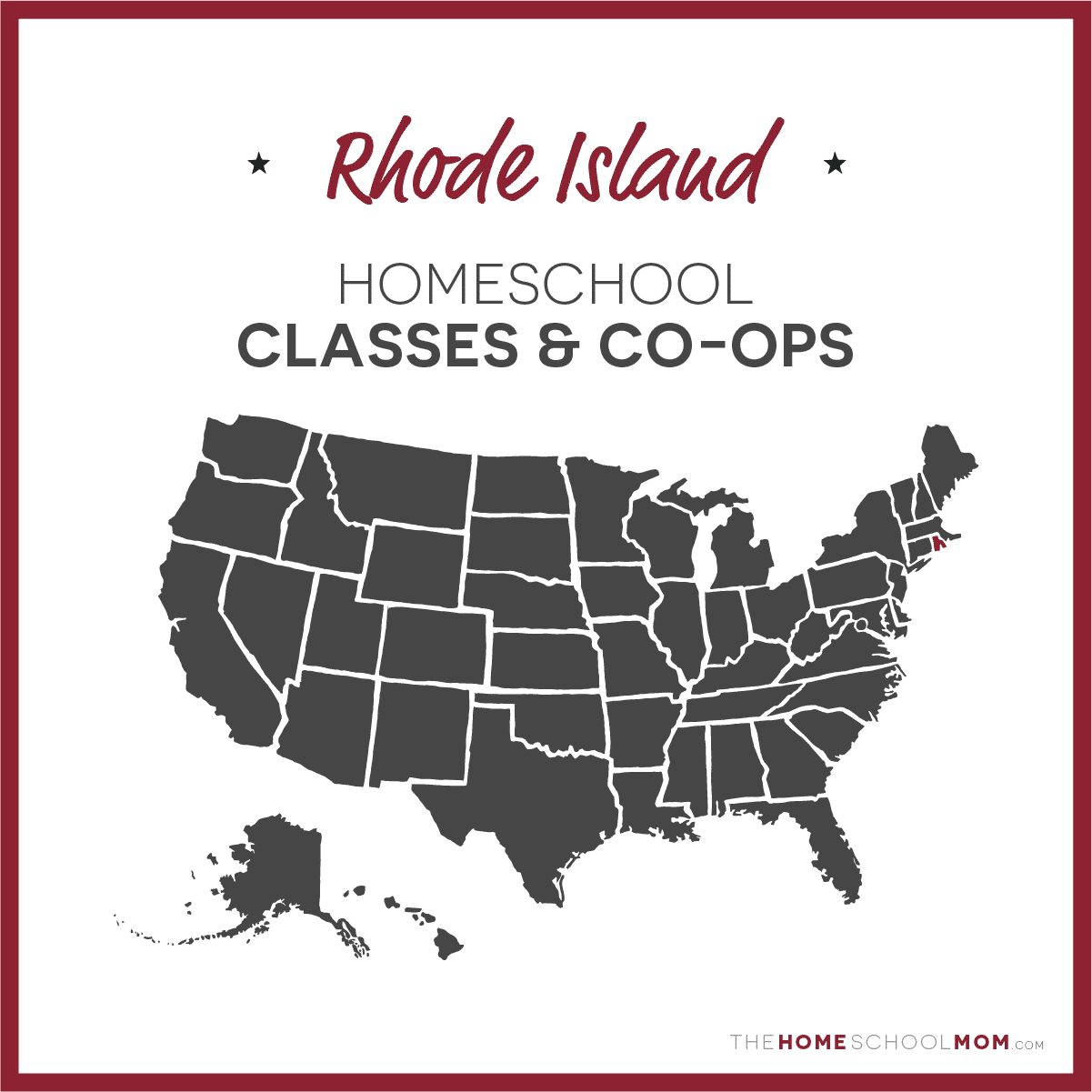 Submit a Local Resource
Our listing of Rhode Island co-ops and academic classes for homeschoolers is ordered alphabetically by city, with co-ops in the first section and all other academic resources below. If you would like to submit a Rhode Island co-op or academic resource, you may do so using the red button above.
Rhode Island Homeschooling Co-ops
ENRICHri Homeschoolers

Coventry

ENRICHri is an all volunteer inclusive group that offers two co-op locations, many events, field trips, and support services throughout the year. Should you need help in getting started with homeschooling with Rhode Island laws, ENRICHri offers Homeschool 101 seminars, read over a FAQ page, the state statutes and sample RI letters.
Rhode Island Homeschooling Classes & Academic Enrichment
Good Company Tutorials

Attleboro, MA and Cranston, RI

Ongoing weekly classes for students in grades 5-12. Over 40 courses, including apologetics and worldview; various levels of public speaking, literature, and writing; Spanish; seven science courses; personal finance; algebra, geometry, and SAT math prep; logic; study skills; art, music, and drama; world history; several AP courses; and more.
Rose Public Speaking and Debate Institute

Boston Area Metropolitan

Rose Debate Institute offers private Public Speaking and Debate programs to the home school community in homes, co-ops, and churches etc., grades 4-12. Rose Debate's Public Speaking 1 course lays a foundation for every kind of communication, from making good first impressions to practicing for future job and college interviews. The course includes: • Confidence building, • Interactive oratory, • Body language, and much more. The Fundamentals of Debate and Advanced Seminars prepare homeschoolers for speech and debate competition including but not limited to the NCFCA as well as STOA home school leagues.
Frosty Drew Nature Center Field Studies

Charlestown

The Frosty Drew Nature Center and Observatory are dedicated to environmental stewardship and delivering environmental education to people of all ages, with primary focus on marine and aquatic habitats and the night sky. "Hands On, Minds On" is the philosophy, and students participating in a Frosty Drew field study program find it an unforgettable experience. Select one of our field studies that approach scientific concepts in life and earth science in a fun way. Students can expect many hands-on, minds-on opportunities as they inquire, observe, assess, learn, and better understand the interactions of the living environment. These field studies address Rhode Island GSEs/GLEs and Connecticut's Common Core of Learning/GLEs, and can be adapted to specific curriculum needs. For questions and reservations, please contact us at fieldstudies@frostydrew.org or by phone at (401)859-1450.
Frosty Drew Homeschool Science Programs

Charlestown

Science classes to supplement the education of homeschool students. Families from all over Rhode Island meet at the center, where small, intimate classes and hands-on learning help to feed young minds hungry for knowledge. Each class focuses on the biology of an animal or group of animals, including anatomy, life cycle, habitat, adaptations, and diversity. Classes feature a presentation in the Sky Theatre, including video clips and pictures to illustrate concepts, interaction with a live animal or dissection specimen, and a game or craft related to the lesson. Past students have observed tadpoles metamorphosing into frogs in Little Nini, traveled to the Mystic Aquarium to see and touch sharks, and even written their names in squid ink after dissection. Frosty Drew's Homeschool Science Programs cultivates a true excitement for the wonders of the natural world.
Tim Kenney

Coventry

"My name is Tim Kenney and I am an English teacher at East Greenwich High School in East Greenwich, Rhode Island. I have been an English teacher for over 25 years and, now that my own children are older, I am looking to offer my skills as a literature and writing instructor to parents who home school who are looking for outside resources. I can bring a variety of hands-on, interdisciplinary lessons that can deepen any student's love of learning."
Circuit Lab Electronics Programs

Greater Boston Area

Circuit Lab runs hands-on learning programs to teach children about circuitry (electrical engineering) and programming (computer science). Circuit Lab after-school and summer programs are offered in many locations around Boston, and they can travel to any site to run a series of classes for homeschool groups. These classes give kids the opportunity to learn essential modern-world skills in a creative setting where they have access to leading-edge electronics prototyping equipment. Students work both independently and in teams on a variety of hands-on projects during a Circuit Lab program. They explore new concepts each day, with a cumulative curriculum that builds to more advanced projects. In the course of a typical program, students will create projects like interactive flashlights, digital musical instruments, self-designed computer games, and robotic cars.
Compassionate Math

Hartford area

Compassionate Math is the idea that learning mathematics is both an intellectual and emotional challenge – you can't move forward intellectually if you don't address negative emotions. Compassionate Math provides ongoing math learning support to homeschoolers and parents that does not ignore the emotional baggage that goes with learning math. Regular in-person workshops/classes held in and around CT.
The Empowerment Factory

Pawtucket

The Empowerment Factory, located in Pawtucket, Rhode Island, is a small nonprofit organization offering free enrichment programming and community events (both virtual and in-person) to Rhode Island families. Programming focuses on three key areas of development- creativity, self-esteem, and civic pride- and blends social-emotional learning (SEL), art, literacy, and environmental education. Programming is offered in the winter, spring, summer, and fall.
Dyad Speech Services

Providence

Dyad Speech Services offers speech therapy for ages K -12. Free screeings, collaborative and intergrative with curriculum. Days, evenings and weekends, year round. Therapy provided in home. Social/pragmatic skills. Summer school ramp up to next grade level. ESL services to enhance language skills.
MagneticVisions 3D Modeling and Printing training

Rhode Island / Bristol

This resource provides two and three day courses, with hands-on instruction and training to design and build 3D models, using Rhino NURBS modeling (CAD-Computer Aided Design) software. No previous experience is required. Instruction provides in-depth tools and techniques used in 3D modeling and the 3D printing process. Emphasis is on promoting individuals' logical thinking, and enhancing problem solving skills. Courses are also available to build an affordable 3D printer. This course covers the step by step construction of the printer from a kit, materials and operation processes used, as well as how to maintain and troubleshoot the printer. Weekday, weekend and evening schedules are available.
Marine Science Experiential Learning

Stonington

Our mission at New England Science & Sailing Foundation (NESS) is to empower students with a love of learning through ocean-based experiential programs that serve schools, teachers, and families. NESS is the first and only program of its kind to be accredited by the New England Association of Schools and Colleges (NEASC). Our goal is to advance academic opportunities for K-12 students of all backgrounds in both urban and suburban markets. We offer a unique education model that empowers students with leadership, teamwork, confidence, and problem-solving skills to ensure academic success. Our STEM-based curriculum uses marine science, sailing, powerboating, and adventure sports as learning platforms. We hope you will play a role in helping us continue this important educational mission! The NESS instructor-led, hands-on programs include topics such as: marine debris, navigation, erosion, camouflage, deep sea exploration, and even sailing at home! Classes range from 1-2 hours based on the needs of the students. These courses are correlated to standards related to science, ocean literacy, and socio-emotional learning. If you are interested in learning more about NESS programs, please feel free to email Nina Quaratella, Education Specialist, at nquaratella@nessf.org or call at 860-535-9362.