Jump to: Homeschool Arts | Homeschool Sports
In addition to the opportunity to get out of the house and socialize, homeschool sports and arts programs can offer long-term benefits by developing characteristics like leadership, self-confidence, perserverance, and self-esteem. Many organizations and businesses have opportunities specifically for homeschoolers, while others invite homeschoolers to participate in their regular programs.
Not sure how to choose activity/activities for your children? Read how Rebecca narrows down the choice of extra-curricular activities.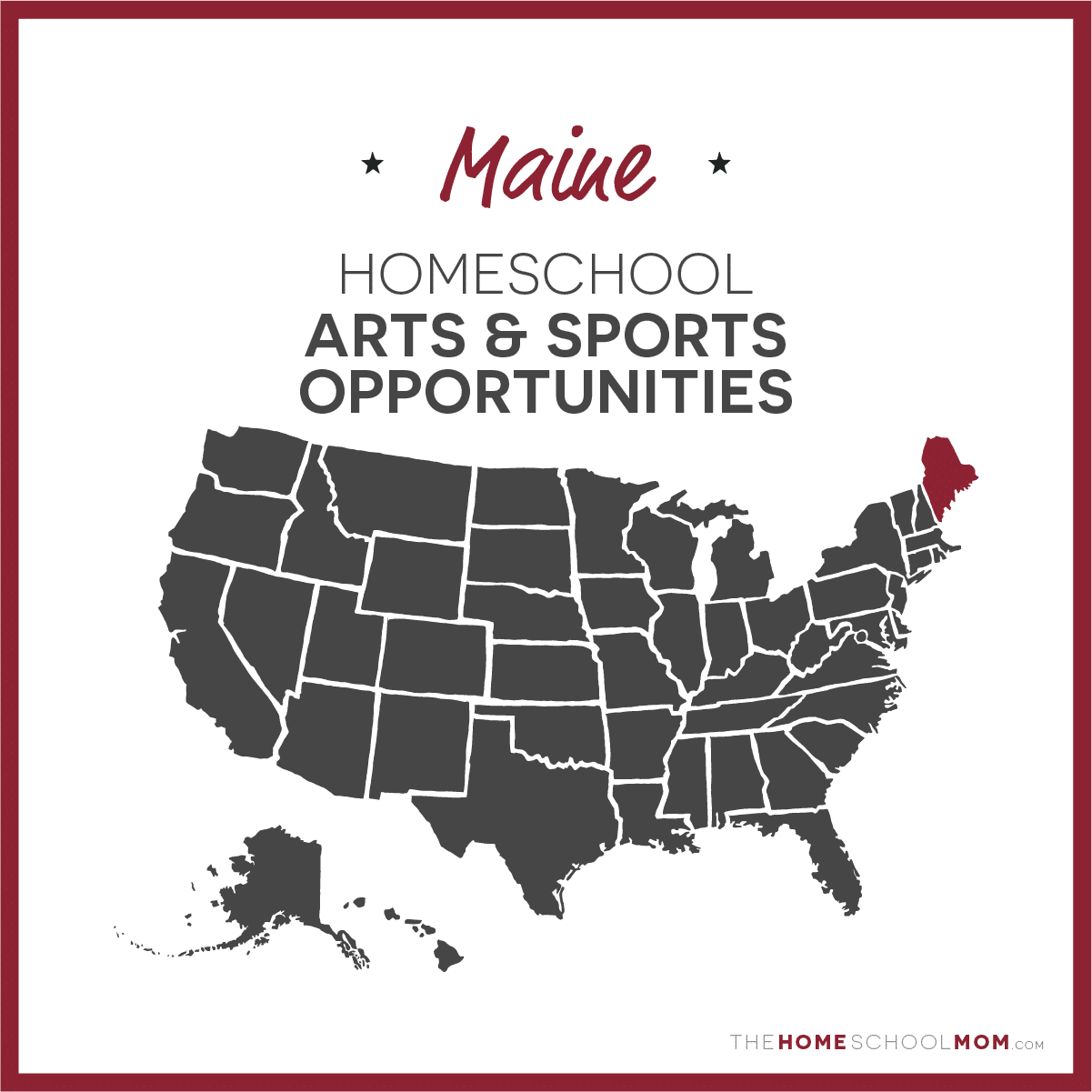 Submit a Local Resource
Our listing of Maine list of homeschool arts and sports programs is ordered alphabetically by city, with arts in the first section and sports in the second section. If you would like to submit an Maine arts or sports program, you may do so using the red button above.
Maine Homeschool Arts Programs
Penobscot Theatre Company Education Programs

Bangor

Year-round theatrical educational programming for all ages and experience levels. From Tiny Thespians to Master Classes, Dramatic Academy fosters learning, growth and skill acquisition with opportunities throughout the year.
Theater at Monmouth

Monmouth

School Programs bring the art and practice of theatre into the classroom to support student learning and teacher professional development. Performance-based residencies, designed collaboratively by teachers and artists, guide students through a deeper exploration of classic texts and address specific classroom and/or curriculum objectives and outcomes. Teacher Resource Guides and Professional Development Workshops provide background information on the plays, productions, and people of classic literature to help teachers prepare students to engage with the plays on the page and on the stage. http://theateratmonmouth.org/education/school-programs/
Bangor Area Youth Choirs

Penobscot

The Bangor Area Youth Choirs is a non-profit youth choir organization that seeks to provide youth with a high-level choral experience coupled with an inclusive community of thoughtful, talented, creative young people that share a common love of singing. BAYC is composed of young singers aged 8 (or 7 if approved by the Artistic Director) -18 (or in High School). BAYC follows the organizational guidelines of most established children's choirs and is not affiliated with any church, public or private school. BAYC is set up to be a long-term activity and experience that grows and deepens throughout the years of the singer's involvement. The staff and board of BAYC work hard to have our organization be one that gradually and consistently builds musical expertise, character, poise, sensitivity and understanding of other cultures and eras, friendships with singers from a wide variety of backgrounds and locales, and leadership skills. The "3 Choirs in One" Structure Treble Singers - for all youth ages 8-12 (7 with Artistic Director approval). This group is the starting point for our young singers and seeks to instill healthy singing techniques, music literacy, and to further nurture a life-long love of singing. The Treble Singers explore their voices through guided warmups and appropriate repertoire that seek to challenge the young singer all while having fun! They will also join the Mixed Ensemble every week to rehearse together any combined pieces. Mixed Ensemble (ME) - this choir is open to all youth ages 12-18. This ensemble provides an extensive choral experience through guided warm-ups, vocal pedagogy, music literacy, and an eclectic repertoire drawing on all genres, time periods, and styles. This group maintains the same high standard of instruction, experience, and performance that has been synonymous with BAYC while providing an inclusive and welcoming, high-level choral experience for all interested young people. Chamber Singers - ages 14-18 or with permission. This is a select/auditioned choir that offers students a focused, advanced level of choral/music education. This is achieved through advanced warm-ups, pedagogical practices and techniques, and music literacy exploration. Repertoire is challenging and draws from all genres, periods, and styles. Chamber Singers are required to take part in the Mixed Ensemble's rehearsals where they are expected to take on a leadership role within their section and the ensemble as a whole.
Portland Stage Year-Round Theater Programming

Portland

Portland Stage offers vital theater arts education for 4-18 year olds. Portland Stage offers classes, camps, workshops, and more! As a leading cultural arts institution, education is central to the Mission of Portland Stage. All classes and workshops are taught by professionally trained Teaching Artists and focus on literacy, cultural awareness, imaginative problem-solving, collaborative play, and creative thinking. Portland Stage teaching philosophy highlights process over product, deepening students' ability to analyze, synthesize, and think critically while making connections to the thoughts and ideas behind the written word.
317 Main Community Music Center

Portland

317 Main Community Music Center brings the power of music to people of all ages, abilities, and backgrounds from across southern and mid-coast Maine. 317 Main offers classes, private lessons, and ensembles for ages 0-101. Private lessons on 18+ instruments in-person at our facility. Classes are offered for students that range from beginning piano to acapella, six days a week.
Pottery Classes for Homeschooled Students

Rockport

Weekly pottery classes at Honey Bee Hill Ceramics from September - June, for homeschooled students. Each class includes instruction in throwing, handbuilding, and glazing pottery. Each hour and a half class includes instruction, demonstration, and plenty of time for individual work. Space is limited to 4 students/class.
Maine Homeschool Sports Programs
Ski and Snowboarding in Maine

Auburn

Want a great way to provide an affordable, FUN activity for students, parents, other community members to enjoy together? Start a Club Program for skiing and snowboarding! The Lost Valley Club Program introduces its members to a recreational sport that can truly be enjoyed throughout a lifetime. It encourages exercise and physical activity, and challenges students to learn new skills. Most Clubs at Lost Valley have historically been organized through schools, but they can also be started by PTA and PTO groups, church groups, community recreation centers, youth groups, scouting troops, home schooling groups, and so on. You just need to have more students than adults within your Club.
Pickleball to Tennis program

Portland

Teaching young children Pickleball as a stepping stone to other racquet or eye-hand sports.
Maine Homeschool Skate

Westbrook

Happy Wheels, Westbrook Homeschool Skate Join in on the 1st & 3rd Fridays of each month September - May for a homeschool skate - an afternoon of fun, exercise, and fellowship! Happy Wheels, 3 Chabot St., Westbrook from 1 - 3 PM. All homeschoolers and alumni are welcome to attend. The cost is $7 per skater, no additional cost for skate rentals. We hope to see you there!