Field trips are a great way to reboot a bad homeschooling week, get out of the house when everyone has cabin fever, and learn about your local area. Before heading out, check out Jeanne's tips for improving homeschool field trips.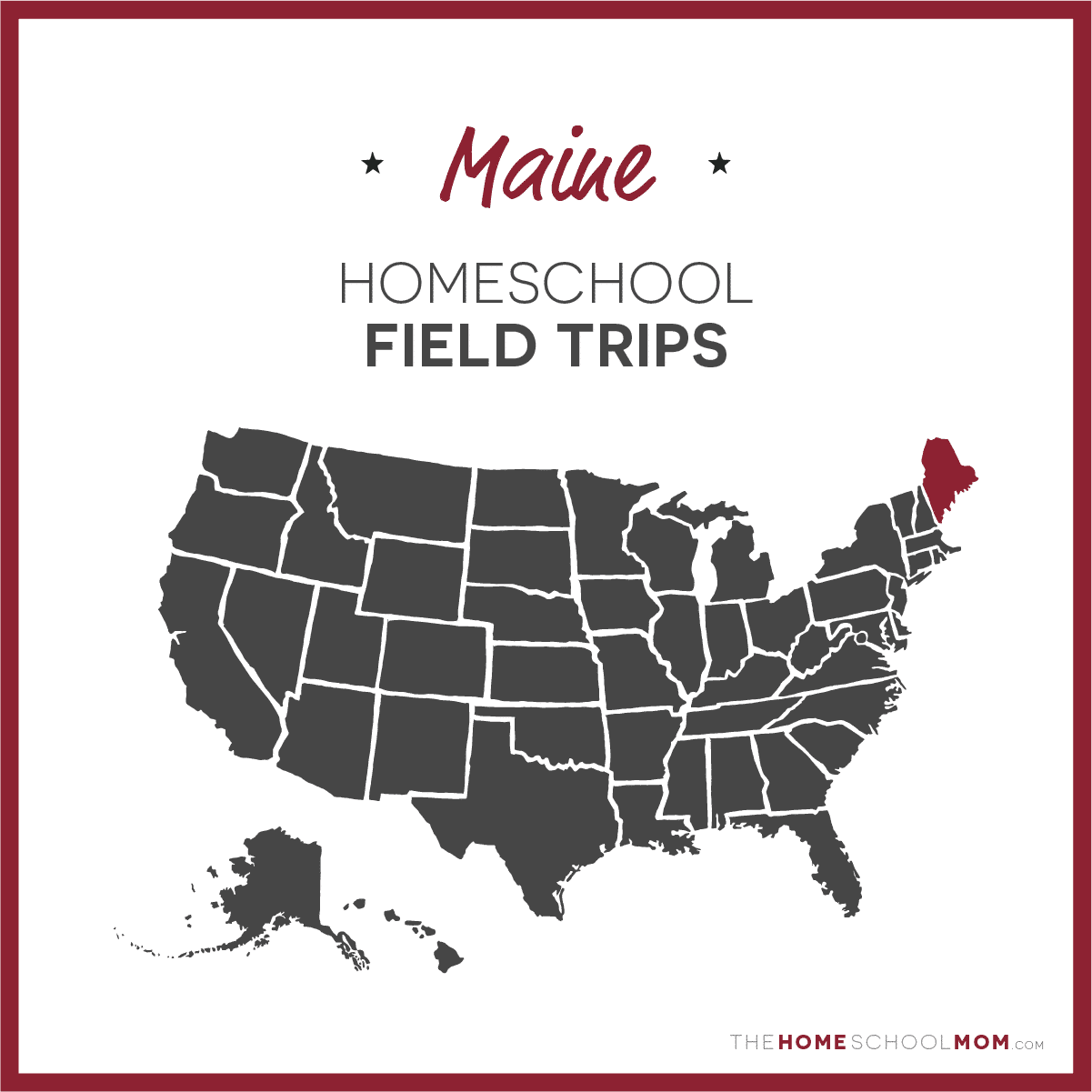 Submit a Field Trip Destination
Our listing of Maine field trips for homeschoolers is ordered alphabetically by city. If you would like to submit a Maine field trip destination, you may do so using the red button above.
An asterisk * after the title indicates that a virtual field trip is also available.
WW&F Railway Museum

Alna

Maine's Wiscasset, Waterville, and Farmington Railway was a two-foot gauge common carrier railroad that operated from 1894 until 1933. The line ran from Wiscasset in the south, to Albion and Winslow in the north, never making it to either Waterville or Farmington. The Museum is located at the site of the old Sheepscot station in Alna, with mainline track running north from Cross Road, on the original roadbed.
Appalachian National Scenic Trail

Appalachian Mountains

The People's Path and America's First National Scenic Trail. The Appalachian Trail (A.T.) is more than 2,175-mile long footpath stretching through 14 eastern states from Maine to Georgia. Conceived in 1921 and first completed in 1937, it traverses the wild, scenic, wooded, pastoral, and culturally significant lands of the Appalachian Mountains.
Telos Public Reserved Land

Aroostook County

Telos is a 23,000 acre unit that surrounds Telos Lake and the southern end of Chamberlain Lake, the most popular starting point for canoeists traveling the Allagash Wilderness Waterway. Campsites are located on Coffelos Pond which is popular with anglers.
Deboullie Public Reserved Land

Ashland

Deboullie's low rugged mountains and scenic remote trout ponds are all available for visitors using the 22,000 acre unit's hiking trails and campsites. Snowmobilers frequently pass through the unit on their way from Eagle Lake to the Allagash.
Eagle Lake Public Reserved Land

Ashland

Eagle Lake is a 23,000-acre unit including most of Eagle Lake in northern Maine. The unit abuts Square Lake to the east with a thoroughfare connecting the two lakes.
Round Pond Public Reserved Land

Ashland

Round Pond takes its name from the pond, which is a wide section of the Allagash River. Canoeists from the river enjoy the view of river and forest from the observation tower on top of Round Pond Mt. This 20,000 acre unit is a popular hunting area in the fall.
Squapan Public Reserved Land

Ashland

Located in Aroostook County between Presque Isle and Ashland, the 16,700-acre Squapan Management Unit contains some of the most rugged terrain in this part of the state. In addition to 1400-foot-high Squapan Mountain and 9.5 miles of shoreline on Squapan Lake, it also has low hills, wetlands, brooks, and a small pond. This forested area, bordering a scenic lake, attracts visitors who enjoy hunting, fishing, and camping in a semi-remote setting. Water access campsites on the lake shore and snowmobile trails through the woods are the most popular destinations for visitors.
Old Fort Western

Augusta

Protecting, preserving and interpreting the 1754 National Historic Landmark fort, store and house on the Kennebec River in Augusta, Maine
Houlton - Phair Junction Trail

Augusta

The Houlton to Phair Junction trail is 40 miles long and extends from Houlton through the towns of Monticello, Bridgewater, Mars Hill, and loops through the southern edge of Presque Isle. The Houlton trail winds through forestland, small northern Maine communities and is open year-round for multiple use.
St. John Valley Trail

Augusta

The St. John Valley Trail takes riders 18 miles from Fort Kent through St. John to St. Francis. Riders tour the countryside to experience rolling hills, farmland and several miles along the edge of the St. John River. While the trail is located near highways, users get a sense of remoteness. The trail is open year round for multiple use.
Bangor Museum and Center for History

Bangor

The Bangor Historical Society was established in 1864 by a group of 22 men led by Judge John Godfrey, who were interested in collecting, preserving and interpreting local history for the public.
Cole Land Transportation Museum

Bangor

Statement of Purpose: To collect, preserve, and display (before they disappear forever) a cross section of Maine's land transportation equipment from which this and future generations will gain knowledge of the past. To honor the thousands of Maine land transportation pioneers whose dedicated work cleared and reshaped the land, and constructed the highways and rail lines that allowed the state's development beyond its seacoast. To honor also those individuals whose determination made it possible -- with primitive tools -- to "keep the roads open", year round through Maine's severe winters - a feat largely accomplished by the 1930's. To record and display U.S. military memorabilia to forever remind this and future generations of the high price our comrades have paid to protect our freedom.
Maine Aviation Historical Society Maine Air Museum

Bangor

The Maine Aviation Historical Society was founded to collect, document and preserve the rich aviation history of the State of Maine. Civil, commercial, military and recreational flying have always been an important part of Maine history. Our goal is to preserve the history of the people and events of the past. From the earliest balloon flights, to barn stormer pilots to space travel, Maine has been an active player.
University of Maine Museum of Art

Bangor

The University of Maine Museum of Art enriches the cultural life of the citizens of Maine and University community through exhibitions, collections and innovative educational programming designed to promote an understanding of the visual arts with particular emphasis on the modern and contemporary.
Allagash Wilderness Waterway

Bangor

The Allagash Wilderness Waterway was established to preserve, protect, and enhance the natural beauty, character, and habitat of a unique area. It is a magnificent, 92-mile-long ribbon of lakes, ponds, rivers, and streams winding through the heart of northern Maine's vast commercial forests. For more than a century The Allagash has been praised and enjoyed as a sportsman's paradise.
Fort Kent State Historic Site

Bangor

Fort Kent State Historic Site bears the distinguished honor as one of Maine's few National Historic Landmarks, a testimony to its important role in securing the state and national border. Named after Maine's Governor Edward Kent, Fort Kent served as Maine's northern post during the international border dispute during the Aroostook War, and is Maine's first, state-owned historic site.
Abbe Museum

Bar Harbor

The Abbe offers innovative exhibitions and programs on Maine's Native American heritage. Visitors find dynamic and stimulating exhibitions and activities interspersed with spaces for quiet reflection. The history and cultures of Maine's Native people, the Wabanaki, are showcased through changing exhibitions, special events, teacher workshops, archaeology field schools and craft workshops for children and adults.
Mount Desert Oceanarium

Bar Harbor

Explore Maine Ocean. Oceanarium is open daily 9 to 5 except Sundays and will be open until mid or late October.
Acadia National Park - Bar Harbor, ME

Bar Harbor

People have been drawn to the rugged coast of Maine throughout history. Awed by its beauty and diversity, early 20th-century visionaries donated the land that became Acadia National Park. The park is home to many plants and animals, and the tallest mountain on the U.S. Atlantic coast. Today visitors come to Acadia to hike granite peaks, bike historic carriage roads, or relax and enjoy the scenery.
Maine Maritime Museum

Bath

Maine Maritime Museum offers a myriad of opportunities to explore Maine's maritime heritage and culture and to experience the mystique of Maine.
Mahoosuc Public Reserved Land

Bethel

Mahoosuc is located on the New Hampshire border in central Oxford County. The Mahoosuc Unit and Grafton Notch State Park comprise more than 30,000 acres of rugged mountainous terrain. Scenic vistas from remote mountaintops attract backpackers, while just a short distance from the road streams and waterfalls sculpted by glaciers await walkers and picnickers.
Dr. Moses Mason House

Bethel

One of the finest Federal style residences in northern New England, the Dr. Moses Mason House was constructed in 1813 on a spacious lot facing onto the Common at Bethel Hill village. According to Dr. Nathaniel Tuckerman True, Bethel's eminent nineteenth century historian, this house was the first on the Common to be painted white, the first on a high foundation of granite slabs, and the first to make use of exterior shutters. The house and grounds were renovated and restored in 1972-73 by the Bingham Trust, which presented the property to the Bethel Historical Society in memory of William Bingham II, the town's great twentieth century philanthropist.
Boothbay Railway Village

Boothbay

The Boothbay Railway Village, located in Boothbay, Maine, is a non-profit organization that operates a narrow gauge coal fired steam train in a re-created historic village composed of locally significant historic structures. Additionally the museum exhibits one of the finest presentations of antique vehicles in New England. The Village is a non-profit organization whose mission includes the preservation, operation and exhibition of various historical artifacts from New England and the State of Maine.
Leonard's Mills - Maine Forest and Logging Museum

Bradley

Leonard's Mills is the centerpiece of the Maine Forest and Logging Museum, Inc., a nonprofit organization incorporated in 1960, and dedicated to keeping alive the forest industry of long ago for the present-day citizens of the State of Maine. Located on approximately 400 acres on Blackman Stream in Bradley, Leonard's Mills is at the actual site of an early pioneer settlement, identified by the remains of a stone dam and the foundations of several houses. Today, Leonard's Mills is "alive" once again, as the Museum is represented by an authentic reconstruction of a logging and milling community of the 1790s. The Museum, through our Living History site at Leonard's Mills, teaches people of all ages about the forest and logging history of Maine. Our general purposes are to collect, preserve, and share artifacts, documents, tools, and equipment, and stories relating to the history of the Maine woods - particularly the pioneer and lumbering periods.
Bridgton Historical Society - The Gibbs Avenue Museum

Bridgton

Bridgton has a rich and varied past as a farming community, a center for trade and industry, and, with the coming of the narrow-gauge railroad and the automobile, a destination for thousands of summer visitors. The former fire station on Gibbs Avenue (built in 1878) in downtown Bridgton houses the Bridgton Historical Society's Museum collections, archives, and research facilities. Special exhibits change each summer, and programs on Bridgton history and related topics are held throughout the year.

Bridgton Historical Society - The Gibbs Avenue Museum website
The Rufus Porter Museum of Art and Ingenuity

Bridgton

The Rufus Porter Museum of Art and Ingenuity promotes and preserves the life and legacy of Rufus Porter. Today, Porter is well recognized for his folk art, however, he was so much more than a painter. Porter was an inventor, a musician, and a founding publisher, editor, and writer for Scientific American, still in publication today. Open seasonally and by appointment, our campus is home to two historic Bridgton homes. The museum's main exhibits, located in the John and Maria Webb House, features the story of Rufus Porter and includes a collection of miniature portraits, models of some of his inventions, books and pamphlets written by Porter. The Webb House is on the National Register of Historic Places and received an Honor Award from Maine Preservation in 2019. The Nathan Church House is home to a collection of murals from various New England homes, an in situ mural room, and special exhibit space. The Church House is the original headquarters of the museum and one of Bridgton's oldest surviving buildings. We offer a variety of educational activities and host Camp Invention every summer.
Holbrook Island Sanctuary

Brooksville

Scenic natural area of upland forests, rocky shores, and an offshore island provide opportunities for hiking, nature appreciation, and cross-country skiing in winter. Picnic tables are available, along with an area to launch canoes and kayaks.
Katahdin Iron Works

Brownville Junction

Beautiful scenery and numerous recreational opportunities surround historic Katahdin Iron Works, including Gulf Hagas, a stunning gorge more than three miles long, which carves through slate bedrock. Gulf Hagas is a National Natural Landmark and part of the Appalachian Trail. Nearby, the Maine Chapter of the Nature Conservancy protects 35 wooded acres of some of Maine's oldest white pines. Known as The Hermitage, this preserve is also a National Natural Landmark.
Peary-MacMillan Arctic Museum

Brunswick

Named for Arctic explorers and Bowdoin College graduates Robert E. Peary and Donald B. MacMillan. The museum collections include Arctic exploration gear, natural history specimens, and art and anthropological material, produced primarily by the Inuit cultures of Labrador and Greenland. The museum also has large holdings of historic and anthropological photographs and motion picture film.
Pejepscot Museum

Brunswick

Rotating exhibitions explore the history of Brunswick, Topsham and Harpswell. Research library with primary documents permit visitors to explore the history of the region and their own heritage. Free to the public and open all year round.
Skolfield-Whittier House Museum

Brunswick

A house represents a time-capsule for three generations of a prominent Brunswick family. Alfred Skolfield was a successful sea captain, Dr. Alice A.S. Whittier, was Maine's first female pediatrician, and Dr. Frank Whittier, one of America's first forensic pathologists. The house remains exactly as it was in 1925 when it was last occupied on a full time basis. Seventeen rooms are viewed during personalized guided tours that provide an unparalleled glimpse into nineteenth-century upper-middle-class life in Maine. If you want to learn more about this extraordinary building, take our Virtual Tour.
Joshua L. Chamberlain Museum

Brunswick

The museum is the adult home of Joshua L. Chamberlain and his family. Chamberlain was the hero of Little Round Top at Gettysburg during the Civil War, Governor of Maine, and President of Bowdoin College. Guided tours explore Chamberlain's life, family and career.
Saint Croix Island International Historic Site

Calais

The winter of 1604-1605 on Saint Croix Island was a cruel one for Pierre Dugua's French expedition. Iced in by freezing temperatures and cut off from fresh water and game, 35 of 79 men died. As spring arrived and native people traded game for bread, the health of those remaining improved. Although the expedition moved on by summer, the European presence in northern North America had begun.
Camden Hills State Park

Camden

Camden Hills State Park signature location is the scenic vista high atop Mt. Battie where sweeping views of Camden, Penobscot Bay, and surrounding islands await. The park is located a few minutes north of Camden, a quintessential New England town featuring shops that are within walking distance to the working harbor. Harbor cruises, whale and puffin watches are available daily.
Crescent Beach State Park

Cape Elizabeth

Sandy oceanfront beaches, saltwater coves, wooded areas, and rock ledges provide seashore recreation for beachgoers, fishing and watersports enthusiasts, and nature observers. Crescent Beach State Park is a classic saltwater beach park with beach grass-studded sand dunes, ocean breezes, herring gulls, picnic areas and views of fishing boats and an offshore island.
Two Lights State Park

Cape Elizabeth

Two Lights State Park is a popular point of destination for Maine residents and the many visitors who enjoy the state's legendary rocky coast. Picnic tables situated on the hills facing the ocean afford visitors spectacular views of the ocean while enjoying an afternoon barbecue or clambake. Strollers and hikers can enjoy the refreshing sea breezes along shoreline trails and watch ships sailing into and out of Portland Harbor.
Adventure Bound

Caratunk

Adventure Bound is Maine's only youth and family adventure destination. Offering one day or multi-day Maine whitewater rafting trip on the Kennebec river, rock climbing, inflatable kayaking, ropes course, or a custom package tailored to suit your group or family. Our 40 acre property is located along the Kennebec River in the beautiful mountains of Caratunk, Maine. Miles of trails, waterfront area, a pool and hot tub, disc golf, playing fields, climbing wall, volleyball, and its proximity to amazing local activities are what separates Adventure Bound from any other campground or lodge.
Bigelow Preserve Public Reserved Land

Carrabassett

This is a popular three-season recreation area, with spring being the only time when there are few visitors. The Appalachian Trail and other trails as well as fishing, swimming, and camping offer a variety of outdoor activities at the Preserve. Fall foliage can be viewed from the roads and trails. Hunting and trapping opportunities range from easy vehicle access to foot access only in the backcountry areas. Fishing is plentiful in many small ponds and brooks. Winter visitors enjoy snowmobiling and cross country skiing over 20 miles of designated trails.
Sebago Lake State Park

Casco

This forested lakeside park is situated on the shore of Maine's deepest and second largest lake which provides year-round recreation for thousands of visitors each year. Swimming, sport fishing, camping and boating are some of the summer activities enjoyed by visitors. Whether hiking on marked trails or bicycling on park roads, visitors find many way to enjoy the park.
Castine Historical Society

Castine

The Castine Historical Society is dedicated to collecting and preserving information and materials related to the history of the Castine-Bagaduce River area. In 1994 the Society demonstrated the commitment to its mission by purchasing and restoring the Abbott School on the Castine town common. The fully restored building, itself a significant contribution to the community's history, is the Society's permanent home and site of annual exhibits and events. The Society's multi-media permanent exhibit is devoted to the ill-fated Penobscot Expedition, one of the worst naval defeats in American history, which took place in and around Castine during the summer of 1779. In terms of content and technology, it is the most comprehensive exhibit of the Revolutionary War disaster ever undertaken.
Gero Island Public Reserved Land

Chesuncook Lake

Gero Island is a large island in Chesuncook Lake. The water access campsites on the shore are popular with anglers and canoeists paddling the West Branch Penobscot River. The unit also includes most of historic Chesuncook Village on the mainland.
Whaleback Shell Midden

Damariscotta

The upper Damariscotta River is famous for its enormous oyster shell heaps, also called middens. Native Americans created the middens over a period of about a thousand years, between 2,200 and 1,000 years ago.
Cobscook Bay State Park

Dennysville

Cobscook Bay State Park is ideal for the camper seeking solitude and beautiful scenery. The Park, surrounded on three sides by the salt waters of Cobscook Bay, has more than 100-well-spaced and secluded campsites. Many of these campsites are located at the water's edge and provide excellent vantage points to observe the ebb and flow of the tides. In fact, Cobscook is a Maliseet-Passamaquoddy word for boiling tides. The average tide is 24 feet with some running as high as 28 feet. At low tide adventuresome campers may dig for the delicious soft shell clam.
Peaks-Kenny State Park

Dover-Foxcroft

Nestled on the shores of Sebec Lake, Peaks-Kenny State Park is one of those undiscovered gems of our park system. Campers enjoy the peaceful, family-oriented campground with only 56 sites that are tucked away in wooded areas to promote privacy.
Shackford Head State Park

Eastport

Shackford Head, a 90-acre undeveloped peninsula in Eastport, is located off Maine Route 190. The site includes beaches, protected coves, and a bold headland. A hiking trail from the parking area through the woods to the rocky headland allows beautiful views of Cobscook Bay.
Fort Edgecomb State Historic Site

Edgecomb

Watch boats motor by, catch a glimpse of playful harbor seals, or see nearby nesting osprey take flight as you enjoy a picnic on the waterfront at Fort Edgecomb State Historic Site. Located on Davis Island in the Sheepscott River, Fort Edgecomb traces its origins to the early 19th century. Interpretive panels unfold the events surrounding the Fort's history when hostilities in Europe dictated construction of forts to protect local residents. The centerpiece of the fort is the Blockhouse that was completed in 1809 and represents the nation's best-preserved blockhouse of this period. It sits on the highest point overlooking the Sheepscott River, and visitors are welcome to discover the views from the horizontal musket ports.
Birdsacre - Stanwood Wildlife Sanctuary

Ellsworth

Birdsacre is the home to Stanwood Wildlife Sanctuary. It is the home of famed pioneer, ornithologist and photographer, Cordelia J. Stanwood. Visitors will hear the charming tales of a prominent family that bore a brilliant Pioneer Ornithologist, and be dazzled by hawks and owls set within a park-like sanctuary.
Telephone Museum

Ellsworth

A big gray barn on a country road in Maine houses an unusual display of communications technology. At The Telephone Museum, the history of the telephone network from Alexander Graham Bell's patent in 1876, through the era of switchboard operators and early dial telephones, to the more complex electro-mechanical switching systems that preceeded digital technology, is represented in hands-on exhibits intended to show the ingenuity and craftsmanship of thousands of telephone workers, innovators and entrepreneurs over more than 100 years.
Whistle Stop Trail

Franklin County

The Jay to Farmington Trail is 14 miles in length and crosses the scenic western hills of Maine. Overall, the trail surface is gravel but mountain bikers should note that several sections consist of a sandy soil that makes biking difficult. True to the location, the western hills offer beautiful views of rolling hills with a rural farmland flavor. The trail is in close proximity to several highways and communities. The trail is open year-round for multiple use.
Wolfe's Neck Woods State Park

Freeport

Wolfe's Neck Woods State Park's marshes and open fields provide a tranquil transformation back to nature. The park contains varied ecosystems, including climax white pine and hemlock forests, a salt marsh estuary, and the rocky shorelines. The park's signature residents are the ospreys who nest on nearby Googins Island. An interpretive panel on the trail explains the life cycle of this magestic, graceful bird which summers on the island and makes its annual trek to South America each fall. Visitors who participate in a nature walk with the Park Naturalist can view the baby birds on their nest through a high-powered lenses and learn that these birds mate for life. Guided Nature Programs are offered in this beautiful natural setting. These one hour programs may include walks, short talks, and activities.
Swans Falls Campground

Fryeburg

The Swan's Falls Campground offers tentsites in a pine forest along the Saco River with access to wonderful day and multi-day canoe and kayak explorations.
Reid State Park

Georgetown

Reid State Park bears the distinct honor as being Maine's first State-owned Saltwater Beach. Today, thousands of visitors enjoy the park's long, wide sand beaches like Mile and Half Mile, which are rare in Maine. Enjoyed as a recreational resource, the beaches are also essential nesting areas for endangered least terns and piping plovers and resting and feeding areas for other shorebirds. Rarer than beaches along Maine's coast are large sand dunes, like those at Reid.
Downeast Lakes Land Trust

Grand Lake Stream

The Downeast Lakes Land Trust (DLLT) is a community led conservation organization, based in Grand Lake Stream, ME. DLLT contributes to the long-term economic and environmental well-being of the Downeast Lakes region through the conservation and exemplary management of its forests and waters. DLLT owns and manages the 34,000 acre Farm Cove Community Forest. Visitors are encouraged to use all forms of public access including canoeing and kayaking, hiking, camping, fishing, hunting, and more. There are no entrance fees and no gates. If you are interested in bringing your homeschool group to Grand Lake Stream, please contact DLLT at (207) 796 - 2100 or email info@downeastlakes.org.
Mayall Mills

Gray

Established by Samuel Mayall in 1791 in a small wooden building, this area grew to an operation based on the production of two large brick mills powered by the waters of Collyer Brook. Open all year. This site is part of our Pineland Public Reserved Lands and is available to the public for recreational use.
Pineland Public Reserved Land

Gray and New Gloucester

Pineland is a 600 acre unit in Cumberland County with a pastoral landscape of fields and forest. Hikers and skiers enjoy a three-mile network of trails that start at a small parking area on the Gray Depot Road.
Lily Bay State Park

Greenville

Lily Bay State Park is the place to pitch your tent near the shores of Moosehead Lake where campsites are well-spaced, wooded and some are lakeside. Located in Beaver Cove, the park offers visitors access to the popular central Maine region where hiking, fishing, hunting and leaf-peeping are popular activities throughout the year.
Little Moose Public Reserved Land

Greenville

Little Moose Management Unit covers more than 15,000 acres in Moosehead Junction and Big Moose townships. Although the forested land is flat to gently rolling in the southeastern quarter, the unit also includes most of the Little Moose Mountain Range with its steep slopes, rocky streams, and remote ponds. Visitors enjoy hiking, snowmobiling, fishing, hunting, and camping in this remote setting.
Moosehead Marine Museum

Greenville

The Moosehead Marine Museum invites you to experience history. Step aboard the Katahdin for a leisurely cruise to enjoy the natural beauty and history of Moosehead Lake. The Museum has an extensive collection of steamboat memorabilia and early photographs of the Moosehead area, and is dedicated to preserving the glorious days of steamboating and the marine heritage of the Moosehead Lake Region.
L.C. Bates Museum

Hinckley

The L.C. Bates Museum houses unique natural history and culture collections. The building is listed in the National Register of Historic Places. Within, young people in the Work Study Program catalog collections and historical records. Outdoors, youth study and protect the GWH trails habitat and wildlife.
Fields Pond Audubon Center

Holden

Fields Pond Audubon Center is located 7 miles from downtown Bangor on over 225 acres of diverse habitat. Exploration and discovery are at the center of our environmental education philosophy. Habitat exploration, stream investigation, and Maine natural history are the core environmental education activities.
Davistown Museum

Hulls Cove

The Davistown Museum is a regional tool, art, and history museum with two physical locations in Maine and an extensive website. The Museum and the website provide detailed information on the history of ferrous metallurgy, edge tool manufacturing, the Wooden Age of maritime New England, and the Classic period of American toolmaking that accompanied the advent of the Industrial Revolution. The main Museum complex, including exhibitions, galleries, libraries, and the visitors' center, is located in Liberty Village, while the office and sculpture gardens are in Hulls Cove (Bar Harbor). Museum exhibitions include The Art of the Edge Tool, the Annual Art Exhibition, an extensive collection of assemblage art, and work by members of the Maine Artists Guild.
Penobscot Nation Museum

Indian Island

The people of the Penobscot Indian Nation, are traditionally known as the penawahpskewi. Together with the Passamaqouddy, Maliseet, and Mik Maq Nations, the four Northeastern Woodlamds tribes make up the Wabanaki Confederacy. The Penobscot Nation Museum is a tax-exempt institution dedicated to preserving and sharing the rich cultural heritage of the Penobscot and Wabanaki people. Currently, the museum houses collections that span thousands of years of Maine Native American history. Our museum provides a repository for contemporary Wabanaki art, such as paintings, woodcarvings, and basketry, demonstrating the strong connections we have with our ancestors and the earth.
Bible Point State Historic Site

Island Falls

A 27-acre property near the south end of Mattawamkeag Lake, made famous by Teddy Roosevelt who visited the area beginning in 1878. As a young man under the guidance of his lifelong friend and guide Bill Sewall, Roosevelt camped at the southern end of Mattawamkeag Lake and hunted and fished throughout the area. It was reported that, each day, Roosevelt would take his bible and hike to a beautiful point of land at the confluence of the West Branch of the Mattawamkeag River and First Brook where he would read the bible.
Holeb Public Reserved Land

Jackman

Holeb's popular three-day canoe trip carries visitors through the heart of this 20,000 acre public reserved unit in western Maine. Several class I and II rapids can be either run or portaged, and a spectacular waterfall highlights the trip in this remote area. Moose and loons accentuate the special character found at Holeb, as wildlife watchers are kept busy viewing the more than 200 species found here. Visitors enjoy traditional recreational activities such as camping, hiking, fishing and hunting. A conservation easement held by The Forest Society of Maine protects some of the shore of Attean Pond and the Moose River. The day-use areas around Attean Pond are primarily accessible by boat and offer picnic facilities.
Damariscotta Lake State Park

Jefferson

Enjoy picnicking and swimming at one of midcoast Maine's most popular day use parks located on beautiful Damariscotta Lake in Jefferson. A large freshwater lake with a sandy beach provide a relaxing location for beach goers. Of course a trip to a state park wouldn't be complete without a picnic lunch.
Kennebec Valley Trail

Kennebec county

The Kennebec Valley Trail consists of 14 miles of spectacular views that take riders along the edge of the Kennebec River from Embden through Solon to Bingham. This route includes the historic Arnold Trail on the Kennebec River.
Brick Store Museum

Kennebunk

The mission of The Brick Store Museum is to preserve the rich heritage of the Kennebunks for year-round residents, seasonal visitors and future generations through the collection, preservation, interpretation and exhibition of its material culture.
Kennebunkport Historical Society

Kennebunkport

Now pause a while and let us show you how to step back in time and experience the fascinating history of our seacoast village; from its first sighting by Bartholemew Gosnold in 1602, through often turbulent transformations to the present. The Kennebunkport Historical Society offers several attractions for visitors to our Historic seacoast Village.* The Nott House and Garden, * Guided Village Walking Tours, * Self Guided Walking Tours, * The History Center of Kennebunkport, * The Pasco Exhibit Center, * The Town House School, * Clark Shipyard Office, * Old Jail Cells and* The Benson Blacksmith Shop.
Nott House

Kennebunkport

Located in the heart of the village where its Doric colonnade has been a landmark since 1853, this gem of Greek revival architecture takes one back to that time in Kennebunkport's history when shipbuilding thrived and the shipping trade made the town one of the wealthiest in New England. A guided tour of the Nott House gives an intimate glimpse of life as it was in those bustling and opulent Victorian times. The home is a veritable time capsule, unique in that all the carpets, furnishings, wallpaper, and artifacts are original to the house. They accurately reflect the varying and evolving tastes of four generations of the Perkins and Nott families spanning the late 1700s through to the middle 1900s.
First Families Museum

Kennebunkport

The First Families Kennebunkport Museum, at White Columns, offers visitors a chance to tour an 1853 Greek Revival home and view exhibitions covering two centuries of Kennebunkport history, from sea captains to Presidents. Located in the heart of the village, this gem of Greek Revival architecture reflects the lives of Charles and Celia Perkins, whose fortunes were connected to the thriving shipbuilding era of Kennebunkport, making the town one of the wealthiest in New England. Original furnishings and French wallpaper reflect the luxurious living of the family. Guided tours present stories and artifacts from sea captains and shipbuilders to rusticators to Kennebunkport's most famous summer resident, former President George H.W. Bush and First Lady Barbara Bush and their family.
Seashore Trolley Museum

Kennebunkport

Come and visit the largest museum of mass transit, where you get to relive history and follow the footsteps of generations past. Spend an afternoon or a day riding our trolleys through the Maine countryside. Take a look through the Town House Restoration Shop and see our volunteers hard at work bringing old trolleys back to life. Take a walk around the museum grounds and through our exhibit barns where you can see samples of transit history from around the world on display. We are the oldest, and largest electric railway museum in the world.
Stanley Museum

Kingfield

Yankee Ingenuity At Work - The Mission of the Stanley Museum: The Stanley Museum keeps and shares the traditions of Yankee Ingenuity and creativity as exemplified by the Stanley family in order to inspire those values in children and adults. Exhibits Include: Steam Cars, (1905, 1909, 1910, 1912, 1916), Air-Brush Portraits, Paintings - Violins, Photographs - Chansonetta.
Kittery Historical & Naval Society

Kittery

Incorporated in 1647, Kittery abounds with history, from pre-revolution days to the modern navy and the Historical & Naval Society Museum is the place to relive much of it through the artifacts and documents on display.
Nahmakanta Public Reserved Land

Kokadjo

Nahmakanta encompasses more than 43,000 acres and is the largest unit in the public reserved lands system. The Appalachian Trail crosses the unit following the shore of Nahmakanta Lake. The large roadless Debsconeag backcountry area offers the experienced hiker the opportunity to explore a spectacular complex of low mountains and remote ponds. The hiking trail along Turtle Ridge crosses densely wooded terrain with panoramic views of surrounding lands including Mt. Katahdin from open ledges. Vehicle accessible campsites provide convenient access to scenic ponds and hiking trailheads. Lakeshore campsites that are accessible by canoe and offer water-based camping. A popular snowmobile trail crosses the unit linking Millinocket and Greenville.
Lagrange - Medford Trail

Lagrange

This 12 mile trail runs from South Lagrange to Medford Center. The property is leased from the Bangor & Aroostook Railroad for year-round, multiple use. Riders will find a hard gravel surface that travels through rural Maine with nice scenery of forests and farmland.
Lamoine State Park

Lamoine

Nestled in the heart of Down east Maine, this oceanfront park is located in one of the most sought-after vacation regions in the state. Lamoine State Park's central location is a quiet alternative that provides easy access to Bar Harbor, Acadia National Park, rockbound islands, and area lighthouses. Visitors enjoy camping, boating, fishing and simple relaxation in a beautiful location. Park views of Frenchman's Bay, and amenities such as the campground facilities and boat launching ramp are some of the park's highlights.
Lake St. George State Park

Liberty

The centerpiece of the park is Lake St. George itself. Some of the park's campsites are located right on the shoreline where a morning cup of coffee can be enjoyed while watching the sun rise over the crystal clear water. The day-use area is a short walk from the camping area where picnic tables and grills are available close to the beach. A lifeguard is on duty. The day-use area has swings, volleyball, basketball, and a sandpit where younger children play. Three to five miles of hiking trails are within walking distance from the campground.
Lincolnville Historical SocietySchool & House Museum

Lincolnville

The School House Museum of the Lincolnville Historical Society is located on the second floor of the 1892 building known as the Beach School. Class for all eight grades was held in this room until 1947 when the town of Lincolnville built a consolidated school five miles inland in Lincolnville Center. In 1994 the Historical Society moved its collection into the restored school room and began to create a museum.

Lincolnville Historical SocietySchool & House Museum website
Warren Island State Park

Lincolnville

Serenity describes this park that's tucked away in Penobscot Bay where visitors use their own boat to access the island. The park is designed for the boating public, and there is no public ferry transportation to the island. No phones are available on the island ensuring a Robinson Crusoe-esque experience. Campers choose from one of the 10 campsites or the two Adirondack shelters for accommodations. A trip to Warren Island is guaranteed to create memories that will last all winter long!
Lovell Historical Society

Lovell

The Lovell Historical Society, founded in 1974, collects and preserves historical and genealogical records, property, and artifacts, and encourages and supports interest in, and study of, the history of the town of Lovell, Maine. Our collection encompasses a large document archive, a serviceable historical library and a museum of local artifacts. Our document archive includes the indexed vital records for the town, early town voting and tax lists, thousands of photos, land deeds, diaries, letters, scrapbooks and clippings, recorded oral histories, genealogies, and church records.
Roosevelt Campobello International Park - Lubec, ME

Lubec

For many years, Franklin D. Roosevelt summered on Campobello Island. As an adult, he shared with his family the same active pursuits he enjoyed on the island as child. Although he visited less frequently after contracting polio, Campobello remained important to FDR. Today Roosevelt Campobello International Park serves as a memorial to FDR and a symbol of cooperation between the U.S. and Canada. This international park is actually on a Canadian island off of Lubec. It should be noted that while you can only access the island through Lubec, Maine, you are entering Canada and need passports.
Quoddy Head State Park

Lubec

Quoddy Head State Park is located four miles off Maine Route 189 in Lubec on the easternmost point of land in the United States. On its 532 acres, purchased by the state in 1962, the park features 4.5 miles of hiking trails, extensive forests, two bogs, diverse habitat for rare plants, and the striking, red-and-white striped lighthouse tower of West Quoddy Head Light. With its diverse landscape, breathtaking views, scenic picnic sites, and opportunities for hiking and whale watching, Quoddy Head State Park is a fun and fascinating destination for visitors to down east Maine.
Fort O'Brien State Historic Site

Machiasport

Fort O'Brien (Fort Machias) was built in 1775 and destroyed by the British in the same year. This state historic site is one of few Maine forts active during three wars - the American Revolution, War of 1812 and Civil War. Fort O'Brien's layout was altered several times over the 90 years it was active on this site. But the fort's important role in protecting the Machias River and its towns remained unchanged.
Maine Acadian Culture

Madawaska

Maine Acadians share beliefs and experiences tying them to a common religion, languages, and history. The St. John River, land, and family are essential to their culture. The National Park Service supports the Maine Acadian Heritage Council, an association of historical societies, cultural clubs, towns, and museums that work together to support Maine Acadian culture in the St. John Valley.
Milbridge Historical Museum

Milbridge

Located in beautiful, unspoiled downeast Maine, Milbridge was once a busy shipbuilding center. This museum preserves the record of this shipbuilding era and other historic artifacts related to the town's proud heritage.
Penobscot River Corridor

Millinocket

Located in the heart of Maine's undeveloped forest land, the Penobscot River Corridor (PRC) provides outstanding opportunities for remote canoe trips, fishing excursions, and whitewater rafting (provided by commercial operators). Managed by the Bureau in cooperation with several landowners, the PRC provides water access recreation along more than 67 miles of river and 70 miles of lake frontage. Major access points in the area are gained from Millinocket or Greenville.
Seboeis Public Reserved Land

Millinocket

Seboeis contains a considerable amount of shoreline on two large lakes and is located south of Millinocket. Campers and day visitors on this 13,000 acre parcel enjoy fishing and impressive views of the nearby mountains, including Katahdin. Snowmobilers pass through the unit in winter, traveling from Milo to Medway.
Mount Desert Island Historical Society - Facebook

Mount Desert

The School House was opened in 1892 for the children of the quarrying and farming village of Sound. The building was used as a school for 34 years, closing in 1926. Until it was restored by the MDI Historical Society in 1999, it had served as a community center, a place for dances, suppers, and tag sales. When the Historical Society restored the building, a curatorial wing was added. During the school year, "A School Day in 1894" is recreated for third and fourth grade students in the original classroom. A visit to The Old Schoolhouse & Museum offers people of all ages an opportunity to step back in time and think about how education in a one-room school would differ from today's schooling. Exhibits throughout the year focus on themes in MDI's history. Some exhibits blend contemporary arts and crafts with historical objects and photographs, demonstrating the connections between the past and the present.
Sound Schoolhouse - Mount Desert Island Historical Society

Mount Desert

The Sound Schoolhouse was opened in 1892 for the children of the quarrying and farming village of Somes Sound. The building was used as a school for 34 years, closing in 1926. Until it was restored by the Mount Desert Island Historical Society in 1999, it had served as a community center and thus a place for dances, suppers, and tag sales. When the historical society restored the building, a curatorial wing was added. The Ralph W. Stanley Library and the society's collection of historic objects, preserved in a temperature and humidity-controlled room, are located in this wing. A visit to the Sound Schoolhouse offers people of all ages an opportunity to step back in time and think about how education in a one-room school would differ from today's schooling. The Sound Schoolhouse serves as a center for scholarship and educational programs, and our archives are kept in a fire-protected and climate-controlled vault. Admission is free, but donations are appreciated.

Sound Schoolhouse - Mount Desert Island Historical Society website
Colonial Pemaquid State Historic Site (Ft. William Henry)

New Harbor

One of northern New England's earliest communities, rich in archeological history, Colonial Pemaquid State Historic Site is a place not to be missed during a visit to Midcoast Maine. Bureau of Parks and Lands staff host interpretive tours, and teach visitors about the native people who camped on this once-remote peninsula that evolved into a rough, frontier settlement dating back to the mid-1620s. Children enjoy a trip to the museum that houses artifacts unearthed from the grounds. Exotic china patterns, a rare, German Bellarmine jug and various tools of the day are on display to paint a picture of what life in the village was like.

Colonial Pemaquid State Historic Site (Ft. William Henry) website
Dodge Point Public Reserved Land

Newcastle

Outdoor recreational activities abound here including hiking, cross-country skiing, skating, swimming and fishing. This well-managed forest bears the destinction of being named the State Of Maine's 1978 Tree Farm of the Year. Take the interpretive trail that starts at the Old Farm Road and make sure you explore the Shore Trail for the best views!
Grafton Notch State Park

Newry

Grafton Notch State Park offers opportunities for sightseeing, picnicking, and hiking on its 3,000 acres of beautiful natural terrain. Both short and long day hikes extend through this spectacular, scenic area at the end of the Mahoosuc Range. The 2,000-mile Appalachian Trail passes through the park on the way to the trail's northern terminus, Mt. Katahdin. Facilities include picnic tables and grills. In the winter, a main artery snowmobile trail (ITS 82) traverses the park and is maintained by a local snowmobile club.
Dead River Public Reserved Land

North New Portland

Dead River encompasses several miles of shore on Flagstaff Lake and the first few miles of the Dead River after it leaves the lake. Visitors enjoy camping at the lake's sites, accessible by boat, and at the vehicle accessible campground at Big Eddy on the river.
Oakfield Railroad Museum

Oakfield

Our Museum is dedicated to the early years of Railroad Transportation. Besides seeing the historic wood frame station building (pictured above), you can be intrigued by hundreds of photographs- some of which are over a century old. There are also vintage signs and advertising pieces, signal lanterns, original railroad maps, telegraph equipment, newspapers, a Hand Car and a Motor Car, restored mail carts, the C-66 caboose, and a weathervane that came from the top of the old water tower that was demolished in 1982.
Ogunquit Museum of American Art

Ogunquit

The OMAA is host not only to hundreds of works of art, but also to Tuesday Nights at OMAA, where you'll find musical performances, film series, lectures, theatrical performances, slide shows, tours and book signings.
Old Town Museum

Old Town

A museum created to celebrate an event. Initially conceived as a way for the City of Old Town to celebrate the nations bicentennial, The Old Town Museum now is dedicated to preserving the heritage of Old Town and the surrounding area. During the summer, the Old Town Museum host numerous "Sunday Afternoon Programs", some of which are historical in nature while others are pure entertainment. One of the purposes of these programs is to attract visitors that might otherwise not come to the museum to see the changing displays. These displays cover an eclectic mix from Old Town's past. A sampling of these include displays relating to Old Town's past in the lumbering industry, materials and equipment from some professional establishments, simulations of rooms in early homes, wood carvings of Old Town artist Bernard Langlais and a prized birch bark canoe.
Donnell Pond Public Reserved Land

Old Town

The Donnell Pond Unit includes more than 14,000 acres of remote forested land with crystal clear lakes, secluded ponds, and mountains with panoramic views. Located in Hancock County between Franklin and Cherryfield, this is where visitors can enjoy outdoor recreation in a scenic, remote setting.
Duck Lake Public Reserved Land

Old Town

Located in northern Hancock County about 70 miles northeast of Bangor, the Duck Lake Unit comprises more than 27,000 acres of forested land. The unit's gently rolling terrain and many lakes, streams, and wetlands are typical of Eastern Maine. Attracted by the lakes, visitors enjoy fishing and camping in this semi-remote area. Duck Lake, the Unknown Lakes, and Gassabias Lake offer fishing, boating, swimming, camping, and snowmobiling opportunities.
Great Heath Public Reserved Land

Old Town

Great Heath in Washington County includes the Pleasant River as it flows through the center of a large peat bog. Canoeists enjoy a flat water paddling opportunity along the meanders of the channel.
Rocky Lake Public Reserved Land

Old Town

Offering good examples of the glacial landscape of eastern Maine, this unit has low, forested ridges in otherwise level terrain, meandering rivers and streams bordered by wetlands, and shallow, rocky lakes dotted with islands. These resources attract visitors year-round for a variety of recreational activities. Visitors can boat, fish, relax, picnic, hunt and camp on this sprawling unit in Down East Maine.
Bald Mountain Public Reserved Land

Oquossoc

Escape to the scenic Bald Mountain Public Reserved Land unit where outdoor enthusiasts thrive in this four-season wonderland. Hike Bald Mountain's one mile trail to the summit and enjoy panoramic views of Rangeley, Cupsuptic and Mooselookmeguntic lakes and the Height of Land. These are popular hikes in the fall when Maine's countryside blushes with autumn color.
Hudson Museum

Orono

The Hudson Museum will open its changing exhibit gallery in the Collins Center for the Arts with an exhibition of ethnographic weaponry, Armed to the Teeth: Ethnographic Weaponry from the Hudson Museum's Collections. The exhibit is being developed in conjunction with the Collins Center performance of Sweeny Todd, the legendary demon barber of Fleet Street. Among the Museum's holdings are examples of weapons from around the world--clubs, axes, daggers, swords, throwing spears, bows and arrows and blowguns. The exhibit will group the weapons by type, comparing and contrasting the different materials used to make them and their use in warfare, in hunting and as objects of status and power. One section of the exhibit will deal specifically with Precolumbian warfare and will include West Mexican ceramic figurines that depict warriors, battle scenes and captives.
19th Century Curran Village at Newfield

Orrington

Two historic houses and their barns, a reproduction schoolhouse and bandstand, and a millpond grace this restored country village. Plan to spend at least 3 hours once you arrive. Bring a picnic or enjoy lunch on site. Horse-drawn sleighs and carriages, an 1849 Concord stagecoach, a 1894 carousel, gas engines, a "roadable" airplane, and exhibits of various trades and tools -- blacksmith, broom maker, canoe builder, cooper, cobbler, harness maker, printer, wheelwright, woodworker -- are just a few of the delightful displays you'll see! Be sure to check our calendar for exciting events and activities scheduled throughout the summer and fall.
Birch Point State Park

Owl's Head

Enjoy scenic views of Penobscot Bay while you picnic or fish. The park's crescent-shaped sand beach allows swimming in a gentle surf. Swimmers should note that there are no lifeguards.
Owls Head Transportation Museum

Owls Head

The Owls Head Transportation Museum has one of the finest collections of pioneer-era aircraft and automobiles in the world. More than 100 historic aircraft, automobiles, bicycles, carriages and engines are on permanent display. The Aircraft Collection contains replicas and originals representing the first century of flight, from Cayley's unmanned glider (1804) to the legendary Curtiss Jenny of the barnstorming era. An outstanding collection of automobiles spans the late 19th Century and early 20th century, and includes the 1963 Prototype Mustang and a 1935 Stout Scarab (called the world's first mini-van, one of only six ever made).
Maine Mineral and Gem Museum

Oxford

The MMGM showcases a large collection of Maine's minerals and gems, including a collection of extraterrestrial rocks. Interactive exhibits on three floors provide education and information about geological research and history.
Richardson Public Reserved Land

Oxford County

Located in the scenic Rangeley Lakes Region of western Maine, the Bald Mountain Unit offers views of the surrounding mountains and lakes. The big lakes and small ponds, bounded by hardwood ridges and softwood flats, attract those who enjoy boating, fishing, hiking, and camping in a remote setting near the mountains.
Patten Lumbermen's Museum

Patten

The Patten Lumbermen's Museum was established to document Maine Logging History, by preserving the logging heritage and accomplishments of early inhabitants of the state of Maine. Exihibits at the museum include some of Maine's most notable contributions to the early mechanization of logging, including the Lombard Steam Hauler, Lombard Gas Hauler, and the Peavey Cant Dog.
Scraggly Lake Public Reserved Land

Penobscot County

Scraggly Lake is the centerpiece of this unit, which is located just northeast of Baxter State Park in northern Penobscot County. The Unit comprises 10,000 acres of gently rolling, heavily forested land, with numerous ponds, brooks and bogs.The lake has a campground and boat launch for visitors, while Ireland Pond offers a more remote recreational experience. Fishing, hunting, camping, and hiking are popular activities.
Fort Baldwin State Historic Site

Phippsburg

Built between 1905 and 1912 and named for Jeduthan Baldwin, an engineer for the Colonial army during the Revolutionary War, Fort Baldwin originally consisted of three batteries (Cogan, Hardman, and Hawley). Battery Cogan had two three-inch guns, Battery Hardman had one six-inch disappearing gun, and Battery Hawley had two six-inch pedestal guns. All of these guns were removed in July 1924. During the First World War, Forts Baldwin and Popham held a garrison of two hundred soldiers including the 13th and 29th Coast Artillery. During the Second World War, D Battery, 8th Coast Artillery manned the fort from 1941 to 1943.
Fort Popham State Historic Site

Phippsburg

Fort Popham is a semi-circular granite fort that was never completed, though construction began in 1862 for use during the Civil War. Modifications were made and the fort was used again in the Spanish American War and in World War 1. Historical records conclude that fortifications, probably wooden, existed here and protected the Kennebec settlements during the Revolutionary War and the War of 1812. It was nearby that the English made their first attempt to colonize New England in 1607.
Popham Beach State Park

Phippsburg

Popham Beach State Park is truly one of Maine's rare geologic landforms that features a long stretch of sand beach. Sunbathers relaxing on Popham's sands can see Fox and Wood islands offshore, and the Kennebec and Morse rivers border each end of the beach. The rolling Atlantic surf draws thousands of swimmers and surfers alike, and shell collecting is a pastime of many a sea side stroller. Popham's cultural and social history is still being uncovered. Excavations of the Popham settlement of 1607 and Fort George continue each summer.
Chamberlain Lake Public Reserved Land

Piscataquis County

Chamberlain Lake is a group of parcels abutting the large lakes that form the south end of the Allagash Wilderness Waterway. Canoeists from the waterway follow the hiking trails to the tops of two low mountains and enjoy fine views of the lakes and forests.
Colburn House State Historic Site

Pittston

Built in 1765, this colonial Federal-style house was home to several generations of the prominent Colburn family. Colburn had help spawn the idea of attacking British Quebec by way of the Maine wilderness and had supplied critical information to General Washington. No, George Washington never slept here but two other people who figured prominently in the American Revolution did:Benedict Arnold and Aaron Burr.
Range Ponds State Park

Poland

Range Ponds State Park welcomes visitors who enjoy the wide sandy beach as they swim, picnic and play. Watersports are popular activities; small boats, canoes, kayaks and windsurf boards dot the horizon. A public boat launch site is located at the end of the beach and is limited to 10 horsepower motors.
Maine State Building

Poland Spring

The Maine State Building was originally built in 1893 for the Chicago Worlds Fair also known as the Columbian Exposition.
All Souls Chapel

Poland Spring

The prayer at the official opening ceremony of this chapel in 1912 ended thusly: "We pray that this beautiful chapel may be a perpetual reminder of the reality of the spiritual life to many who are struggling upward toward the height where Thou dost dwell." This chapel was erected on the very top of the hill at the Poland Spring estate, overlooking the panorama of magnificent natural scenery. No expense was spared to make it of a quality commensurate with its environments and function. State of Maine granite from the best quarries was procured for the walls and arches; quartered sawn oak of the finest quality for ceilings, doors, and other interior woodwork; brass for sills, reading desk, railings; and a floor of inlaid mosaic of beautiful and expensive design. The work of construction was performed by Italians brought here from Boston, and was done slowly and with great care, that no detail should lack in permanence or artistic value.
Mackworth Island

Portland

An island of approximately 100 acres, connected to Falmouth by a causeway at the mouth of the Presumpscot River. This proximity to Portland and the Presumpscot accounts for the unique blend of human and natural history that has shaped Mackworth Island. The 1 3/4 mile trail that encircles the island takes about an hour to complete at a leisurely pace and visitors are treated to stunning views of Casco Bay and Portland. Along the way, stop to watch boats and ferries motor though the Atlantic waters while seagulls, osprey and shorebirds glide overhead as they search for food.
Children's Museum & Theatre of Maine

Portland

The Children's Museum & Theatre of Maine exists to inspire discovery and imagination through exploration and play. The Museum serves as an indispensable resource for families and educators, helping to create a broad community devoted to our children's development and learning.
Maine Historical Society Museum

Portland

The MHS Museum features changing exhibitions and programs spanning more than five centuries of Maine life. Drawing from the extensive collections of the Maine Historical Society, original exhibits feature art, artifacts, and documents that vividly bring Maine history to life.
Wadsworth Longfellow House

Portland

Within its walls lived three generations of one remarkable family that made significant contributions to the political, literary, and cultural life of New England and the United States. Henry Wadsworth Longfellow (1807--1882), grew up in the house and went on to become one of the most famous men of his time. Virtually all of the household items and artifacts are original to the Wadsworth and Longfellow families. The Wadsworth--Longfellow House is also an important architectural artifact of New England's past. Behind the House you will find the Longfellow Garden, a secluded Colonial Revival style garden that is an oasis of green and quiet in the heart of downtown Portland. Located on what had once been the domestic farmyard for the Wadsworth Longfellow family, the Longfellow Garden Club created the garden in 1926.
Maine Narrow Gauge Railroad Co. & Museum

Portland

Enjoy magnificent views of Portland's waterfront aboard antique rail cars pulled by hard-working steam and diesel locomotives. Discover the unique two-foot gauge trains that linked rural Maine to the rest of the world.
Portland Museum of Art

Portland

Experience all we have to offer at the Portland Museum of Art. As the largest and oldest art museum in the state of Maine, the Museum serves as a vital cultural resource for all who visit. The Museum's collection of more than 17,000 objects is housed in three historic and remarkable buildings showcasing three centuries of art and architecture. Whether this is your first visit or 131st, our changing exhibitions and permanent collection offer you a diverse selection of fine and decorative arts to view.
Tate House Museum

Portland

The Tate House was built in 1755 for Captain George Tate (1700-1794) and his family who had arrived in the Colonies around 1750. Tate served as the Senior Mast Agent for the British Royal Navy, overseeing the cutting and shipping of white pines from Maine to England. This position assured Tate's success, and his status in the community is reflected by the style of architecture he selected for his home. With its clapboards still unpainted, Tate House is one of two residences in Maine with an unusual clerestory in the gambrel roof. As the only pre-Revolutionary home in Greater Portland that is open to the public, the impressive period furnishings, beautiful grounds and herb gardens, and unique architecture of Tate House offer an insightful glimpse at the 18th century and life in Colonial Maine. Tate House welcomes guests from across the country and around the globe. Students throughout the state benefit from Tate House's resources and educational programs as they learn about the mast trade and life in eighteenth century.
Victoria Mansion

Portland

Victoria Mansion, also known as the Morse-Libby House, is the finest example of residential design from the pre-Civil War era in America. With superb architecture and well-preserved original interiors that were among the most lavish and sophisticated in their day, it is an unparalleled document of America's highest aspirations in architecture, interior design, and the decorative arts.
Bradbury Mountain State Park

Pownal

Bradbury Mountain State Park is a wonderful place to spend a day or afternoon exploring trails, taking in the magnificent view from the summit, or enjoying a picnic under a canopy of trees. Sculpted by a glacier, Bradbury Mountain is the park's most outstanding natural feature. Today the park's forest is home to a wide variety of plants and animals. Fall is a busy time at the park when visitors watch migrating hawks and eagles ride the thermals and enjoy the views of fall foliage from the summit. (Spring is best time to watch hawk migration, fall much less so.)
Northern Maine Museum of Science

Presque Isle

Located at Folsom Hall at The University of Maine at Presque Isle on south Main Street. The Mission of the Northern Maine Museum of Science is to support science education in northern Maine by means of exhibits and programs, educational field experience on nature trails, scientific collections for research, and educational programs for educators and students. Our commitment is to create links between the University and the Northern Maine community that enhance the general public's understanding and awareness of science.
Presque Isle Historical Society - Vera Estey House and Fire Station

Presque Isle

Founded in 1963, the Presque Isle Historical Society seeks to study, preserve, and promote the history, local culture, heritage, and physical artifacts of Presque Isle, Maine for future generations.

Presque Isle Historical Society - Vera Estey House and Fire Station website
Aroostook State Park

Presque Isle

Aroostook State Park bears the distinct honor of being Maine's first state park. Campsites, a showerhouse, and a beach with a lifeguard are provided in season. A kitchen shelter built with loon license plate money can be used by campers daily during the summer season. Echo Lake is stocked with Brook Trout and public boat access is available. Hiking trails and canoe and paddleboat rentals are popular activities. Groomed cross-country ski trails are available in the winter. Groomed snowmobile trails also cross through the park.
Fort Knox State Historic Site

Prospect

Fort Knox, Maine's largest historic fort, features stunning military architecture and master granite craftsmanship. Constructed between 1844 and 1864 by master craftsmen and never fully completed, this is an unaltered example of a large mid-19th century granite coastal fortification. It is also New England's finest unmodified specimen of military architecture of the period.
Penobscot Narrows Observatory

Prospect

A one-minute elevator ride will take you to one of the most unusual views in Maine, a 360 degree view from 420 feet above the Penobscot River, just a few miles up river from Penobscot Bay. Located atop the northern tower or pylon of the new Penobscot Narrows Bridge, the observatory gives visitors a spectacular look at mountains, lakes, and portions of Penobscot Bay.
Rangeley Lake State Park

Rangeley

Rangeley State Park is famous for landlocked salmon and trout fishing, and anglers who voluntarily catch and release contribute to quality fishing. In addition to watersports, visitors enjoy hiking, picnicking, camping, wildlife watching, and photography. There is a children's play area, hiking trails, and modern restrooms with hot showers.
Wilhelm Reich Museum

Rangeley

The Orgone Energy Observatory was first opened to the public as the Wilhelm Reich Museum in 1960. Today, the term "Museum" refers to the entire 175-acre property of Orgonon. Its numerous buildings, meadows, forests, and woodland trails--all well preserved and maintained--also fulfill Reich's wish "to preserve some of the atmosphere in which the discovery of the life energy has taken place over the decades."
Rangeley Lakes Logging Museum

Rangeley

Our collection now consists of hundreds of artifacts from regional logging operations, including two snubbing machines, sleds, an extensive collection of crosscut and chain saws, the White Brothers' forerunner of the skidder, and one of the last of the bateaux used on the Dead River drives. Our exhibits on traditional art by western Maine lumbermen include the fan towers and gumbooks of William Richard, the model drag drays and logging sleds of Carl Trafton, and the chain saw carvings of Rodney Richard and Rodney Richard Junior. And, we also own the nineteen oil paintings of Alden Grant, grandson of the founder of Grants' Kennebago Camps that document life in the region's lumbercamps from 1915 to 1928.
Peacock Beach State Park

Richmond

Peacock Beach State Park is a convenient drive off Maine Route 201 on Pleasant Pond in Richmond, about 12 miles from Maine's capital city, Augusta. A small beach and swimming area staffed with a lifeguard make this an ideal spot for a family picnic.
American Lighthouse Foundation - Maine Lighthouse Museum

Rockland

American Lighthouse Foundation & Maine Lighthouse Museum Form the Largest Lighthouse Museum in the United States

American Lighthouse Foundation - Maine Lighthouse Museum website
Farnsworth Art Museum

Rockland

Celebrating Maine's Role in American Art, the Farnsworth Art Museum offers a nationally recognized collection of works from many of America's greatest artists. With 20,000 square feet of gallery space and over 10,000 works in the collection, there is always something new on view at the Farnsworth. The museum houses the nation's second-largest collection of works by premier 20th-century sculptor Louise Nevelson. Its Wyeth Center exclusively features works of Andrew, N.C. and Jamie Wyeth. The Farnsworth's library is also housed in its Rockland, ME, campus. Two historic buildings, the Farnsworth Homestead and the Olson House, complete the museum complex.
Camden-Rockport Historical Society - Conway Homestead

Rockport

The Conway House is one of the earliest houses in the region. Built about 1770, it stands on Lot 27, one of the first parcels assigned by the Twenty Associates after they had acquired their share of the Muscongus Grant in 1766. The house is a fine example of the 18th century type of rural construction known as Cape Cod. The house was restored and furnished with authentic household items in use in the 18th and early 19th centuries. The restoration was completed in 1962 when the house was opened to the public. The Camden Garden Club landscaped the grounds with native plant materials common to New England before 1860.

Camden-Rockport Historical Society - Conway Homestead website
Camden-Rockport Historical Society - Cramer Museum

Rockport

The Mary Meeker Cramer Museum was completed in 1970, and, with its displays, became an integral part of the Conway Campus. Its permanent collection contains many interesting reminders of Camden-Rockport's historic past. One of the most beautiful ship models in the country recalls the great days of sailing ships. There is a remarkable collection of period costumes and a fine collection of early glass. Other items include paintings, musical instruments, guns, documents and records, and a reference library. The museum is the headquarters of the Camden-Rockport Historical Society.
Roque Bluffs State Park

Roque Bluffs

Roque Bluff State Park in the town of Roque Bluff about six miles off US Route 1, is a unique day use area. With its pebble beach on the ocean and freshwater pond, it provides both fresh and saltwater swimming. Facilities include tables, grills, changing areas with toilets, and a children's playground.
Vaughan Woods State Park

S. Berwick

A 250-acre forested tract along the scenic Salmon Falls River offers picnic facilities and hiking trails through old growth stands of pine and hemlock. Hiking is available on several trails that connect to make up one large loop, a system 3+ miles long. Visitors can walk smaller sections if they choose.
Eagle Island State Historic Site

S. Harpswell

Panoramic views of ocean scenery, squawking seagulls, and fragrant flowers offer guests a unique opportunity to live a day in the life of the famous 1900s explorer. The island is void of any mechanical devices and from the moment visitors arrive, one gets the sense that Admiral Peary and his wife, Josephine could be sitting atop the library's roof watching people explore corners of their island getaway. Josephine cultivated beautiful gardens that featured foxgloves among other colorful flowers. Bureau of Parks and Lands staff tend those same gardens today.
Ferry Beach State Park

Saco

Ferry Beach State Park is located off Maine Route 9 on Bay View Road between Old Orchard Beach and Camp Ellis in Saco. A stand of tupelo (black gum) trees, rare at this latitude, can be seen in this 100-acre area, which offers a sweeping view of miles of white sand beaches between the Saco River and Pine Point.
Dyer Library - Saco Museum

Saco

The Saco Museum is a regional museum of fine and decorative arts and historic artifacts. The Institute was founded in 1866 and is the third oldest museum in Maine. The museum's distinctive red brick Colonial Revival building was designed by the noted Maine architect John Calvin Stevens in 1926 as fire-proof gallery space for the Institute's extensive collections. The Saco Museum's collection contains more than 10,000 artifacts, including superb collections of documented local furniture, clocks, and other decorative arts such as silver, ceramics, textiles and costumes. The museum is well known for its rich collection of paintings and portraits from the Saco River region, and the finest and largest collection of portraits by the renowned deaf artist John Brewster, Jr. (1766 - 1854).
Four Ponds Public Reserved Land

Sandy River

Four Ponds lies just east of Mooselookmeguntic Lake. The Appalachian Trail traverses the length of this 6,000-acre unit with a lean-to at Sabbath Day Pond and a campsite at Little Swift River Pond. Fishing and swimming are popular activities. Winter visitors pass through on snowmobiles on their way from Rangeley to Weld.
Scarborough Beach State Park

Scarborough

Scarborough beach offers some of the best swimming in New England with water temps in the high 60's through out July and August. Rip Currents do occur on a daily basis and we firmly recommend swimming in the designated lifeguard area. Parking is limited to 285 on site spaces and 125 off site spaces.
Moose Point State Park

Searsport

Take a break at Moose Point State Park to enjoy an afternoon picnic and the views of Penobscot Bay. Located off US Route 1, Moose Point is a popular place for travelers along this scenic coastal route. Relax in an evergreen grove, explore tidal pools, take a walk on the park's trails, or just enjoy the views.
Skowhegan History House

Skowhegan

Skowhegan History House contains tools, simple machines, garments, maps, books, pictures, dishes and other household furnishings to help you examine yesterday.
Somesville Historical Museum & Gardens - Mount Desert Island Historical Society

Somesville

The Somesville Historical Museum sits at the heart of the island's history. Constructed in 1981, the building overlooks an ancient mill pond and tranquil Somes Harbor with Sargent and Norumbega Mountains in the distance. Beside the Museum, plants of the 19th and early 20th centuries bloom in a lovely Heirloom Garden from late May to October. The garden has become a focus for education about the flowering plants and herbs which have flourished on MDI. A directory of the plants and herbs and their uses may be purchased inside the Museum.

Somesville Historical Museum & Gardens - Mount Desert Island Historical Society website
Hamilton House

South Berwick

After railroads made the region accessible in the late 19th century, coastal Maine became a fashionable destination for wealthy summer people. Many of the newcomers bought and restored the fine old houses built during the prosperous years following the American Revolution. In 1898, Mrs. Emily Tyson and her stepdaughter, Elise, purchased the c. 1785 Hamilton House, built on a magnificent site overlooking the Salmon Falls River. The Tysons flung themselves into a lifelong project to restore the house to its former glory. Influenced by literary imagery, including the writings of their neighbor and friend, Sarah Orne Jewett, they decorated with a mixture of elegant antiques, painted murals, and simple country furnishings to create their own romantic interpretation of America's colonial past. The extensive grounds of the Hamilton House include a formal garden, the site of a summer concert series.
Spring Point Ledge Lighthouse

South Portland

Spring Point Ledge Lighthouse was constructed to mark a dangerous ledge which is now covered by the breakwater. Numerous ships had struck the ledge and local ship owners had petitioned the Lighthouse Board for many years before funds were made available for construction.
Hendricks Hill Museum

Southport

An 1810 house with eight rooms: kitchen, parlor, map room, marine room, pantry and three upstairs bedrooms. We also have a boatshop and an addition to the original building which houses three exhibit rooms and a reference room with various archival and genealogical materials.
Wendell Gilley Museum of Bird Carving

Southwest Harbor

Opened in 1981, the Museum is a community center that celebrates the life and work of Wendell Gilley, a pioneer in the field of decorative bird carving. It teaches the art of bird carving and presents art exhibitions and educational programs with a special focus on people, nature and art. The Museum endeavors to inspire appreciation of the visual arts, engagement in artistic creativity, and respect and care for the natural world.
Marshall Point Lighthouse Museum

St George

Exhibit Highlights:Local quarry history showing tools and photos, Lobstering in St George, Lighthouse memorabilia, Reference Center that contains over 50 albums that reflect the history of the town, its people, and its industries.
Wassataquoik Public Reserved Land

Stacyville

Wassataquoik features several miles of scenic shoreline on the East Branch of the Penobscot River and Wassataquoik Stream. Primitive campsites are available on the stream shore. A popular snowmobile trail crosses the unit connecting East Millinocket and Shin Pond.
Marrett House

Standish

In 1796, young Daniel Marrett, a recent Harvard graduate, moved to Standish to become the town parson. The grand house he purchased reflected his status as the community's leading citizen. Over the years, his children and grandchildren enlarged and updated the house, but left unchanged many furnishings and interior arrangements as relics of the past. They preserved the southwest parlor exactly as it had appeared on the occasion of a family wedding in 1847. In 1889, the family celebrated the house's centennial by refurbishing several of the rooms with reproduction heirloom wallpapers and bed hangings, and organizing a large family reunion to honor the Marrett legacy. Today, the visitor can see the layering of eras and tastes that occurs when a family resides in one house for three generations. The Marrett sisters' extensive perennial garden, which they laid out in the 1920s and 1930s, has been restored.
Fort Point State Historic Site

Stockton Springs

Picnic tables with a waterfront view, pier and floats for fishing and boating, and access to a scenic bicycling trip are some of the top reasons to visit Fort Point State Park.
Chain of Ponds

Stratton

The Chain of Ponds Public Reserved Lands unit includes Natanis, Long, Bag, and Lower Ponds joined by short thoroughfares to form the chain. The unit includes frontage on each of the ponds and offers lake shore camping at primitive remote sites, or a commercial campground with amenities.
Swan Lake State Park

Swanville

Swan Lake State Park is nestled on scenic Swan Lake. Visitors can enjoy swimming area with lifeguard supervision, picnic sites with grills and walking trails. Toilets and changing facilities are also available for use. For large gatherings, a private group shelter (fee charged) equipped with volleyball, horseshoes and a handicapped accessible toilet are available.
Thomaston Museum In The Streets

Thomaston

The outdoor museum is comprised of a series of twenty-five plaques with historic photographs and legends, in both English and French, about the town's history. The plaques are placed throughout the historic district and placed as close to the spot where the original photographer had stood when taking the pictures more than 125 years ago. In that way, you can view the plaque and then raise your eyes to see the same scene as it appears today. Surprisingly, many of the old photographs are not that different from the way the town looks today.
Children's Discovery Museum

Waterville

Our Mission The mission of the Children's Discovery Museum is to create for all visitors an interactive environment in which multi-sensory, self directed, open-ended learning experiences prove the motivation to develop knowledge of and respect for self, others, the environment and the world. The Children's Discovery Museum's vibrant, professional exhibits and events creatively complement public and private educational resources in an area, and are designed to promote discovery of one's heritage, options and responsibilities as a local, national and global citizen.
Colby College Museum of Art

Waterville

Founded in 1959, the Colby College Museum of Art has an outstanding permanent collection of 18th-, 19th-, 20th-, and 21st-century American art, as well as an active temporary exhibition program. Admission, gallery talks, lectures and receptions are open to the public, free of charge. The Museum Gift Shop offers a variety of books, cards, and posters.
Redington Museum

Waterville

The Redington Museum offers a comprehensive and charming view of life in Waterville during the past two centuries. Fascinating collections of furniture, accessories, household artifacts, toys, tools, and weapons as well as historical papers and diaries, are located in an elegant Federal-style home at 62 Silver Street. The museum is a civic treasure, maintained and supported with pride by the Waterville Historical Society. Waterville has had a long and varied history of commerce, agriculture, and manufacturing that in turn supported a lively community bound together by educational institutions, the arts, sports, politics, social and recreational activities. A visit to the Redington Museum affords accurate and engaging insights into the lives of the people who lived here.
Mt. Blue State Park

Weld

Spectacular views of Mt. Blue and surrounding mountains ring this lakeside park that boasts a wide variety of activities for park visitors year-round. Located in the mountainous region of western Maine, Mt. Blue State Park offers a visitors an extensive network of trails, a sandy beach, popular camping area, boat launch and picnic area.
Maine Warrior Gym

Westbrook

The Maine Warrior Gym is a 5,000 square foot obstacle course gym, with American Ninja Warrior inspired obstacles and training. The gym hosts 2 hour guided sessions with groups of up to 35 kids to encourage coordination, gross motor skills, proprioception, body mechanics, overcoming fear and leading a healthful, fulfilling life through movement.
Westport Island History Center

Westport Island

The current exhibit at the Westport Island History Center, at 38 Ferry Road, Westport Island, ME, is the Portraits of two Island Homes: Tarbox Brothers Samuel and Cornelius Jr. The exhibit includes documents, letters, photos, and artifacts of life on the island from 1784 through today. It reviews the lasting impression that these two brothers left on Westport Island and highlights their contributions. For middle and high schoolers, but all are welcome. Free to the public; reserve a time by contacting us at FOWIH19@gmail.com.
Fort Halifax State Historic Site

Winslow-Waterville

The oldest blockhouse in the United States is all that remains of Fort Halifax at the confluence of the Kennebec and Sebasticook Rivers in Winslow, Maine. English settlers built the fort in 1754 to protect colonial settlements along the Kennebec and it served as a garrison for troops from 1754-1766.
1811 Lincoln County Museum & Old Jail

Wiscasset

The Lincoln County Museum is home to the Lincoln County Historical Association, and features changing annual exhibitions. The 1811 Jail (and Maine State Penitentiary from 1820-1824) includes tours of the cells. Visitors can see graffiti left by 19th century French or British sailors imprisoned here as well as original locks, keys, shackles and the jailer's log from 1800-1954.
Woolwich Historical Society Museum

Woolwich

The Woolwich Historical Society Museum is an amazing step back into time. There are many restored rooms that contain objects dating from the late 18th century through the early 20th century.
Elizabeth Perkins House

York

The Elizabeth Perkins house stands as one of the most complete and finest surviving examples of colonial revival architecture and interior design in the Piscataqua Region of Maine that is open to the public on a regular basis. Its gabled outline, elegant grounds, and prominent site along the York River at the end of the 18th century Sewall's Bridge combine to make it one of York's most prominent and endearing historic landmarks. The collections and furnishings housed here are a prime example of the Colonial Revival, a movement that was popular in New England at the turn of the 20th century.
Museums of Old York

York

Visit the Museums of Old York and explore nine historic museum buildings, a contemporary art gallery and wonderful gardens. Tour the properties, explore our collections, research your history or take part in our renowned education programs. At Old York you will experience over 300 years of New England heritage while listening to tales of sea captains and their families, jailers, prisoners and others. You'll also see some of the most beautiful decorative objects and antiques preserved in America including the Bulman Bedhangings, the only complete set of 18th century American crewelwork bed curtains known to exist.