Homeschooling is regulated at the state level, so connecting with local homeschoolers is an important step to start homeschooling in Maine. Find the Maine homeschool groups closest to you and get connected with your local homeschooling community, learn about the homeschool requirements in Maine, and discover the co-ops, classes, sports and arts opportunities, and social get-togethers in your area.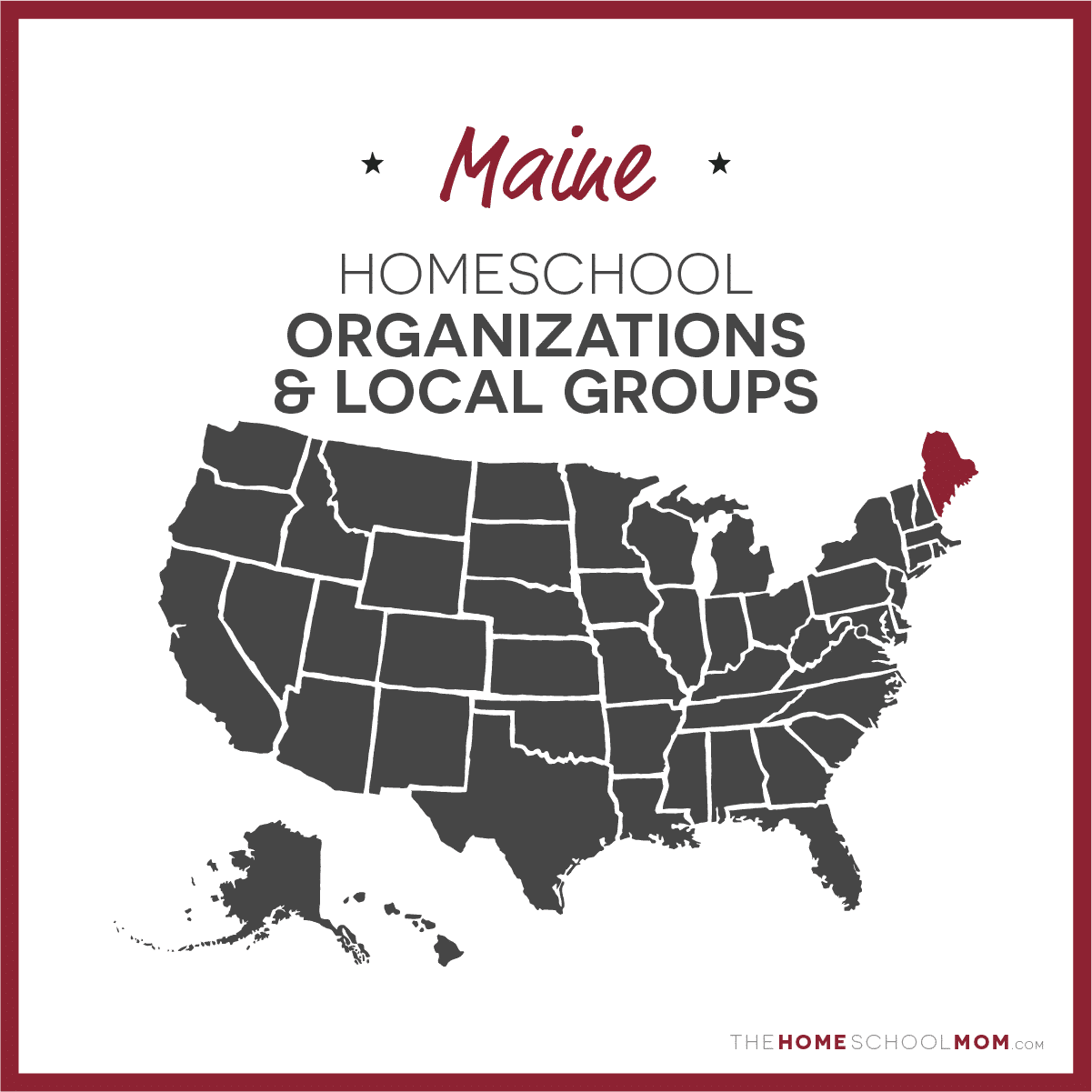 Submit a Local Resource
Jump to: State Organizations | Local Groups
Our listing of Maine state organizations and local homeschool groups is ordered alphabetically by city, with statewide organizations listed first. If you would like to submit a group, you may do so using the red button above.
Maine Homeschool Organizations (Statewide)
Homeschoolers of Maine (HOME)

Maine Statewide

HOME was established in 1990 as a ministry to support Maine families in their God-given and constitutional right and responsibility to oversee the education of their children. Success is our hope and desire for every family that chooses to homeschool. Our ministry supports the family by monitoring legislation, holding an annual convention, providing workshops throughout the year, publishing our newsletter The Heart of HOME, providing free counseling to new and established homeschoolers, and much more.
Homeschoolers of Maine

Statewide

Homeschoolers of Maine (HOME) sponsors classes, field trips and special events around the state to bring homeschoolers together and build a stronger community. HOME's activities give homeschool families the opportunity to connect and socialize throughout the year for fun, as well as for education and enrichment.
Maine Local Homeschool Groups
Tuesday Homeschooling Group

Augusta

We are a group of moms that get together every Tuesday from 11-2 year round. Kids socialize, play games, outdoor activities, and take field trips together. Moms hang out and get to talk to other moms over coffee. We normally have a potluck kind of lunch. kids all ages up to 13 year old. We are a Christian group and welcome moms and homeschooled kids alike.
Maine Independent Learners Community

Bowdoinham

Maine Independent Learners Community is for home educating families that are critical thinkers, freedom minded, and supportive of unbiased science and reason. This group is for any Maine home educating family who wishes to be part of a community that focuses on engaging our children with the understanding that they will learn best through experiences in a variety of learning spaces.
Gather Homeschool Community

Gorham

Gather is a collective of homeschooling families who are excited to build a consistent community for our youth by meeting weekly to teach classes and enrichment activities. Gather usually meets Mondays, September through May, from 9:30am - 3:15pm.
Gathering Places Home Education Network

Scarborough

This is a network for home educating families to post events.
The HomeSchool Admin

York and Cumberland counties

This offering is to support homeschool families in York and Cumberland counties of Maine. With a homeschool administrative assistant parents get help with organizational planning and prepping services. First time and veteran homeschooling families benefit from having a streamlined process of choosing curriculum, organizing the lesson plans, and preparing for the delivery of the plans. With the support of The HomeSchool Admin, families are able to concentrate on delivering the organized, ready to teach lesson of the day. BONUS - Home school play dates, adventures, and social gatherings happen (at the least) twice a month. Your family will gain a growing home-school community to socialize with on a regular basis.