Jump to: Homeschool Co-ops | Homeschooling Classes & Academic Enrichment
Looking for someone to teach physics to your teen? Need a way to avoid teaching algebra? Want to enroll your Kindergartener in a co-op for social time? Homeschool classes and co-ops are a great way to spend time with other homeschoolers and skill-share with other homeschool parents.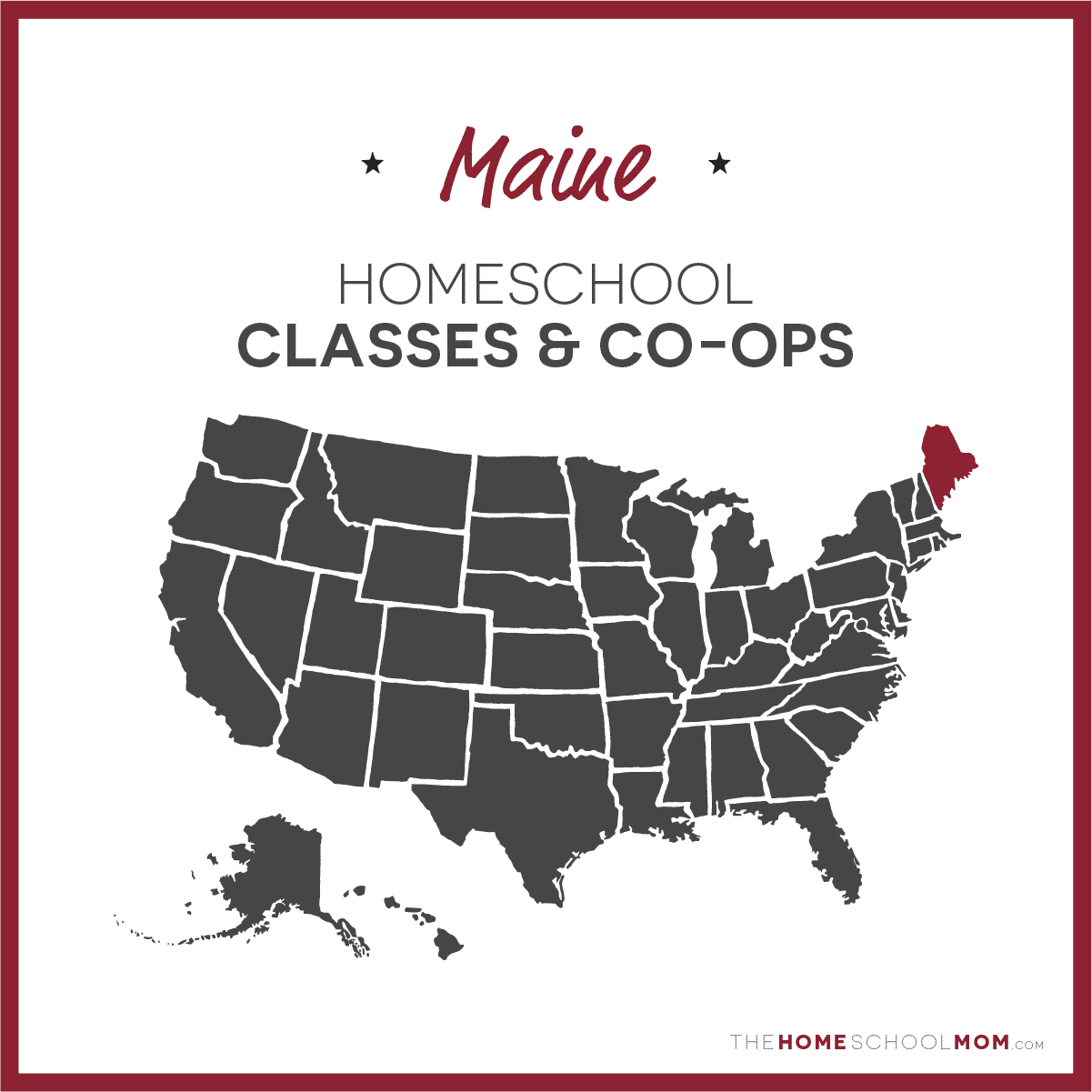 Submit a Local Resource
Our listing of Maine co-ops and academic classes for homeschoolers is ordered alphabetically by city, with co-ops in the first section and all other academic resources below. If you would like to submit a Maine co-op or academic resource, you may do so using the red button above.
Maine Homeschooling Co-ops
Wild Ones Academy

Augusta

We are a nature-based, wildschooling group that meets twice a week, year round, exploring the outside, the state, and doing nature learning activities and crafts.
Haven Homeschool Collective

Bowdoinham

HAVEN is a collective born out of the belief that every family deserves a safe space to learn and thrive in. We are an inclusive and supportive community of homeschooling families. Our member families engage in a variety of homeschooling and unschooling styles. Roughly 35 families gather together to deepen their children's learning journey with exciting classes, old & new friendships and challenging experiences. HAVEN meets every Tuesday 10am-3pm, October to May, in a wonderful space in Bowdoinham. Enrichment classes are supplemental opportunities for families to experience learning with other homeschool students and parents. Classes are offered solely as enrichment and are not meant to supplant the core parental instruction that is required for Maine homeschooling instruction, especially in reading, grammar, mathematics, social studies, and science. Enrichment classes have at least 2 adults per class – the class teacher and an assistant. Classes with younger children and/or more than 6-8 children may have more helpers, as needed. Class offerings are dependent on what parents (and teens!) have volunteered to teach. Each 8-week session has a variety of classes for all age groups (ie: preschool to high school). Past sessions have included art (painting, drawing, clay sculpting, wool felting, sewing), theater, outdoor skills, cooking/baking, archery, math games, robotics, tap dancing, ballet, creative writing, ultimate Frisbee, photography, psychology, choir, entomology, computer programming, ukulele, chemistry, yoga, motion science, Spanish, and much more.
EarthSchool Southern Maine

Gorham

EarthSchool of Southern Maine meets on Thursdays in Gorham, in the fall, winter, and spring. We welcome all homeschooling and unschooling families who are looking to find an inclusive, energetic, and supportive community. ESSM is a cooperative effort, and all members help to teach classes, organize activities, and maintain our building.
Gather Homeschool Community

Gorham

Gather is a collective of homeschooling families who are excited to build a consistent community for our youth by meeting weekly to teach classes and enrichment activities. Gather usually meets Mondays, September through May, from 9:30am - 3:15pm.
EarthSchool

Hollis Center

EarthSchool is a Maine nonprofit created in 2011 to grow an inclusive and supportive community of homeschooling families. Our member families engage in a variety of homeschooling and unschooling styles. EarthSchool now has nearly 100 families, and come from southern, western and midcoast Maine. EarthSchool meets weekly during the fall, winter, and spring in two locations in Gorham (ESSM) and Midcoast (ESMM) Maine. EarthSchool is a collective effort -- members teach classes, organize activities, and support each other in their homeschooling journeys.
Maine Homeschooling Classes & Academic Enrichment
2nd to 4th grade homeschool classes with Amber Robertson

Augusta

I am a mom who is currently homeschooling my daughter and a little girl who comes 3 to 4 days a week. I am looking to add one or two kids to learn alongside with my kids close to same grade works better. I have been homeschooling for 8 plus years and plan on continuing for years to come. I have recently seen an influx in kids being homeschooled because of what the public school district is pushing on our kids and because of the new vaccination law that is in effect. Parents that work full time trying to fit in schoolwork for their kids. This is a solution to the problem. I can help on some days or all week . Curriculum and lunch are provided. Schooldays can be a year round or school year, schedule is very adaptable. please feel free to message me for more info.

2nd to 4th grade homeschool classes with Amber Robertson details
The WHILDE School

Cumberland and surrounding counties

The WHILDE School is a private homeschool program providing a personalized curriculum for each student based on their WHILDE Method Blueprint results. We offer a holistic, whole-child educational setting, taking a Montessori approach to personalized learning. Our Families join the WHILDE School for a variety of reasons. For many, public or private school is not the best fit for their child. Some are just looking for a holistic project-based school, while others want to homeschool their child but do not want to or cannot do it alone. The WHILDE School provides a healthy, safe community where all are considered family. At the WHILDE School, we are guided by the WHILDE Method principle: Highlight the intellectual, social, emotional, and physical aspects of the "whole child," and it creates the optimal environment to inspire any student toward academic and life achievement. The WHILDE Method Blueprint is a collection of assessments to establish which areas of the student's mind and body need support with their skills and opportunities. When the Blueprint is created, we can incorporate its findings into our Student's daily instructional practice.
Maine Classical Conversations

Maine Statewide

CC is a national homeschooling program that uses a Bible based curriculum taught in a christian, classical tradition. Classes are geared for age 4 through high school.
Waterboro Fitness Fun Classes

Waterboro/York County

Fitness classes for homeschoolers in Waterboro at the Town Hall. Classes offered: Aerobic Warm Up & Muscle Stretch, Trampoline and Jumping Obstacle Course, Age appropriate training in Tumbling, Bar, Vaulting and Balance Beam. Parachute Games and More! POC: Lisa Tutor, Fitness Program Director. Waterboro Parks &Recreation (207)247-6117