Homeschooling is regulated at the state level, so connecting with local homeschoolers is an important step to start homeschooling in Alabama. Find the Alabama homeschool groups closest to you and get connected with your local homeschooling community, learn about the homeschool requirements in Alabama, and discover the co-ops, classes, sports and arts opportunities, and social get-togethers in your area.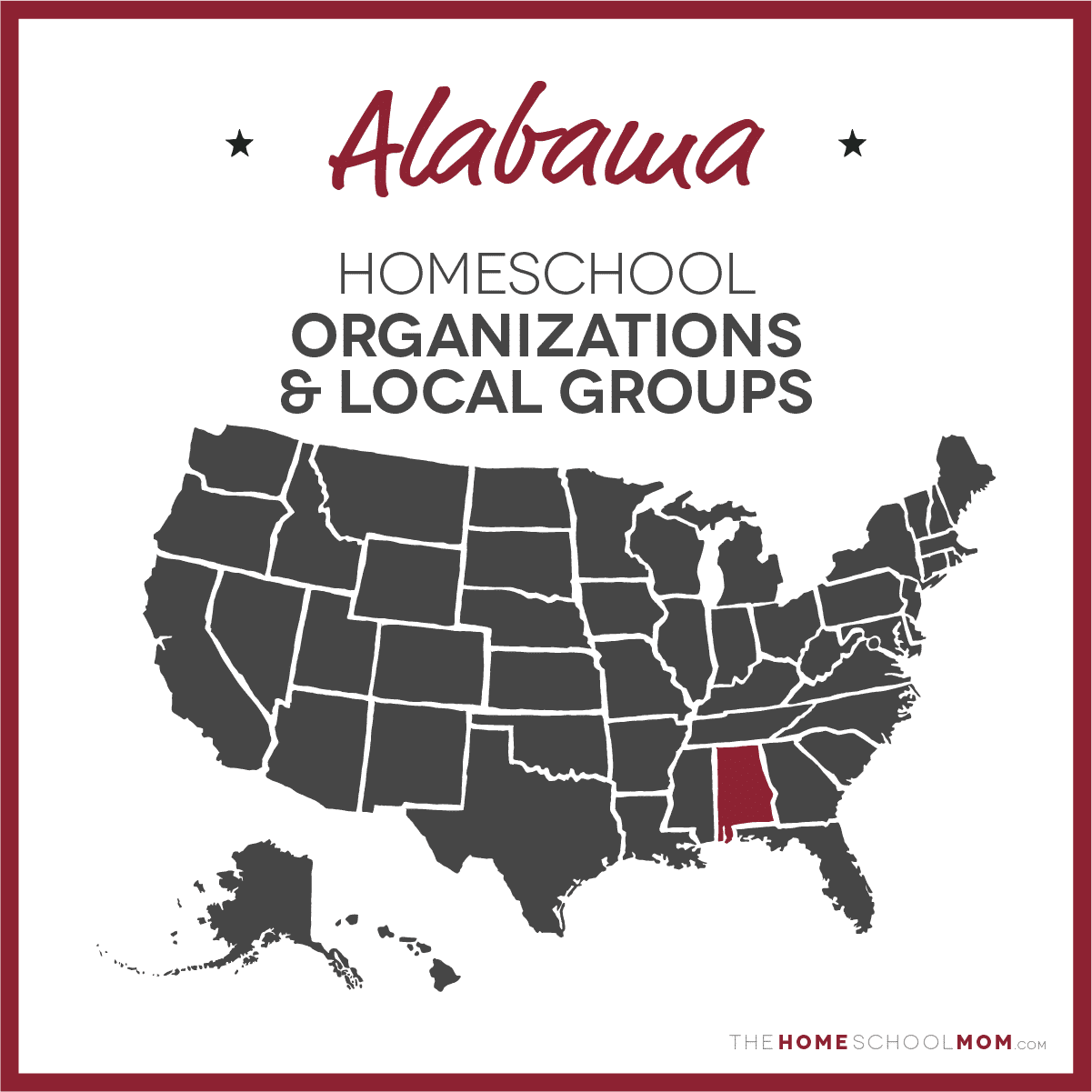 Submit a Local Resource
Jump to: State Organizations | Local Groups
Our listing of Alabama state organizations and local homeschool groups is ordered alphabetically by city, with statewide organizations listed first. If you would like to submit a group, you may do so using the red button above.
Alabama Homeschool Organizations (Statewide)
CHEF of Alabama

Alabama Statewide

Founded in 1988 to serve all home educators in Alabama by providing information, services, and resources from a Christian perspective to anyone who needs help in the area of home schooling.
Everest Academy

Alabama Statewide

Everest Academy is a cover school located in central Alabama but serving statewide. We only ask what the law requires while offering lots of activities, support, and quality resources. No requirement for letter of faith, meetings, or turning in of attendance/grades until graduation (or changing schools). Free daily newsletter with lots of resources. Check us out on Facebook as Alabama Homeschooling.
Honor School of Alabama

Alabama Statewide

Honor School is the only free cover school in Alabama that is open to the public. It provides legal covering and general information and instructions about homeschooling.
White Sands Academy

Robertsdale

White Sands Academy provides a legal covering for those who choose to home educate in the state of Alabama regardless of race, economic standing, teaching methods, or religious beliefs. Offer support to those who have chosen to home educate. Provide resources to aid families in their home education journey. White Sands Academy believes that the parent has the best interests of their children at heart. We ask only for what the law requires while offering support along with quality resources to aid families in their efforts.
Alabama Local Homeschool Groups
Alabama Church School

Alabama

This group is a Christian Covering for the State of Alabama providing administrative assistance for families to home educate their children as required by State law.
Christian Fellowship Academy

Alabama Statewide

Christian Fellowship Academy is a church school in Alabama offering a Christian family-based approach to home education. Christian Fellowship Academy, (CFA), is a non-profit home education ministry providing a legal "covering" under which Christian families can teach their children at home.
Alabama Homeschooling Support Groups

Alabama Statewide

From Everest Academy - Alabama Homeshooling.
Homeschooled Kids & Co.

Atmore

Homeschooled Kids & Co. is a local support group for families predominately from Escambia counties Alabama and Florida. Our group was formed in the 1990's when local Christian families who were homeschooling decided to come together for support and fellowship.
Shades Mountain Independent Church Academy

Birmingham

SMIC Academy is an Alabama church school for homeschooling families, providing oversight and accountability.
SMIC Academy

Birmingham

Welcome to SMIC Academy located in Hoover, Alabama, USA, a suburb of metro Birmingham, Alabama. Families in SMIC Academy come from all over the Birmingham area (Hoover, Homewood, Vestavia, Pelham, Helena, Gardendale, Leeds, McCalla, etc). SMIC Academy is an Alabama church school for homeschooling families, providing oversight and accountability. Our priorities for this ministry are Discipleship, Scholarship, and Fellowship. We also offer Premiers - a support group ministry providing encouragement, practical help, parent training, field trips, activities, and connections to mentor moms.
Jubilee Academy

Birmingham

Jubilee Academy is for those who believe that as parents, God is holding them accountable for the training of their children. And because of this, there is no better way to know what has been taught daily then to teach them yourself. In the process of teaching, the child grows and learns so they can ultimately live a productive life without the parent. "Education is the graduation process of acquiring knowledge for the preparation of life."
Cullman Homeschool Connection

Cullman

The Cullman Homeschool Connection is a 501(c)3 sponsored nonprofit organization dedicated to fostering positive community relationships that connect families with each other and with local businesses and leadership organizations, assisting homeschooling parents with learning the ins-and-outs of Alabama Homeschooling, and with discovering and providing opportunities that are not otherwise available on an individual level.
HEIRS

Cullman

We are a private group for homeschooling families whose members are like-minded, faithful members of non-institutional churches of Christ. Our mission is to provide support and guidance for mothers and to enhance our children's homeschooling experience through monthly meetings, field trips, and co-op classes as well as other social activities.
Cullman Homeschooler

Cullman City/ County

Cullman Homeschoolers is here to help connect Cullman City homeschoolers with local resources, events, classes and more. A stepping stone for families to connect and engage, Cullman Homeschoolers is here to provide support and encouragement to all homeschoolers in the area .
Harvest Christian School

Dothan

Harvest Christian School (HCS) exists to stand with parents as they discover, explore, enjoy, and excel in their God-given role to educate their children. HCS provides the avenue for parents to network, fellowship and encourage one another (Deut. 6:7). Co-op classes are available.
Ridgecrest Christian School

Dothan

Alabama Cover school and Co-op.
Wiregrass Secular Homeschoolers

Dothan, Wiregrass area

Wiregrass Secular Homeschoolers is a very active group! The primary goal of this group is social, and not just a resource for information, as there are plenty of those groups. WSH has meetups and events every month, all year long. There are no fees to join, and your family can begin participating right away. All WSH events will have a host. Our desire is to create an intimate group of friends for our children and ourselves. We need members that are going to show up when they sign up for events, and that will let the host know if anything changes in that they are unable to attend. The group is secular in that it is welcoming to members of faith or no faith. In this group we define secular as denoting attitudes, activities, or other things that have no religious or spiritual basis. This does not mean that families of faith are not welcome. It simply means we are not a faith (or no faith) group. This group will support each other and offer guidance. No criticizing, or remarking with ill purpose. Please be kind and respectful.
The ROCK Christian Academy

Elmore County

This ministry offers cover school support for Alabama homeschoolers. Open to all homeschoolers, grades preschool to 3rd grade are music and art classes every Tuesday from 8 am to 11 am. See the facebook page for details and updates. This homeschool ministry also offers homeschool workshops for grades K-5 to 12th on Wednesdays or Thursdays. The exact day and topic will be announced each month on the website and facebook page. Fees and Code of Conduct may also be found on those pages. https://www.facebook.com/therockchristianacademy.eclecticalabama/
Elmore County Homeschool Organization(ECHO)

Elmore, Autauga, Montgomery

Elmore County Homeschool Organization is a social/support group for homeschooling families. ECHO provides a positive socialization environment for homeschooled children and support & encourage their parents in the homeschooling process. Families from any county are welcome. Members meet the second and fourth Friday of every month during the school year from 10:00 a.m. to 12:00 p.m. at Harvest Fields Community Church in Deatsville. Membership is free. ECHO has field trips, holiday parties, social activities, enrichment activities, teen only events, and a yearly awards ceremony.
Central Kids Homeschool Support Group

Gardendale

This resource provides a local homeschool support group for the Gardendale/Fultondale/Mount Olive and surrounding communities. Fellowship opportunities, play dates, field trips, and parent encouragement and support including lesson planning, curriculum, and administrative help. Meets the 3rd Saturday of the month August to May 10AM to Noon at Central Baptist Church, 4650 New Found Rd, Mount Olive, AL 35117.
Northside Academy

Mobile

Northside Academy was formed as a ministry of Northside Bible Church, to enable parents to take responsibility for their children's academic, emotional and moral growth through teaching at home. We believe in the family and in its ability as an institution to instruct children in the most positive and loving environment possible. Northside Academy and co-op is designed to offer support through record keeping, information, meetings, field trips and other events. We offer: Testing, Field Trips, Graduation, Diplomas, Transcripts, Co-op Classes for K-12th grade, Family Events, Special Speakers, Arts Fair, Science Fair, Theater Department & Productions. Let us minister to your family and help you in your homeschooling adventure!
Evergreen Christian Academy - Shiloh

Mobile

ECA-Shiloh Co-op is a wonderful social and academic outlet for the families of ECA-Shiloh. There are classes ranging from Preschool - High School science classes and everything in between. Co-op meets for 12 weeks each semester.
Heritage Christian School - Alabama

Mobile

A Private Homeschool covering and a ministry of First Baptist Tillmans Corner.
Praise Christian School

Mobile

Praise Christian School is a legally authorized Church School in the State of Alabama established for the purpose of acting as a Homeschool Covering. PCS is a part of Praise Education, a ministry of Praise Family Church. Our philosophy of homeschooling revolves around one word: excellence. Our standards don't lower just because our learning takes place at home. We also love the ultimate homeschooling benefit: flexibility. The flexibility to set your own school schedule, to choose the curriculum that best suits your child, to educate your kids according to your Christian beliefs. If you've been considering homeschooling, or are looking for a new covering, we stand ready to help like-minded Christian families.
SCOPE Homeschool Group

Moody

Scope is a place where your family can find educational opportunities, connect with other homeschoolers, and make lifelong friends. We are here to help you make the most of your homeschooling experience. At Scope we try to offer a variety of academic and elective classes. We try to have a little something for everybody! We are open to any homeschooler. We have classes for babies through high school, however our nursery and preschool classes are only for the siblings of students in 1st grade or higher.
Crossroads Christian School

Moody/Central Alabama

Crossroads Christian in Moody, Alabama is a rich resource for homeschoolers in East Central Alabama. They are a cover school that offer numerous services to homeschoolers including; administrative support, a wonderful co-op, teacher support and social opportunities, field trips, testing, 4-H, robotics, running team, and so much more!
North Alabama Home Educators

North Alabama

A not-for-profit support group for anyone in the North Alabama area interested in home education.
Cahaba Academy

North Trussville

A Home School Ministry of First Baptist Church Trussville. Established in 2008, per the State of Alabama's "Church School" provision, Cahaba Academy remains a ministry of First Baptist Church Trussville (FBCT), under the oversight of the Children's Ministry office. FBCT is a cooperating member of the Southern Baptist Convention (SBC).
COMPASS Christian Home Educators

Rainbow City

COMPASS Christian home educators was created in the early 2000's for local homeschoolers. We offer an educators card, field trips, co-ops, clubs of various kinds including, skating, bowling, movies, books and more! We meet monthly at the park and do crafts as well. We serve northeast Alabama and all homeschoolers are welcome regardless of cover and ages, there is always something for everyone. We do have a $5/year membership fee and we throw a large expo every year to begin the school year. We also have curriculum sales and have become a legal nonprofit group. We would love to have you!
CrossRoads Christian Academy

Warrior

CRCA we provide a legal covering for families that are homeschooling. CRCA is happy to provide a Cooperative group that meets on Tuesdays.  This group is open to all homeschoolers that are able to sign the Statement of Faith provided, as well as a Pastor's Recomendation letter.