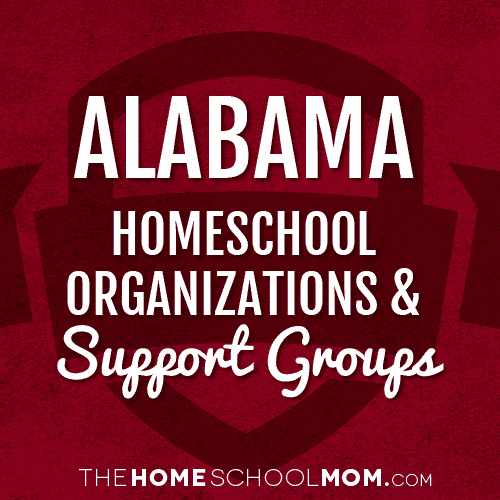 Since homeschooling is regulated at the state level, connecting with local homeschoolers is an important step to start homeschooling in Alabama. State homeschool organizations and local homeschool groups are not just a good place to learn the specifics of legally homeschooling in Alabama—they can also help you to get connected with the local homeschooling community. Many homeschool groups offer co-ops, classes, sports and arts opportunities, and social get-togethers.
Our listing of Alabama state organizations and local homeschool groups is ordered alphabetically by city, with statewide organizations listed first. If you would like to submit a group, you may do so using the red button above.
Use the secondary navigation menu above to quickly make your way to pages for Alabama state organizations, local homeschool groups, classes, co-ops, field trips, and more.
Alabama Homeschool Organizations
CHEF of AlabamaAlabama Statewide
Founded in 1988 to serve all home educators in Alabama by providing information, services, and resources from a Christian perspective to anyone who needs help in the area of home schooling.
Everest AcademyAlabama Statewide
Everest Academy is a cover school located in central Alabama but serving statewide. We only ask what the law requires while offering lots of activities, support, and quality resources. No require...
Alabama Hope AcademyAlabama Statewide
Christian based, Non denominational Cover School, Provides Covering to entire state of Alabama. Fast, Simple and Stress-free Enrollment. Minimum requirements. Be legally covered in minutes!
Honor School of AlabamaAlabama Statewide
Honor School is the only free cover school in Alabama that is open to the public. It provides legal covering and general information and instructions about homeschooling.
Alabama Local Homeschool Groups
PEAK Homeschool NetworkAlabama and Mississippi Statewide
If you live in Alabama or Mississippi and are looking for a diverse, collaborative community of inclusive homeschoolers, welcome to PEAK!
Christian Fellowship AcademyAlabama Statewide
Christian Fellowship Academy is a church school in Alabama offering a Christian family-based approach to home education. Christian Fellowship Academy, (CFA), is a non-profit home education ministr...
Alabama Homeschooling Support GroupsAlabama Statewide
From Everest Academy - Alabama Homeshooling.
Bright Horizons AcademyAlabaster
Bright Horizons Academy is a homeschool cover school based in Central Alabama, Shelby County, but serving statewide. No Statement of Faith Required, Low Enrollment fees, Freedom of Curriculum Choi...
A2Z LoopAuburn-Opelika area
For homeschooling families belonging to the A2Z group.
Charger AcademyColumbiana - Southern Shelby County
Charger Academy is a 2 year old homeschool group sponsored by Bethel Baptist Church in Columbiana, AL. Families at Charger Academy are encouraging and helpful. Members offer opportunities for acad...
Humble Hearts Humble Homes SchoolCropwell
Humble Hearts Humble Homes School is a ministry of Humble Hearts Worship Center. Humble Hearts is a homeschool cover, providing a co-operative learning option to families in St. Clair County Alabam...
Cullman Homeschool ConnectionCullman
The Cullman Homeschool Connection is a 501(c)3 sponsored nonprofit organization dedicated to fostering positive community relationships that connect families with each other and with local business...
Cullman HomeschoolerCullman City/ County
Cullman Homeschoolers is here to help connect Cullman City homeschoolers with local resources, events, classes and more. A stepping stone for families to connect and engage, Cullman Homeschoolers i...
DeKalb County AL homeschoolersDeKalb County
Connecting DeKalb area homeschooling families, no matter which cover school is used.
Wiregrass Secular HomeschoolersDothan, Wiregrass area
Wiregrass Secular Homeschoolers is a very active group! The primary goal of this group is social, and not just a resource for information, as there are plenty of those groups. WSH has meetups and...
Elmore County Homeschool Organization(ECHO)Elmore, Autauga, Montgomery
Elmore County Homeschool Organization is a social/support group for homeschooling families. ECHO provides a positive socialization environment for homeschooled children and support & encourage thei...
North Alabama TrailblazersHuntsville metro area, Madison, Morgan, Limestone, AL and Lincoln, TN
A group of homeschooling families. We meet together for mutual socialization and companionship of children and parents alike. About once or twice a month we do field trips. We also do seasonal an...
Tennessee Valley HomeschoolersMadison County
An all inclusive group of homeschooling families in the Tennessee Valley providing an avenue for homeschoolers give and receive support and information. Currently, the group offers a Mom's Night on...
Madison County Alabama homeschoolersMadison County
Group supports homeschooling parents in the Madison County, Alabama area coordinating group activities to make friends and socialize. Open to all homeschoolers of the Tennessee valley.
Northside AcademyMobile
Northside Academy was formed as a ministry of Northside Bible Church, to enable parents to take responsibility for their children's academic, emotional and moral growth through teaching at home. We...
Northern Gulf Coast Home EducatorsMobile
Northern Gulf Coast Home Educators is a support group for homeschool families in the Deep South. Members publish articles related to homeschooling and offer active events pages. All field trips, sp...
North Alabama Home EducatorsNorth Alabama
A not-for-profit support group for anyone in the North Alabama area interested in home education.
Shoals Area Teen SceneShoals Area
Student social groups for Shoals area Alabama Homeschooling Teens!
Fellowship of Home EducatorsTri-county area (Prattville)
FHE is a homeschool support group of the tri-county area.
Eden Academy of Tuscaloosa Support GroupTuscaloosa
Eden Academy of Tuscaloosa. Where Acceptance is the Theme. Support group is open to all homeschooling families, or those interested in homeschooling. You do NOT have to be enrolled in Eden Academy...