Jump to: Homeschool Co-ops | Homeschooling Classes & Academic Enrichment
Looking for someone to teach physics to your teen? Need a way to avoid teaching algebra? Want to enroll your Kindergartener in a co-op for social time? Homeschool classes and co-ops are a great way to spend time with other homeschoolers and skill-share with other homeschool parents.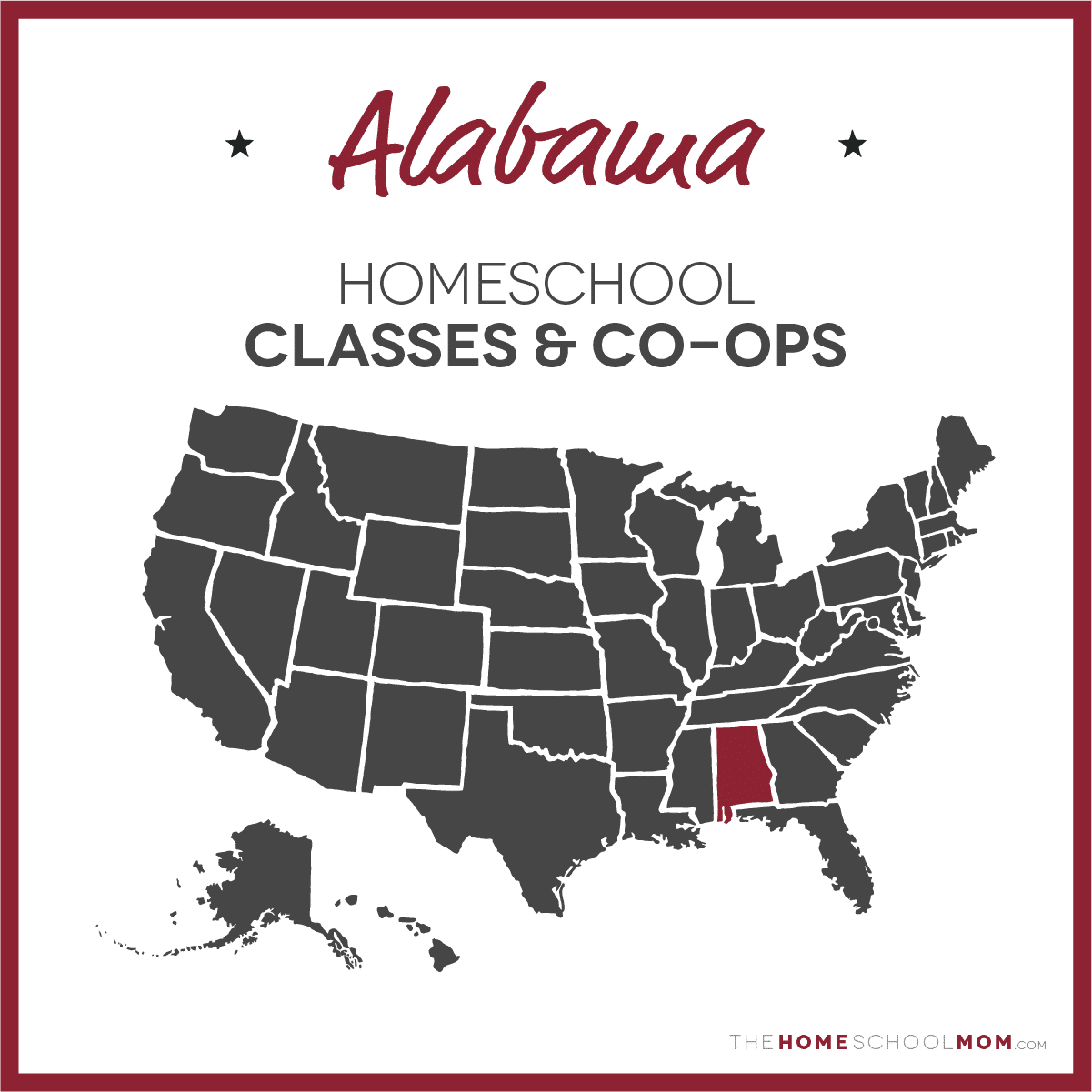 Submit a Local Resource
Our listing of Alabama co-ops and academic classes for homeschoolers is ordered alphabetically by city, with co-ops in the first section and all other academic resources below. If you would like to submit a Alabama co-op or academic resource, you may do so using the red button above.
Alabama Homeschooling Co-ops
Brook Hills Co-opBirmingham
The Brook Hills Co-op is a fee-for-service tutorial consisting of three classes offered within three class periods for K-6th grades and four class periods for 7-12th grades. Participation in the co...
Custom Education CooperativeChelsea
C.E.C. is a growing group of homeschool families across Central Alabama. Our goal is provide support, educational opportunites and community to the homeschool families in our area. United in faith,...
Bethel Christian AcademyColumbiana
Bethel Christian Academy (formerly Charger Academy) is a Co-op and Tutorial ministry of Bethel Baptist Church. We are here so that home schooling families can obtain affordable classes for their ch...
Cullman Homeschool Co-OpCullman
Cullman Homeschool Co-op is an academically rigorous, volunteer based co-operative providing once weekly special interest and classes. Members are welcome regardless of cover and no statement of fa...
Navigators Homeschool CooperativeDaphne
Navigator's is a cooperative that meets in Daphne, AL.
Harvest Christian SchoolDothan
Harvest Christian School (HCS) exists to stand with parents as they discover, explore, enjoy, and excel in their God-given role to educate their children. HCS provides the avenue for parents to net...
Ridgecrest Christian SchoolDothan
Alabama Cover school and Co-op.
North Jefferson Homeschoolers Co-opGardendale, AL
We meet in Gardendale at Good Shepherd Lutheran Church on Tuesdays between 1 & 3 pm. We are a co-op that focuses on the "fun". The goal of the cooperative is to be an all inclusive cooperative ...
Hope Christian Academy - Hazel Green, AlabamaHazel Green
This Co-op meets on Tuesdays and is currently providing core and elective classes K-12. The classes fluctuate but currently consist of OG reading, Math games, Drama, P.E., Marine Biology, Cooking, ...
Cornerstone CooperativeHelena
A Home Schooling Cooperative to Support Families in Their Home Schooling Journeys
Lion's Gate Christian SchoolHuntsville
Lion's Gate Christian School is an independent ministry located at Grace United Methodist Church in Huntsville, Alabama. We are a co-op (NOT a cover school) that offers home school families service...
Creekside Academy Learning CooperativeKillen
The Creekside Academy Learning Co-op is an interdenominational group of Christian homeschooling families in the north Alabama area who have come together to assist one another in their home educati...
Northside AcademyMobile
Northside Academy was formed as a ministry of Northside Bible Church, to enable parents to take responsibility for their children's academic, emotional and moral growth through teaching at home. We...
Evergreen Christian Academy - ShilohMobile
ECA-Shiloh Co-op is a wonderful social and academic outlet for the families of ECA-Shiloh. There are classes ranging from Preschool - High School science classes and everything in between. Co-op me...
Our Lady of GuadalupeMobile
Provides church school services (filing of Church School Enrollment forms with local school board, keeping of attendance records, administration of standardized testing for a fee, and producing tra...
Academy Days Co-opMontgomery
Serving the homeschool community since 2006, this homeschool co-op offers classes for preschool through high school in subjects difficult to teach at home or best taught in group settings, such as ...
Scope is a place where your family can find educational opportunities, connect with other homeschoolers, and make lifelong friends. We are here to help you make the most of your homeschooling exper...
Magic City Elementary Co-opPinson
This co-op meets once a week for either a lesson, park or a field trip. The normal meet up date and time are Thursdays at 1pm. The costs are kept low because of the 100% volunteer requirement. All ...
COMPASS Christian Home EducatorsRainbow City
COMPASS Christian home educators was created in the early 2000's for local homeschoolers. We offer an educators card, field trips, co-ops, clubs of various kinds including, skating, bowling, movies...
CrossRoads Christian Academy @ Shiloh ChurchSomerville/Decatur/Huntsville
CrossRoads Christian Academy (CRC) is a homeschool co-op conveniently located near the intersection of Hwys 36 & 67 in Somerville, AL. We offer classes on Mondays September-April for K-12th gra...
CrossRoads Christian AcademyWarrior
CRCA we provide a legal covering for families that are homeschooling. CRCA is happy to provide a Cooperative group that meets on Tuesdays.  This group is open to all homeschoolers that are able to ...
S.A.L.T. AcademyWarrior
S.A.L.T. REGISTRATION is now OPEN for the 2022-2023 school year. If you are interested in joining S.A.L.T. and missed our registration window, please feel free to join our waitlist for next year. W...
Alabama Homeschooling Classes & Academic Enrichment
Alabama Classical ConversationsAlabama Statewide
CC is a national homeschooling program that uses a Bible based curriculum taught in a christian, classical tradition. Classes are geared for age 4 through high school.[Read more...]
Ivery Steps Enrichment & TutoringAtlanta, McDonough, Fayetteville, Decatur
This resource offers private and group tutoring, both in person and virtually. They offer private and group Home School Classes for Middle and High School Math, Science, and STEAM Activities. Addit...[Read more...]
War Eagle BESTAuburn
BEST (Boosting Engineering Science and Technology) is a non-profit volunteer based program organization whose mission is to inspire students to pursue careers in engineering, science and technology...[Read more...]
Camp FletcherBessmer
Camp Fletcher offers outdoor educational experiences for students in public, private and homeschools. Using the outdoor education curriculum created specifically for Camp Fletcher, students are enc...[Read more...]
Birmingham Zoo Home School AcademyBirmingham
The Birmingham Zoo Education Department has home school science classes for children in 1st-12th grade. Classes consist of animal visits, class discussions, in-class work, activities, labs, and hom...[Read more...]
World Class - Chess/Backgammon/Poker InstructorBirmingham
A World Class level player is offering private, individual and group lessons to parents of kids, teenagers, or any adults, who would like to learn any of the games of Chess, Backgammon, or Poker. S...[Read more...]
FACS at HomeBirmingham
FACS stands for Family and Consumer Sciences which used to be called, Home Economics. It is offered as an elective in many middle and high schools and it is almost always a crowd favorite! Family a...[Read more...]
DaySpring AcademyCentral Alabama
DaySpring Academy is a cover school. Non faith based and offering low enrollment fees. Freedom to choose your curriculum.[Read more...]
Bethel Christian AcademyColumbiana
Bethel Christian Academy (formerly Charger Academy) is a Co-op and Tutorial ministry of Bethel Baptist Church. We are here so that home schooling families can obtain affordable classes for their ch...[Read more...]
NACDColumbus/GA, La Grange/ GA, Newnan/ GA, Phenix City/ AL, Auburn/Opelika, AL,
Based on a neuro-educational assessment of your child, the NACD staff is able to customize a program of teaching strategies that will best allow the child to make rapid advancement. Not only does t...[Read more...]
Fancher Education CenterCullman
Fancher Education Center is a 501(c)3 nonprofit organization that provides private tutoring, extended day, and homeschool services in the Cullman City area. The Fancher Education Center specializes...[Read more...]
Nature ConnectDaphne
Nature Connect's mission to cultivate wonder and a love for learning through outdoor education. In a time where computer and cell phone use is so prevalent, Nature Connect believes it's important t...[Read more...]
CSI Zone Forensics Academy for KidsElmore and Montgomery County
CSI Zone Forensics Academy for kids involves using STEM (Science, Technology, Engineering, and Mathematics) to find clues, solve puzzles, and solve mysteries. CSI Zone Forensics Academy allows chil...[Read more...]
Sand Castle UniversityGulf Shores, Orange Beach,
Sand Castle University specializes in teaching the best tools, tips, and tricks of building amazing Sand Castles to groups of all ages and skill levels. We bring our years of experience and special...[Read more...]
Life Christian AcademyHarvest
Classes currently offered on Tuesdays and Fridays for middle through high school students.[Read more...]
Catapult Engineering AcademyHoover
Catapult Engineering Academy provides parents, teachers and administrators with tools to offer high quality, college-preparatory and college-level engineering courses to individual students and gro...[Read more...]
Veritas Classical School - AlabamaHuntsville
Veritas Classical School offers homeschooling families a unique complement to their home study programs by providing classroom instruction with an emphasis on classical as well as traditional subje...[Read more...]
Christ Point AcademyHuntsville
Christ Point Academy is a hybrid learning program that integrates the benefits of classroom learning with the independence of homeschooling at the lowest cost possible. Our approach prioritizes soc...[Read more...]
Competitive Edge Learning CenterHuntsville /Madison county
"Competitive Edge, sharpening minds one student at a time" Competitive Edge Academic Learning Center is an Academic learning center that services grades K-12. Now accepting applications for the Hom...[Read more...]
SIFAT-Learn & Serve ProgramLineville
Learn & Serve (L&S) is a ministry of SIFAT that provides an opportunity for Americans to gain a holistic view of the developing world.  Throughout the year, churches, universities and schoo...[Read more...]
Jubilee BESTMobile
BEST (Boosting Engineering Science and Technology) is a non-profit volunteer based program organization whose mission is to inspire students to pursue careers in engineering, science and technology...[Read more...]
EdTech AcademyMontgomery
EdTech Academy provides weekly technology classes for K-12 students. Classes focus on computer coding, robotics, digital animation, as well as hands-on science lessons. Site based homeschool classe...[Read more...]
Holmes TutoringMontgomery
Holmes Tutoring is a virtual tutoring company that offers Direct Instruction Reading and Math to students who perform within the K-5 academic range. It is run and operated by Keara Holmes, a certif...[Read more...]
Homeschool Math ClassesPrattville
Veteran math teacher, Tracy Lisenby, offering a and I am a homeschool math and music program in Prattville located at 831C S. Memorial Drive. Offering 2 math classes each morning Tuesday through Fr...[Read more...]
Jumpin' Jellybeans The Boutique Play SpaceSpanish Fort, Baldwin County
Jumpin Jellybeans is a boutique play space for kids ages 10 and under. We offer all-day play, private events, and numerous memberships. We also offer special group rates for groups more than 10 to ...[Read more...]
Go to Alabama...