Jump to: Homeschool Co-ops | Homeschooling Classes & Academic Enrichment
Looking for someone to teach physics to your teen? Need a way to avoid teaching algebra? Want to enroll your Kindergartener in a co-op for social time? Homeschool classes and co-ops are a great way to spend time with other homeschoolers and skill-share with other homeschool parents.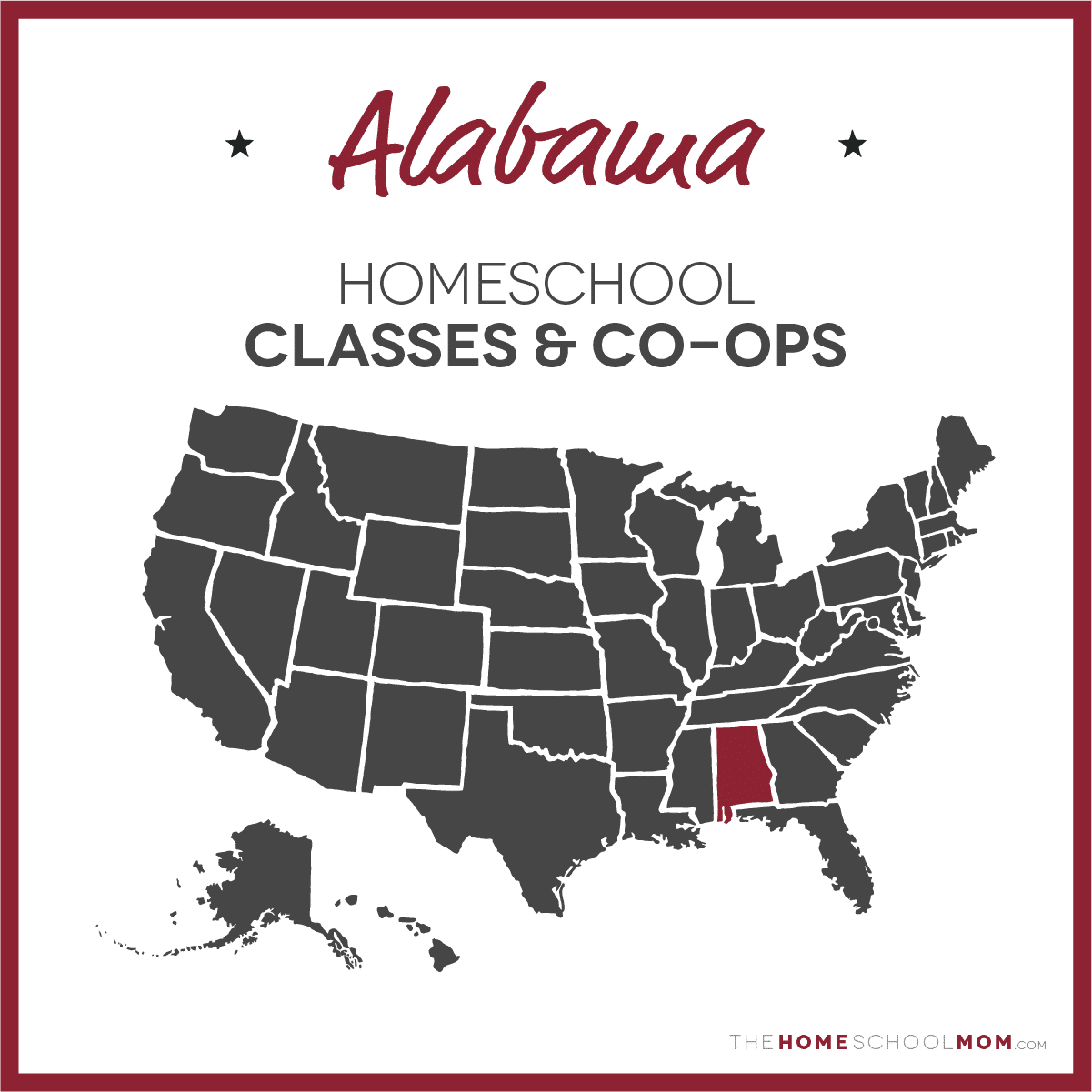 Submit a Local Resource
Our listing of Alabama co-ops and academic classes for homeschoolers is ordered alphabetically by city, with co-ops in the first section and all other academic resources below. If you would like to submit a Alabama co-op or academic resource, you may do so using the red button above.
Alabama Homeschooling Co-ops
Legacy Builders Academy

Bessemer

Legacy Builders Academy offers a homeschool hybrid program. It's 2 days a week program includes and elementary and middle school track that includes Math, Science, African-American Literature/History and Spanish
Brook Hills Co-op

Birmingham

The Brook Hills Co-op is a fee-for-service tutorial consisting of three classes offered within three class periods for K-6th grades and four class periods for 7-12th grades. Participation in the co-op is dependent upon the approval of Brook Hills Co-op Leadership following a successful interview. This co-op is designed for elementary, middle, and high school age students, grades K-12th. Enrollment is a la carte. You are not required to enroll your child(ren) in every class offered; however, please keep in mind that your child should only be on campus during times in which he/she is enrolled in class.
Bethel Christian Academy

Columbiana

Bethel Christian Academy (formerly Charger Academy) is a Co-op and Tutorial ministry of Bethel Baptist Church. We are here so that home schooling families can obtain affordable classes for their children outside of the home. A variety of core and enrichment classes are offered to supplement the home environment.
Cullman Homeschool Co-Op

Cullman

Cullman Homeschool Co-op is an academically rigorous, volunteer based co-operative providing once weekly special interest and classes. Members are welcome regardless of cover and no statement of faith is required. The CHC currently rents space at Fancher Education Center and serves 30-40 students per semester.
Navigators Homeschool Cooperative

Daphne

Navigator's is a cooperative that meets in Daphne, AL.
Harvest Christian School

Dothan

Harvest Christian School (HCS) exists to stand with parents as they discover, explore, enjoy, and excel in their God-given role to educate their children. HCS provides the avenue for parents to network, fellowship and encourage one another (Deut. 6:7). Co-op classes are available.
Ridgecrest Christian School

Dothan

Alabama Cover school and Co-op.
Barefoot University - Alabama

Gadsen

BU connects families to nature and each other. Our forest schools nourish the holistic health & education of children. Through child led learning, engaging STEM & science based activities, community service projects, creating communities, & equipping families to observe & explore our natural world, Barefooters thrive. Location: Noccalula Falls on Thursdays at 10:30
Lion's Gate Christian School

Harvest

Lion's Gate Christian School is an independent ministry located at Grace United Methodist Church in Huntsville, Alabama. We are a co-op (NOT a cover school) that offers home school families services such as field trips, social events, testing and classes. As a co-op, we expect all members to share the workload and contribute by volunteering in various ways.
Hope Christian Academy - Hazel Green, Alabama

Hazel Green

This Co-op meets on Tuesdays and is currently providing core and elective classes K-12. The classes fluctuate but currently consist of OG reading, Math games, Drama, P.E., Marine Biology, Cooking, Recorder, Sewing, High school World History, Mock Trials, plus more. See website for current semester class list.
Cornerstone Cooperative

Helena

A Home Schooling Cooperative to Support Families in Their Home Schooling Journeys
Discovery Academy Homeschool Co-op

Huntsville

Discovery Academy is a small secular homeschooling group that meets in a downtown Huntsville location for classes, social activities, field trips, and celebrations. Discovery Academy is not related to any church or denomination. We welcome families from all cultural and religious backgrounds and we strive to maintain an environment where all students can feel comfortable sharing their unique ideas, beliefs, traditions, interests and talents. Cooperatively, we provide a wide array of courses including art, science, nature classes, anatomy, writing, math, languages and many more.
Creekside Academy Learning Cooperative

Killen

The Creekside Academy Learning Co-op is an interdenominational group of Christian homeschooling families in the north Alabama area who have come together to assist one another in their home education efforts with cooperative classes led by parent volunteers. We also work together to provide supplemental activities, field trips, and opportunities for fellowship between parents and students. Classes and activities offered vary from year to year based on the needs and interests of the participating families.  Classes meet each Tuesday from 9 a.m until 2 p.m. on the campus of Cross Point Church, located on Cox Creek Parkway in Florence.
Northside Academy

Mobile

Northside Academy was formed as a ministry of Northside Bible Church, to enable parents to take responsibility for their children's academic, emotional and moral growth through teaching at home. We believe in the family and in its ability as an institution to instruct children in the most positive and loving environment possible. Northside Academy and co-op is designed to offer support through record keeping, information, meetings, field trips and other events. We offer: Testing, Field Trips, Graduation, Diplomas, Transcripts, Co-op Classes for K-12th grade, Family Events, Special Speakers, Arts Fair, Science Fair, Theater Department & Productions. Let us minister to your family and help you in your homeschooling adventure!
Evergreen Christian Academy - Shiloh

Mobile

ECA-Shiloh Co-op is a wonderful social and academic outlet for the families of ECA-Shiloh. There are classes ranging from Preschool - High School science classes and everything in between. Co-op meets for 12 weeks each semester.
Our Lady of Guadalupe

Mobile

Provides church school services (filing of Church School Enrollment forms with local school board, keeping of attendance records, administration of standardized testing for a fee, and producing transcripts upon request for a fee), homeschool support services (including access to the OLG website), and participation in all Our Lady of Guadalupe school and social events.
Heartwood Christian Academy

Mobile

Heartwood Christian Academy is a homeschool covering and co-op. The co-op offers a variety of in-person classes on Tuesdays for grades K-12 from August to May of each school year. Students are not required to be enrolled in the covering school to attend co-op classes. High school students can earn credits towards diploma. High school credits are determined by the class teacher.
Academy Days Co-op

Montgomery

Serving the homeschool community since 2006, this homeschool co-op offers classes for preschool through high school in subjects difficult to teach at home or best taught in group settings, such as drama, science labs, STEM, foreign languages, creative writing and P.E. Teachers are fellow homeschooling parents with a degree, special knowledge or passion for the subjects. Parents do not have to teach to enroll their children, but they do have to be on campus while their children are present, assisting teachers, setting up, or serving in some way, as this is truly a cooperative learning environment. As a result, we have a small teacher to student ratio, and most classes range between 3 and 12 students with 2 or 3 team teachers. Class fees range from $2 to $15 for the entire 14 weeks, so co-op is very affordable, even for a large family. Academy Days Co-op is open to homeschoolers of any church school covering or independent.
SCOPE Homeschool Group

Moody

Scope is a place where your family can find educational opportunities, connect with other homeschoolers, and make lifelong friends. We are here to help you make the most of your homeschooling experience. At Scope we try to offer a variety of academic and elective classes. We try to have a little something for everybody! We are open to any homeschooler. We have classes for babies through high school, however our nursery and preschool classes are only for the siblings of students in 1st grade or higher.
Crossroads Christian Co-op Moody

Moody

CRCS Co-op is a cooperative effort among the parents of CRCS with a goal to provide encouragement, accountability, and academics. Co-op also provides families with social connection and the opportunity to build relationships with others who share the common desire to educate their own children. Our Co-op classes are open to ENROLLED members in good standing of Crossroads Christian School only. The classes are targeted for students in grades 1-12. They are not intended to replace academic course of study at home. The classes should be considered supplemental and extracurricular. Occasionally, high school classes are offered during this time that may count toward credit hours at the parents discretion. Co-op is one of the many activities available to CRCS families. Registration is $25 per family per semester in addition to the fees charged per class.
COMPASS Christian Home Educators

Rainbow City

COMPASS Christian home educators was created in the early 2000's for local homeschoolers. We offer an educators card, field trips, co-ops, clubs of various kinds including, skating, bowling, movies, books and more! We meet monthly at the park and do crafts as well. We serve northeast Alabama and all homeschoolers are welcome regardless of cover and ages, there is always something for everyone. We do have a $5/year membership fee and we throw a large expo every year to begin the school year. We also have curriculum sales and have become a legal nonprofit group. We would love to have you!
CrossRoads Christian Academy @ Shiloh Church

Somerville/Decatur/Huntsville

CrossRoads Christian Academy (CRC) is a homeschool co-op conveniently located near the intersection of Hwys 36 & 67 in Somerville, AL. We offer classes on Mondays September-April for K-12th graders. Included in those options will be classes for nursery and preschooler siblings. The day consist of 3 primary class periods plus a family chapel time and runs from 9:00am to 12:30pm. If you are interested in learning more about CRC, please visit our website https://shilohchurch.info/homeschool-ministry. If you have any questions, feel free to email us at crossroadsacademyshiloh@gmail.com. The Shiloh Church campus is located at 3941 AL-36, Somerville, AL 35670.
CrossRoads Christian Academy

Warrior

CRCA we provide a legal covering for families that are homeschooling. CRCA is happy to provide a Cooperative group that meets on Tuesdays.  This group is open to all homeschoolers that are able to sign the Statement of Faith provided, as well as a Pastor's Recomendation letter.
Alabama Homeschooling Classes & Academic Enrichment
Alabama Classical Conversations

Alabama Statewide

CC is a national homeschooling program that uses a Bible based curriculum taught in a christian, classical tradition. Classes are geared for age 4 through high school.
Birmingham Zoo Home School Academy

Birmingham

The Birmingham Zoo Education Department has home school science classes for children in 1st-12th grade. Classes consist of animal visits, class discussions, in-class work, activities, labs, and homework. Resources and references will be made available for the different classes. Pre-registration is required.
FACS at Home

Birmingham

FACS stands for Family and Consumer Sciences which used to be called, Home Economics. It is offered as an elective in many middle and high schools and it is almost always a crowd favorite! Family and Consumer Sciences covers a multitude of things and that is what makes it so much fun! It is all about learning how to do day to day things to the best of our ability! This class is taught by a certified teacher who wants to take the successful learning from a classroom, and offer it to homeschooled students! State standards for FACS will casually be followed while adding in and taking away just a few things here and there to make it the perfect fit for your student! Students will participate in many hands-on learning actives such as cooking labs, sewing projects, community service projects, etiquette lessons and so much more that they will be able to apply to their daily living! Students get to come to a class where they are up and moving and working on projects that they can apply to their day to day living! It is interactive, and USEFUL! Classes being offered: FACS at Home 101 for Elementary School Age 2nd-5th Graders FACS at Home 102 for Junior High Age 6th -9th Graders For more information and to sign your child up, please visit https://facsathome.wixsite.com/website
Bethel Christian Academy

Columbiana

Bethel Christian Academy (formerly Charger Academy) is a Co-op and Tutorial ministry of Bethel Baptist Church. We are here so that home schooling families can obtain affordable classes for their children outside of the home. A variety of core and enrichment classes are offered to supplement the home environment.
NACD

Columbus/GA, La Grange/ GA, Newnan/ GA, Phenix City/ AL, Auburn/Opelika, AL,

Based on a neuro-educational assessment of your child, the NACD staff is able to customize a program of teaching strategies that will best allow the child to make rapid advancement. Not only does the program address your child's educational needs, but it also provides activities to improve your child's cognitive functioning. Parents wanting to use the instructional materials that they already have are given very specific instructional strategies to maximize the benefits of those materials. We help struggling learners, children with learning disabilities, typical children and children with special needs. Parents are provided with continuing support through phone conferences, video reviews, and a support staff standing by to answer any and all questions. Through utilization of strategies and activities designed by NACD uniquely for your child, you will see more rapid academic advancement. The NACD staff fully expects a child to make progress significantly better than the child would be able to make in a school setting. As a parent/teacher, you will receive training by the NACD staff to enable you to have the skills and expertise to ensure your child receives an excellent education. Imagine spending less time while gaining more rapid results! All areas of your child's function are addressed, and all areas of difficulty are identified and addressed. This is a total program designed to address your child's total needs.
Fancher Education Center

Cullman

Fancher Education Center is a 501(c)3 nonprofit organization that provides private tutoring, extended day, and homeschool services in the Cullman City area. The Fancher Education Center specializes in reading and math intervention with instructors trained in Orton-Gillingham math and reading instruction.
Nature Connect

Daphne

Nature Connect's mission to cultivate wonder and a love for learning through outdoor education. In a time where computer and cell phone use is so prevalent, Nature Connect believes it's important to get kids unplugged from technology and reconnected with the natural world. Their vision is to support children to develop an appreciation for each other and the natural world, so that they grow into dedicated leaders and environmental stewards in their communities. Their programs include exploring outdoors, animal tracking, nature & sensory awareness, storytelling, plant and animal study, mentorship, empowerment, primitive skills & crafts, and lots of fun and play! They offer homeschool enrichment programs for all ages in coastal Baldwin County.
Moore Therapy Services PC

Escambia County

This practice offers in-person and on-site Speech Therapy for homeschooling groups in Escambia, Monroe, Conecuh and Covington counties. This practice accepts BCBS, Medicaid and private pay clients.
Alabama Medieval Fantasy Festival

Greenville

An informative, fun, and educational, interactive, experience. This is an annual event. Entertainment, education and pageantry prevail as history lives and breathes along with costumed characters re-creating an 9th Century European Marketplace. Located on a 30+-acre site just off Interstate 65 in beautiful, Greenville, Alabama, that will be filled with activities, historical reenactments, music, comedy and theater, food and drink, fine hand-made arts and crafts, artisan demonstrations, jousting, and games. For more information, please call (251)423-1257.
Sand Castle University

Gulf Shores, Orange Beach,

Sand Castle University specializes in teaching the best tools, tips, and tricks of building amazing Sand Castles to groups of all ages and skill levels. We bring our years of experience and specialty sand tools right to your beach location! Available in Gulf Shores-Orange Beach-Fort Morgan, Alabama.
Christ Point Academy

Huntsville

Christ Point Academy is a hybrid learning program that integrates the benefits of classroom learning with the independence of homeschooling at the lowest cost possible. Our approach prioritizes social development through play time and classroom interaction. Our ultimate goal is to honor God in everything we do here at Christ Point Academy. Our mission is to help create an atmosphere that will point our students to Christ.
nGenius Tutoring and Test Prep

Huntsville

Providing individually-tailored tutoring focused on bolstering academic skills and boosting self-confidence is the mission at Ngenius Tutoring & Test Prep. When parents are looking for high-quality, trustworthy tutoring in the Huntsville/Madison area, nGenius has the professional services students need to excel in their classes. From kindergarten through college, nGenius is the premier source to get back on track toward academic accomplishment, whether in math, science, English, or history.
Competitive Edge Learning Center

Huntsville /Madison county

"Competitive Edge, sharpening minds one student at a time" Competitive Edge Academic Learning Center is an Academic learning center that services grades K-12. Now accepting applications for the Home school support program, which supports the Tuition-free, K-12 curriculum. Competitive Edge Learning Center also offers aftercare enrichment and tutoring for all subjects with emphasis on reading and math. Very affordable prices. Pickup is available. Located at 5310 Millennium Drive, Huntsville, Alabama suites 7. For more information call Mrs. Hall @ 256-945-5265 or 912-675-6909 Website www.competitiveedgelearning.com
SIFAT-Learn & Serve Program

Lineville

Learn & Serve (L&S) is a ministry of SIFAT that provides an opportunity for Americans to gain a holistic view of the developing world.  Throughout the year, churches, universities and school groups visit our 176-acre campus to learn through interactive programming and simulations. A simulated rural Global Village and Urban Slum are used as teaching tools to let people experience the lives of our brothers and sisters living in the two-thirds world.   After receiving a global view, we challenge Americans to take what they have learned and respond in their local communities with action.  L&S programming is offered year-round. During the summer, we offer week-long sessions through our summer training program. Throughout the rest of the year, you can get involved with L&S by scheduling a retreat.
nGenius Tutoring and Test Prep

Madison

Providing individually-tailored tutoring focused on bolstering academic skills and boosting self-confidence is our mission at nGenius Tutoring & Test Prep. When you're looking for high-quality, trustworthy tutoring and test prep in Madison, AL, we have the professional services you need. From kindergarten through college, we're your premier source to get back on track toward academic accomplishment, whether math, science, English, history, or ACT test prep and more.
Ngenius Tutoring and Test Prep

Madison AL, Huntsville AL

Providing individually-tailored tutoring focused on bolstering academic skill and boosting self-confidence is our mission at Ngenius Turtoring and Test Prep. Our passionate instructors can help with any subject. We tutor from kindergarten through college. Academic tutoring, SAT-ACT Test Prep, and Homeschooling assistance.
Jubilee BEST

Mobile

BEST (Boosting Engineering Science and Technology) is a non-profit volunteer based program organization whose mission is to inspire students to pursue careers in engineering, science and technology through participation in sports like, science and engineering-based robotics competition.
EdTech Academy

Montgomery

EdTech Academy provides weekly technology classes for K-12 students. Classes focus on computer coding, robotics, digital animation, as well as hands-on science lessons. Site based homeschool classes are available each Tuesday and Wednesday. Group and private classes are also available. If you can't come to EdTech Academy, we'll come to you. For more information and current class availability, call 334-593-1106 , visit www.edtechacademy.org, or email us at info@edtechacademy.org.
Holmes Tutoring

Montgomery

Holmes Tutoring is a virtual tutoring company that offers Direct Instruction Reading and Math to students who perform within the K-5 academic range. It is run and operated by Keara Holmes, a certified teacher in the state of Alabama and Georgia. The curriculum is especially beneficial for beginning readers, students who have dyslexia, as well as students with Specific Learning Disabilities in math and reading. Holmes Tutoring uses a unique platform to differentiate instruction for all types of learners. Whether students are kinesthetic, visual, or auditory learners, Holmes Tutoring's layout is constructed to meet individual needs. The interactive platform is used to help close achievement gaps by allowing students to take control of their own learning. Students will participate in fun games, specifically connected to the lessons to help reinforce their understanding of new concepts, all while in the comfort of their own homes. At Holmes Tutoring, students will be engaged and will enjoy the learning process.
Jumpin' Jellybeans The Boutique Play Space

Spanish Fort, Baldwin County

Jumpin Jellybeans is a boutique play space for kids ages 10 and under. We offer all-day play, private events, and numerous memberships. We also offer special group rates for groups more than 10 to get together and socialize. The kids can get all their energy out while parents can kick back on our couches with a cup of free coffee and a good book or laptop connected to free wifi! With socializing being a struggle with homeschooling communities, Jumpin' Jellybeans offers a space for kids to play and socialize with one another while parents can relax and have some socializing for themselves! Check out our website or Facebook page for offers and hours to plan your visit! If you are interested in any group rates or private events, please call us at 251 626 0007! Offering discounted group rates for groups more than 10.