Jump into homeschooling with the simple action steps in our Quickstart Guide to Homeschooling! (If you aren't familiar with homeschooling, start with "What is Homeschooling?")
There are two types of people when it comes to starting something new—the kind that jump in feet first, and the kind that research and read and research some more. For the researcher, we have our "Get Started Homeschooling Guide," and for those wanting to just jump in, we have this, the "Quickstart Guide to Homeschooling."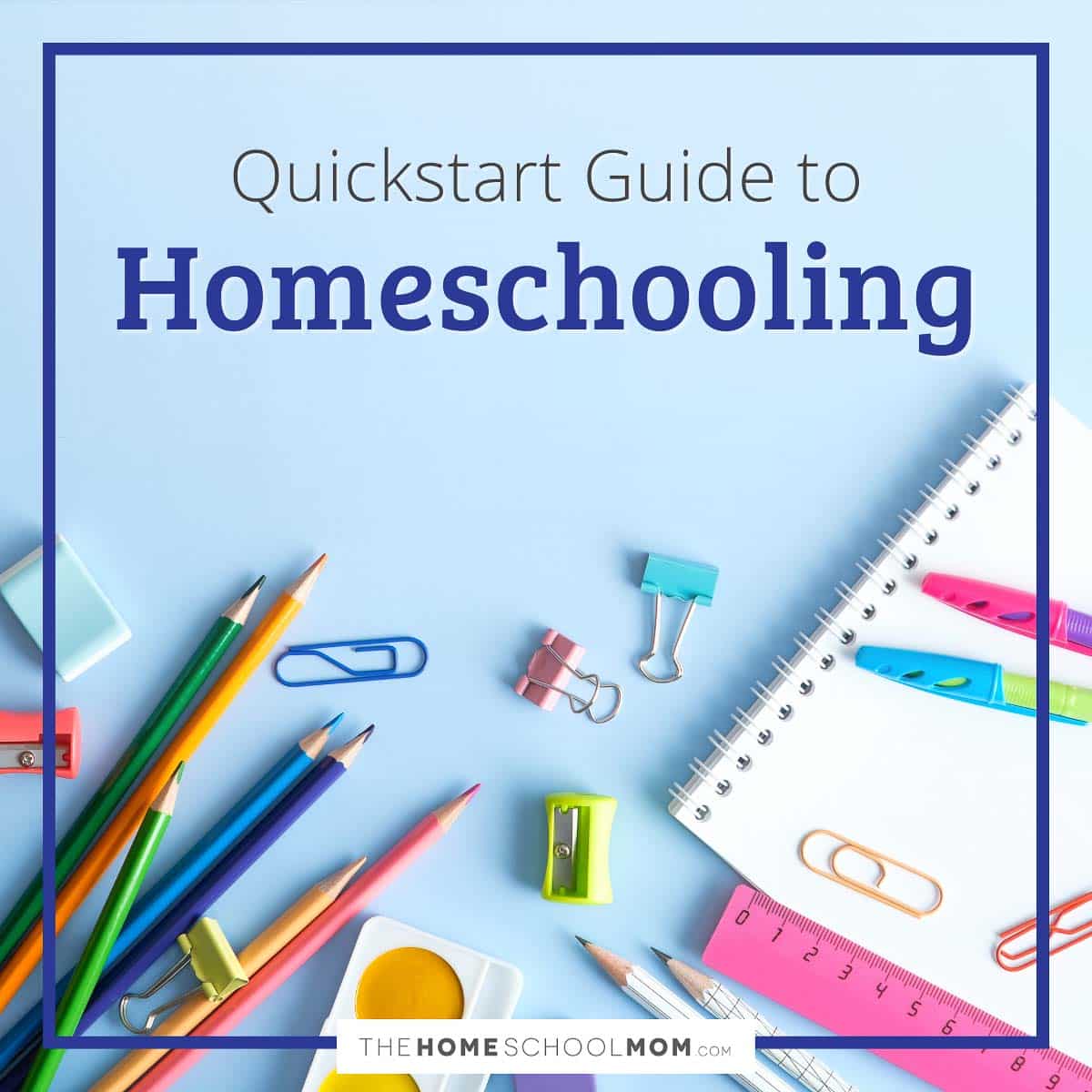 Jump to:
Quickstart for New Homeschoolers
Read about deschooling
Deschool
Then start homeschooling
Don't consider "summer" to be your deschooling time (it's also not necessarily an ideal time for a trial period of homeschooling—it's just summer)
Read the rest of this article
Quickstart for All Homeschoolers, New and Returning
Consider starting slowly this year

A few days a week
A short time each day

Evaluate homeschooling based on your children's response
Find your people. Attend or create a social event:

A park day
A parents' night out or moms' night out
A social media group for your area

Think on these homeschooling truths:

The desire to learn and knowing how to learn will be more important than accumulated facts or skills.
There are no educational emergencies.
There is no homeschool guarantee.
Quickstart for Unschoolers
Remember unschooling is not un-everything.

How will you partner with your child?
How will guide your child?
How will you facilitate for your child?
How will you respect your child's personhood?

Keep deschooling.
Live! Learn! Love!
Curriculum
Notice I didn't mention curriculum to anybody.
That's because most of you all think the curriculum is the most important thing anyway, so you're all obsessing over choosing curriculum, and you don't need a reminder.
So instead of a reminder to choose a curriculum, let me offer you the article "How to Choose the Best Homeschool Curriculum," which explains the many things to consider when choosing a curriculum. Maybe you don't even need one!
You might also like the free homeschool planners by TheHomeSchoolMom. They work for a variety of homeschooling styles as well as helping you plan other household activities that are important to a homeschooling family.
Homeschooling is Not School
Finally, to everyone, remember that homeschooling is not school. Make homeschooling your own, and make it about connecting with your children, which is what provides the context for all the learning!
Many of us have a school model of education in our minds because that's how we grew up. Experienced homeschoolers know, there are many "school things" that homeschoolers do not have to do. 
Enjoy your children, and aim for them to enjoy learning. Anything less won't provide the full benefit of homeschooling.
Want more information? Visit our homeschool blog, where you can find hundreds of posts on dozens of topics related to homeschooling!