State Facts
District of Columbia is an independent city and became the capital of the United States on June 11, 1800.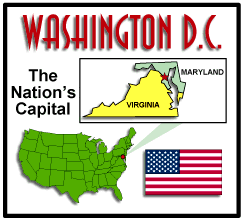 Abbreviation - DC
Nickname - D.C.
Motto - "Justia Omnibus" - Justice for All
Song - The Star-Spangled Banner
Bird - Wood Thrush
Flower - American Beauty Rose
Area - approximately 68 square miles
Websites for studying about Washington, D.C.
As part of President and Mrs. Obama's commitment to open the White House to as many Americans as possible, Google Art Project and the White House have allowed a 360 Street View camera to capture the rooms that are featured on the public tour. Now anyone, anywhere, can experience the history and art of the White House via their computer.
The Virtual Tour of Washington, D.C.
An interactive fieldtrip to our nation's Capital
Explore the States - District of Columbia
From the Library of Congress. Games and stories of America's past.
Facts & Trivia about Washington DC
RoadsideAmerica.com - District of Columbia
Unique tourist attractions and landmarks in Washginton DC
Awesome America - Washington DC
Loads of fun facts, photos, and travel information about Washington DC.
Washington, District of Columbia Map/Quiz Printout
EnchantedLearning.com
National Postal Museum Programs
Learning that Delivers! The National Postal Museum offers a creative selection of programs that attract a wide audience base of all ages, genders, ethnicities, and interests. Whether it be a workshop, film, family program, lecture, or performance, the Museum's Postal Pastimes provide participants with a quality visitation experience that makes learning exciting, enriching, and interactive.
Washington, D.C. Virtual Field Trips
American Art Museum and the Renwick GalleryNorthwest
Virtual field trip onlineThe Smithsonian American Art Museum, the nation's first art collection, features art from the colonial period to today. The museum is the home to one of the largest and most inclusive collections of American art in the world. Highlights are images of the American West, Works Progress Administration murals, impressionism, folk art, photography, video and media art, works by African American and Latino artists, and modern and contemporary art. Open 11:30 am to 7 pm daily except Dec. 25. Admission is free. Website has many educational resources for your visit as well as at home use. Check out the "Which artists shares your birthday?" page.
Hispanic Heritage Teaching Resources
Virtual field trip onlineFrom the Smithsonian - includes both online teaching resources and information for visitors to the museums.
International Spy MuseumNorthwest
Virtual field trip onlineEnter the shadow-world of spying where all is not what it seems and your students will discover a new way of thinking about the world in which they live. The International Spy Museum is committed to educating students and educators about espionage in an engaging way and to providing a context that fosters understanding of its important role in and impact on current and historic events. The Museum provides FREE classroom lessons, resources, and activities that support traditional curriculum.
John F. Kennedy Center for the Performing ArtsNorthwest
Virtual field trip onlineThe Nation's performing arts center, presenting the best music, dance, theatre, international, and children's programs in nine theaters and stages. Free performances at 6pm daily. Free tours, and free shuttle from Foggy Bottom Metro. The WNO Washington National Opera has a program which allows younger students to do an opera look-in for $6, and a older students are offered tickets to dress rehearsals for $15.
National Museum of Natural HistoryNorthwest
Virtual field trip onlinePart of the Smithsonian Institution, admission is free. Open every day except Dec. 25 The museum boasts the 45.5-carat Hope Diamond, dinosaurs, Insect Zoo, the Mammals Hall, and the world's largest African bush elephant. The Museum website provides both field trip related and non field trip related lesson plans, web-based activities for students, and other resources that help teach a range of science and natural history topics.
National Postal MuseumNortheast
Virtual field trip onlineThe Smithsonian National Postal Museum features the history of the nation's mail service and showcases the largest and most comprehensive collection of stamps and philatelic material in the world. Open daily 10 am to 5:30 pm except Dec. 25. Free admission. In addition to student tour programs, the website offers curriculum guides and classroom resources to supplement student learning.
More Washington, D.C. field trips ...
Thanks to graphicmaps.com for the state graphics