South Dakota Facts for Kids
South Dakota was the 40th state to join the union. It became a state on November 2, 1889.
Capital - Pierre
Abbreviation - SD
Nickname - Mount Rushmore State
Motto - "Under God the people rule"
Song - Hail, South Dakota
Bird - Chinese Ring-Necked Pheasant
Flower - American Pasqueflower
Insect - Honey Bee
Area - approximately 77,121 square miles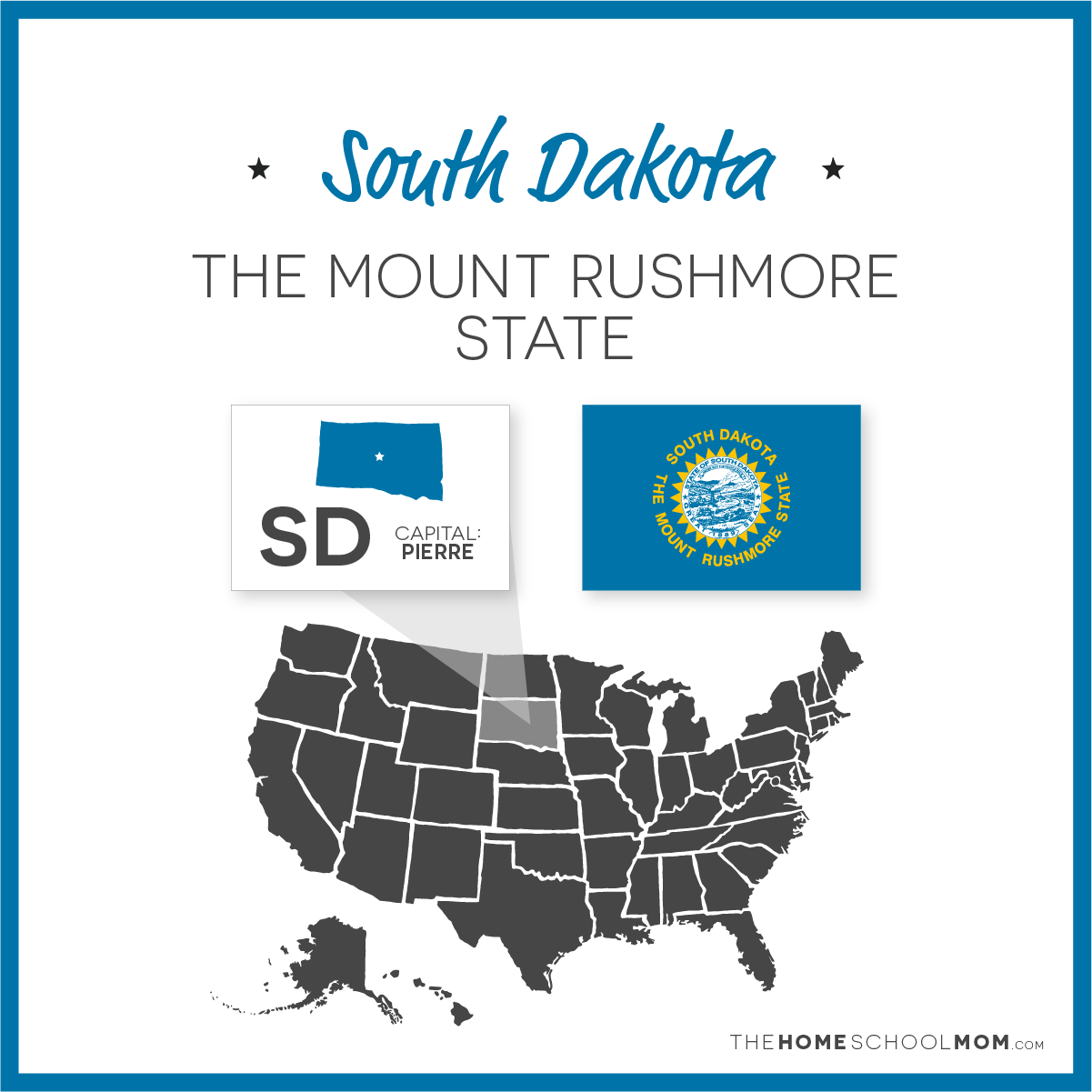 Learn more about South Dakota
Keystone Historical Museum
Read about early settler activity in Keystone, and use the About tab to explore a few photos from the museum and learn about a few important characters in Keystone's history, including Carrie Ingalls, the younger sister of Laura Ingalls Wilder, and her husband.
Library of Congress
Selected Library of Congress primary sources related to South Dakota. Includes a Teacher's Guide.Minuteman Missile National Historic Site
During the Cold War, a vast arsenal of nuclear missiles were placed in the Great Plains. Hidden in plain sight, for thirty years 1,000 missiles were kept on constant alert; hundreds remain today. Learn about the site's history and current status, and take virtual tours.
Mount Rushmore National Memorial
Have you ever wondered why sculptor Gutzon Borglum chose Washington, Jefferson, Roosevelt, and Lincoln to memorialize? The NPS shares a brief history of each president and the reason each was selected.
Badlands National Park
The Badlands area of South Dakota may bring to mind harsh conditions and a large, empty landscape, but the park is full of wildlife, including many endangered species. Students can learn about the animals and their ingenious solutions to the problems of exposure, heat, cold, and drought.
The 50 States - South Dakota
From TeachersFirst. A comprehensive resource on South Dakota
Mr. Donn.org - South Dakota
Mr. Donn has been online for as long as I can remember and he has one of the largest collections of social studies resources available. This is his collection of South Dakota resources.
50 States.com - South Dakota
Facts & Trivia about South Dakota
RoadsideAmerica.com - South Dakota
Unique tourist attractions and landmarks in South Dakota
Awesome America - South Dakota
Loads of fun facts, photos, and travel information about South Dakota.
South Dakota Map/Quiz Printout
EnchantedLearning.com
SD Resources for Educators from Locales:
Learn more through virtual and in-person South Dakota field trips ...