Oklahoma Facts for Kids
Oklahoma was the 46th state to join the union. It became a state on November 16, 1907.
Capital - Oklahoma City
Abbreviation - OK
Nickname - Sooner State
Motto - "Labor omnia vincit" - Labor Conquers All Things
Song - "Oklahoma!" by Rodgers and Hammerstein
Bird - Scissor-Tailed Flycatcher
Flower - Oklahoma Rose
Insect - Honey Bee
Area - approximately 69,903 square miles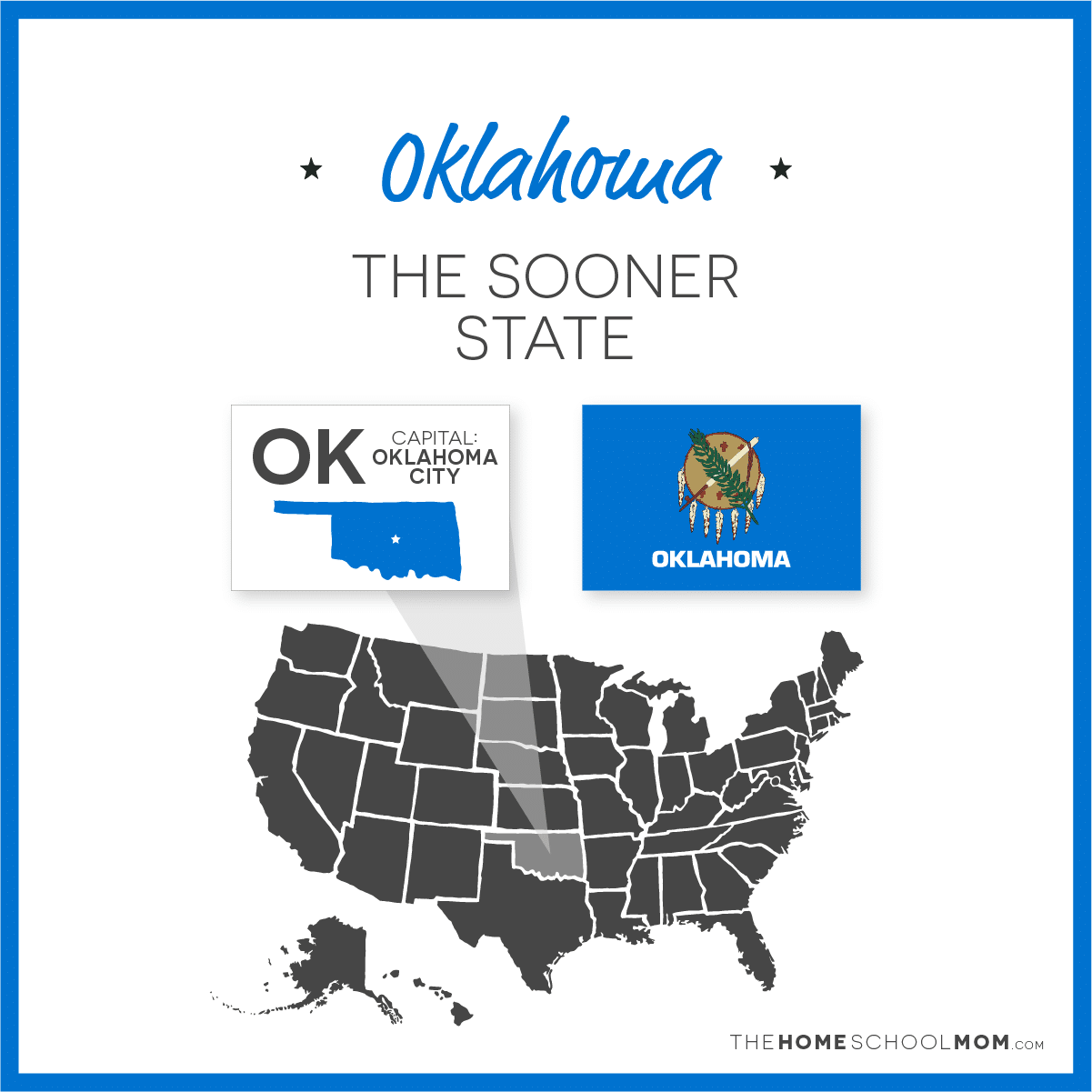 Learn more about Oklahoma
The Encyclopedia of Oklahoma History and Culture
An extensive collection of articles about Oklahoma that can be sorted by people, places, time periods, or topics such as government, industry, and settlement patterns.
Washita Battlefield National Historic Site
On November 27, 1868, Lt. Colonel George Armstrong Custer led the 7th US Cavalry on a surprise dawn attack on a Cheyenne village led by Peace Chief Black Kettle. The event was an example of the tragic clash of cultures that occurred during the Great Plains Wars. Learn about the people and the events that led up to the attack.
Cherokee Nation
Explore important moments in Cherokee history, from pre-European contact to the present, with this interactive timeline. Pick your century, find an event on the timeline and click to watch short videos, see historic images or read the actual documents pertaining to each event.
Trail of Tears
During 1838 and 1839, more than 16,000 Cherokee men, women, and children were forcibly moved from their homes in the southern Appalachian Mountains to stockades and internment camps, after which they walked hundreds of miles to Indian Territory (present-day Oklahoma). The harsh conditions led to a high rate of illness, widespread desertion, and hundreds of deaths. The Trail of Tears National Historic Trail was designated to preserve the story, the routes, and support the associated sites that commemorate the Cherokees' forced migration.
Archaeology in Oklahoma
The activities section has coloring sheets, games, and other activities which can be done as part of a group or on your own. There are video links to watch archaeology in action, as well as a glossary, a bibliography, and a link on each page if you are interested in more information.
Greenwood Cultural Center
Resources for teaching about Black Wall Street & the 1921 Tulsa Race Massacre, including a Family Learning Series and lesson plans for K-12.
Osage Nation
The Osage Nation Reservation is located in Northeast Oklahoma and includes 1,470,559 acres. Contrary to popular belief that it was a gift from the United States Government to the Osage Nation, it was actually purchased from the Cherokee Nation by the Osage Nation. On June 14, 1883, the Cherokee Nation, by its principal chief, conveyed the land by deed to the United States to be placed in trust. The lands purchased became the final and permanent home of the Osage people. Learn more with K-12 lesson plans or use their media collection to view videos, photographs, or listen to podcasts.
Oklahoma History at Home
Curated list of online resources from Oklahoma History Center. Includes K-12 Social Studies lesson plans, audio tours, virtual tours, e-exhibits, activities, and articles.
Chickasaw Nation
Along with other tribes, the Chickasaw people were forced to move to Indian Territory during the "Great Removal," on the "Trail of Tears." Learn about their culture and history through a series of videos or through articles.
The 50 States - Oklahoma
From TeachersFirst. A comprehensive resource on Oklahoma
Mr. Donn.org - Oklahoma
Collection of Oklahoma resources from Mr. Donn, who offers one of the largest collections of social studies resources available.
50 States.com - Oklahoma
Facts & Trivia about Oklahoma
RoadsideAmerica.com - Oklahoma
Unique tourist attractions and landmarks in Oklahoma
Awesome America - Oklahoma
Loads of fun facts, photos, and travel information about Oklahoma.
Oklahoma Map/Quiz Printout
EnchantedLearning.com
OK Resources for Educators from Locales:
Learn more through virtual and in-person Oklahoma field trips ...