State Facts
Michigan was the 26th state to join the union. It became a state on January 26, 1837.
Capital - Lansing
Abbreviation - MI
Nickname - Wolverine State
Motto - "Si quaeris peninsulam amoenam, circum spice" - If you are seeking a amenable peninsula, look around you
Song - Michigan, My Michigan
Bird - Robin
Flower - Apple Blossom
Insect -
Area - approximately 96,810 square miles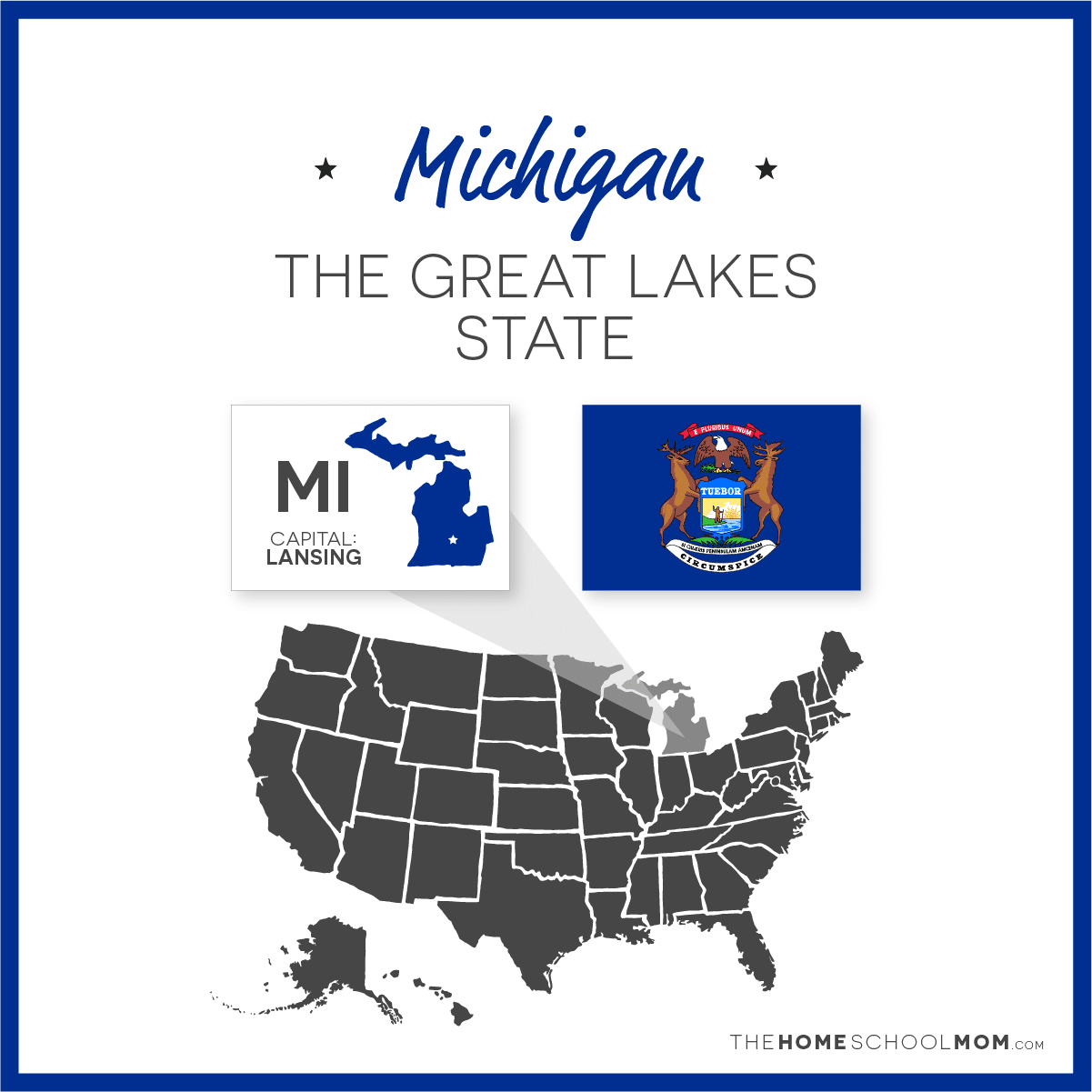 Websites for studying about Michigan
Worksheets and puzzles for kids to learn more about Michigan
Fun Educational Activities
From TeachersFirst. A comprehensive resource on Michigan
Mr. Donn has been online for as long as I can remember and he has one of the largest collections of social studies resources available. This is his collection of Michigan resources.
Information about Michigan. State study guides have been added to the Fast Facts pages
From the Library of Congress. Games and stories of America's past.
Facts & Trivia about Michigan
Loads of fun facts, photos, and travel information about Michigan.
Michigan Virtual Field Trips
Air Zoo
Portage
Virtual field trip online

Voted the "Best Place to Take Out-of-Towners", the Air Zoo features amusement park-style rides, full-motion flight simulators, 4-D Missions Theater, Magic Planet, Space Ball and Zero Gravity Experience, as well as more than 50 rare aircraft, plus exhibits and educational activities. The Air Zoo provides kids with great adventures that include spring break camps, summer camps, overnight camps, scouting events, Homeschool Discovery Days and even birthday parties. No matter what you are looking for, the Air Zoo has something to make the kids beg for more.
University of Michigan Museum of Natural History
Ann Arbor
The University of Michigan Museum of Natural History is a dynamic, evolving organization committed to promoting the understanding and appreciation of the natural world and our place in it. We accomplish this through creative educational programs and exhibits for the benefit of the University community, school groups, and the general public. The Museum provides a window onto the research in Natural Sciences conducted at the University of Michigan. The Exhibit Museum is open seven days a week, 357 days a year, and attracts between 70,000-80,000 visitors each year. Admission is free of charge, although donations are needed and welcomed.