State Facts
Michigan was the 26th state to join the union. It became a state on January 26, 1837.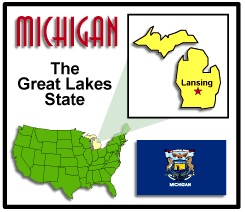 Capital - Lansing
Abbreviation - MI
Nickname - Wolverine State
Motto - "Si quaeris peninsulam amoenam, circum spice" - If you are seeking a amenable peninsula, look around you
Song - Michigan, My Michigan
Bird - Robin
Flower - Apple Blossom
Insect -
Area - approximately 96,810 square miles
Websites for studying about Michigan
Worksheets and puzzles for kids to learn more about Michigan
Kids often play in the woods and enjoy learning things about their surroundings. Check-out these links for great activities kids will love. (Most appropriate for children in or around 5th grade.) Michigan Forest Resource Alliance (MFRA) Adopt a Forest Society of American Foresters
Fun Educational Activities
From TeachersFirst. A comprehensive resource on Michigan
Mr. Donn has been online for as long as I can remember and he has one of the largest collections of social studies resources available. This is his collection of Michigan resources.
From the Library of Congress. Games and stories of America's past.
Facts & Trivia about Michigan
RoadsideAmerica.com - Michigan
Unique tourist attractions and landmarks in Michigan
Loads of fun facts, photos, and travel information about Michigan.
EnchantedLearning.com
H.I.P. Pocket Change Coin Coloring sheet - Michigan
Created by the U.S. Mint
Michigan Virtual Field Trips
Air ZooPortage
Virtual field trip onlineVoted the "Best Place to Take Out-of-Towners", the Air Zoo features amusement park-style rides, full-motion flight simulators, 4-D Missions Theater, Magic Planet, Space Ball and Zero Gravity Experience, as well as more than 50 rare aircraft, plus exhibits and educational activities. The Air Zoo provides kids with great adventures that include spring break camps, summer camps, overnight camps, scouting events, Homeschool Discovery Days and even birthday parties. No matter what you are looking for, the Air Zoo has something to make the kids beg for more.
Crawford County Historical Society MuseumGrayling
Virtual field trip onlineOn-line Museum Tour. Preserving the heritage and artifacts of Crawford County
Holland State ParkHolland
Virtual field trip onlineHolland State Park offers an expansive, sandy beach along Lake Michigan, two large campgrounds and a beautiful view of sailboats and sunsets. The park is divided into two separate units; one along Lake Michigan and the other along Lake Macatawa.
Kimball House MuseumBattle Creek
Virtual field trip onlineThree generations of Kimball doctors served the city of Battle Creek for 83 years. When Dr. Arthur S. Kimball, Jr. died in 1966, the family decided to donate their home to the community to be preserved as a museum. The Junior League accepted the opportunity to return the house, built in 1886, to its original Victorian splendor. Members of the Historical Society of Battle Creek worked closely with the Junior League during the renovation project. Local historian Berenice Bryant Lowe was one of the leaders in the project, collecting many of the artifacts now displayed in the house. The Sojourner Truth Exhibit Room contains one of the largest collection of images and artifacts about the nationally famous ex-slave abolition leader in the country, including her only known signature. The second-floor Battle Creek Sanitarium room features a miniature Palm Garden and a representation of a patient room at the health reform institution. The basement level displays include a recreation of a pioneer room and a mid-19th century general store display, which are favorites of school tour groups. Changing exhibits on Battle Creek history are also mounted in this area.
Thanks to graphicmaps.com for the state graphics