Michigan Facts for Kids
Michigan was the 26th state to join the union. It became a state on January 26, 1837.
Capital - Lansing
Abbreviation - MI
Nickname - Wolverine State
Motto - "Si quaeris peninsulam amoenam, circum spice" - If you are seeking a amenable peninsula, look around you
Song - Michigan, My Michigan
Bird - Robin
Flower - Apple Blossom
Insect - None adopted
Area - approximately 96,810 square miles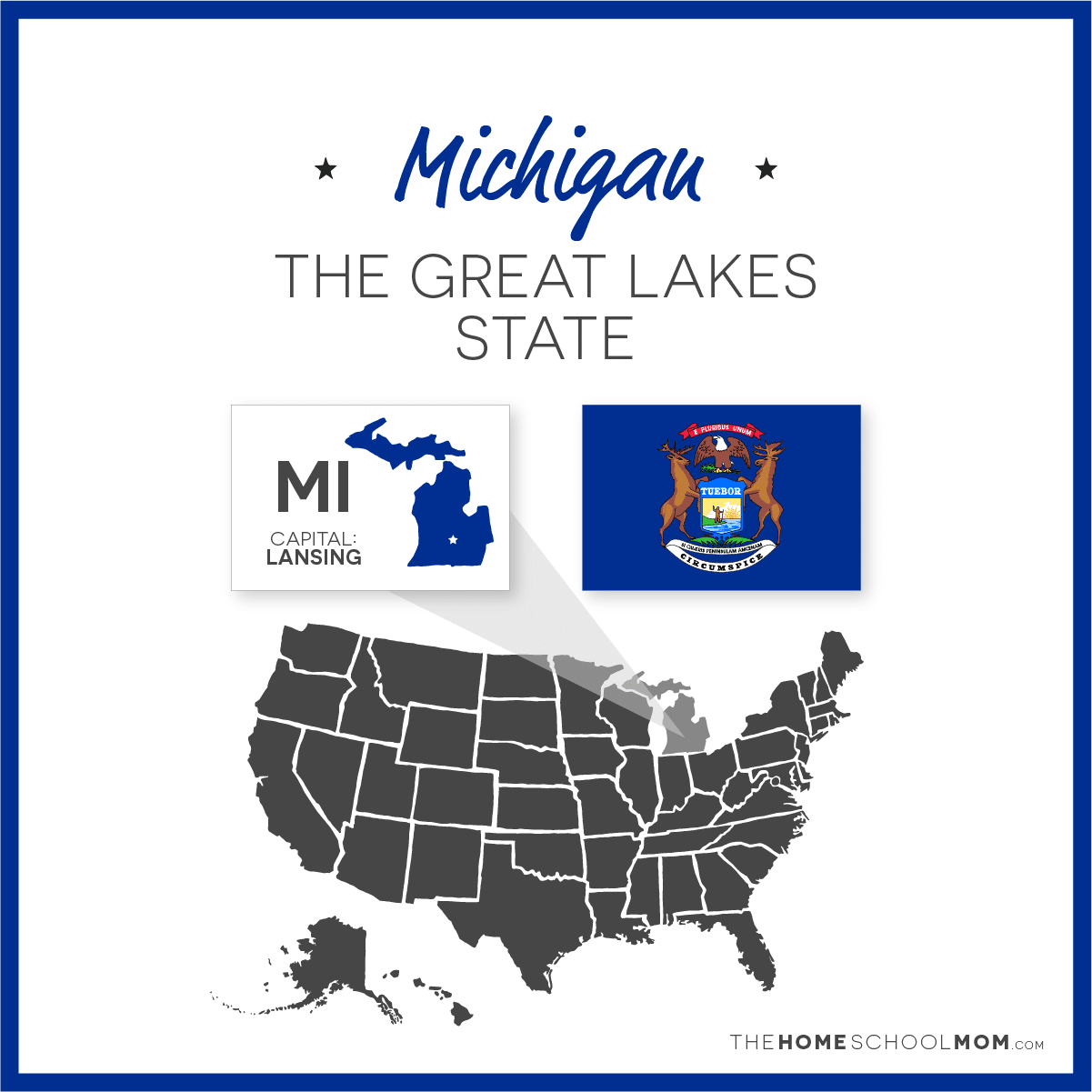 Learn more about Michigan
Michigan Primary Sources (Library of Congress)
Selected Library of Congress primary sources with a Teacher's Guide
Lowell Area Historical Museum
Learn about the history of the area, including the story of Madame LaFramboise, Michigan's first recorded business woman.
Leelanau Historical Society
Explore Leelanau's history through these virtual exhibits.
Michigan History Center
Learn about the Freedom Trail, Michigan shipwrecks, and explore an archive of primary sources dating back to 1792. Their Teacher Resource page also includes Primary Source Sets, biographies of figures in Michigan history, and activities for grades 3-5 and 9-12. There is a dropdown menu to sort by grade level on the Teacher Resource page, but we didn't find that it was particularly useful.
Gerald R. Ford Library and Museum
Teacher resources, including Middle & High School Research Top Ideas, a rich collection of original materials for teachers to use in government, history, civics, geography, and STEM lessons, and student research for papers, reports, projects, debates and more.
Frankenmuth Historical Museum
K-6 and 7-12 learning packets to teach The Founding of Michigan's Little Bavaria
Motown Museum
Learn about the Motortown Revue through this virtual exhibit.
Dearborn Historical Museum
Articles and virtual exhibits chronicling the history of Dearborn, the home of Ford Motor Company.
Wexford County Historical Society
A brief historical chronology of the events, people, and conditions of the years 1837-1941 in Wexford County. Includes links to primary sources.
Birmingham Museum
Online exhibits telling the history of the city of Birmingham, MI
A Brief History of Battle Creek
Known across the globe as the breakfast cereal capital of the world, Battle Creek was also the cradle of the Seventh-day Adventist religion, the chosen home of social justice activist Sojourner Truth and a major stop on the Underground Railroad.
Michigan DNR
Learn about Michigan's diverse range of fish, plants, trees, reptiles, amphibians, insects and mammals.
The 50 States - Michigan
From TeachersFirst. A comprehensive resource on Michigan
Mr. Donn.org - Michigan
Collection of Michigan resources from Mr. Donn, who offers one of the largest collections of social studies resources available
50 States.com - Michigan
Facts & Trivia about Michigan
RoadsideAmerica.com - Michigan
Unique tourist attractions and landmarks in Michigan
Awesome America - Michigan
Loads of fun facts, photos, and travel information about Michigan.
Michigan Map/Quiz Printout
EnchantedLearning.com
MI Resources for Educators from Locales:
Learn more through virtual and in-person Michigan field trips ...