State Facts
Arkansas was the 25th state to join the union. It became a state on June 15, 1836.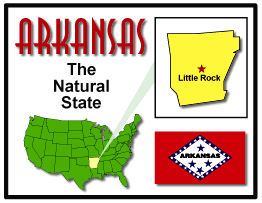 Capital - Little Rock
Abbreviation - AR
Nickname - The Natural State
Motto - "Regnat Populus" - The people rule
Song - "Arkansas" and "Oh Arkansas"
Bird - Mockingbird
Flower - Apple Blossom
Insect - Honey Bee
Area - approximately 53,182 square miles
Websites for studying about Arkansas
Worksheets and puzzles for kids to learn more about Arkansas
Fun Educational Activities
From TeachersFirst. A comprehensive resource on Arkansas
Mr. Donn has been online for as long as I can remember and he has one of the largest collections of social studies resources available. This is his collection of Arkansas resources.
From the Library of Congress. Games and stories of America's past.
Arkansas
RoadsideAmerica.com - Arkansas
Unique tourist attractions and landmarks in Arkansas
Loads of fun facts, photos, and travel information about Arkansas.
EnchantedLearning.com
H.I.P. Pocket Change - Arkansas
Created by the US Mint
The Traveler's guide to Arkansas for Kids
Activities grades K-4
Arkansas Virtual Field Trips
The Arts and Science CenterPine Bluff
Virtual field trip onlineThe Center is the place for practicing, teaching, performing, enjoying and understanding the Arts and Sciences. Online or in person, we invite you to experience this opportunity to grow, learn and enjoy.
Thanks to graphicmaps.com for the state graphics