State Facts
Alabama was the 22nd state to join the union. It became a state on December 14, 1819.
Capital - Montgomery
Abbreviation - AL
Nickname - Heart of Dixie and The Yellowhammer State
Motto - "Audemus jura nostra defendere" - We Dare Defend Our Rights
Song - Alabama
Bird - Yellowhammer
Flower - Camellia
Insect - Monarch Butterfly
Area - approximately 52,000 square miles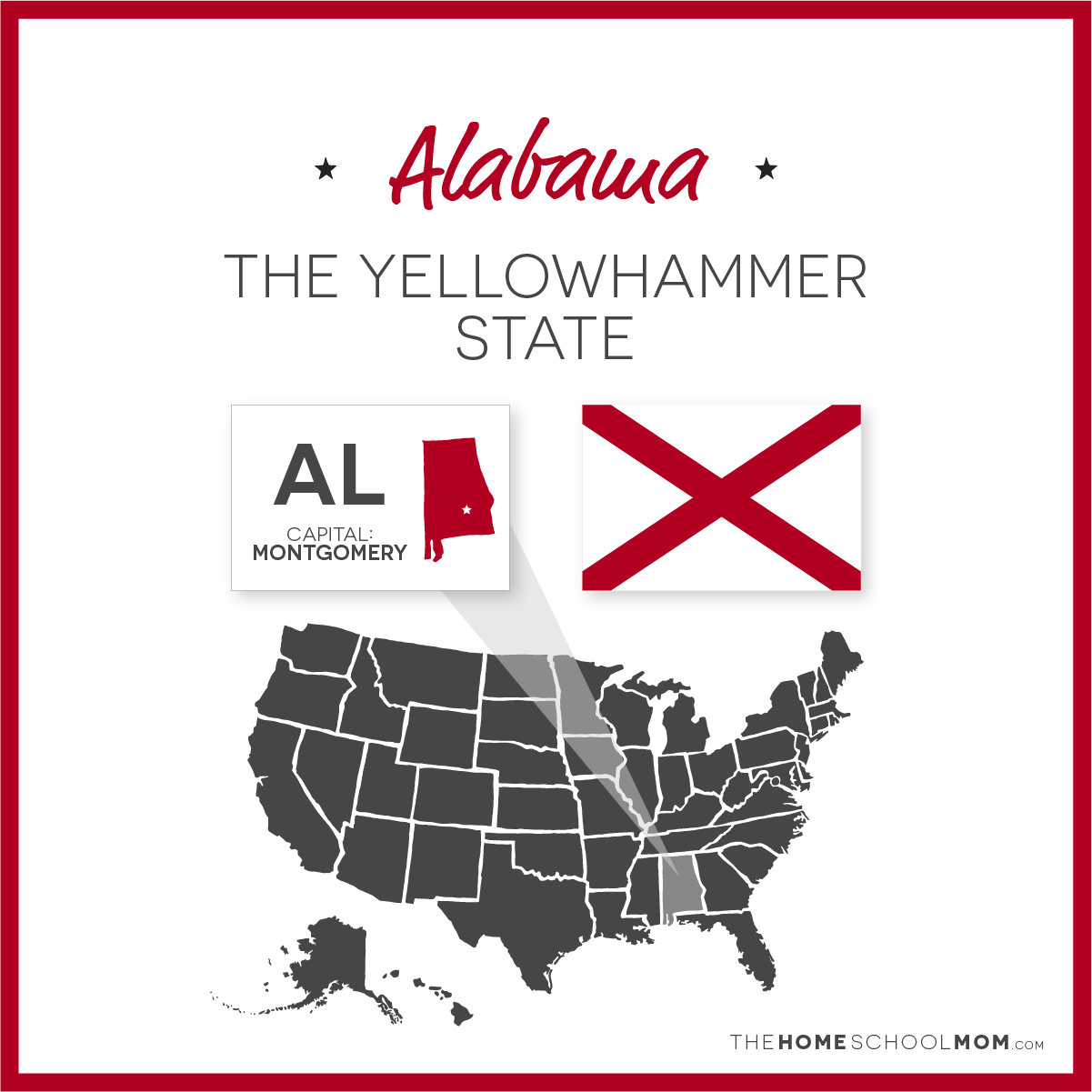 Websites for studying about Alabama
Worksheets and puzzles for kids to learn more about Alabama
Facts & Trivia about Alabama
Fun Educational Activities
From TeachersFirst. A comprehensive resource on Alabama
Information about Alabama. State study guides have been added to the Fast Facts pages
From the Library of Congress. Games and stories of America's past.
Unique tourist attractions and landmarks in Alabama
Loads of fun facts, photos, and travel information about Alabama.
Discovering Alabama is a a public television series highlighting the natural features and environmental issues of the state. It airs on local Alabama Public Television stations. The series provides interpretative programming that encourages awareness of the importance of conservation. Each DISCOVERING ALABAMA program incorporates a sense of genuine adventure and discovery.
Mr. Donn has been online for as long as I can remember and he has one of the largest collections of social studies resources available. This is his collection of Alabama resources.
Many printables from enchanted learning
Lesson Plans and Classroom Activities from the Alabama Department of Archives and History
A free online resource with comprehensive, reliable articles about all aspects of the state's history, environment, people, and culture.
Alabama Virtual Field Trips
Alabama Department of Archives & History Museum
Montgomery
Virtual field trip online

"To tell the story of the people of Alabama by preserving records and artifacts of historical value and promoting a better understanding of Alabama history."
USS Alabama
Mobile Bay
Virtual field trip online

Courage comes alive at Battleship Memorial Park, one of America's finest military parks. Here, along the shores of Mobile Bay, you'll experience heroism spanning more than seven decades from World War II to Desert Storm. View the battleship USS Alabama along with a submarine and many aircraft.