Alabama Facts for Kids
Alabama was the 22nd state to join the union. It became a state on December 14, 1819.
Capital - Montgomery
Abbreviation - AL
Nickname - Heart of Dixie and The Yellowhammer State
Motto - "Audemus jura nostra defendere" - We Dare Defend Our Rights
Song - Alabama
Bird - Yellowhammer
Flower - Camellia
Insect - Monarch Butterfly
Area - approximately 52,000 square miles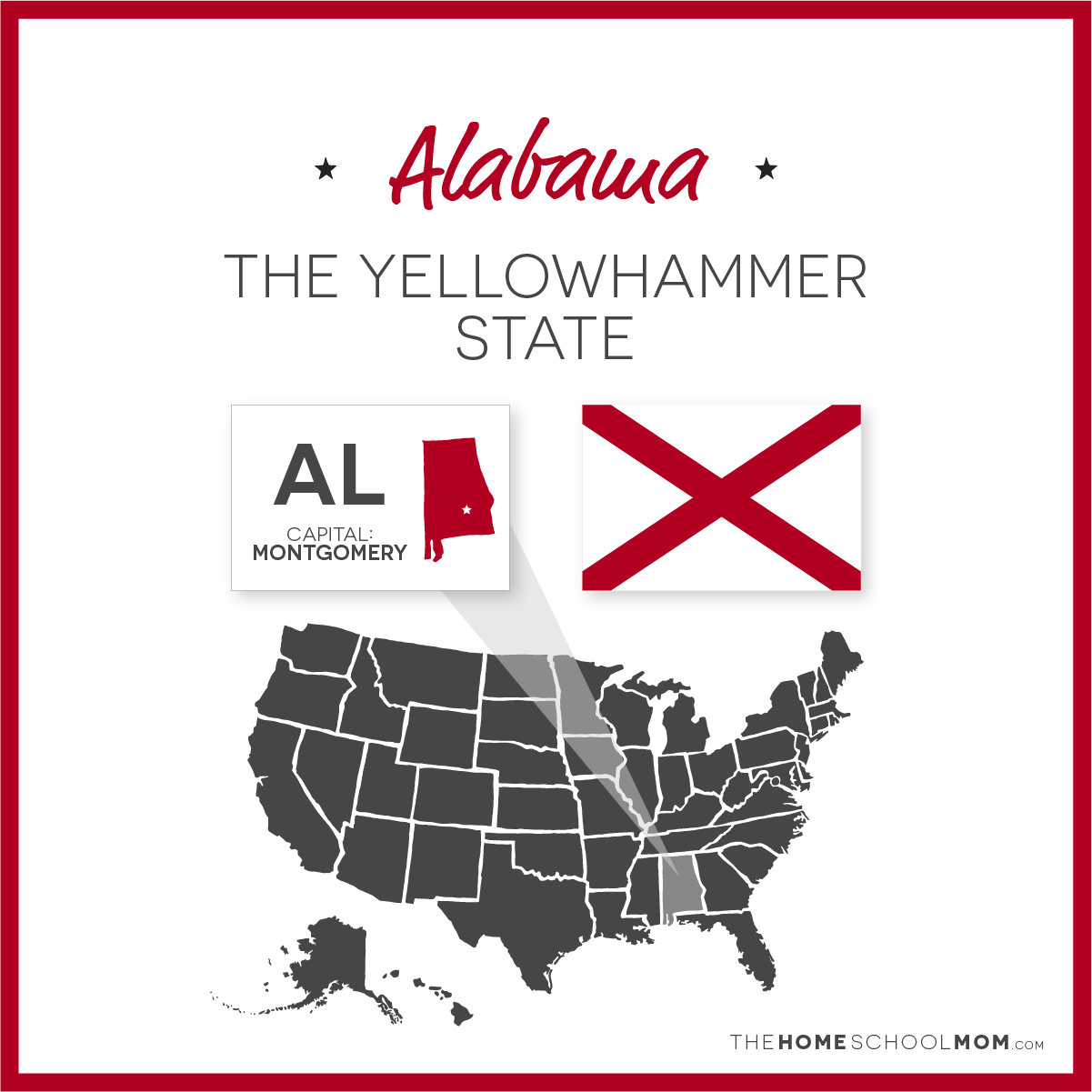 Learn more about Alabama
50 States.com - Alabama
Facts & Trivia about Alabama
The 50 States - Alabama
From TeachersFirst. A comprehensive resource on Alabama
RoadsideAmerica.com - Alabama
Unique tourist attractions and landmarks in Alabama
Alabama Map/Quiz Printout
EnchantedLearning.com
Awesome America - Alabama
Loads of fun facts, photos, and travel information about Alabama.
Discovering Alabama
Discovering Alabama is a public television series highlighting the natural features and environmental issues of the state. It airs on local Alabama Public Television stations. The series provides interpretative programming that encourages awareness of the importance of conservation. Each DISCOVERING ALABAMA program incorporates a sense of genuine adventure and discovery.
Mr. Donn's Alabama collection
Mr. Donn has been online for as long as I can remember, and he has one of the largest collections of social studies resources available. This is his collection of Alabama resources.
Alabama resources for kids
Many printables from enchanted learning
Alabama websites for teachers
Lesson Plans and Classroom Activities from the Alabama Department of Archives and History
Encyclopedia of Alabama
A free online resource with comprehensive, reliable articles about all aspects of the state's history, environment, people, and culture.
Dauphin Island Sea Lab
Free resources for learning about marine wildlife on the Alabama coast
Vulcan Park & Museum
Entire units and lesson activities covering a wide range of topics, including early Birmingham history, connecting STEM and social studies, and the Civil Rights Movement in Birmingham!
History Museum of Mobile
Lesson plans and activity sheets about Mobile's history
Birmingham Civil Rights Institute
Lesson Plans for K-12 students about the Civil Rights Movement (CRM) in Birmingham and the rest of the country.
Alabama Men's Hall of Fame
Lesson plans for 4th-graders to learn about the lives of Alabamans who were important in history. Those highlighted include Dr. Martin Luther King, Jr, Booker T. Washington, and George Washington Carver, as well as less nationally-familiar names such as Joseph Bruno, William C. Gorgas, and William R. King.
Alabama Women's Hall of Fame
Inductees include Helen Keller, Julia Tutwiler, Mother Angelica, Coretta Scott King, Evelyn Daniel Anderson, Rosa Parks, Mildred Westervelt Warner, Zora Neale Hurston, and many other women whose lives and work were integral to the story of Alabama. The site includes biographical information for each woman. Some entries also have bibliographical information to assist with further research.
National Historic Landmark Sloss Furnaces
Birmingham was built as an iron city. Due to the nearby deposits of iron ore, limestone, and coal, which are rarely found in close proximity to each other, Birmingham was a prime location for making iron. The Parent Pack from Sloss Furnaces discusses the history, art, and science of making iron, as well as providing instructions for activities you can do at home to examine the different ideas covered. You can also find a Virtual Tour on this page.
Wiregrass Museum of Art
K-4 art lesson plans based on Alabama geography and Native American culture and lore
Florence Indian Mound Museum
A variety of lesson plans and resources covering the more than 10,000 years of Native American history in Northwest Alabama
Archaeological Artifacts of the Muscle Shoals National Heritage Area Resource Packet
This PDF is a compilation of artifacts throughout the northwest Alabama area, along with history of the area, and archeological vocabulary.
Lee County Historical Society
Short video lessons on Alabama history and wildlife
Alabama Department of Archives & History
A treasure trove of primary sources, games, activities, lessons, and worksheets for K-12 organized in an easily-searchable format.
Pathways and Perspectives: National Historic Trails Multiday Lesson Plan
For grades 6-8. In 1838, U.S. Army troops, along with various state militia, moved into the tribe's homelands and forcibly evicted more than 16,000 Cherokee Indian people from their homelands in Tennessee, Alabama, North Carolina, and Georgia. This 3-5 day lesson focuses on the skills of collaboration and presentation in an effort to teach students about the content and concepts along nine of the national historic trails. The purpose of this is to have them not only research and understand, but also think critically about the pathways and perspectives of trail travelers.
Learn more through virtual and in-person Alabama field trips ...