State Facts
Alabama was the 22nd state to join the union. It became a state on December 14, 1819.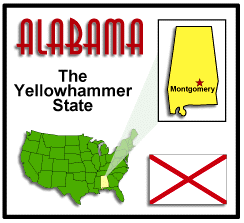 Capital - Montgomery
Abbreviation - AL
Nickname - Heart of Dixie and The Yellowhammer State
Motto - "Audemus jura nostra defendere" - We Dare Defend Our Rights
Song - Alabama
Bird - Yellowhammer
Flower - Camellia
Insect - Monarch Butterfly
Area - approximately 52,000 square miles
Websites for studying about Alabama
Worksheets and puzzles for kids to learn more about Alabama
Fun Educational Activities
From TeachersFirst. A comprehensive resource on Alabama
From the Library of Congress. Games and stories of America's past.
Unique tourist attractions and landmarks in Alabama
Loads of fun facts, photos, and travel information about Alabama.
EnchantedLearning.com
H.I.P. Pocket Change - Alabama
Created by the US Mint
Discovering Alabama is a a public television series highlighting the natural features and environmental issues of the state. It airs on local Alabama Public Television stations. The series provides interpretative programming that encourages awareness of the importance of conservation. Each DISCOVERING ALABAMA program incorporates a sense of genuine adventure and discovery.
Mr. Donn has been online for as long as I can remember and he has one of the largest collections of social studies resources available. This is his collection of Alabama resources.
Over the years, the Education Section at the Alabama Department of Archives and History has developed special Activity Sheets. Activity Sheets may include Alabama trivia, crossword puzzles, facts on First Ladies of Alabama, etc.
Many printables from enchanted learning
Lesson Plans and Classroom Activities from the Alabama Department of Archives and History
Alabama Moments in Alabama History
Alabama history resources for high school teachers
Using Primary Sources in the Classroom: Alabama
This project is designed to help teachers more easily integrate the use of primary source materials into their classrooms. It consists of teaching units on Alabama history organized in ten chronological/subject areas from the early 19th century to the mid-20th century.
Facts & Trivia about Alabama
Alabama Virtual Field Trips
Alabama Department of Archives & HistoryMontgomery
Virtual field trip online"To tell the story of the people of Alabama by preserving records and artifacts of historical value and promoting a better understanding of Alabama history."
Alabama TheatreBirmingham
Virtual field trip onlineThe Alabama Theatre was built in 1927 by Paramount Studios as an Alabama showcase for Paramount films. It was used primarily as a movie palace for 55 years, with the exception of the annual Miss Alabama pagent and the weekly Mickey Mouse Club. In 1987, the owners of the facility declared bankruptcy and the theatre was purchased by Birmingham Landmarks Inc., a non-profit corporation. The new Alabama Theatre for the Performing Arts hosts many live events, as well as films. Each year the Theatre hosts over 300 events attended by a half million Birmingham area citizens.
Birmingham Botanical GardensBirmingham
Virtual field trip onlineBirmingham Botanical Gardens is Alabama's largest living museum with more than 10,000 different plants in its living collections. The Gardens' 67.5 acres contains 25+ unique gardens, 30+ works of original outdoor sculpture and miles of serene paths. The Gardens features the largest public horticulture library in the U.S., conservatories, a wildflower garden, two rose gardens, the Southern Living garden, and a Japanese garden with a traditionally crafted tea house. Education programs run year round and over 10,000 school children enjoy free science-curriculum based field trips annually.
Cathedral CavernsWoodville
Virtual field trip onlineThe first thing you notice about Cathedral Caverns is the massive entrance. The huge opening measures 126 feet wide and 25 feet high. And it gets even better. Inside the cavern, you will find Big Rock Canyon, Mystery River and some of the most beautiful formations Mother Nature has ever created. Among them, you will see Stalagmite Mountain, The Frozen Waterfall and Goliath, a huge stalagmite column that reaches the ceiling of the cave some 45 feet above! Cathedral Caverns is the perfect field trip for your school, church or other group. You can visit anytime, as the cave maintains a comfortable 60-degree temperature year round. Call and make plans today and you will see why we are excited about Alabama's newest state park!
Cheaha State ParkDelta
Virtual field trip onlineLocated in Clay and Cleburne Counties, Cheaha State Park is the pinnacle of natural beauty and awe in Alabama. Surrounded by the Talladega National Forest, this foothill of the Appalachian Mountains holds the reputation of the highest point in Alabama. Standing 2,407 ft. above sea level, it is no wonder why the local Creek Indians named this place "Chaha," meaning high place. Its continuous operation since 1933, makes Cheaha, Alabama's oldest continuously operating State Park.
Chewacla State ParkAuburn
Virtual field trip onlineChewacla State Park's 696 scenic acres are a delightful pause from nearby interstate traffic. Facilities include a 26-acre lake, swimming area, playgrounds, hiking trails, a modern campground, picnic areas with tables, grills and shelters, and newly renovated cabins. Nearby Auburn University makes Chewacla the perfect place to stay on football weekends.
DeSoto ReSort State ParkFort Payne
Virtual field trip onlineNestled atop beautiful scenic Lookout Mountain in northeast Alabama, this 3,502-acre park also provides modern chalets, cabins, and campground, as well as a picnic area, swimming pool, tennis courts, nature center with Interpretive programs and live animals, hiking & mountain biking trails, and hotel and meeting rooms in the DeSoto Resort State Park Lodge.
Fort GainesDauphin Island
Virtual field trip onlineHistoric Fort Gaines is located on Dauphin Island. The property boasts a wildlife sanctuary and campgrounds created from sand dunes excavated out of the walls of the fort. Families can experience three centuries of history while enjoying nature walks, a scenic lake, beaches and fishing piers.
Fort Payne Depot MuseumFort Payne
Virtual field trip onlineAlabama showcasing Indiant artifacts, historical memorabilia from all wars since the Civil War, and more!
Gulf State ParkGulf Shores
Virtual field trip onlineLocated in the city of Gulf Shores on the coast of Alabama, white sun-kissed beaches, a surging surf, seagulls and seashells greet you at Gulf State Park. Consisting of 6,150 acres with two miles of sugar white sand beaches, Gulf State Park has modern and primitive camping, cottages, trails and fishing. There is also tennis, group pavilions, 18-hole golf course, 900 acre lake for fishing, swimming, and water skiing, nature programs and picnic areas.
Joe Wheeler State ParkRogersville
Virtual field trip onlineJoe Wheeler Resort State Park, located on Wheeler Lake, offers many types of boating, resort lodge, restaurant, cabins, camping, fishing, golf, tennis, and swimming. Whether you're boating along The Great Loop and looking for a place to stop for a night, or you're looking for a great place for recreation and relaxation, this resort park has everything to offer!
Jule Collins Smith Museum of Fine ArtsAuburn
Virtual field trip onlineJCSM offers free tours for groups. The permanent collection is focused primarily on representative work from the 19th, 20th and 21st centuries, including American modernism.
Lake Guntersville State ParkGuntersville
Virtual field trip onlineNewly renovated and once again open to the public, Lake Guntersville Resort State Park is located along the banks of the Tennessee River in NE Alabama. The park overlooks the majestic 69,000-acre Guntersville Reservoir, and ranges over more than 6,000 acres of natural woodlands. The park has an 18-hole championship golf course, a beach complex, fishing center, hiking trails, nature programs and a day-use area. Modern campground and lakeview cottages on the lake, coupled with a resort lodge on the pinnacle of Taylor Mountain, and chalets on the ridge-tops provide a selection of overnight accommodations beyond comparison.
Virtual field trip onlineLake Lurleen State Park is named after Alabama's only female governor. Lurleen Wallace, the wife of former Governor George C. Wallace, was a native of Tuscaloosa County. As Governor she was instrumental in funding a major renovation project of Alabama State Parks. Lake Lurleen State Park is located 9 miles Northwest of the cities of Tuscaloosa and Northport, Alabama and is 14 miles from the campus of the University of Alabama, home of the "Crimson Tide." The 1,625-acre park is a scenic lakeside retreat set on the banks of a 250-acre lake. Facilities include a modern campground, activity building, picnic area, play area, pavilions, beach with bathhouse, fishing piers, boat rentals and boat-launch areas.
Lakepoint Resort State ParkEufaula
Virtual field trip onlineThis picturesque 1,220 acre park is located on the banks of 45,000 acre Lake Eufaula, otherwise known as the "Bass Capital" of The World". The park has a lodge, convention center, modern campground, vacation cabins and lakeside cottages, picnic areas, 18-hole golf course and a marina complete with launch facilities and boat slips.
Mercedes-Benz Visitor CenterTuscaloosa
Virtual field trip onlineThis architectural showcase, adjacent to Daimler's only U.S. automobile manufacturing plant, brings to life the company's vision - to produce nothing less than the most exceptional automobiles in the world. Much more than a museum, the Visitor Center's exhibits propel people down a multimedia path through the past, present, and future of automotive technology.
Monte Sano State ParkHuntsville
Virtual field trip onlineMonte Sano, Spanish for "Mountain of Health," rises more than 1,600 feet above sea level. The mountain has attracted visitors since the mid 1820's with the establishment of the town of Viduta, a derivative of the Spanish word "Vida," meaning life. Viduta was home to a sanatorium and a hotel resort, Hotel Monte Sano, which opened its doors in 1887 and closed in the early 1900s due to a declining economy
Moundville Archaeological parkTuscaloosa
Virtual field trip onlineEight hundred years ago, Moundville was the largest city in north America. Experience the winder of the Native American Civilization.
Oak Mountain State ParkPelham
Virtual field trip onlineAs Alabama's largest park, Oak Mountain provides 9,940 acres of pine-studded ridges and lush green hardwood bottoms. The park offers vacation cottages, golf, pro shop with snack bar, improved camping, picnicking, swimming, boating, fishing, hiking, mountain bike trails, backpacking, a demonstration farm and horseback riding facilities. With the largest area and variety of outdoor recreational pursuits, Oak Mountain is sure to provide excitement for every member of the family!
Rickwood CavernsWarrior
Virtual field trip onlineExperience the thrill of Rickwood's miracle mile of underground caverns! The 260 million-year-old limestone formations, blind cave fish and underground pool are just a few of the natural wonders exhibited in the colorful cavern. The park features an Olympic-size swimming pool, snack bar, picnic area, large and small picnic shelter, hiking trails, playground, campground and gift shop.
Southern Environmental CenterBirmingham
Virtual field trip onlineThe largest educational facility of its kind in Alabama and can handle groups of up to 200 visitors at a time. In addition to its award-winning Interactive Museum and EcoScape Gardens, the SEC is also active in the community. It has initiated a number of model partnerships targeting water quality, smog, and urban sprawl.
The American VillageMontevallo
Virtual field trip onlineOver a quarter of a million students have made history at American Village, experiencing the past with a visit to this unique interactive colonial classroom. Students from every grade level participate in experiential learning every day. American Village is unique in its mission to strengthen and renew the foundations of American liberty and self-government through citizenship education. More than a field trip, American Village educational programs are tied directly to objectives in the state course of study and graduation standards. Lesson plans can be downloaded from our website.
The MOOseumMontgomery
Virtual field trip onlineThe MOOseum opened in 1995 and offers a fun and interactive way for people of all ages to learn about Alabama's $2 billion beef cattle industry. Each year, about 10,000 school children and adults tour The MOOseum.
The National Center for the Study of Civil Rights and African-American CultureMontgomery
Virtual field trip onlineThe Centers focuses on documenting and preserving memorabilia from the civil rights period, Montgomery black history and the history of Alabama State University.
USS AlabamaMobile Bay
Virtual field trip onlineCourage comes alive at Battleship Memorial Park, one of America's finest military parks. Here, along the shores of Mobile Bay, you'll experience heroism spanning more than seven decades from World War II to Desert Storm. View the battleship USS Alabama along with a submarine and many aircraft.
Vulcan ParkBirmingham
Virtual field trip online"Vulcan Park and Museum is home to the world's largest cast iron statue and features spectacular panoramic views of Birmingham. We tell the story of Birmingham's past, present and promise for the future."
Wind Creek State ParkAlexander City
Virtual field trip onlineThis park spans 1,445 acres along the shores of scenic Lake Martin, which is a 41,000-acre clear-water reservoir perfect for fishing, swimming and boating. Park facilities include the largest state-operated campground in the United States with 626 sites, many of which are waterfront sites allowing campers to fish, swim and boat right out their back door. Other facilities include a marina, campstore, fishing pier, hiking trails, playground and picnic areas with tables, grills and shelters. Ten camping cabins will be constructed at Wind Creek State Park, five of which are now open to the public.
Thanks to graphicmaps.com for the state graphics