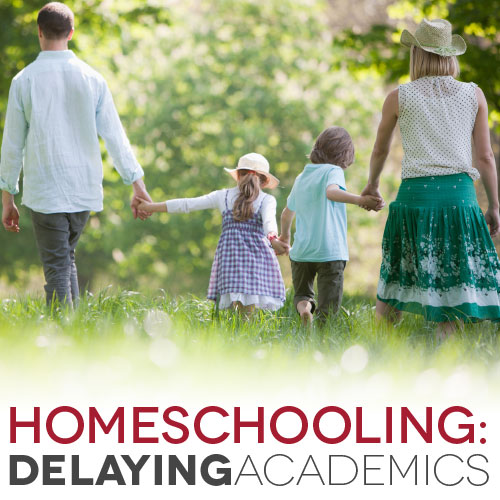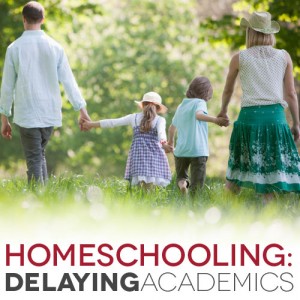 The Stress of Testing
Schools are pushing standardized testing and formal academics earlier than ever, with today's kindergartners and preschoolers asked to master skills and content that used to be learned in first and second grades.
Stories like this one from New York and this one from Chicago are popping up all over the country -- frequent standardized testing of five year olds  (and the accompanying test prep) is becoming the norm in public education. Formal reading, writing, and arithmetic teaching are displacing the time honored traditions of kindergarten -- play, story time, learning to share, and enrichment activities that lead to numeracy and literacy.
Some school reformers see the same thing that many homeschoolers do -- that a loss of play puts academic success at risk. A complete report on this was issued by the Alliance for Childhood, "Crisis in the Kindergarten: Why Children Need to Play in School".
The Importance of Play
Many homeschoolers are decidedly not going in the same direction as schools, and in fact, starting years ago, lots of homeschoolers adopted the idea of delayed academics, crediting this educational philosophy with some of the success of home education.
These homeschoolers believe that the foundation to learning is not earlier and earlier book work, arithmetic, and written work. They believe that children need time to play, time to soak in being with adults in a family atmosphere, time to become part of the family's work and projects, time to physically develop their senses and muscles.
Homeschoolers vary within the approach of delayed academics. Some think that very young children should be actively discouraged from taking up academic activities at an early age, even if the child is developing natural interest and ability. They believe, for example, that early reading should be discouraged because it may create eye strain and emphasize "close work" at a time when the three-to-eight year old set should be playing and developing large motor skills.
Other homeschoolers take an "at-their-pace" approach: if the child initiates an academic skill and isn't pushed by the parents or the environment, then the parents are content to let that that skill develop, as long as it isn't emphasized to the exclusion of play and immersion in family work and projects. So, some kids in these families might be early readers, but they won't be pushed, and if their siblings aren't early readers, they won't be pushed either.
Raymond and Dorothy Moore were among the early advocates of delayed academics. Their books, The Successful Homeschool Family Handbook and Better Late than Early are older titles in the homeschool world, but they are still widely read and many families are enthusiastic about the later academic success their kids have – even if they do as the Moores advocated and put off formal academics all the way up until age 8 or 10.
The Value of Delayed Academics
Keep in mind that this doesn't mean these kids "don't do anything" during these years. These kids succeed due to a life rich in a family culture of knowledge, understanding, conversation, work, relationship, and service to others. The Moores, along with many other advocates of delayed academics, believe that many years of this kind of family culture provide the best foundation for reading, writing, computation, and critical thinking. The Moores also advocated encouraging young children to learn with a unit studies approach. You can read more about the Moore Formula at the Moore Academy website. Many homeschooling families apply the Moore Formula of delayed academics without using the Moore Academy-type services, or by using some of the recommended books and resources in the Moores' writing. Others find that the guidance of the Moore Academy is helpful.
Of course, 8 or 10 years old seems unusually late to many of us. The pressure to keep up with schools makes this seem abnormal by societal standards, even if we personally know homeschoolers who have been successful in college and vocations with this late start to formal academics. (Again, keep in mind that these kids haven't been kept in a cave up to that age -- they've been experiencing a rich family life with books, field trips, projects, conversation, and volunteer work).
Some people think that it's only unschoolers who use delayed academics. Psychologist Peter Gray's research demonstrates that indeed, unschoolers are frequently not concerned with teaching their kids to read at or by a certain age, and that these kids do go on to be successful readers whether they read or early or they began at late ages by school standards. While late reading is considered an absolute route to failure in schools, homeschooled children generally do not experience the same result. In fact, homeschoolers use later reading as an opportunity to continue to build content even when reading skills aren't fluent. These children do not experience later reading as a pathology. It is simply the normal course of their development.
Despite Gray's research on unschoolers and reading, we know that many homeschooling parents who do not identify as unschoolers and who use curriculum or more structured approaches also are quite comfortable with some degree of delayed academics. A child who does not respond to reading lessons or arithmetic lessons is simply given more time in a rich atmosphere of read-alouds and arithmetic/mathematical development. It's not a big deal; it's simply a dance between parent and child, as the parent offers the child new learning experiences but responds to the child's cues regarding readiness for academic skills. Those who do like to use a curriculum will simply kick it in gear "later," and perhaps use a mix and match approach of grade levels.
The Caveat of Developmental Delays
Does delaying academics have a downside? I always caution parents to look at whether their child's later developing academic skills are caused by something that is outside the wide range of normal of development. For example, if a child is reading significantly later because the child does not have normal vision, then it may be that corrective lenses – glasses --  are the solution – not a reliance on delayed academics.
Similarly, a child who has a developmental delay that is outside the wide range of normal may really benefit from early intervention.
So I tell people that a philosophy of delayed academics is not an excuse for a parent to have his or her head in the sand or to "not do anything." Delaying academics is meant to enhance a child's educational experience, not to cover up problems.
It's also not an "easier way" for parents -- facilitating a life that keeps kids interested and busy, laying a groundwork for future academic success, requires time, energy, and creativity.
Specifically, here are some things that parents can do with young children instead of formal academics.