When I first began homeschooling our children, I devoured all the homeschool books and blogs I could find. I wanted to know what everyone was doing. How did they approach homeschooling? What did their schedules look like? Why did they use a certain math curriculum? When did they sleep?
I remember printing out entire volumes of Charlotte Mason-esque activities, worksheets, stories, etc. I remember spending hours trying to come up with color-coded schedules that would fit our lifestyle.  At the same time, I was also intrigued by John Holt and the more play-based and interest-led home education approach. My oldest child, who was 5 years old when we "officially" (I use that term loosely) started homeschooling, could rarely sit still for more than 6.28 minutes and the twins, age 3, were, well, 3 years old.
We eventually found our groove and it wasn't too far along into our journey when I realized that my three kids, despite being very close in age, all learned differently. I had to balance this with my desire to provide a solid foundation for math and reading. These were my two non-negotiables. However, I also wanted to expose them to a variety of topics and methods.
I spoke with friends who had older children and how they used the same curricula for years and years and never deviated. I went to countless homeschool conference presentations detailing the importance of consistency and repetition. I so wanted this for my kids. I wanted to be the homeschooliest homeschooling family.
What I finally realized is there's no award (or reward) for being the homeschooliest homeschooling family. We now have three teenagers, all high school age. Do we have gaps in their education? You betcha! Does this worry me? To be honest, not as much as I thought it would. As someone who attended public school (grades K-8), private school (grades 9-12), and graduated from a four-year university, I still have gaps in my education. I'm guessing you do too.
4 Things We Haven't Consistently Done In Our Homeschool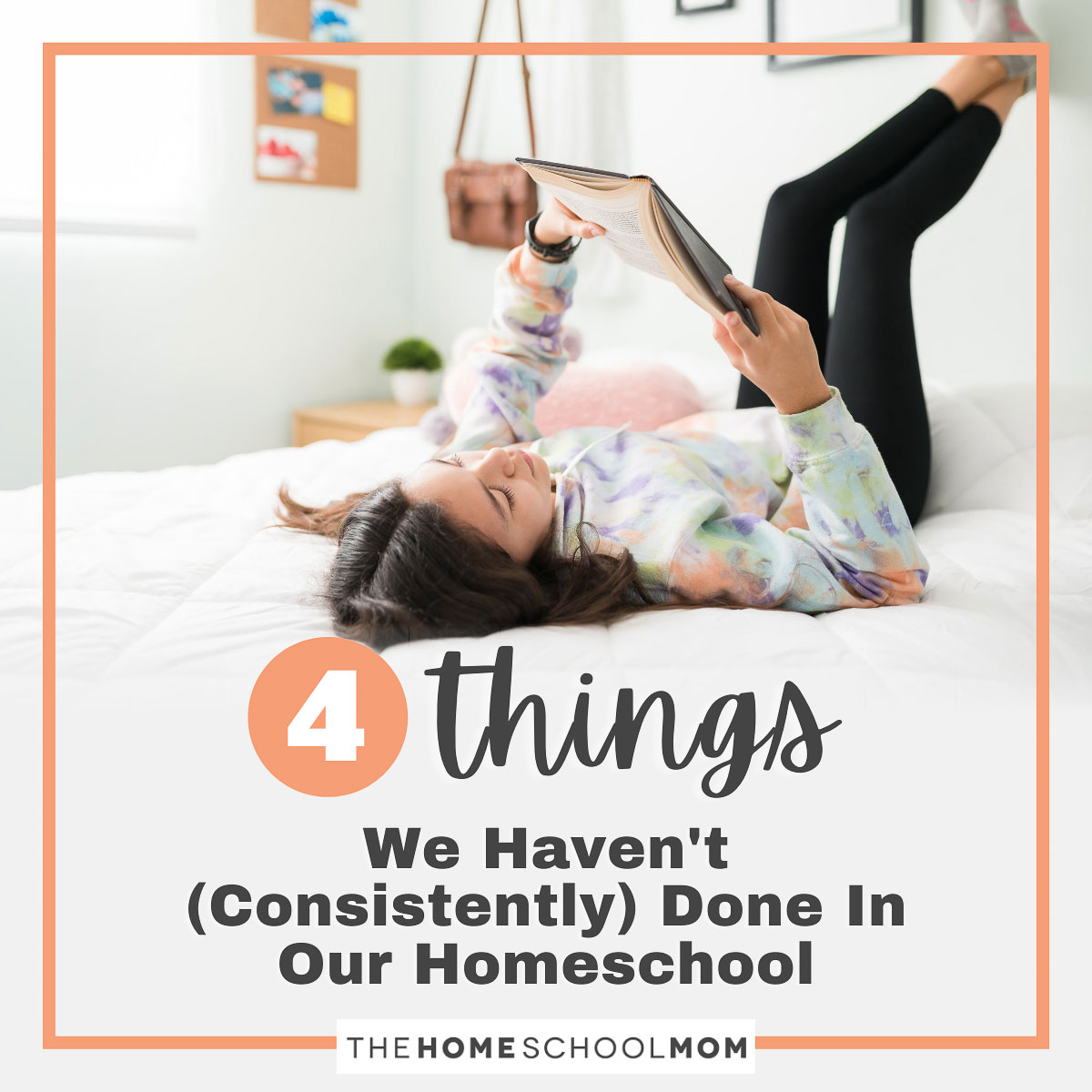 I'm sharing four things we haven't done consistently in our homeschool. Why? Because I've wanted to write about this now that my kids are older and I've had ample time for reflection. Please note that we've homeschooled in Virginia and North Carolina. The laws are very homeschool-friendly and we do not have tons of boxes to check or rules to follow. If you're new to homeschooling, be certain to check out our helpful homeschooling guide for parents.
It's Not Our Job to Do It All
By now you might be wondering what we've been doing with our time all these years. Or maybe you're silently fist-pumping because you homeschool in a more eclectic way too. Could we all just agree the best homeschooling methods/books/curricula are the ones that fit your unique family?
Writing about these four things has been refreshing. I love seeing how far we've come over the last ten years because we've created a homeschool experience that fits our family. We're at the tail end of our homeschooling years and I am confident that my kids will continue to carve out paths that suit their unique desires and goals.
Is there something you don't consistently do in your homeschool? Let us know in the comments below.